#TerrierMade: Oliver Pour (CGS'20, COM'22), Innovate@BU Student Leadership Council
TAMID, Entrepreneurs Club, Innovate@BU's Student Leadership Council, Hillel–and these are just a few of the extracurriculars that fill Oliver Pour's schedule. For him, these experiences are all about connecting different communities across the University while building his own leadership skills. Now, he's taking everything he's learned from these experiences and running for president of BU's Student Government. 
INNOVATE@BU: How do you create innovation and what problem at your hoping to solve?
OLIVER POUR: As President of TAMID Group at Boston University, an organization that does pro-bono consulting and investment work for Israeli startups, and on the Student Leadership Council at Innovate@BU, I have been exposed to the startup world. In addition, at the beginning of this semester, a couple of peers and I spearheaded a new recruitment process for Entrepreneur's Club and accepted 60+ new people to the organization! My goal is to empower entrepreneurs all across Boston University's campus.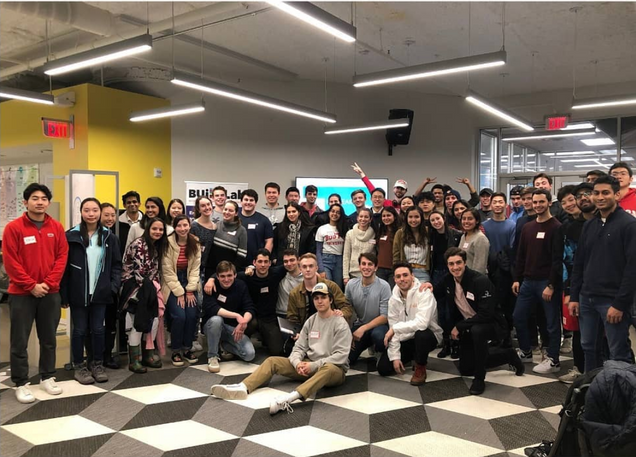 Tell us, how did you get involved in these communities across BU?
Since the second I got into Boston University, I knew that I would want to be as involved as possible. Within weeks of arriving onto BU's campus, I had become involved in CGS Student Government, TAMID Group, Hillel, Club Waterpolo, and Greek Life.
I feel like extracurriculars are what shaped me to become who I am today. It has been my space to thrive in and has helped me grow as not only a leader but as a person. Great leaders turn good people into great people and that is my central goal in life. It is something my grandmother instilled into me early on in life.
What has been the biggest challenge or obstacle you had to overcome when balancing these different extracurricular leadership roles? 
I think the biggest challenge I've faced is time. I wish there was more time in the day to accomplish the micro and macro goals I currently have. I think the way I have overcome this is by having a calendar with everything booked to the final mark. I waste no time and believe efficiency is key to getting things done.
What advice would you give to someone starting their own innovation journey right now?
GO FOR IT! You have absolutely nothing to lose and all to gain. You should absolutely give it your all because Innovate@BU has all the resources to make it happen!
What has been your biggest win so far at BU?
My biggest win so far here at Boston University is being blessed with the opportunity to lead a bunch of these organizations. People wouldn't elect or choose me for the job if they thought I would take them in the wrong direction.
What meaningful impact are you hoping to create from this venture or project? What are you and your team working on to get there?
I want every person at Boston University to feel empowered. I want everyone to feel involved in the community that has been created here. My goal is inclusiveness and I think I can make that happen.
In order to make this happen, I decided that I would like to run on a slate for Boston University Student Government Executive Board. I teamed up with three incredible people (David Joseph, Megan de Armas, and Nyah Jordan) and we created OneBU. Student Government is not about the few dozen people in it but about the student body who make student government possible.
OneBU is a team comprised of students from diverse backgrounds and experiences who are also involved in various groups and organizations across Boston University's incredible campus. We are committed to expanding the voices of our amazing students through our platform by bringing transparent student government directly to them.
What resources have been most helpful to you along the way?
The constant support from the staff and the people at the BUild Lab. Everyone wants to see you succeed and see you push forward. Everyone is extremely encouraging and the "You can do it" mentality is everywhere and anywhere in that place. It is my second home.
What's something we might be surprised to know about? 
I am running for Boston University Student Government President and I'm a Leap Year baby and just celebrated my 5th birthday!
More Innovation, More Inspiration