How Is Industry Sponsored Research Different from Government or Foundation Sponsored Research?
We've previously explored how and why industry might want to sponsor academic research and how industry and academia can work together. In this post we'll discuss how industry sponsored research is different from government or foundation sponsored research.
We've used the simplified Innovation Life Cycle graphic below to show that academia and industry tend to focus on different ends of this life cycle. The graphic highlights the sweet spot where an academic researcher's work can help an industry partner solve a particular research problem to help move a research idea to product development and commercialization.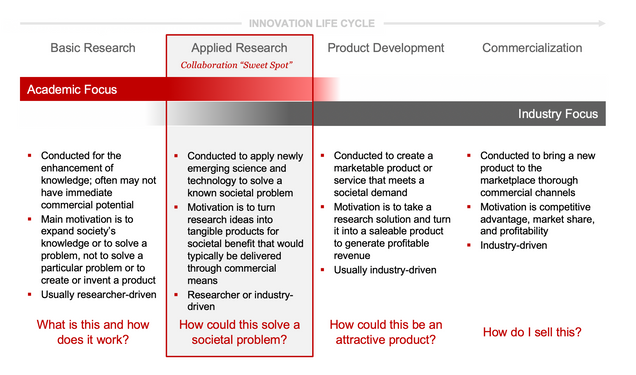 This same framework is helpful to understand how industry sponsorship of academic research is different from government or foundation sponsorship of academic research. It's important to remember that industry is generally looking to develop a product or service that it can profitably sell to its customers in a relatively short time. Industry is less likely, therefore, to invest in fundamental or basic research that may take a long time to translate into a product or may represent more research or financial risk than the company may be comfortable taking. As a result, industry tends to invest its research dollars in applied or translational research leading to commercialization that allows innovations to advance from the academic laboratory to products that are available to benefit society.
Government agencies and foundations often have a different funding role to play in the innovation life cycle. Government and foundation investments are typically not focused on creating a commercial product for profit, but rather on solving a fundamental research problem that commercial entities are not structured or financially motivated to solve. Government agencies and foundations tend to sponsor basic research but may also sponsor applied research to solve a societal problem that might not lead to a commercially viable product.
These very real differences—in where in the innovation life cycle industry tends to invest their research dollars versus where governments and foundations tend to invest, and why they tend to invest their research dollars—lead to very different approaches in working with academia. These differences are highlighted below.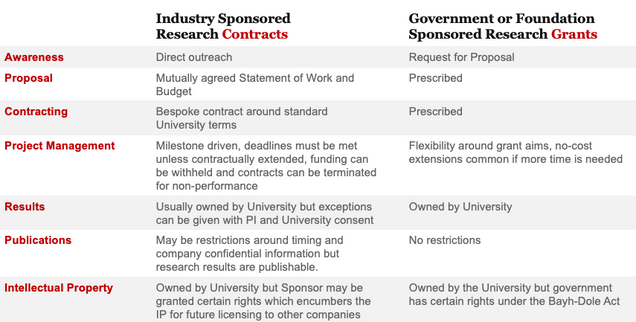 The differences between sponsored research with industry versus governments and foundations can be found both in the process of developing these projects and in the agreements for the projects. The agreements put in place for industry-sponsored research versus government- or foundation-sponsored research are structured with an understanding of the different types of research being funded and the goals and objectives of these different sponsors. Learn more below about the unique processes associated with each type of sponsor.
Government and Foundation Research Funding Process
Government or foundation agreements are commonly referred to as grants and usually award all funds at the beginning of the project. The process typically begins with a request for proposals (RFP) based around advancing a specific body of research or achieving breakthrough research goals. Researchers respond to these RFPs with their proposals and based on the merits of the proposal may be awarded funding for their research in a competitive process. These are typically basic research projects based around exploration and discovery, with an understanding that the research may not successfully achieve the proposed aims but will nonetheless create and advance valuable knowledge and understanding for the greater good.
The terms of the grant agreement are typically known at the time that the proposal is developed and allow little, if any, deviation from a standard agreement. It is generally understood—given the nature of the exploratory or discovery research of these projects—that the aims or timing of the grant may need to be amended as more knowledge about the research is gained.
Industry Funding Process
Industry-sponsored research agreements are typically referred to as contracts. Certain terms may be negotiated around the specific goals and objectives of the research, but should always adhere to the University's research policies. Certain rights to the research project's results or intellectual property may be made available to the sponsor so that the sponsor can use them to develop a commercial product.
The industry funding process is much more likely to focus on creating and advancing innovations to create commercial products or services that will be attractive to the company's customers. These projects are rarely initiated through RFPs and, instead, often come about through direct outreach from the industry sponsor to an academic researcher whose expertise and work they believe will help solve the research problem they have, or from the researcher reaching out to their industry colleagues. These academic and industry researchers may already know each other from their research communities, or may be introduced through industry business development or academic industry engagement organizations. These conversations often lead directly to the creation of a statement or work or project plan, including an associated budget, specifically developed to solve the problem at hand and thereby bypassing the competitive proposal process.
Most importantly, industry contract funding is typically milestone-driven, with an initial, agreed-upon portion of the project funding provided up front to begin the research. Future payments are made once defined project goals or timelines are achieved. If these goals or timelines are not achieved, the industry sponsor may decide to end the project so that they can redeploy these funds to more promising research projects. It is therefore extremely important to carefully create a project plan, budget, and resource timeline that ensures project goals and expectations are met.
Industry-sponsored research and government- or foundation-sponsored research typically serve different purposes at different stages of the innovation lifecycle, and with different sets of expectations for both the researcher and sponsor. Industry-sponsored research generally aims to advance research projects to product development and commercialization and, by doing so, can help move a researcher's innovations out of the lab to benefit society. BU Industry Engagement has the expertise to help sort through research funding options and opportunities and to create meaningful industry sponsor partnerships that befit both the academic researcher and the industry sponsor. Contact us at EngageBU@bu.edu to learn more.