About Us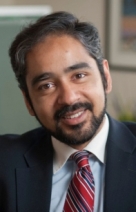 Muhammad Zaman, PhD
Program Director
Dr. Zaman is a HHMI Professor of Biomedical Engineering at Boston University and the Director of the Global Health Technologies program. A major part of his work is focused on research and education in developing countries and he leads a program focused on developing appropriate technologies for the developing world. The aim of the HHMI-funded Global Health Technologies program is to engage students in adopting a global perspective toward their education, and to help them gain a deep understanding of local social, economic, political and cultural factors that contribute to their solutions and technologies making a lasting impact in the field.
Katie Clifford, MPH
Program Coordinator
Katie Clifford is the coordinator for the Global Health Technologies program in the Department of Biomedical Engineering at Boston University. She provides logistical support, fosters partnerships with international universities and helps with curriculum and project development. Katie uses her background in biology, graduate degree in public health and experience as a Peace Corps volunteer to help faculty, staff and students create affordable and practical health technologies that can be used in resource-limited settings. Katie is passionate about reproductive and maternal health, and has worked in Zambia and Haiti on projects in this field. She is excited for the opportunity to work on a project to improve maternal and child health care in Zanzibar, and has thoroughly enjoyed being part of such a knowledgeable and innovative team.
Darash Desai, PhD
Technical Advisor
Darash Desai is a Senior Research Scientist at Boston University, serving as the Technical Lead for the PharmaChk platform and Technical Advisor for the Partnership for Global Health Technologies. His work there is multipronged and focuses on the design and development of need-based global health technologies that deliver social impact in low-income countries. His doctoral work at Boston University focused on the development of PharmaChk, a portable medicines quality screening tool. This work is now being extended as a portable platform for analyte quantification that leverages the unique binding properties of DNA aptamers to small molecule targets. His efforts in both experimentation and computation have been published in journals including PNAS, Lab on a Chip, and the American Journal for Tropical Hygiene and Medicine. His work on PharmaChk has also appeared in media outlets including Scientific American, NPR, and the Wall Street Journal. Darash obtained his masters and Ph.D. from Boston University in biomedical engineering and holds a B.S. in biochemistry and physics together with minors in computer science and mathematics from Stetson University in DeLand, FL.