International Faculty Development
In addition to training programs in our host countries, the Collaborative is proud to offer fellowships and faculty development in the United States for international health-care providers. Our goal is to train a cadre of medical professionals who will in turn educate others in their countries and disseminate the benefits of their continued learning. For more information concerning these programs, please consult our Pamphlet.
Past Projects:
International Family Medicine Faculty Development Course
An 8-week program, the International Family Medicine Faculty Development Course is a short-term US-based fellowship that offers international physicians specialized academic training. Our training module includes an individual needs assessment and encompasses aspects of primary care, academic and systems development, clinical and teaching observations, and applicable customized project work with dedicated mentorship.
Core curriculum covers six main topics:
Principles and Practice of Family Medicine
Medical Education
Clinical Practice
Research
Communication
Leadership and Administration
The International Family Medicine Faculty Development Course is open to any international physician who is interested in learning about the tools necessary for the development and implementation of the specialty of Family Medicine.
International Family Medicine Academic Fellowship Program
Boston University School of Medicine, Department of Family Medicine and School of Public Health are proud to host the International Family Medicine Academic Fellowship Program, a 2-year US-based Master's degree granting program. This program prepares fellows for leadership roles in academic Family Medicine careers by promoting their skills in research, teaching, leadership and management.
These fellowships offer:
Masters degree training in Science and Public Health, Clinical Investigation, and Education
Focused development on general academic skills working in collaboration with U.S. fellows in Family Medicine and General Internal Medicine
Dedicated mentoring and focus project on research, education, policy, or management/leadership
The International Family Medicine Academic Fellowship Program is open to international physicians who are recommended by their home institutions and designated for leadership roles in Family Medicine education in their respective countries. We are not currently offering this program but hope to do so again in the future. If you are interested in being contacted when it reopens, please email Kristin Shaw, Senior Program Manager, at keshaw@bu.edu
Developing the Lesotho Primary Health Care Workforce: Nurse Clinicians and Family Medicine Physicians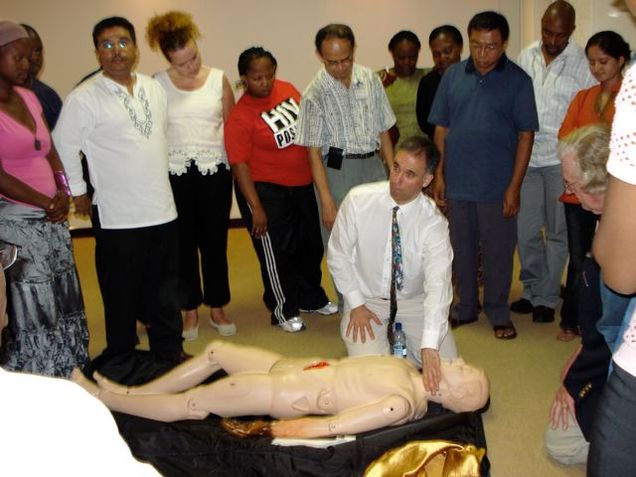 This project enabled the Boston team to begin a process that will improve the quality and accessibility of affordable and sustainable primary care, increase the nation's capacity to respond to the burgeoning medical care demands of the HIV/AIDS epidemic, and improve the recruitment and retention of nurses and physicians.  A series of workshops and exchanges of health professionals between the U.S. and Lesotho took place.