Heat Advisory: 8/4/22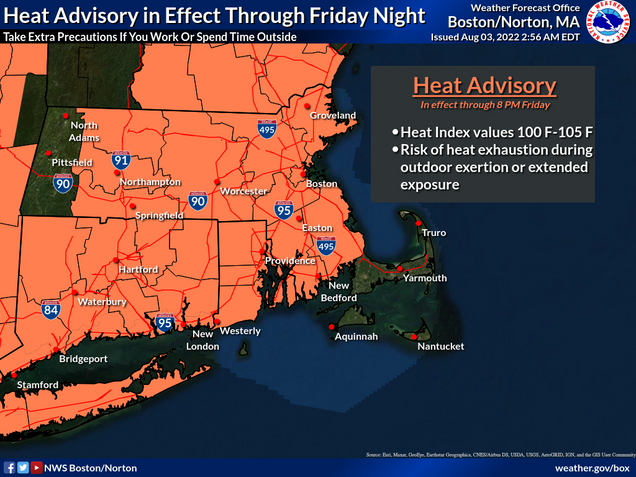 The National Weather Service has issued a Heat Advisory for the Boston area beginning Thursday, August 4. Heat temperatures for the next six days will be in the 90s with high humidity making it feel even warmer.
Boston University will open cooling centers Thursday – Tuesday for BU students seeking relief from the heat at the following locations.
Cooling Center Locations and Hours of Operation:
George Sherman Union (GSU), 775 Commonwealth Ave., will be open Thursday-Tuesday, 6 am – 11 pm.
Rajen Kilachand Center for Integrated Life Sciences and Engineering (CILSE), 610 Commonwealth Ave., Thursday-Tuesday, 6 pm – 11 pm; Available space is on the first floor only.
Audubon Court, 514-522 Park Dr., Thursday-Tuesday, 6 pm -11pm; Available space is in the basement study lounge.
BU students, faculty and staff are reminded to take precautions against heat-related illness or injuries. Physical activities or outside work should be limited between 10 am and 3 pm and/or when the temperature exceeds 90 degrees. Drink plenty of fluids. Please visit the campus map of bottle filling stations. When outside remember to seek out shaded areas, wear clothing that is light-colored and loose fitting and apply sunscreen.
Students, faculty, or staff who are on campus and believe they may be experiencing a heat-related illness on the Charles River Campus should call BUPD at 617-353-2121 and 617-358-4444 on the Medical Campus; off campus should call 911.