Sunday Interdenominational Worship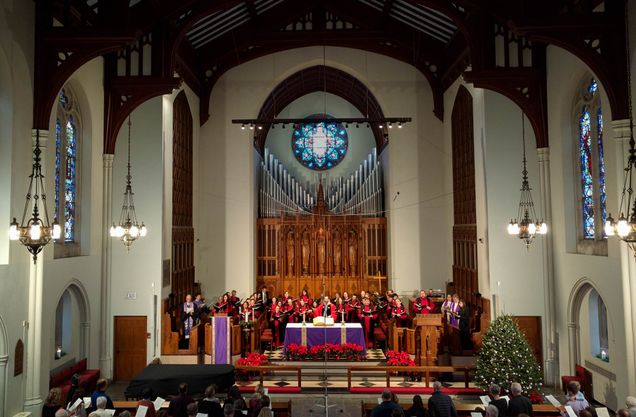 Come Sunday, that's the day!
Duke Ellington's Hymn, 'Come Sunday', rests on my memory as I think about how to introduce worship at Marsh Chapel.
First of all, worship here most especially includes you, the reader of this introduction, as a potential part of our community. We invite you, encourage you, to join us this Sunday from 11am to 12noon for worship, here at 735 Commonwealth. The service is also broadcast live at WBUR 90.9 FM, or on the internet at wbur.org. Podcasts of the sermons are available on our website.
Second, you will find here a Protestant service of ordered worship, drawing on 2000 years of Christian tradition, and aiming at the best liturgy, homily and music that our current culture and practice can inspire. The liturgy is ecumenical. The music is excellent. The preaching builds on a history of 50 years of proclamation, in a tradition of responsible Christian liberalism. We are trying to offer a non-fundamentalist service of the highest quality and caliber.
Third, there is plenty of free parking on Sunday mornings, behind and in front of the chapel. We have a chair lift for those who may need to use one. Childcare is available most Sundays. The 'T' stops right in front of our front door (careful crossing the tracks and street!) Our desk attendant can answer questions at 617-353-3560. We solicit your advice about any points of continuing improvement in our quest of excellence in hospitality.
Fourth, wherever you are in life and however you choose to lead your life of faith, we are here to help you. Come and join us on Sunday for worship: to illumine the imagination by the beauty of God, to quicken the conscience by the holiness of God, to warm the heart by the love of God, to devote the will to the purposes of God.
Grace and Peace!
Bob Hill
The Reverend Dr. Robert Allan Hill
Dean of Marsh Chapel
Chaplain to the University
Professor of New Testament and Pastoral Theology