What to expect during your child's visit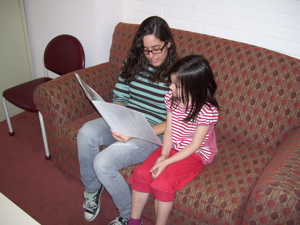 A member of the lab will meet you in the parking garage across the street from the psychology building. Parking is free.
When you arrive at the lab we will warm up with your child in our playroom to get him or her used to the surroundings and lab members. This is also when we tell you more about the specific study your child will participate in and answer any questions you might have.
Your child will then go into the study room with the research assistant running the study. You have the option of sitting in the room with your child or watching on a computer monitor from the next room, whatever makes you and your child most comfortable. Depending on the project, your child will watch a video, read a story, explore new unfamiliar objects, or look at pictures of unfamiliar animals. In our toddler studies, we look to see what choices your child makes about the objects in his or her environment. In our studies of 5–8 year olds, we will ask your child his or her opinion about the objects, stories, and pictures we demonstrate. Our studies take between 20 and 60 minutes, and some require a short second visit.
When your child is finished participating, he or she will get a small gift as a thank you, and then there is more time to play!
Click here to sign up!
Still have more questions? See our FAQs!