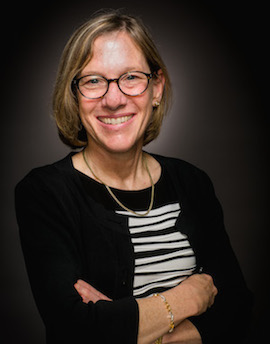 The ceremonies of Commencement bring us together and remind us of the periodicity of academic life, the renewal and optimism of youth, the dedication of faculty, staff, and alumni volunteers, and the ties we share with generations who came before us over our 145 years of graduating classes. I am filled with pride for our graduates, and was captivated by the stirring speeches of Mayor Carmen Yulín Cruz Soto and Congressman John Lewis.
A highlight of the weekend for me was the College of Arts & Sciences' new Awards and Recognition Ceremony on Friday afternoon, at which we recognized outstanding graduating seniors. Formerly Class Day, this year's ceremony was redesigned to be more personal and meaningful for the honorees and their families. Four students received Alumni Association Awards for Excellence in Writing. Graduating senior Madeline Hren gave an exceptional speech about her Boston University experience. Those students who contributed to the College as FY 101 Peer Mentors and Peer Fellows and as Dean's Hosts were honored. College Prizes were awarded to 29 students. And members of Susan Jackson's family attended the ceremony to see the first undergraduate Jackson Award winner named.
This final dean's note of the semester illustrates how people in CAS are working together to build a supportive intellectual community and how these celebratory occasions allow us to recognize their efforts.
College Prizes
The College Prizes recognize those members of the Class of 2018 who have made extraordinary contributions to the departments and programs that, together, make up our College. CAS academic departments and programs selected those graduating seniors who made the greatest impact during their time at BU.  Each College Prize winner has strong academic credentials and has participated in student organizations within the department, supported fellow students through peer education and tutoring, or participated in departmental outreach through programming and events.
A few examples highlight the extraordinary contributions of these College Prize winners. Michaela Cushing-Daniels, who won the Political Science prize, stands out for her academic performance, intellectual curiosity, preparedness, and enthusiasm in the classroom and in departmental life. She completed a thesis on felon disenfranchisement and was described by her mentors as "the life of the intellectual party." Daniel Rybarczyk, Astronomy, was named a Goldwater Scholar. He participated in fieldwork in Antarctica, spent a semester at CERN in Switzerland studying dark matter, and is leading a study of the Cygnus OB2 Star Formation Region in the Milky Way. He consistently participated in outreach and mentoring activities, including being a Learning Assistant for two physics courses. Clare Chiodini, prizewinner for Classical Studies, is a double major in Philosophy and Ancient Greek and Latin. A passionate and focused student who is also passionate about helping others excel in their courses, she served as a tutor in Educational Resource Center. As president of the Undergraduate Classics Association, Clare made sure the annual departmental Aristophanes production took place this year when staffing issues imperiled the tradition. And finally, Jonathan Messerschmidt, Biochemistry & Molecular Biology (BMB), published his research undertaken as a Beckman Scholar. He served as vice president of the Premedical Society and Field Training Officer for BU's Emergency Medical Services.
These and all of the College Prize winners make us all incredibly proud to be a part of this wonderful community of scholars.
Susan Jackson Awards
This year we created a new award to honor Susan Jackson, longtime faculty member and senior associate dean in CAS. The award was established after her passing in June 2017 to celebrate her memory by recognizing students, faculty, and staff members who, through their actions and initiatives, help foster the unique and vibrant intellectual community of which we are all a part.  Many faculty, staff, and family members contributed to make this award possible. And I am delighted that we received numerous nominations, attesting to the wonderful people we have in CAS working to build and strengthen our community.
The Jackson Award for an undergraduate student was awarded at last Friday's CAS Awards and Recognition Ceremony to Santiago Marquez. He was recognized for his many contributions to the Child Development Labs in the Department of Psychological and Brain Sciences. For example, on his own initiative, he began organizing lab outings just for the undergraduates, in addition to helping organize full lab outings (including the graduate students and postdocs), which increased the level of trust and cooperation in the lab.
The Jackson Award for faculty went to Deeana Klepper, Associate Professor of Religion and History. Deeana was also recognized at Friday's ceremony, as she was unable to attend the final faculty meeting of the year, at which the other Jackson Awards were given. Deeana's colleagues praised her mentoring, her careful and attentive work on the BU Hub, her generosity and compassion, her sharp mind and keen political sense, and her energy. Several nominators noted that she carries on the best traditions established by Susan. Of particular note, Deeana established a writing retreat for women and junior faculty members.
The Jackson Award for staff was presented to Daryl Healea, Assistant Dean for Curriculum and Enrollment Services, at the final faculty meeting of the year. Daryl was selected for this award for his efforts to build community among academic administrators in CAS with the establishment of the CAS Professional Development Committee. Recently, the committee held its first CAS Administrator Networking Event, which provided the opportunity for administrative staff to interact with colleagues outside their own departments. Daryl also helped establish an administrative staff professional development fund.
The Jackson Award for graduate students this year had co-winners: Petra Niedermayerova and Chelsea Carter. Petra and Chelsea founded the BU Women in Economics Organization (WEorg), a graduate student-led organization dedicated to the advancement of women in all stages of economic research, with the goal of informing both men and women of the challenges unique to women's careers, giving female economists a collective voice, and facilitating a discussion on gender in the economics profession. The group has started an annual Distinguished Women in Economics Lecture; has organized a panel of female Boston University alumni in economics to return to campus to discuss their experiences and provide advice; and runs a workshop for students on presenting economics research.
I am gratified that we are able to honor Susan's memory by recognizing those members of our CAS community who look for ways to increase our collegiality and support for each other. All awardee names will be inscribed on a plaque in the CAS building, keeping the memory of Susan and those who follow her model of devotion to our collective good alive for generations to come.
When we return in the fall, we will welcome into our CAS community five new faculty members who are joining us from Wheelock College. We will introduce them, as well as new full-time lecturers and tenure-track professors, at our first faculty meeting in September.
I hope you all have a wonderful summer!