Hospitality Stockwatch — June 2023
Authors
Arun Upneja, Ph.D. MBA, Dean, Boston University – School of Hospitality Administration
Steve Kent, Ph.D., CFA, Assistant Professor, Molloy University-School of Business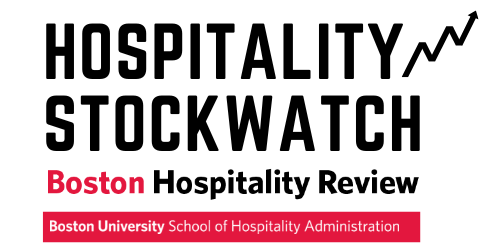 May 2023 Performance: Winners and Losers
The next few weeks will be pivotal in the performance of hospitality, travel, and tourism stocks for three reasons (1) investor/industry conferences, (2) a possible modest downshift in consumer spending with services finally decelerating, and (3) the "Sell in May and Go Away" adage's impact.
One of the reasons for concern is many of the subsectors have reversed course from generally positive performance in the first four months to a more negative recent performance (last 30 days).  Specifically, 12 of the 18 subsectors showed relative underperformance over the past 30 days. In contrast, year-to-date only two of the 18 are negative and only eight are showing relative underperformance.
Investor and Industry Conferences Coming Up: Management Could Reset the Bar
During the first week of June, the following sector-impacting conferences will take place:  NYU International Hospitality Industry Investment Conference, REIT Week (sponsored by the National Association of REITs), and Morgan Stanley's hospitality conference. Many of the leading and largest players in our sectors will be presenting, and CEOs and CFOs will give updates on the current tone of the business.
With two-thirds of the second quarter complete, and the need for executives to provide full disclosure to investors, we may see press releases discussing trends. While generally the tone coming out of the first quarter was positive, the shares of many stocks have been trading sideways or down.  Since recent stock performance is lackluster, senior management may feel compelled to set the bar lower so that during the balance of the year they can meet or beat expectations.
Possible Downshift in Consumer Spending: Services May Not Escape the Shift
In just the past week Costco Wholesale, Dollar Tree, Best Buy, Dick's, Walmart, and Target all came in a bit light on sales.  Of the many retailers reporting the past week, we picked these companies because they are broad-based and appeal to a wide spectrum of consumer price points. Some management teams mentioned idiosyncratic reasons for the sales slough, but others pointed to a weaker consumer.
Morgan Stanley's economic research team recently published a note about the changing trends of consumer spending. They noted that in January 2021 the consumer started to re-engage in spending with a focus on goods/products. Then as the vaccine rolled out, consumers shifted their spending to services such as travel and dining, returning to the experiential consumer mode (Wolfe, 2023). 
However, now we are seeing that higher interest rates may be slowing spending on rate-sensitive durable goods. At the same time, pent-up service demand is declining.  To illustrate their point, they note that "less pent-up demand for discretionary services, paired with a labor supply recovery, is also beginning to alleviate pressure in core-core services inflation (core services excluding housing and medical prices). It has begun to decelerate, growing by 6.6%Y as of April 2023, down from its peak of 7.4% in February 2023" (Wolfe, 2023).
Sell in May and Go Away
One of the many adages that investors focus on is that stocks tend to underperform from May to October. According to Fidelity, "Since 1990, the S&P 500 has gained an average of about 2% from May through October. That compares with a roughly 7% average gain from November through April" (Fidelity, 2023). The divergence in performance year to year and sector to sector can be significant, so this strategy doesn't necessarily create alpha consistently. 
However, the reason why the adage may be more relevant in 2023 is that expectations were high going into the year, and the usual cross currents may force a day of reckoning as we enter the second half. The optimistic outlook for earnings may need to be tamped down.
How Can We Improve Hospitality Stockwatch?
We started publishing Hospitality Stockwatch in January 2023 and have received helpful feedback. Keep it coming! Are there any investment areas, trends or data that would be helpful to be added or examined?  For example, we heard from some of you that online travel agents should be included in our data set, and we have added Airbnb, Bookings, Expedia, and Travelocity.

Please send your feedback to the authors of Hospitality Stockwatch:
Arun Upneja aupneja@bu.edu and Steve Kent skent@molloy.edu 
Click here to download Hospitality Stockwatch – current as of Wednesday, May 31, 2023 
View last month's Hospitality Stockwatch – May 2023 
---
References
---