Hospitality Stockwatch — May 2023
Authors
Arun Upneja, Ph.D. MBA, Dean, Boston University – School of Hospitality Administration
Steve Kent, Ph.D., CFA, Assistant Professor, Molloy University-School of Business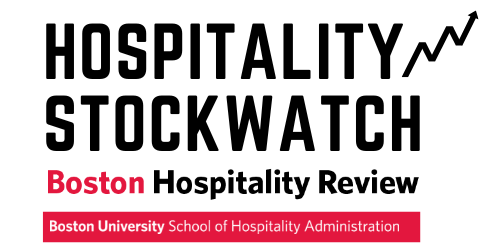 April 2023 Performance: Winners and Losers
The song "Get the Balance Right" by Depeche Mode has been bouncing around in my head for the past month. Not just because I remember listening to it over and over…and over, while I was in college but also because both the economy and stock market are still trying to get the balance right. Rounds of "puts and takes" are expected in every market, but in the past four weeks, the spinning has been non-stop. 
For example, we just got our first reading on Q1 Real GDP growth which came in at 1.1% as inventory built in the past was drained, slowing down economic growth in the present. This slowing growth should lead to slowing price increases but in Q1, it does not look like we "got the balance right," as personal consumption core prices increased to 4.9% – the fastest growth in this inflation indicator in a year. The concerns about stagflation (slowing growth and accelerating prices) seem to be increasing. Meanwhile, the greater concern is what the Federal Reserve will do to get the economy back in balance.
At the same time, Meta (Facebook), Alphabet (Google), Microsoft, and Intel reported positive Q1 results while concerns about Tesla and Amazon this quarter weighed on performance. Tech stocks not only dominate sentiment, but they are also a significant part of the S&P 500 index. These mega-tech names largely drove the 4% gain in the market indicator in April, demonstrating their outsized impact on performance.  
When we dig into our 120 stocks and 17 subsectors, we discover in our Stockwatch that performance remains exceptionally inconsistent.  Seven of our subsectors underperformed in the broader market in April, while ten outperformed. 
Inflation indicators continue to point to higher prices in leisure and travel service as one of the performance factors, which should be a positive for our industries. We are starting to see that in some of the largest subsectors we evaluate, as measured by stock performance. Year-to-date gaming, lodging, and restaurant stocks are up 17.3%, 16.7%, and 14.4% respectively. 
For the most part, the companies in our coverage remain remarkably constructive.  For example, Chris Nassetta, CEO of Hilton, noted during the Q1 earnings call, "Leisure continues to be super strong, business transient in the quarter, both demand and pricing has returned to prior peak levels, and Group is motoring on its way. It is just longer in gestation to get there. But based on the trends, it's going to get there in the second half of the year, I think, with a great deal of certainty" (Nassetta, 2023). 
The CEO of McDonald's, Chris Kempczinski, did note some changes in consumer behavior during their Q1 conference call: "We do see some of the pressures that give us reason to believe that our view on the macro-outlook is accurate, which is one, we are seeing a slight decrease in units per transaction. So, things like did [ph] someone add fries to their order, how many items are they buying per order. We're seeing that go down in most of our markets around the world slightly, but it's still going down" (Kempczinski, 2023). 
The next two weeks will be filled with news as more of our companies post Q1 earnings and indicate the tenor of business in the next few months. Hopefully, this will allow the earworm of "Get the Balance Right" to stop playing on a loop. 
This month's Stockwatch, inspired by Depeche Mode's Get the Balance Right.
Click here to download Hospitality Stockwatch – current as of Saturday, April 29 2023 
View last month's Hospitality Stockwatch – April 2023 
---
References
---
'"We do see some of the pressures that give us reason to believe that our view on the macro-outlook is accurate, which is one, we are seeing a slight decrease in units per transaction," Chief Executive Officer of McDonald's Chris Kempczinski said during a Q1 conference call, according to Boston University School of Hospitality Administration's Hospitality Stockwatch for May 2023.'