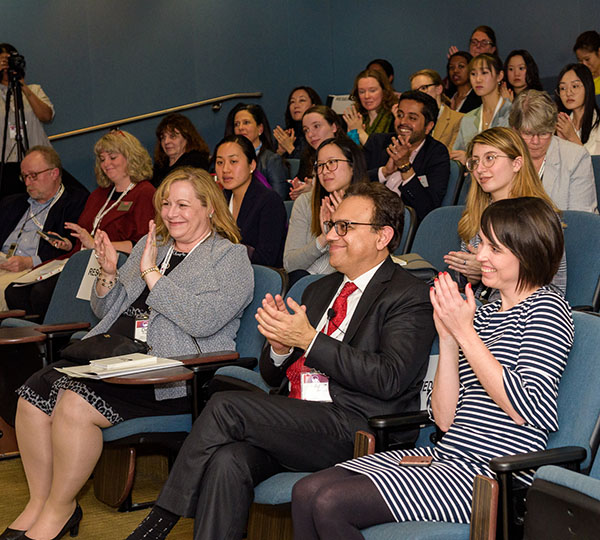 By Dr. Arun Upneja
It was a great pleasure to welcome our students, special guests, alumni and even a few industry partners to our March SHA Leadership Summit – a place where our hospitality leaders of the future were able to convene network, and learn.
The SHA Leadership Summit was designed to equip students with the skills, knowledge, perspectives, and actions required to empower choices and become successful leaders in the hospitality industry. We encouraged our SHA undergraduates and graduates to mix, meet and introduce themselves so that they were able to take full advantage of the powerful and dynamic network who came to our building for these eventful two days.
Topics reflected the issues that students shared were important to them, and our Student Planning Committee helped ensure that the conversations remain relevant. The aim was to tackle the topics that are top of mind and require profound discussion and continued learning.
Students learned and were inspired. Attendees, both male and female were able to hear directly from the (female) leaders of global lodging companies, from champion chefs, from successful entrepreneurs, from industry veterans and emerging leaders. They enjoyed the opportunity to network with the remarkable leaders who possess a variety of international experiences as well as from young SHA alumni. We encouraged our students to listen, take notes and be motivated.
A heart-felt THANK YOU to our Summit co-chairs, SHA faculty member Leora Lanz, SHA staff member Jamie Mangiameli, and SHA research faculty member Dr. Taylor Peyton. Thank you to our student planning committee– Natalie Chai (SHA '19), Emily Fletcher (SHA '20), Eden McColl (SHA '21), Marina Poole (SHA '19), Vi Ramyarupa (MMH '19), Micaela Rezende (SHA '19), Hoda Sherdy (SHA '21), Namrata Sridhar (SHA '19), and Kristen Verdeaux (MMH '19). And thank you to those who have supported us this year – our sponsors, industry partners, student and industry volunteers.
And an additional note of thanks to the executive team at the Hotel Commonwealth, the Massachusetts Convention Center Authority, executives at Dunkin', the owners of Mainely Burgers, and those who greatly contributed their time, knowledge or monies throughout the entire planning process. Their unwavering support has been instrumental to the success of this event.
---
Dr. Arun Upneja is the Dean of the School of Hospitality Administration
Dr. Upneja comes to SHA from The Pennsylvania State University, where he held the positions of Professor of Hospitality Financial Management and Associate Dean for Academic Affairs in the Schreyer Honors College—a position that included oversight for more than 200 honors courses, academic advising, and career development for 1,800 honors students. Dr. Upneja has spent his career as both a practitioner and teacher of hospitality administration. He earned his B.S. in Hotel & Restaurant Management, his M.B.A., and his Ph.D. in Accounting from the University of Houston. He also holds a B.A. in Economics and Business Administration from the University of Jammu in India. Following six years of hotel management with Mumbai-based Indian Hotels Company Limited, Dr. Upneja spent 17 years sharing and building on that knowledge at Penn State, where he established new interactive honors programming for faculty and students and won numerous awards for his research, including the John Wiley & Sons Lifetime Research Achievement Award (2007) from the Council on Hotel, Restaurant, and Institutional Education.