Bringing Visibility to the Black Experience at BU
Student Life
 Bringing Visibility to the Black Experience at BU
The Block student organization aims to capture Black and brown joy and success
The Block, a student-run-and-created organization, is a lot of things—a source of entertaining Instagram and TikTok content, an online photo project, an organizer of movie nights, and more—but primarily, it's a space to build community and highlight the Black experience at Boston University. And in particular, Black joy at BU.
Example: in an Instagram video posted before intersession, two students dance in sync from the stands at a BU basketball game while their friends cheer them on. "So which one of y'all finna start the new team?" the caption reads. In another post, students pose in retro outfits during a decades party at the George Sherman Union. Over on TikTok, videos include a compilation of "first day fits," where students show off their ensembles for the first day of classes over a Snoop Dogg track.
To Block cofounders Leah McFarlane (COM'25), Tsega Seleshi (CAS'25), and Symone Pettis (COM'25), bringing visibility to these moments is critical at a predominantly white institution (PWI) where Black students make up less than 10 percent of the student body.
Flashback to 2020: when she was first accepted to BU, McFarlane was disappointed by the dearth of student-generated social media content depicting Black life on campus. "I'm a YouTube girl, but all I really found about BU when I searched were these big white YouTubers living in StuVi," she says, and talking about things like going to frats. "I came into BU thinking I was just not going to experience what college is really supposed to be."
Of course, she proved herself wrong once she got to campus. Together with new friends Seleshi and Pettis, McFarlane began posting goofy content on Instagram documenting the first weeks of freshman year in fall 2021. Dining hall trips, late-night study sessions, pizza nights in dorm lounges—all of it became fodder for McFarlane's increasingly popular Instagram account.
Soon, incoming College of General Studies freshmen—who don't arrive on campus until the spring semester—found, and began commenting on, McFarlane's posts. That's when the friends realized they might be onto something.
"We didn't necessarily set out to be content creators, but we wanted to show POC at a PWI having fun," Seleshi explains. "We wanted other people to see our pictures and videos and be like, 'Oh my god, that looks fun; I want to go to BU! I didn't know there was a Black community there.'"
The friends officially launched the Block at the end of that semester. The name is a riff on a couple of things, they say: first, the idea of a never-ending block party, plus the fact of attending a school spread over numerous city blocks. The first official Block project? A yearbook-like photo series documenting students of color in different graduate and undergraduate majors at BU.
Some of the majors and groups they've photographed: health science, biology and premed, business, engineering, computer science, law, political science, psychology, communications, and fine arts. McFarlane and Alana Hay (CAS'25), who also runs the Block's TikTok account, are the principal photographers.
The project sprang from conversations within their friend group about being the only person of color in a class, McFarlane relates. "No one likes feeling like they're secluded from everyone else," she says. After participating in the photo shoots, "one, now you have a new friend and study buddy in your program, and two, now people know that we are also here."
---

"When I think about my Blackness, I think about this bond I have with these other people and how much joy we share together."

---
So far, the main Block channels are the Instagram and TikTok accounts. There's also a Block website as well as a podcast, where Pettis, Seleshi, and McFarlane discuss topics relevant to the Black community on campus. And forthcoming: a series of video dorm tours in partnership with Umoja, BU's Black student union.
Events-wise, Block offerings have included PowerPoint nights, movie nights, study sessions, hangouts on campus and around the city, and plenty of photo shoots. ("At this point, this is where everyone gets their Instagram photos," Seleshi says.)
For Jayde Best (Wheelock'25), Block events are critical to her BU experience. While a Princess and the Frog screening or a photo shoot with her fellow education majors may seem unextraordinary, they represent a community many students of color were skeptical they'd find in college.
"The Block is a space for me to feel safe, seen, and understood," Best says. "It's a great space to have at a PWI because we often see students of color being suppressed in social spaces. But the Block gives Black and brown students a platform to be creative and to express our backgrounds and cultures safely with each other."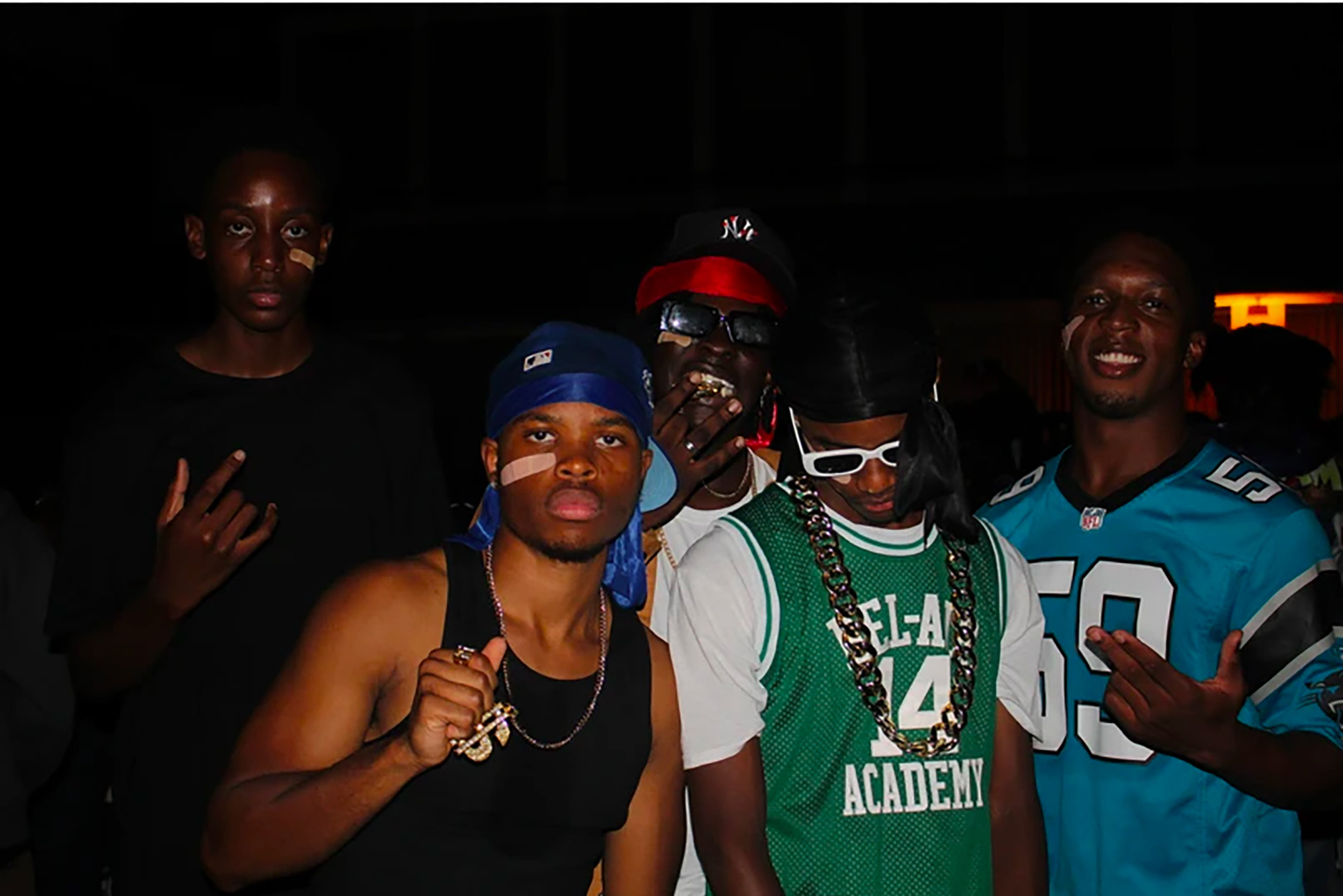 It's also a refuge to escape the pressures of representation and tokenism that can come from being a person of color in a largely white environment.
Back in high school, Seleshi says, she was "like the number one student activist" among a primarily white student body, particularly following the Black Lives Matter protests of 2020, and that she thought constantly about her identity as a Black woman. Now, after more than a year with the Block, she says, "when I think about my Blackness, I think about this bond I have with these other Black people and how much joy we share together. It's so important to me."
That's the whole point of the Block, the cofounders say. Whether the vibe is silly or serious, or if you're joining in for the first or the hundredth time—there will always be room for you on the Block, exactly as you are.
"I just feel really cool having this be what I do when I hang out with my friends," Pettis says. "This is just me chilling, walking five minutes down the street and making art with my girls and getting to meet new people and watch them express themselves.
"This is exactly what I wanted out of my college experience, no matter where I could have gone," she continues. "I couldn't have asked for anything different or better."
Want to get involved with the Block? Reach out to them on Instagram or find more information here.