The Weekender: September 14 to 17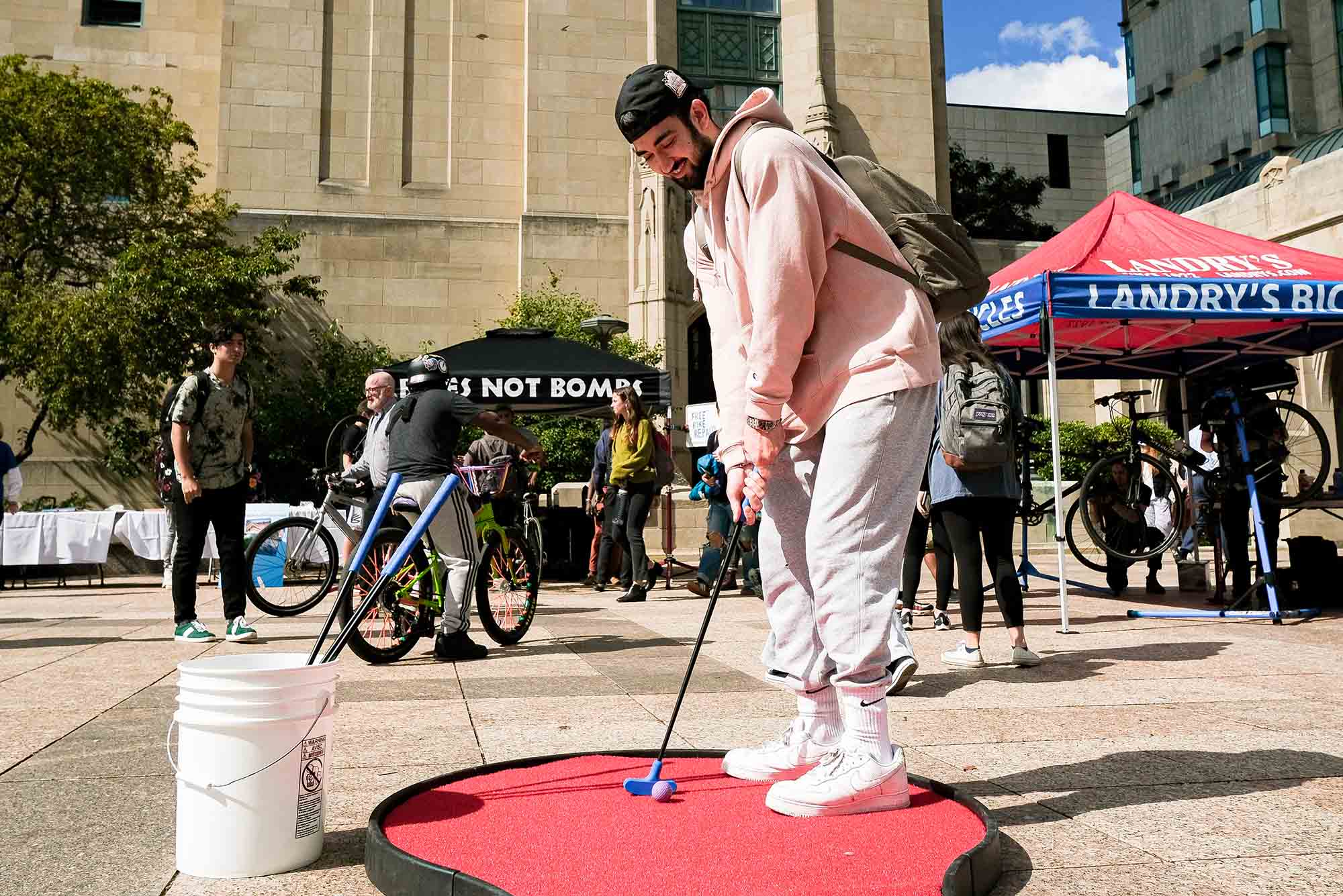 Due to inclement weather, the Global Music Festival has been moved inside to the Tsai Performance Center, 685 Comm Ave. The Comm Ave Carnival has been moved to Sunday, September 24, from 2 to 5 pm.
After the week of the first classes of the semester, surviving stifling heat, and finally unpacking the rest of those boxes, the weekend is here and it's time to rejoice. Spend some of your well-earned free time at a sustainability fair on Marsh Plaza, a music festival on the BU Beach, or a yoga session in the park. Hurry up before it rains again.
Stop by the BU Sustainability Festival for some fun and games—and important info. The fest is an exciting way to connect with student groups and BU community members by learning more about how to get involved with sustainable initiatives on campus. Learn about bike safety and the University's Zero Waste Plan, while entering a giveaway, enjoying food, and shopping at a farmers market.
Thursday, September 14, from 11 am to 2 pm, Marsh Plaza.
What better place to play the popular block-stacking game than in the "Jenga building" itself? Come to the Center for Computing & Data Sciences (you know, the building that looks like a giant Jenga tower) and challenge your friends to see who can stack the tallest, most precarious tower—all while enjoying snacks and competing for prizes. The event is free and open to all students.
Thursday, September 14, from 5 to 7 pm, Center for Computing & Data Sciences, first floor.
This year, the sixth annual Global Music Festival is presenting acts from Ghana, Ukraine, Iran, France, New Orleans, and Cape Verde, all of which can be enjoyed on the BU Beach, and all free. While you're listening to tunes from around the world, be sure to check out a global bazaar, attend meet and greets with performers, and—new this year—taste a variety of global cuisines served up by food trucks.
Saturday, September 16, from 1 to 10 pm, Tsai Performance Center, 685 Comm Ave. Register here.
Presented by Asian organizations on campus, among them the Asian Student Union, the Chinese Students Association, and alpha Kappa Delta Phi, the Moonlight Ball is a great way to celebrate the Mid-Autumn Festival. Dress in your best cocktail attire as you dance the night away, feast on mooncakes, and play fun games, all in the name of tradition.
Friday, September 15, from 9 pm to midnight, George Sherman Union Ballroom, 775 Commonwealth Ave. Purchase tickets here.
Historically, the Comm Ave Carnival is sponsored by the College of Arts & Sciences, but this year it's collaborating with other student governments to welcome all BU majors. New and returning students can enjoy a variety of games, food, and prizes. CAS students will receive a special perk, but all BU students are sure to have some good ole carnival fun.
Saturday, September 24 (note the date change), from 2 to 5 pm, Cummington Mall and COM Lawn. RSVP here.
If you're looking to enjoy some exercise outdoors, try an outdoor yoga class held in the Back Bay Fens area of the historic Emerald Necklace, a 1,100-acre chain of parks spanning Boston and Brookline. The Emerald Necklace Conservancy, a nonprofit that maintains the parks, is partnering with Coolidge Yoga in Brookline for free outdoor classes this fall. Participants can learn more about the Emerald Necklace Conservancy's initiatives after the workout. Make sure to bring your own yoga mat and watch for rain cancellations.
Sunday, September 17, from 10 to 11:30 am, Back Bay Fens, 100 Park Drive, Boston. Find more information here.