Saxbys, New Student-Run Café, Opens at Center for Computing & Data Sciences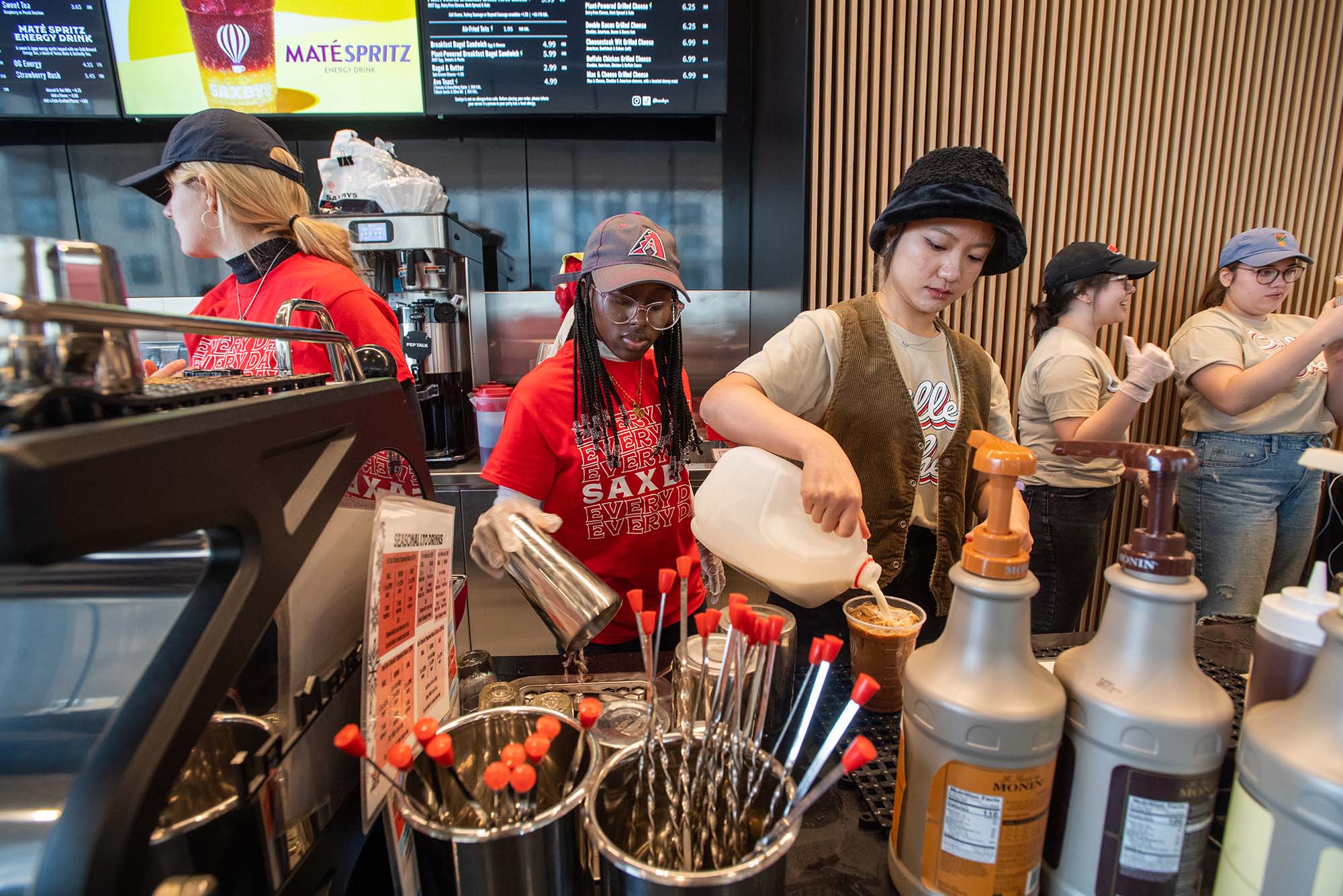 Student Life
Saxbys, New Student-Run Café, Opens at Center for Computing & Data Sciences
Philadelphia-based hospitality company provides student employees with leadership and management skills
The latest dining facility on campus not only serves up a delicious array of grilled cheese sandwiches, espresso drinks, and cold brews, but is also teaching its student workers leadership and management skills.
Philadelphia-based coffee chain Saxbys opened its newest location—its first in New England—in BU's Center for Computing & Data Sciences last month. The café, on the building's first floor, is run entirely by BU students, with the exception of one manager from Saxbys. The BU location is part of The Saxbys Experiential Learning Platform (E.L.P.), which builds individualized partnerships with universities and offers paid experiential learning opportunities to students. Among the other schools the company has partnered with are Georgetown, UPenn, Penn State, and Georgia State.
"The student leaders will build upon the classroom education they're receiving to hone an array of skills to ensure they're holistically prepared to graduate, compete, and lead in the new economy," says Saxbys CEO Nick Bayer, who founded the company in 2005. "I'm confident that the combination of brilliant BU students with the Saxbys E.L.P. and rave-worthy menu will ensure this café is a staple at BU for generations."
Café manager Rainier Foley-DeFiore, Saxbys new market leader, worked for Saxbys as an undergrad student at Penn State before rejoining the company in 2022. He currently oversees day-to-day operations, product purchases, and deliveries, and creates schedules for the team of approximately 60 BU students running the café.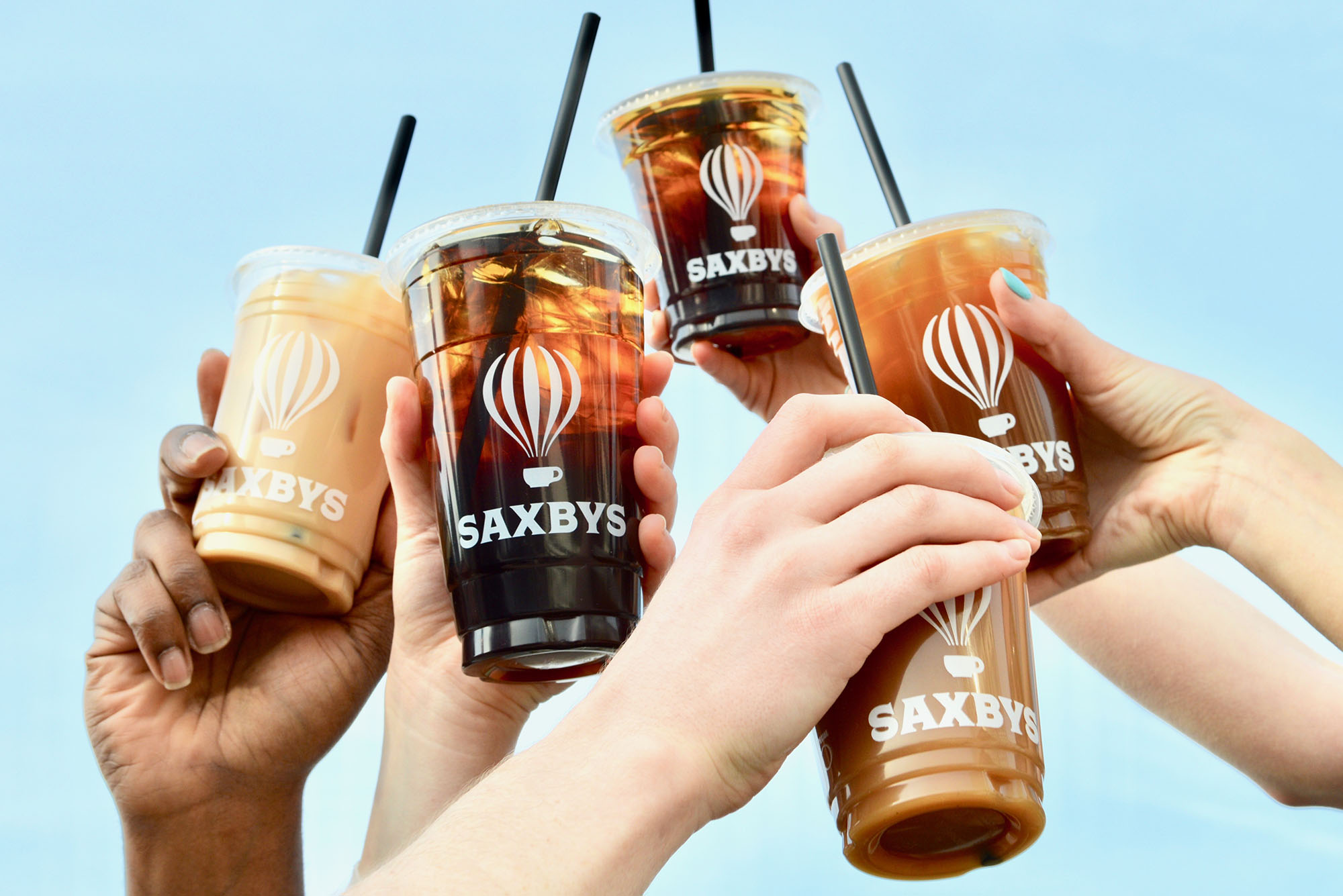 "I love working with [the students. I fully believe that students are the lifeblood of the café and they bring an energy that is very difficult to replicate anywhere else," says Foley-DeFiore. "I love making the café a place that is not only fun to come and visit for great food and great coffee, but also a great place to work."
The café's menu includes classic beverages, such as cold brew, espresso drinks, smoothies, energy drinks, tea, coffee, and hot chocolate. Customers can also purchase a variety of grilled cheese sandwiches—such as buffalo chicken, three cheese, cheesesteak, double bacon, and the green grilled cheese with spinach and pesto—in addition to breakfast items like avocado toast, bakery items, and grab-and-go food.
"BU has really stood out as a grilled cheese–heavy café," says Foley-DeFiore, who's had to increase the quantity of bread he orders to meet demand. "Everyone loves the grilled cheeses. They've kept the people coming back and buying more." 
The company also recently launched several locally inspired specialty items, including a Boston cream cold brew with a chocolate drizzle, a "Boston Beef" grilled cheese with BBQ beefsteak and American cheese, and a green maté spritz energy drink.
Like the rest of the company's locations, the BU café prepares most of its menu in house, using several kitchen appliances to assemble its sandwiches and burritos. Foley-DeFiore says the "delicious and streamlined" menu allows for efficient preparation by primarily using a cutting board–equipped prep surface with a hood that stores fresh ingredients and a TurboChef oven that heats and cooks the food once it's assembled.
Since opening over a month ago, Saxbys has been attracting big crowds that have sometimes led to long wait times and product shortages. Foley-DeFiore says the café is working to address these issues. "We've been very busy every day, which is awesome," he says. "Honestly, right now we are focusing on how we can serve even more people more effectively and more efficiently, and making sure we can serve as many guests as quickly as possible each day. I love the reception we've gotten from BU so far."
Some students have already become regulars. Alex DeRosa (CAS'24) had never been to a Saxbys before the BU location opened, but now orders from the café once or twice a week and is "very happy with it," she says.
"The food is great, and I think it's definitely a good addition to campus," says DeRosa, who usually gets a grilled cheese and a "Vacay All Day" smoothie. "Going to all of the same on-campus restaurants gets tiring, so it's nice to have some more variety."
Foley-DeFiore is confident Saxbys will soon become a staple at BU. "I know there are a lot of popular coffee shops and coffee chains in the area, but this café is going to be a strong addition, a strong competitor to them," he says.
Saxbys, on the Center for Computing & Data Sciences first floor, 665 Commonwealth Ave., is open Monday through Thursday, 7:30 am to 7 pm, Friday, 7:30 am to 5 pm, and weekends, 10 am to 4 pm. Find more information here. Download the Saxbys app here.