Publicizing the Great Job Great Danes Do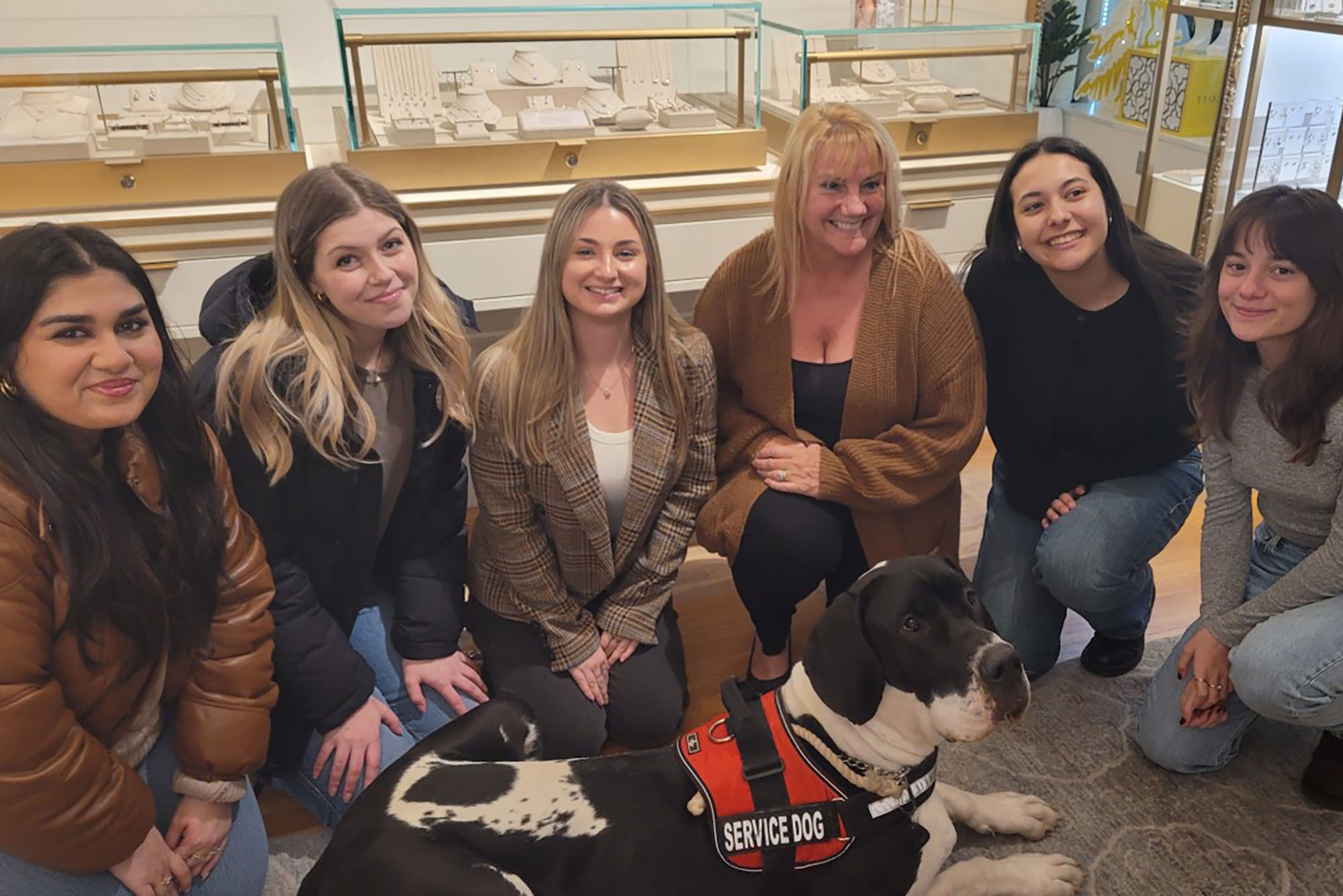 Learning by Doing
Publicizing the Great Job Great Danes Do
COM PR class takes on Service Dog Project, a local nonprofit, as a client
People are always wowed by the size and power of Great Danes, but often don't realize the breed is well adapted to be trained as service dogs. If its owner starts to fall, a Great Dane can provide counterbalance and brace, something impossible with a smaller Lab or a golden retriever. And someone who is in a wheelchair can hold on to the dog to pull themselves up.
That makes the work of the local nonprofit Service Dog Project crucial. The Ipswich, Mass.–based organization breeds and trains Great Danes to aid veterans, first responders, and people with mobility disabilities, at no cost. For the last few years, the nonprofit has struggled with marketing and how to secure much-needed donations.
Enter College of Communication students. Last semester, students in the Media Strategies and Management course partnered with the group, providing pro bono public relations support and helping raise funds for an upcoming kennel renovation project.
"They spun our company around, helped us get more volunteers, and got our new website up and running," says Lynn George, Service Dog Project president. "They reached out to different organizations for donations, put up flyers, donated their time. At our open house, we had so many people here. I couldn't figure out how to get Google to find us, and now Google directs to our website. Something that would have taken me three days to do on the website took them 10 minutes. They are so smart."
Training a service animal can cost upwards of $40,000 and not every dog goes on to be certified, further eating away at resources. While there are many service dog trainers, the Service Dog Project is one of only two organizations in the country where qualified people can receive a fully trained service dog for free.
A Great Dane service dog starts work at three weeks old, learning the command "wait" as well as their name. "From there they learn to follow us, go on puppy marches, and then once they hit 12 weeks and have had their vaccines, they can get in cars and go off-property," George says. "We bring them to locations around town to work on recall and expose them to loud sounds, horns, and trucks. By the time they are a year old, we know who will make it to the next section, and who will be a fabulous failure. At 18 months old, they should be desensitized and mature. If people fall they don't need to be kissed in the face. That takes a while."
"Their mission is so unique, and the way they train the dogs is so unique since Great Danes aren't usually trained as service dogs," says James Grasso, a COM lecturer in mass communication, advertising, and public relations, who formed the COM partnership. Grasso should know: he's not only a longtime volunteer with the organization, but has his own Service Dog Project–trained pup, Gibson, who provides support for his balance disorder.
"For this class, I look for a good nonprofit that needs help but can't afford it," says Grasso, who has been teaching at COM for 29 years. "I take those building blocks students have learned in other COM courses and put them into practice in real life." In this sense, the course is designed to demonstrate to students what it's like working at a real-world PR agency.
This includes interviewing the client about their goals and objectives, creating a budget, filing weekly activity reports, reaching out to reporters, and writing news releases. "The key for me," he says, "is that they get real-world experience."
Giana Carrozza (COM'24) took on an account executive role, and in that capacity aimed to understand what the Service Dog Project most needed, deciding between a social media overhaul, fundraising outreach, and an updated website. "This was so different from any other class I've taken," says Carrozza, who is on the executive board of COM's Public Relations Student Society of America. "It gave us the most amount of real-world experience."
To fundraise, the students first researched who it might make sense to reach out to, seeking out national dog brands, dog nonprofits, veterans groups, local businesses, and celebrities who have donated to dog groups in the past, such as Warren Buffett and Howard Stern (CGS'74, COM'76). In total, they made 120 contacts, both local and national, and secured donations such as pro bono printing services, and dog harnesses, as well as money. They organized a night of fundraising at the jewelry store Kendra Scott in Boston and also secured coverage in the Marblehead Current.
One of the students' favorite parts of the class was the chance to visit the Ipswich farm, where they were elated to find about 50 Great Danes frolicking. "They look like horses—they're massive," Carrozza says. "We are huge dog people so we had the time of our lives. They were still in training. They also had horses and donkeys. We enjoyed the visit."
Grasso wants to continue this work when he teaches the course again in fall 2023, but in the meantime, he and a few students will continue to volunteer. "They need funding to continue, and so it's a win-win for everyone," he says. "They need donations and exposure, and to get the exposure you need people who have the talents I had in my class."