A Round of A-Paws for Pets on Campus
Photo essay captures the dogs—and occasional cat—who accompany their owners to work
Photo Essay
A Round of A-Paws for Pets on Campus
Photo essay captures the dogs—and occasional cat—who accompany their owners to work
It's summer—a time when BU's bustling campus takes on a noticeably more chill vibe. Classroom buildings are largely dark, the dress codes more relaxed, and offices tend to be sparsely populated as faculty and staff take advantage of the time to get away.
It's also the time of year when you're most likely to encounter in the hallway a furry companion or two, faithfully accompanying their owner to work for the occasional office visit—often to the delight of colleagues who welcome the sight of a wagging tail and a lick or two.
BU photographer Cydney Scott spent part of the summer photographing some BU pet owners and their four-legged friends. Take a look. It's the perfect way to celebrate the final dog days of August.
---
Kori MacDonald with Nova and Stella
Nova's favorite hobby: spying on the neighbors through the window of MacDonald's Malden home
Favorite treat: likes all foods, but especially enjoys Greenies pill pockets
Favorite thing to do with her owner: go on trail walks and chase squirrels and chipmunks
Stella's favorite hobby: following Nova around
Favorite treat: all things potato—tater tots, french fries, hash browns
Favorite thing to do with her owner: people-watch during trips to Marshalls
Michelle Njoroge (CAS'20) and Nova
Favorite hobby: cuddling with her mom
Favorite treat: wishbones (beef chews) from Polkadog Bakery
Favorite thing to do with her owner: take walks around Boston's South End
Chris Kolovos and Circe
Favorite hobby: chasing bunnies in the backyard
Favorite treat: pizza crusts
Favorite thing to do with her owner: go for long runs through the woods and play fetch in the yard
Zoe Marsiglia (CAS'24) and Louie
Favorite hobby: greeting people
Favorite treat: dried chicken feet
Favorite thing to do with his owner: take walks to the local dog park
Erin Murdock (Wheelock'18, Questrom'23) and Henry
Favorite hobby: stealing his humans' socks
Favorite treat: Greenies pet treats
Favorite thing to do with his owner: take a trip to the dog park
Chelsea Houlihan (Wheelock'22) and Astro
Favorite hobby: chasing squirrels
Favorite treat: peanut butter or bone marrow
Favorite thing to do with his owner: hike in New Hampshire or at the Cat Rock Loop at the Blue Hills Reservation in Milton, Mass.
Lucy van Beever (MET'17) and Kane
Favorite hobby: swimming, and fetching a tennis ball, dropping it, and rolling around on top of it
Favorite treat: bread
Favorite thing to do with his owner: take walks
Chris DeVits (Wheelock'10) and Bella
Favorite hobby: chasing birds
Favorite treat: deli meat ("She hears the deli meat drawer open and comes running.")
Favorite thing to do with her owner: go on hikes
Emily Ryan and Whiskey Gus
Favorite hobby: chewing things and licking people
Favorite treat: hot dogs and cheese
Favorite thing to do with his owner: play fetch
Brian Baldeck and Penny
Favorite hobby: sitting on the back of the couch while looking out the window
Favorite treat: anything from Polkadog Bakery, especially the Chicken Littles and cake batter bit
Favorite thing to do with her owner: Walkies! Alternatively, snuggles
Colleen Gilman Kenney and G'raha
Favorite hobby: playing in his cat tunnel
Favorite treat: dried minnows
Favorite thing to do with his owner: play fetch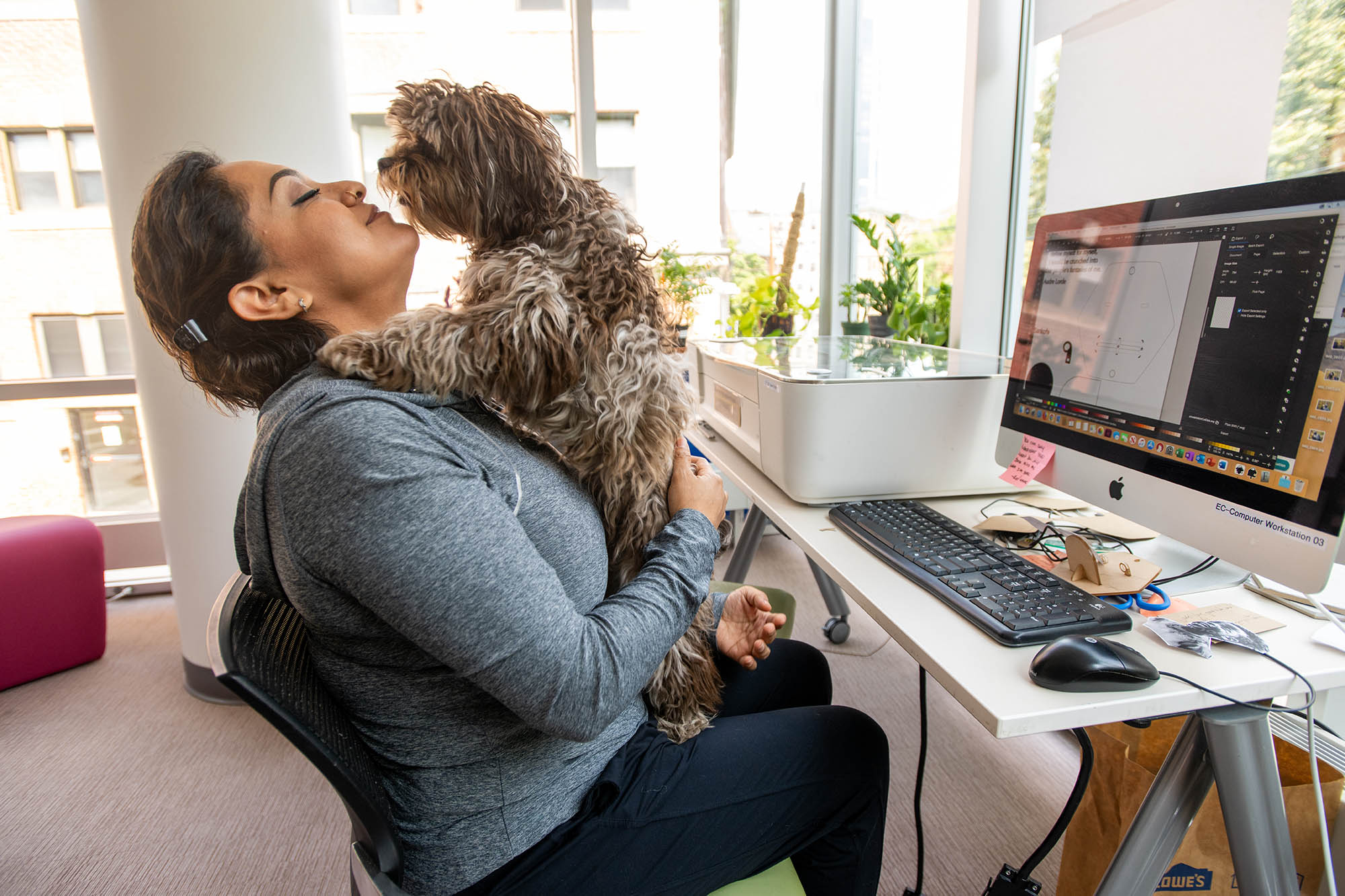 Maria Olivares and Oreo
Favorite hobby: wrestling with a squirrel hand puppet
Favorite treat: Charlee Bear Original Crunch treats
Favorite thing to do with her owner: play fetch with stuffed animals
Rachel Edwards (CAS'19) with Bea (sitting in chair) and Tobi
Bea's favorite hobby: judging Tobi
Favorite treat: carrots, sliced watermelon, and dehydrated sweet potato chips
Favorite thing to do with her owner: sit and lay on top of her owner
Tobi's favorite hobby: playing with toys while making quasi-Pokémon sounds
Favorite treat: Rachael Ray's Nutrish Burger Bites
Favorite thing to do with his owner: play fetch (endlessly)