Kim Raver to CFA Grads: "You'll Hear a Lot of 'No's Before You Get to That 'Yes,"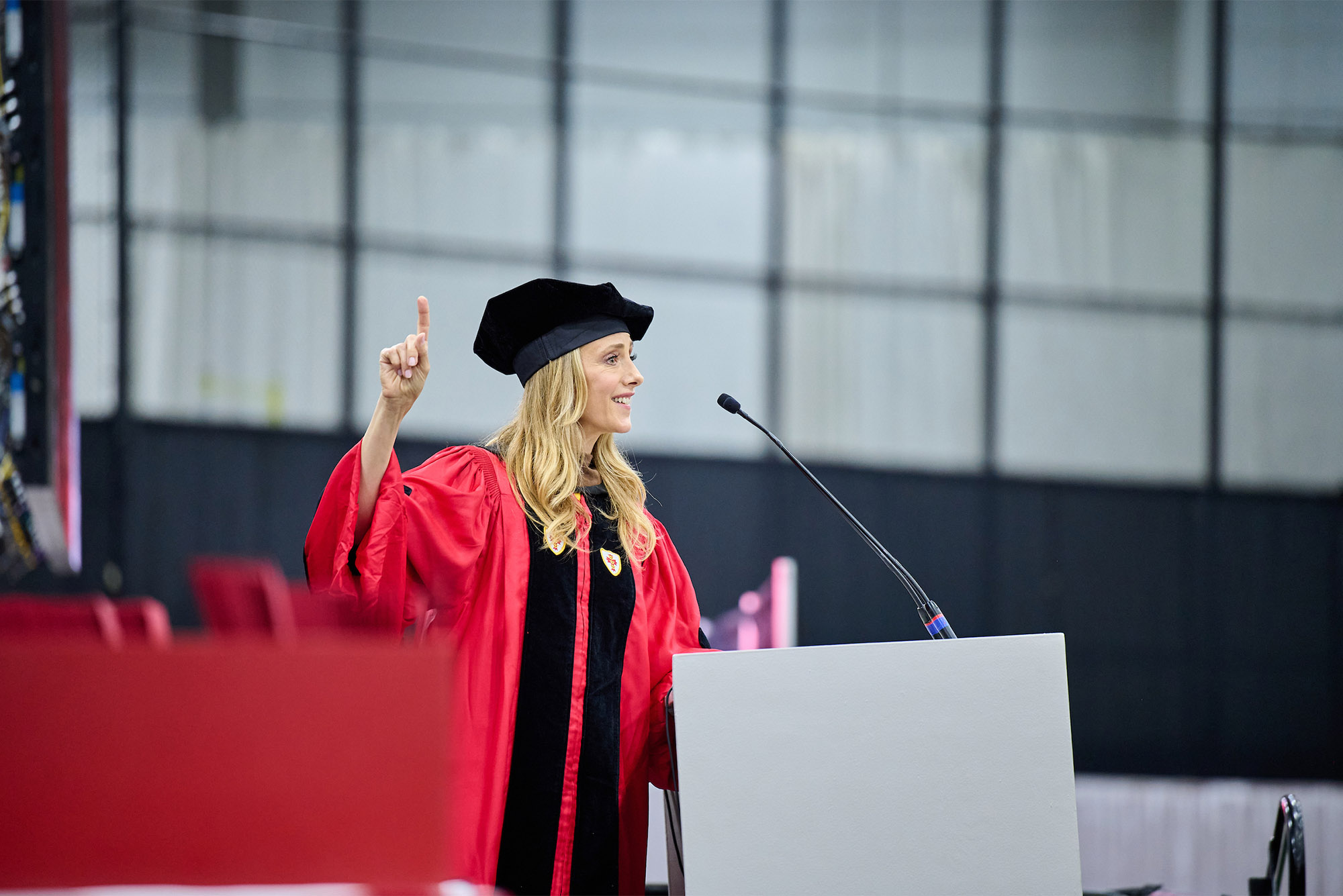 Commencement 2023
Grey's Anatomy and 24 star urges Terriers to push through rejection and stay true to their craft at convocation
Ask Kim Raver about the advice she wishes she had gotten after her college graduation, and she'll tell it to you plainly: "If you buy a couch, make sure it fits through your door."
The actor-director-producer—and the star of TV shows including Grey's Anatomy, 24, and Third Watch—began her address at the College of Fine Arts Convocation May 20 with a painful recollection of spending her last dime on a big floral couch after her own college graduation, only to discover that she couldn't get it into her apartment. No, she added, attempting to widen her front door with a sledgehammer didn't work.
As Raver (CGS'87, CFA'91) stood before the 328 Class of 2023 CFA graduates, she wanted them to see the couch as a metaphor: for the difficulty she faced, and the difficulty they would soon encounter as they transformed "from students to alumni."
"While some of you may achieve instant success, if you're anything like me, you'll hear a lot of 'No' before you get to that 'Yes,'" she said. "Like that couch, there will be a lot of doors that you won't be able to get into on your first try."
Raver's success, though hard-won, has been characterized by her portrayals of "smart, courageous, authoritative women," CFA Dean Harvey Young noted in his introductory remarks at the convocation. In addition to her recurring role on Grey's Anatomy as Dr. Teddy Altman, Raver's TV credits include Ray Donovan, Bones, and Lipstick Jungle; on stage she has starred alongside Laura Linney on Broadway and David Schwimmer at the Williamstown Theatre Festival. Her film credits include Night at the Museum, Mind the Gap, and City Hall, among others. She recently branched into producing, with three Lifetime Original films under her belt—two of which she also directed. But 'No' followed her throughout her career, she admitted—even after landing her career-making role as Teddy Altman.
"I played Teddy for six seasons and I thought I had finally made it into the world of 'Yes,' until one day I decided I wanted to direct an episode," she said. "Several Grey's actors had directed episodes and they had good experiences, so I thought, I want to try." Of course, it wasn't that simple. Grey's Anatomy's producing director, who hires each episode director, was illustrious actor-dancer-choreographer Debbie Allen, and Raver felt the pressure immediately.
"I asked Debbie, 'Can I direct an episode?' And she said no," Raver said. "Well, I had been accustomed to hearing 'No' and I like a challenge." Raver worked hard and eventually got her episode, but "No" came back for her eventually. A few years later, she and her family uprooted their lives and moved to London so she could reprise her role as Audrey Boudreau in a 24 reboot—only for Audrey to get killed off by the showrunners shortly afterward.
"You've just spent four years studying and sharpening your craft…and now your convocation speaker is telling you that the reward for all this hard work is a lifetime of hard work, soul crushing rejection and zero job security," Raver said, to a roomful of applause. She said knew the reason her audience would want to stick with their craft in the face of such adversity. "It's art, and the world needs art, it needs music, it needs stories, it needs beauty," she said as the applause struck up again, "now more than ever."
In his opening address, Young praised CFA graduates for the immense perseverance they'd already shown in their time at BU by facing the nation's ongoing conversation on racial injustice and the COVID-19 pandemic.
"In the movement toward return and reopening and relaunch, we had to ask ourselves what we were really seeking to return to—do we want to build in the same way? Were we happy with the way things were?" he asked. "And it was in those questions that you found your voice."
Student speaker Lily Fine (CFA'23) was intimately aware of those challenges. In her address, the printmaking major and ceramics artist confessed that she almost dropped out of BU three times. One of those times was during COVID quarantine, when she was away from campus and questioning her path, feeling the weight of the pandemic—one colossal, all-encompassing "No."
"Not knowing what the next school year would look like, or if we'd be back in the studios at all…I didn't know if I'd ever feel like I could return to a normal BU," she said. "But I took the leap of faith because I trusted that no matter how far I wandered, I would always be drawn back to Boston. University."
Fine did come back, but only after spending six months hiking the Appalachian Trail. Facing the 194 graduate students and 134 undergraduates receiving their degrees in music, theater, and visual arts, she related the perspective her travels afforded her.
"Although things may not make sense in the moment, everything has the potential to come together in the end," she said. "Good things come sometimes when you least expect them and in ways that you never could have imagined they would."