Getting to Know Your Neighborhood: Kendall Square
A guide to navigating through the Boston area's smartest square
Things-to-do
Getting to Know Your Neighborhood: Kendall Square
A guide to navigating through the Boston area's smartest square
Few Boston-area neighborhoods have undergone as many transformations as Cambridge's Kendall Square. Originally a Charles River salt marsh, by the middle of the 19th century it was a bustling industrial center that housed distilleries, factories, and the expansive Kendall Boiler and Tank Company, which gave the area its name. After World War II, most businesses had shut down or moved, leaving much of the area deserted, except for the Massachusetts Institute of Technology, which had moved to Cambridge in 1916.
During President John F. Kennedy's race to space, the area was under consideration for NASA's mission control center, but Vice President Lyndon Johnson successfully lobbied for Texas. At about the same time, the area became home to a US Department of Transportation hub, the John A. Volpe Transportation Center—a 14-acre parcel of land that MIT is now set to redevelop into a mixed-use site that will include a combination of housing, retail, office, lab, and park space.
Kendall Square languished until Biogen arrived in the 1980s, beginning the area's transformation to what it is today: a thriving center for life sciences, biotech, pharmaceutical, and information technology firms. It also has some of the highest commercial and residential rents in the Boston area.
The Cambridge Innovation Center, launched in 1999, supports innovators solving the world's most pressing challenges. And industry giants like Amazon, Biogen Idec, Facebook, Google, Microsoft, Twitter, and Novartis also have a presence there. The Broad Institute, Draper, Forsyth Institute, Koch Institute, and the Massachusetts Biotechnology Council have made the area a premier research hub.
Kendall Square has also seen the arrival of dozens of cafés and restaurants, many that use locally and sustainably grown ingredients.
BU Today has listed some of the square's best places to visit, street by street.
True to its name, this movie theater is a Kendall Square landmark. The cinema sports nine screens and shows new releases, independent films, foreign language films, and documentaries. It has won numerous awards since its 1995 opening, and recently underwent a major renovation that included all new seats, carpet, tile, and flooring, and the construction of a bar serving beer and wine. View show times and get tickets online here. Be sure to check out the cinema's $7 movie tickets special, available on Mondays and Tuesdays.
A staple since 1989, Cambridge Brewing Company is in a refurbished mill building. Brewers here have a passion for beer, and it shows. With wood-aged beers, experimental hybrids, special seasonal brews, and a commitment to creativity and sustainability, it offers one of the best selections of American craft beer in the Boston area. It also has a seasonally driven food menu for brunch, lunch, and dinner. Many of the ingredients are locally sourced. Enjoy a brew or a meal on the outdoor patio in warmer months.
State Park

One Kendall Square, Building 300
This relaxed, unpretentious eatery serves up "food, drinks, and amusements," in a kitschy dive bar atmosphere, complete with retro pinball machines and pool tables. It offers lunch, dinner, and a weekend brunch. On its eccentric menu, you can find small plates, like warm burrata and artichoke dip or crispy brussels sprouts, and large plate entrées, like fried chicken served with garlicky kale and bread-and-butter pickles or gnocchi Parisienne served with leeks, oyster mushrooms, honeynut squash, chili butter, and pecorino. It's also known for innovative cocktails you can order by the pitcher—including the Cape Codder, Afterglow, and a pineapple cynar spritz—ideal for large groups.
Mostly known for their traveling Vietnamese cuisine truck, Bon Me has planted some of their roots in Kendall Square. A business born in 2010 out of an unexpected win at a food truck contest, Bon Me has been serving delicious Vietnamese food ever since. Try the chef-crafted J.P. sandwich, a toasted baguette stuffed with roasted paprika tofu, pickled carrots and daikon, cucumber, and red onion, topped with cilantro miso spread and spicy mayo. Or you can create your own bowl, choosing from noodle, salad, or rice, with a variety of different toppings. Bon Me also offers seasonal dishes and has a second location at One Kendall Square on First Street.
Earnest Drinks at Gracie's Ice Cream provides the best of two worlds: delicious, innovative cocktails and mouthwatering desserts. By day, Gracie's serves up handmade ice cream in classic flavors, like chocolate and vanilla, and more unique flavors, including banana graham chip and cucumber lime mint sorbet. You can also order more savory bites to eat, including their popular hot dogs, the Linden (turkey, crispy pancetta, Swiss cheese, lettuce, tomato, and mayo on a hoagie roll), and Koolickles (pickles soaked in Kool-Aid). The lattes and espresso drinks are also very good. Gracie's also offers ice cream–making classes. At night, stop by Earnest Drinks, the cocktail bar inside Gracie's, for a variety of canned wines, ciders, and beers—like Nomadica California chardonnay or Artifact "Feels Like Home" cider—as well as standout cocktails, such as the Darling, You Know, a whiskey maple drink, and the Islands in the Stream espresso martini.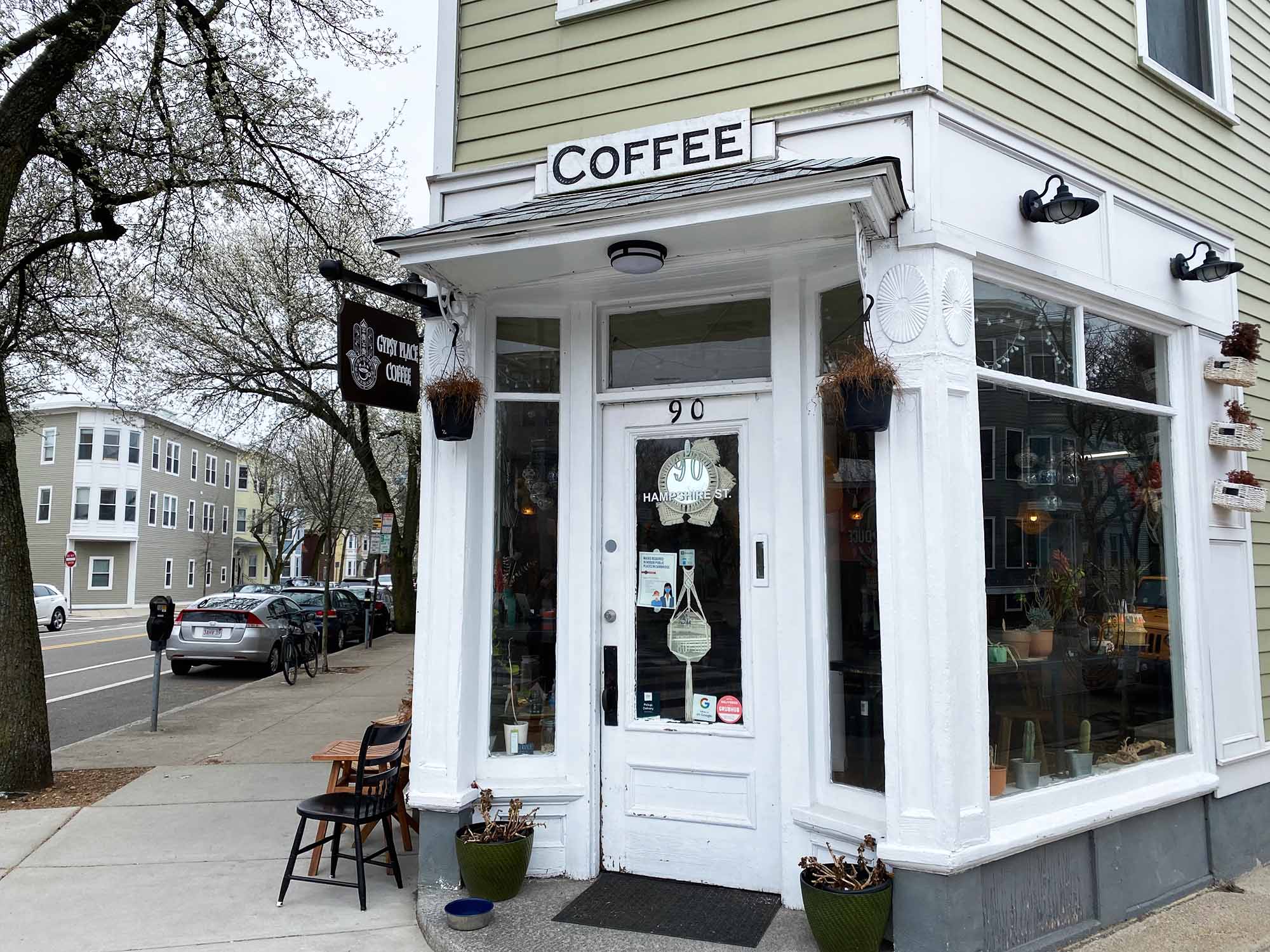 Gypsy Place bases their shop off of the gypsy soul—a free spirit, new beginnings, and unconditional love. Gypsy Place instills these values in each of their products, sourcing their coffee from local farms in Colombia and Ethiopia and crafting bites with only natural and organic ingredients. For a caffeine kick, try classics like the hot red eye or Turkish coffee. They also offer refreshing smoothies and juices, such as the amber smoothie (banana, peanut butter, cocoa powder, and honey) and the jasper juice (carrot, orange, ginger, and pineapple). You can also design your own smoothie. Gypsy Place's menu is vegetarian, with a few pescatarian choices. Try their popular avocado toast (topped with tomato, red onion, cilantro, jalapeno, and togarashi spice) or their opal bowl (blended avocado, banana, mango, and pea powder, topped with chia seeds, coconut, pumpkin seeds, granola, and goji berries). Among the desserts, you can't beat the macaroons or the rose Flower Bomb—vegan truffles with walnuts, cranberries, and rosewater, covered in rose petals.
With a draft selection that's updated hourly, Lord Hobo is a favorite among MIT students. The restaurant offers an array of local beers, including some of its own brews (it has a brewery in Woburn, Mass.). There are dozens of beers on the menu—including lagers, wheats, stouts, and IPAs—and a long cocktail list offering drinks with attention-grabbing names like the Meads Knees (honey gin, lemon, and honey). New American cuisine predominates, with creative spins on comfort food like skirt steak tacos, mac 'n' cheese, and Big Mac Daddy (2 beef patties, American cheese, special sauce, lettuce, tomato, pickles, on brioche, with a side of fries). Lord Hobo also offers a popular weekend brunch. Rotating exhibitions of work by local artists enliven the walls.
CAVA

82 Ames St.
At this fast-casual Mediterranean chain, diners can create their own personalized meal from a list of fresh seasonal ingredients. CAVA boasts that you can create 58,978,800 combinations (they counted). You choose your base (including salad, grains, pita, or RightRice), dip or spread (tzatziki, hummus, eggplant and red pepper dip, feta, and harissa), protein (falafel, lamb, white sweet potato, harissa honey chicken, grilled chicken, and roasted vegetables), toppings (pita crisps, cabbage slaw, diced cucumber, and more), and a dressing (sriracha Greek yogurt, lemon herb tahini, yogurt dill, garlic, and more). The house-made juices and teas complement the food.
The Garment District is Cambridge's go-to store for men's and women's vintage and gently used clothing. A magnet for budget-conscious and savvy shoppers, the store bills itself as an alternative department store housing "today's clothes at yesterday's prices," and sells contemporary and designer casual and business attire and accessories, as well as apparel from every decade from the 1920s on. Since new items arrive daily, expect to see different merchandise every time you shop. If you're willing to rummage through the disorganized piles, you can find some real deals. The 12,000-square-foot space offers an estimated 40,000 items for sale at any given time.
The Garment District's sister store, Boston Costume, houses one of the largest selections of costumes in the Boston area. Whether you're looking for the perfect Halloween outfit or something for a themed party, you'll likely find it here. It also offers couple and group costumes, as well as costume accessories (think crazy beards, colorful wigs, makeup, funky glasses, hats, masks, and capes). Costumes are available to rent and to buy.
Behind the Squirrel Brand Building, a former candy factory best known for its Squirrel Nut Zippers, lies a quaint park and community garden featuring nearly three dozen plots. A path winding through the pocket-size urban park commemorates some of Squirrel Brand's best-known confectionaries, with engravings of fun facts, such as the swing band Squirrel Nut Zippers, naming themselves after the Squirrel Brand candy in 1993.
By day, this spacious 10,000-square-foot building is Pepita Cafe, a laid-back place where customers can order a coffee, tea, or pastry while working on their laptops. In addition to a full espresso menu, you can order specialty breakfast drinks, like the Orange Cardamom Latte, sandwiches, soups, salads, and fresh pastries, like the delicious Fiore Creme Brioche, a bun filled with orange vanilla–flavored mousse and topped with brown sugar crumble. The second floor offers books for perusing and board games that customers can play. At night, the space (a former auto repair shop) becomes the Lamplighter Taproom and offers full- and half-pours, tasting flights, and chef and brewery collaborations. The bar serves up beers made at the adjacent Lamplighter Brewing Co., known for producing funky, flavorful ales and lagers. Windows separate the bar from the brewery, so you can actually see your drink being brewed. The taproom frequently hosts pop-up food events, but guests are welcome to bring their own food. Tours of the brewery are offered on Saturdays, and customers who bring their own growlers can have them filled during taproom hours. On Tuesdays, the taproom hosts trivia nights. Note: the taproom is 21-plus Sunday to Friday after 6 pm, and Saturdays after 2 pm.
Area Four

500 Technology Square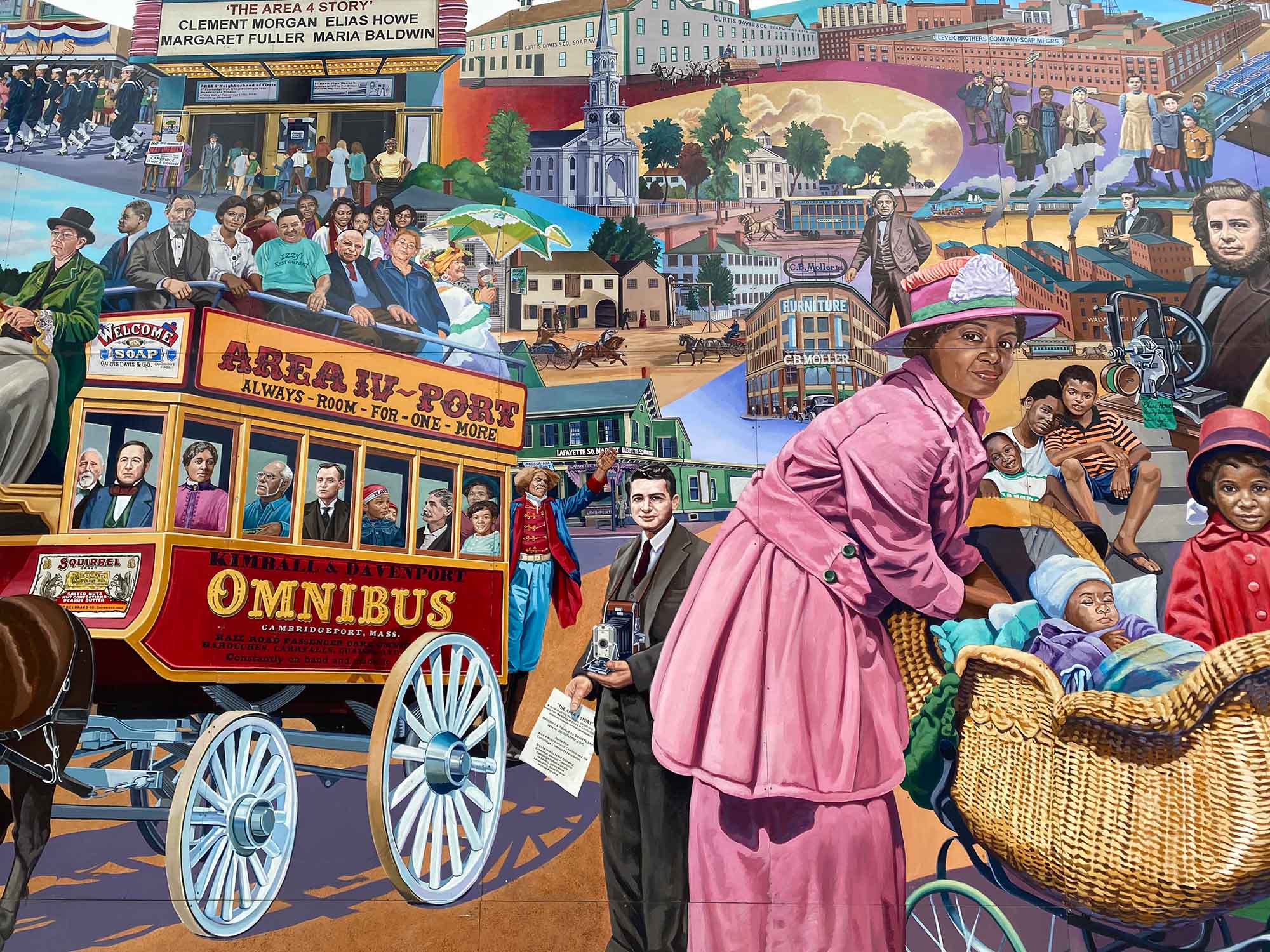 Area Four believes that great food comes from great ingredients, and it uses only products raised and harvested locally using sustainable methods. Best known for its pizza, the restaurant's homemade dough is fermented for over 30 hours. Pies are topped with hand-pulled mozzarella, and you can choose from a large selection of fresh toppings. Among lunch offerings are salads, sandwiches, and soups; dinner entrées focus on comfort food, like mac 'n' cheese, lamb and pork meatballs, and herb-roasted organic chicken. You'll also find creative cocktails. Area Four is co-owned by former music video producer Michael Krupp (COM'02).
Catalyst

300 Technology Square
Catalyst serves locally focused, modern American cuisine with a French influence. The constantly changing menu has seen dishes like braised lamb shank; pan-roasted blue cod with bacon, local clams, and mussels; and herb horseradish–crusted salmon. The covered outdoor patio, which is heated when necessary, provides a comfortable dining spot.
Entrepreneur Walk of Fame

Begins on Main Street, by the outbound side of the Kendall/MIT Red Line T stop
Kendall Square's version of Hollywood's Walk of Fame is homage to some of the nation's leading entrepreneurs. When it was established in 2011, stars went to seven honorees: Thomas Edison, Microsoft's Bill Gates, Apple's Steve Jobs, Genentech's Bob Swanson, Lotus Development Corp. founder Mitch Kapor, and Hewlett-Packard cofounders Bill Hewlett and David Packard. Names are added each year.
One bite of a meal here and you'll feel as if you've been transported to France. The French restaurant serves Parisian classics like escargot, moules frites, and coq au vin, along with an elegantly curated list of wines and craft cocktails, like the Pigalle (Empress gin, lychee juice, lemon juice). Batifol is open daily from 7:30 am for brunch and lunch, until 12 am for cocktails.
Fuji

300 Third St.
Fuji brings flair to Kendall Square with its Asian fusion cuisine. It has an extensive selection of nigiri, sushi, sashimi, and makimonos, and its hot entrées encompass a variety of lo mein, fried rice, and chicken, beef, and shrimp dishes. Try to save room for dessert: the tempura-style fried cheesecake, with vanilla ice cream and strawberries, and the fried ice cream (flavors include red bean, mango, coconut, and vanilla) are a tasty end to a delicious meal.
EVOO (an acronym for extra virgin olive oil) is for diners who like to know where the food they eat comes from. The restaurant, a five-time Zagat winner for Best Eclectic Restaurant in Boston, provides sourcing information for all ingredients on its menu, which changes daily—a reflection of just how fresh and local the ingredients are. (Some of the produce is even grown in the restaurant's rooftop garden.) The seared wild striped bass (with coconut red curry risotto, sweet and spicy butternut squash, cucumber sambal, and peanuty curry) and the duck confit (with marfax beans, wilted napa cabbage, macomber turnips, zesty bread crumbs, and spiced orange duck ju) give a hint of the inventive cuisine you can expect to find.
This restaurant-market hybrid offers hearty comfort food and ever-changing daily meal selections made with local produce, New England cheeses, and farm-fresh eggs and dairy. The expansive seasonal brunch, lunch, and dinner menus are infused with personality. The dinner menu's spring fusili pasta—with asparagus, English and sugar snap peas, pea tendrils, lemon butter, and parmesan cheese—attest to the family restaurant's attention to serving up the freshest ingredients. The market carries a number of brand favorites, such as Grillo's pickles, Joe's chips, and Cabot cheese and butter.
Get your paddle on: during warm-weather months, you can rent a canoe, kayak, or stand-up paddleboard at affordable prices. A double kayak costs $45 an hour and a single kayak costs $42 for 90 minutes; a stand-up paddleboard is $30 for 90 minutes; standard two- or three-person canoes cost $45 for 90 minutes; and extra-large canoes for four or five people cost $55 for 90 minutes. Rentals include life jackets and paddles for each person. There is a one-hour minimum charge on all rentals and reservations are required unless you have a season pass and have previously been approved for a harbor rental. Day rates, tours, and classes for children and adults are offered. There are two-hour Skyline tours, a 90-minute barbecue tour, followed by a catered picnic on the banks of the Charles, and a four-hour Barking Crab tour, where guests wind up dining at Barking Crab, one of Boston's premier waterfront clam shacks. Coolers and food may be taken on the boats, but no alcohol is permitted. Season passes are also available.
This Kendall Square restaurant lives up to its name: it's in a beautiful glass-encased building and pays tribute to East Cambridge's former history as the center of the nation's glass-making industry. It serves lunch Monday through Friday and dinner Monday through Saturday, along with an excellent seasonal Sunday brunch. With an emphasis on seafood, Glass House features an expansive raw bar and appetizers and entrées, including fish tacos, charred octopus and grits, and pan-seared salmon served with a crispy quinoa cake, wasabi-edamame emulsion, and a pea shoot and papaya salad. Not a fan of what's under the sea? Fear not. Glass House also offers options like steak frites, pan-roasted half chicken, and a very good house burger.
This café is the square's go-to restaurant for Mediterranean and Lebanese cuisine. You'll find a variety of pita roll-ups, salads, falafel, shawarma, and kababs. You can mix and match to create your meal: start with a base (salad, roll-up, or rice plate) and then add a protein and sides. All the food is made from fresh ingredients and extra virgin olive oil; Aceituna serves gourmet fast food that is both satisfying and healthy.
The MIT Museum focuses on the institute's impact on research, teaching, and scientific innovations for society. Founded in 1971 as the MIT Historical Collection, its original mandate was to collect and preserve MIT's scientific and technological artifacts. It was renamed in 1980 and since has featured exhibitions on such diverse topics as the internet, robotics, holography, and photography. The museum also hosts public school vacation activities, evening discussion series, and in mid-April, the Cambridge Science Festival.
This rooftop garden, owned, managed and maintained by Boston Properties, offers a green oasis in the middle of Kendall Square and a break from city life. Remodeled in June 2022, the garden provides picnic tables, pickleball courts, and great views of Cambridge, as well as occasional yoga and exercise classes The garden is accessible via elevators located in the Kendall Center Green Garage.
This tiny restaurant (opened in December 2018) serves Thai, Vietnamese, and Chinese cuisine. Chef Yuri Asawasittikit draws inspiration from her mother's recipes ("Mâe means "mother" in Thai). Some of the most popular dishes include pad thai—rice noodles wok-fried in a tamarind fish sauce with egg, shallots, bean sprouts, diced bean curd, scallion, and ground peanut—and Chinese street noodles topped with pieces of pork belly and fish cake, slices of roast pork, bean sprouts, crisp wonton wrapper, cilantro, and ground peanuts. Stop by for lunch or dinner, but don't leave without trying the desserts. The fried banana spring roll topped with caramel sauce and the fresh mango over sticky rice topped with coconut milk are delicious. Mâe Asian Eatery is between Central and Kendall Squares; it closes from 3 to 5 pm, before serving dinner, and is closed on Sundays.
---
Getting there: By subway, take a Green Line trolley inbound to Park Street, then a Red Line train outbound to the Kendall/MIT station. By foot, walk down Comm Ave to the Mass Ave Bridge, walk across, turn right onto Vassar Street, and walk past the MIT campus.
Click on the points in the map above for more information on the places listed in our guide to the Kendall Square area.
This story was originally published on March 24, 2016; it has been updated to include new locations and current information.
This Series
Also in
September 21, 2023

June 23, 2023

April 27, 2023