Getting to Know Your Neighborhood: Fort Point
A guide to Boston's transformed waterfront
Things-to-do
Getting to Know Your Neighborhood: Fort Point
A guide to Boston's transformed waterfront
Few city neighborhoods have undergone as dramatic a transformation as Fort Point has over the past few years. Comprising about 100 waterfront acres in South Boston, the area has become Boston's hottest—and hippest—district, home to museums, famous restaurants, and a vibrant artist enclave.
The neighborhood was named for a long-gone fort constructed on a hill there during the colonial period, when the area's topography was different. The hill's height and location by the sea made the spot ideal for positioning defensive cannons. The area was the site of the Boston Tea Party in 1773, and was later developed by the Boston Wharf Company in the 1830s to house its vast supply of sugar and molasses and to store cargo from local rails and ships docking in Boston Harbor. Today, the land is flat (the hill was leveled in the late 1800s) and landfill has extended the shoreline markedly.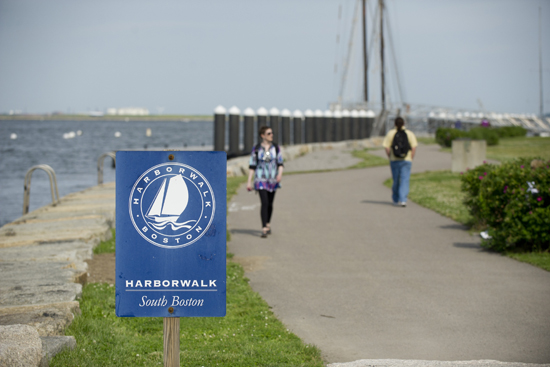 After warehousing and manufacturing declined in the 20th century, Fort Point was largely abandoned. Artists began moving into the empty warehouses in the 1970s, attracted by low rents. Several hundred artists call the neighborhood home now, making it one of New England's largest artist enclaves, and their work fills nearby galleries. But with soaring rents and the arrival of major corporations, including General Electric and pharmaceutical giant Vertex, artists are waging a constant battle to keep studio space affordable.
With a goal of transforming the neighborhood into a thriving business and residential area, the Boston Planning & Development Agency and former Mayor Thomas Menino (Hon.'01) created the 100 Acres Master Plan in 2006, adding 11 acres of public space. Fort Point was even given a new name, the Innovation District, to emphasize its new identity, and its part of the neighborhood located on Boston Harbor is now called the South Boston Waterfront.
The nonprofit Friends of Fort Point Channel, consisting of area business leaders and residents, arranges community events like outdoor concerts, artist receptions, and fitness classes.
Below is BU Today's list of places to investigate, nosh, and shop. Many of the stores and places of interest are right on the water, and the cool ocean breezes can be chilly, so dress appropriately and be prepared to walk since the neighborhood is spread out.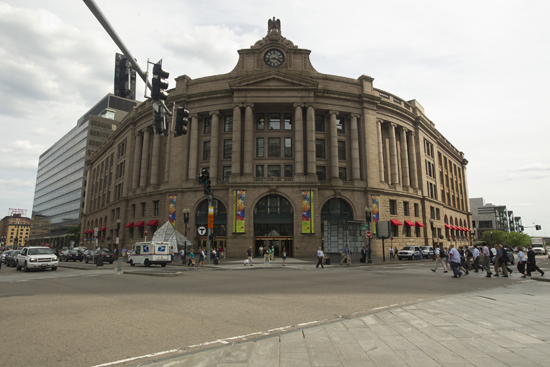 South Station is the gateway to Fort Point by public transit. You'll know this spot if you've ever taken a Bolt Bus, Mega Bus, Amtrak train, or commuter rail to destinations west or south of Boston. The neoclassical revival-style station opened in 1899 and is now listed on the National Register of Historic Places. In the elegant main terminal, a food court with more than a dozen fast food eateries offers cuisine for hungry travelers.
From here hop on the MBTA's Silver Line, which stops at several points throughout the neighborhood. While the area is walkable, the bus is handy in inclement weather.
South Station is undergoing a major renovation and expansion , including the addition of a mixed-use tower that will feature both residential and office space. The project is scheduled to be completed in 2025 and will provide direct connections between the rail and bus terminals.
The Harborwalk was built to connect pedestrians to Boston Harbor, no longer the dirtiest harbor in America, thanks to a 20-year, $4.5-billion cleanup. Nearly 38 miles of the planned 47-mile path winding from East Boston to Dorchester is now complete. The path connects neighborhoods and links recreational, cultural, and historic attractions. It's landscaped with flowers and trees, and decorated with sculptures and informative plaques.
The Federal Reserve Bank is one of the 12 Federal Reserve banks nationwide that make up the country's central banking system. Completed in 1974, the building towers above you as you walk along the Harborwalk from South Station toward the neighborhood. At more than 600 feet high, the 32-story building is one of the city's tallest; it does not offer public tours. Sheathed in anodized aluminum, it's often referred to as the "Venetian Blind" building. An opening near ground level allows sea breezes to pass through. Be sure to check out the imposing scrap-metal sculptures by Massachusetts artist Madeleine Lord in the public garden near the building's entrance. 
The nonprofit Fort Point Arts Community was founded in 1980 with the goal of promoting local artists whose work is on view throughout the neighborhood. This space offers a gallery and studio spaces for artists, and stands out from other buildings on the street due to its sweeping sculptural overhang. Every fall, the community hosts a popular Open Studios event, when more than 60 artists display their work and are on hand to answer questions and talk about their creative processes.
This large brick federal courthouse is named for legendary South Boston politician Joe Moakley, who served in Congress for 28 years, was a public servant for more than 50, and died in 2001. Designed by Henry Cobb, the same architect responsible for Boston's John Hancock Tower, it is home to the US District Court for the District of Massachusetts, houses 27 courtrooms, and commands much of Fan Pier. The breathtaking view of Boston Harbor is a bonus. The law library on the top floor and galleries with rotating art exhibitions are open to the public.
The Harborwalk passes by here, with informative panels about the history of the area, as well as native plantings. There are picnic tables and chairs outside for weary strollers and public restrooms next to the Daily Catch restaurant. The courthouse cafeteria is open to the public.
Immerse yourself in history at this unique floating museum on the Congress Street Bridge, which promises a multisensory experience. Visitors not only learn about the events that led to the American Revolution, but can also be part of the action, as actors recreate the events of that fateful December 1773 night. If you're lucky, you may be assigned the role of dumping "tea" over the side of one of the full-scale, authentically restored 18th-century sailing vessels, just like the Sons of Liberty did more than 240 years ago. The museum features the Robinson Tea Chest, the only known Boston Tea Party tea chest still in existence. Stop by Abigail's Tea Room for lunch or a snack.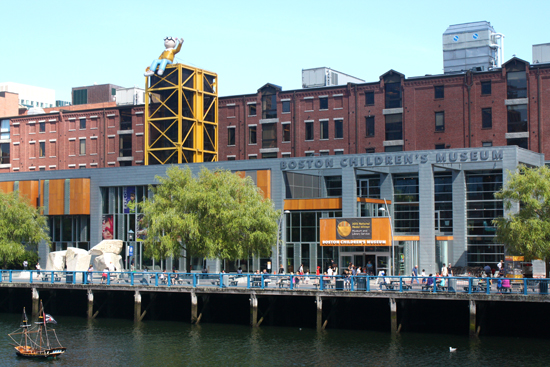 You can't walk past the Boston Children's Museum without noticing the giant inflatable Arthur or the 40-foot-tall Hood milk bottle. This is the second-oldest children's museum in the country and one of the best. The former wool warehouse on Children's Wharf isn't just for kids (although adults without children must show a driver's license or a passport). There's lots to do to make you feel like a kid again, like the Japanese House, a fully functional 100-year-old house imported from Kyoto, , and an art lab, offering hands-on activities. It's one of the only children's museums in the world to maintain its own collections of more than 50,000 items, including dolls and dollhouses, Americana, natural history, global culture, and Native American and Japanese artifacts. Regular admission is a tad steep ($20 for adults and children ages 1 – 15). Visitors can reserve one of two daily time slots for admission: 9 am – noon or 1:30 – 4:30 pm. (Online tickets/reservations are required.)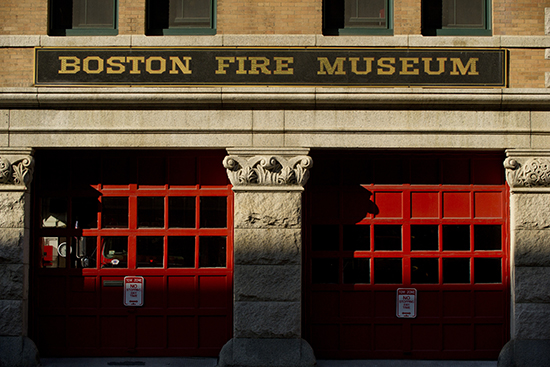 The Boston Fire Department, which traces its roots back to 1678, is one of the oldest in the country, and this museum features its storied history. Housed in a former firehouse, the museum displays antique fire alarms, three historic fire trucks, old photographs, and some of the first equipment used by Boston firefighters to battle blazes. Open only on Saturdays (free admission, but a donation is appreciated) or by appointment.
Hailed as one of Boston's best pizza restaurants, Pastoral specializes in creating Instagram-worthy wood-fired pies that taste as good as they look. Other menu items include handcrafted pastas, cured Italian meats and cheeses, and salads. The restaurant also offers an exclusive Italian wine list, draught beers, and assorted cocktails and boasts one of the largest amaro (herbal liqueur) collections in the city.
Drink
348 Congress St.
All bars should be like this one. You take a seat and tell the bartender how you're feeling that day. The bartender talks to you, learning your preferred tastes and flavors, then whips up something especially for you. It's on the pricier side, but the classy ambience and craft cocktails are worth it. Drink also serves small bites and a curated collection of white, red, and sparkling wines and craft beers. Come early, because there's often a line to get in. It's run by James Beard Award-winner Barbara Lynch, one of the city's most successful restaurateurs.
There's only a small, easy-to-miss awning out front, but descend the stairs into Lucky's Lounge and you'll feel like you've arrived at a swanky speakeasy. The place calls itself "an homage to Sinatra," and live bands play Motown, funk, and blues seven days a week. The lounge is famous for its weekend brunch and dishes like chicken empanadas with salsa fresca and guacamole. For dinner, try the bacon cheese fries, , steak tips, or a salad topped with grilled chicken. There's a wide selection of beer and cocktails, and it's a great spot for dancing. Best of all, there are happy hour specials from 4 to 8 pm, Monday through Friday, as well as a comedy night every Monday.
This lively, award-winning barbecue joint is noted chef and restaurateur Andy Husbands's tribute to one of America's favorite cuisines, expanding on his successful Kendall Square Smoke Shop. Opened in November 2017, it has barbecue plates, baskets, and sandwiches, as well as the Pit Master—a large selection of Smoke Shop's barbecue and sides (two-person minimum). You'll also find a bar with flat-screen TVs playing local games and more than 240—yes, you read that right—whiskeys. With mouthwatering options like BBQ fries, daily specials, and a rotating beer menu, don't miss this BBQ gold mine.
Owned and operated by Jean-Claude and Esther Tetreault, Trillium opened in March 2013, joining Boston's better-known breweries, Harpoon and Samuel Adams. It produces a handful of ales, available for purchase by the bottle, pack, or can—no sampling or full pours at this flagship location. Adorned with handcrafted wooden features, the place has a farmhouse feel. Its locally inspired beers are made from artisanal ingredients and practices. Check out their Summer Street IPA, a double-dry IPA with hints of tangerine, pine resin, and green pear. Additional locations have sprouted up in Canton (with a taproom), Fenway, and the Rose Kennedy Greenway (a seasonal beer garden). You can also find the company's brews at local watering holes, such as The Publick House, LuLu's, and Lord Hobo.
Row 34
383 Congress St.
With its chic, industrial interior and emphasis on fresh seafood, Row 34 captures the up-and-coming, by-the-sea essence of Fort Point. The neighborhood hotspot opened in a former steel factory in 2013, as a sister restaurant to Kenmore Square's defunct Island Creek Oyster Bar, and has attracted a lot of well-deserved buzz. The robust raw bar menu offers a variety of oysters, along with shrimp cocktail, lobster, smoked and cured fish, and ceviche—and is the stuff of seafood lovers' dreams. Try the warm buttered lobster roll, beer-battered fish and chips, or pan-seared monkfish with fingerling potatoes, green garlic purée, and spring vegetables. Take advantage of one of the ever-changing beers on tap and the extensive cocktail list to complement the savory offerings. Row 34 is open for lunch, midday snacks, dinner, and Sunday brunch.
If you're looking for a quick Eastern Mediterranean bite, Aceituna Grill delivers delicious, affordable, and authentic spicy shawarma and falafel. Order a rice plate, salad, or pita roll-up with sides of fresh-made hummus, baba ganoush, tabbouleh, and moussaka as the perfect complement. The exclusive Aceituna spicy pink sauce is a must, with honey-filled baklava and sweet osmalieh to round out the meal. Aceituna Grill has three other locations in and around the city.
The line stretches out the door at this bakery-restaurant helmed by chef and owner Joanne Chang, and the chalkboard menus will make your mouth water no matter the time of day. For breakfast, try an apple spice cake, a sticky bun, or a sugar brioche bun. For lunch, there's the roast beef sandwich (horseradish mayo, crispy onions, and tomato) or the grilled mushroom melt (smoked gouda and gruyere, caramelized onions, and sherry). There are also take-home dinner specials that change every week. You might catch a glimpse of Chang rolling croissants behind the counter. A Harvard grad, she has expanded Flour to eight other locations in Boston and Cambridge, and with her husband also runs the Asian fusion restaurant Myers & Chang in the South End. Flour provides plenty of vegan and gluten-free options, and offers a variety of cooking classes for bakers of all ages. Chang switches up the pastries monthly, so visit early and often to discover your favorites.
This is the place to eat when the weather gets nice, with its spectacular view of the Fort Point Channel and the Boston skyline from outdoor picnic tables. Try the lobster rolls: the traditional—chilled lobster salad with mayonnaise, celery, and fresh lemon, served on a toasted roll—or the Naked Lobster Roll, with a bigger serving of warm lobster meat, tossed with hot butter. The restaurant also serves raw oysters, fried scallops and shrimp, lobster bisque, and steamed mussels. Landlubbers will be happy with the great burgers.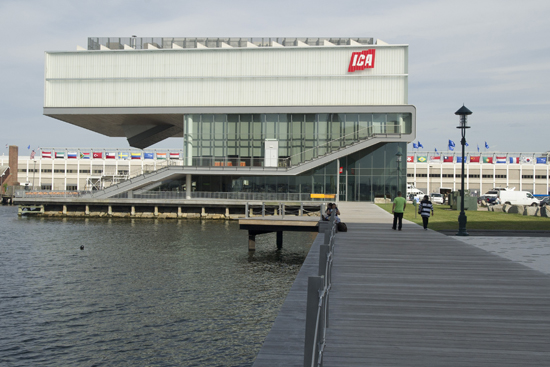 The Institute of Contemporary Art is housed in a sleek modern building that looks like it's suspended over the water and offers a first-class showcase of contemporary art and media, including film, video, performance, and literature. The permanent collection has works by artists Tara Donovan, Shepard Fairey, Alice Neel, and Cindy Sherman. On Thursday nights, the museum offers free admission (tickets are available starting at 10 am the day of), or you can attend one of the popular First Fridays, 21-plus events held on the first Friday of each month, featuring guest DJs, gallery talks, live performances, and specialty drinks inspired by the museum's current collection.
The famed Legal Sea Foods chain's flagship property has three floors—and three dining options—to choose from. The first floor is a typical Legal's, with an outdoor deck and patio doors that open in nice weather; the second floor is fine dining (Family & Friends Weekend or Commencement Weekend, anyone?); and the third floor has an outdoor fireplace and a retractable roof. "Top of catch" fish is as fresh as can be.
Harpoon was given the first beer-brewing permit in Massachusetts in 25 years when it launched in 1987. Its beers are popular at bars around the country, and the brewery has won many awards for inventive concoctions. As brewery tours go, this one's pretty rad. For a $5 donation to charity, visitors see the working facility and sample unfiltered beer from a giant vat. At the tour's end, you can use your souvenir glass to try all the beer you want at the minibar (you must be 21-plus). Stop by the brewery's popular beer hall, where you can order flights, pints, and fresh-baked soft pretzels. Harpoon gets crowded on weekends, so be prepared to wait in line on a Saturday or Sunday.
Empire
One Marina Park Drive
As its name implies, this Asian restaurant and lounge is large (14,000 square feet) and luxurious. Run by Big Night Entertainment Group, which also operates local hot spot Red Lantern and the concert venue Big Night Live, it boasts a dazzling interior that combines traces of ancient China with a contemporary twist. Empire can accommodate big groups and offers plates ideal for sharing, such as potstickers, scallion pancakes, and lobster rangoon. On Mondays at 5 pm, you can order the all-you-can-eat sushi special for $49. Wash it all down with a refreshing Mai Tai.
When the weather turns warm, head to the Lawn On D. This first-of-its-kind outdoor interactive park is run by the Massachusetts Convention Center Authority with financial support from Citizens Bank. What began as an experiment in 2014 quickly turned into a popular outdoor playground for visitors of all ages. It's open May through October and offers a fun place to relax in the sun. You can play a number of games including bocce, ping-pong, cornhole, and Jenga (equipment provided), as well as giant chess or lawn checkers. Or you can unwind on one of the iconic solar-powered, LED-illuminated circular swings. The park also offers concessions and hosts a variety of special happenings, like concerts, movie screenings, and sporting events. Straddling the South Boston Waterfront and the South Boston neighborhoods, the Lawn is accessible from anywhere in Fort Point.
Getting there: By public transportation, take the MBTA Red Line to South Station and cross the bridge over Fort Point Channel. Or, also at South Station, hop on the Silver Line waterfront bus, which runs through the neighborhood.
View Fort Point in a larger map
Click on the points in the map above for more information on the places listed in our guide to the Fort Point area.
Have a suggestion for a neighborhood you would like to see featured on BU Today? Leave it in the Comment section below.
This Series
Also in
April 27, 2023

April 20, 2023

April 5, 2023