As BU Launches Inquiry into Center for Antiracist Research, Interim President Freeman Explains Goal and Reasoning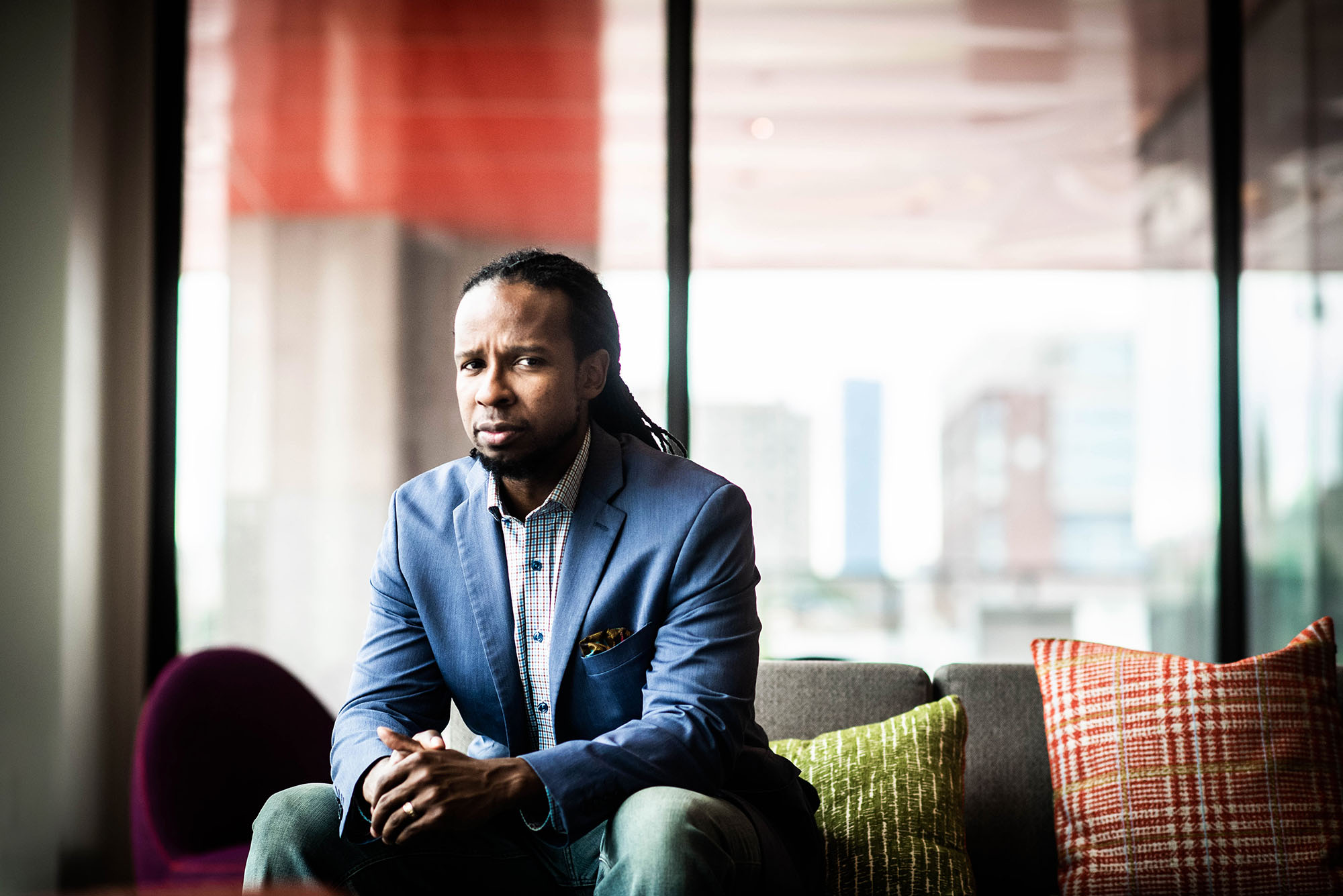 University News
As BU Launches Inquiry into Center for Antiracist Research, Interim President Freeman Explains Goal and Reasoning
Move follows complaints about the culture and grant management practices, after layoffs announced
Boston University has launched an inquiry into the management culture of the University's Center for Antiracist Research, as well as its management of grant funds, after a round of layoffs at the center prompted complaints about Ibram X. Kendi's leadership there.
Several faculty members have complained publicly, with concerns about management under Kendi, the center's founding director. Kendi came to BU in 2020 after emerging as a leading voice on antiracism following the killings of Black men and women at the hands of police in the wake of the murder of George Floyd in Minneapolis. To ensure its long-term impact and sustainability, Kendi made the decision to restructure the center to create a residential fellowship program for antiracist intellectuals, creators, and students. He announced the layoffs as part of the restructuring (19 staff people were laid off, leaving a staff at the center of 15 to 17 people moving forward).
"We recognize the importance of Dr. Kendi's work and the significant impact it has had on antiracist thinking and policy," a statement from the University says. "Boston University and Dr. Kendi believe strongly in the Center's mission, and while he takes strong exception to the allegations made in recent complaints and media reports, we look forward to working with him as we conduct our assessment."
BU had begun examining grant management practices at the Center and will now also look at "the Center's management culture and the faculty and staff's experience with it," the statement says.
Kendi, BU's Andrew W. Mellon Professor in the Humanities and a College of Arts & Sciences professor of history, was recruited to BU from American University amid a national reckoning around racism, and he became widely known for his bestselling book How to Be an Antiracist (One World, 2019). "This is the calling of my life," Kendi said when he was hired at BU.
On Thursday, Kenneth Freeman, BU president ad interim, shared with BU Today his thoughts on the inquiry and his reaction to the complaints raised.
BU Today:
What led you to the decision to initiate an examination into the Center for Antiracist Research (CAR)?
Kenneth Freeman: I'm very cognizant of two things. First, the importance of antiracist scholarship and teaching and Dr. Kendi's pioneering leadership in that space. Second, the need to respond to a number of complaints from faculty and staff in the wake of layoffs at CAR this month. These are not mutually exclusive, and I have asked Provost Ken Lutchen to examine the complaints and the Center's practices that have been criticized.
BU Today:
How will the provost conduct this examination?
Kenneth Freeman: The complaints we received after I became interim president and the recent layoffs have involved project and center management, meaning, was the Center sufficiently productive in terms of the research grants it received, and did the Center's management afford its people the appropriate support and respect for their contributions? It's important for us to look at this from all sides, and we will engage with Dr. Kendi and those who expressed their concerns. We have prejudged nothing, and we are looking for an honest accounting and understanding. We are in the process of convening an internal group that will examine grants management and productivity, and we will be asking an external consultant to review the organizational climate and respond to concerns that have been raised with management and culture.
BU Today:
Is there any possibility of reinstating the people who are going to lose their jobs as a result of this examination?
Kenneth Freeman: It is very painful and difficult to have any layoffs on campus. The people impacted by the CAR reorganization are part of our community and they are hardworking colleagues. Human Resources has been directed to make sure that we do everything possible to provide the people who are being affected with extra time, resources, and support to help ease their transition to other jobs within BU or elsewhere. I've also asked Provost Lutchen to work with any faculty who may have been impacted to see if we can provide assistance to them. Having said that, I don't envision restoring CAR's staff to its previous size and focus. Dr. Kendi has made a compelling case that the reorganized center requires a smaller staff than what was previously needed. 
BU Today:
What's next for the Center, then?
Kenneth Freeman: Dr. Kendi came forward earlier this summer with a new vision. He wants to evolve the Center to a fellowship model rather than one that solicits grants for research. He recognized the significant impact the change would have on the people who would lose their jobs as a result, but he felt strongly that a fellowship model was the most sustainable option over the long term and likely to have the most impact on the Center's ability to support and promote antiracist scholars, students, and policymakers. We continue to have confidence in Dr. Kendi's vision and we support it. Of course, we will look for lessons learned coming out of the provost's examination and work with Dr. Kendi to apply them in the reorganized center.
BU Today:
Does this examination of the Center signal a retreat by BU from its commitment to antiracism and diversity, equity, and inclusion efforts?
Kenneth Freeman: Absolutely not. First, we are hopeful that CAR will emerge from this moment in a better position to sustainably pursue its scholarly work and antiracism teaching and policymaking. Second, the Center for Antiracist Research is one of the many ways in which the University has committed to advancing diversity, equity, and inclusion. Let's remember that those values are laid out as specific and important pillars in the University's strategic plan, and as a result, are embedded in every one of our schools and colleges. We are also living those values through our investments in our Pell grant initiative, promoting access for underrepresented groups through increased financial aid and recruiting policies, our First Generation Center, and our LGBTQIA+ centers for faculty, staff, and students. These are just a few concrete examples of the University's commitment to making sure that advancing diversity, equity, and inclusion is part of our DNA and everyday existence. This will not change. The University will not step back.
BU Today:
Do you have a final thought on this?
Kenneth Freeman: Yes. The national conversation to combat racism is important and critically necessary, and it is under siege right now. There are some who want to turn back the clock, shut down the conversation, and rewrite history. We must make sure that we, as a university, do whatever we can to keep the conversation alive and always moving forward.