BU's Intramural Summer Softball Is Back after Three-Year Pandemic Hiatus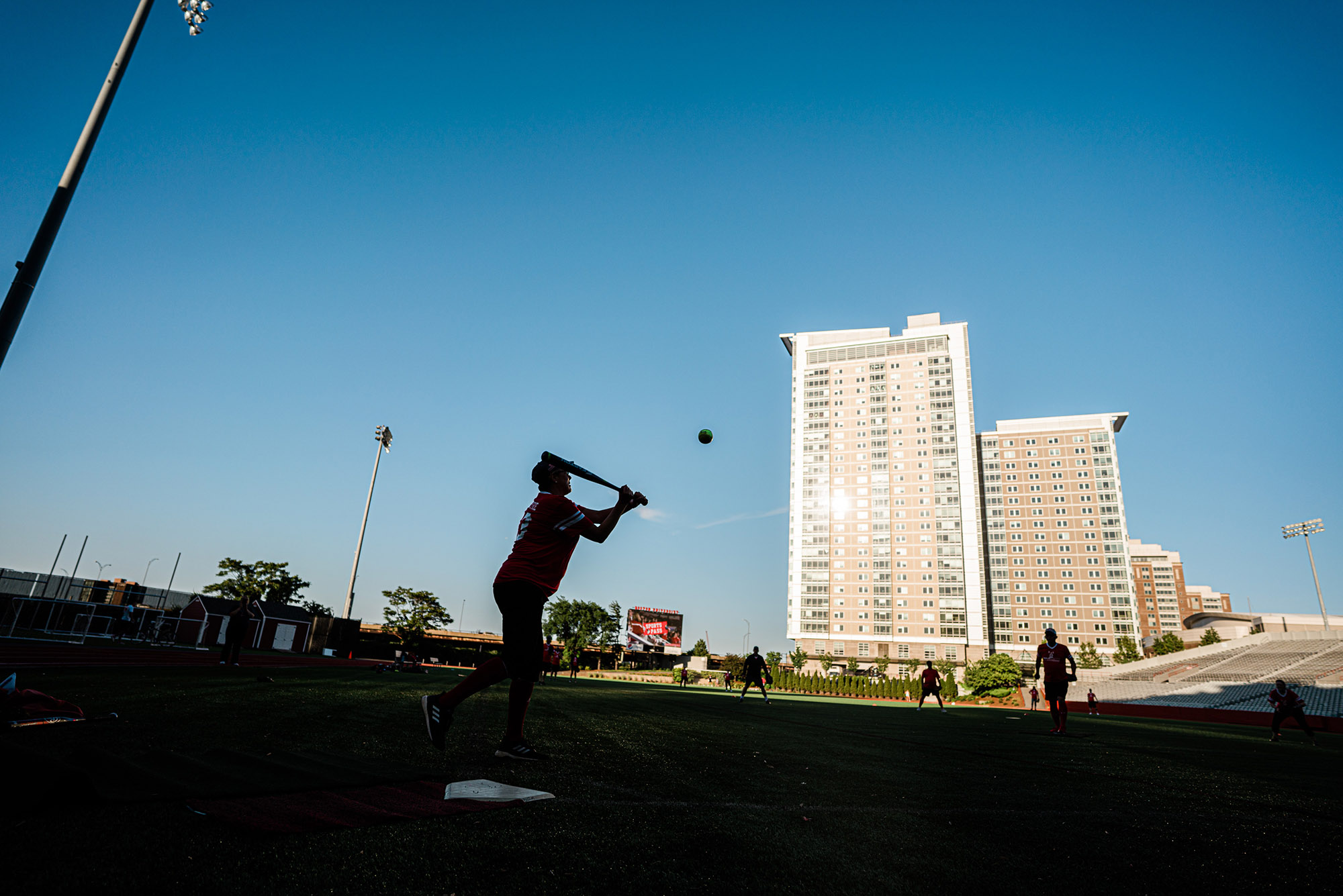 SOFTBALL
BU's Intramural Summer Softball Is Back after Three-Year Pandemic Hiatus
The popular league is an opportunity for colleagues to become teammates, playing for a chance at glory
After three years of no pitch, slow pitch is back at Boston University. Intramural summer softball has taken the field once more.
The popular coed summer league—open to students, faculty, staff, and alums—was benched during the height of the COVID-19 pandemic, a necessary precaution that players are happy to see behind them.
"We have, for the first time, enough people for two [Athletics department] teams this year," says Luke Dwyer, BU Athletics assistant athletic director, business and financial operations. "I think people really missed it, and I'm glad it's back. I love that BU does this."
Run and organized by the Department of Physical Education, Recreation, and Dance (PERD)—a division of the Fitness & Recreation Center—the league is comprised of 10 teams this year. And halfway through the mid-June to mid-August season, it's a tight race to playoffs: only a few games separate the top of the leaderboard from the bottom. 
Teams play one another in varying matchups at New Balance Field and Nickerson Field once a week in the evenings. It's classic slow-pitch softball, where pitchers lob, underhanded, bright green balls that (hopefully) arc right into the strike zone. Games are seven innings, or 50 minutes, whichever comes first.
"I think for a lot of people, this is an opportunity they never thought they'd have again—to pick something back up that maybe folks thought they left behind in high school or college," says Amory Sivertson, senior producer for podcasts at WBUR.
Sivertson has been part of a WBUR team in the league for nearly a decade, and relishes the "compassionate competitiveness" that comes out for herself and her colleagues.
"There's an unexpected joy in it," she says. "I work with these people, some of whom I maybe see once a week in passing in the office. But this is a way to see my colleagues in a different light. We get to work together on something that has nothing to do with our jobs."
Others, including Dwyer and Drew Duckett, associate head athletic trainer for BU Student Health Services, echo Silverston's point.
"Everyone at BU is so engaged in their work, so dedicated to delivering a quality product or experience here," says Duckett, who has fielded a team of athletic trainers in the summer league since 2012. "But this is a different opportunity for us to come together, collaborate, and use skills that we may not otherwise see from each other in our day-to-day lives. So we get to see and enjoy folks for everything that they bring to the table."
For all its camaraderie, the players still relish the level of friendly competition, as each team vies for glory throughout the season.
"We're fairly competitive," says Dwyer, who started a team with his Athletics colleagues seven or eight years ago. "We've made the finals almost every year we've played, and we've only ever lost to the trainers, so we're back for revenge."
Even if you're not competitive—Sivertson says there's usually at least one person on her team who's there to have fun "and doesn't even really care that much about softball"—the sport offers a good time.
"There is real joy in watching an adult pick up a new skill and have their first catch or first real hit when they get on base," she says. "There's this youthful giddy glee when they realize they just did that. They're playing cool, but you know that they're feeling the rush."
And with so many athletes representing a broad swath of the University's departments, offices, and divisions, playing in the league is a chance to meet new people, Dwyer says.
"The camaraderie is kind of great," he says. "It's fun to see other departments having fun, and just playing casually. I enjoy seeing them. I think it's a great thing that allows other departments, and other people on campus, to kind of get out and try and meet each other."