Buzz, Buzz: BU Creates a New Pollinator Garden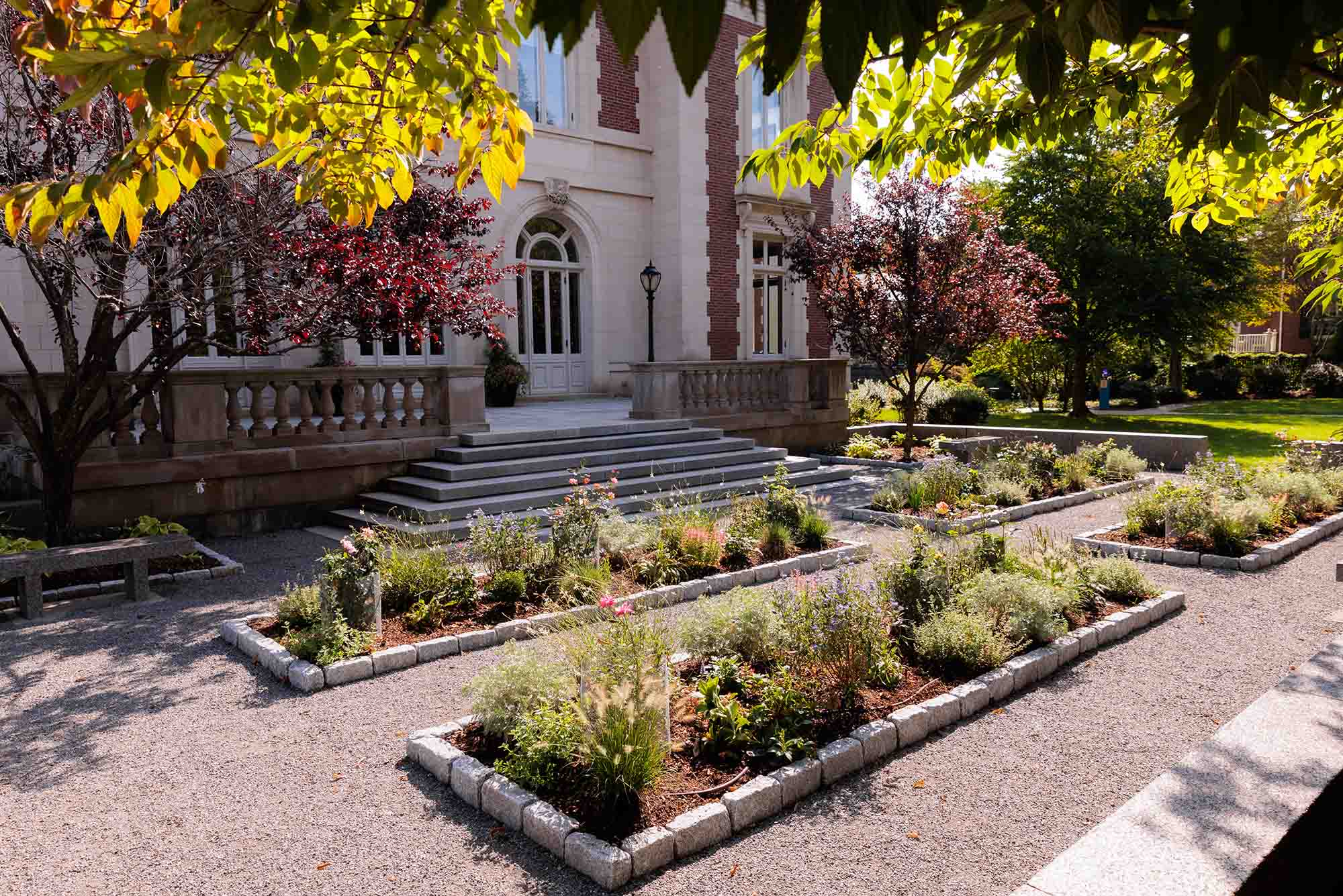 Campus & Facilities
Buzz, Buzz: BU Creates a New Pollinator Garden
Hawes Street garden features perennials known to attract pollinating insects
Pollinating insects like honey bees and butterflies are drawn to pollen and nectar-rich flowers like catmint, lavender, and allium to feed themselves and their young. So when BU grounds worker Matt Pereira realized his dream of creating a new campus pollinator garden this summer, those plants were at the top of his list.
Visit the BU-owned George H. Wightman house at 43 Hawes Street in Brookline, and you'll see the fruits of Pereira's labor: a peaceful oasis with four granite-lined beds with about 20 varieties of fragrant pollinating plants. And if you pause and look closely on a late summer day you might see a few bees still milling about.
"We're in the process of creating beds like this all across campus," says Pereira, who has a degree in horticulture from Vermont Tech (now part of Vermont State University). In addition to the garden at the Hawes Street building, there is another pollinator garden flourishing on Comm Ave, outside the Booth Theatre.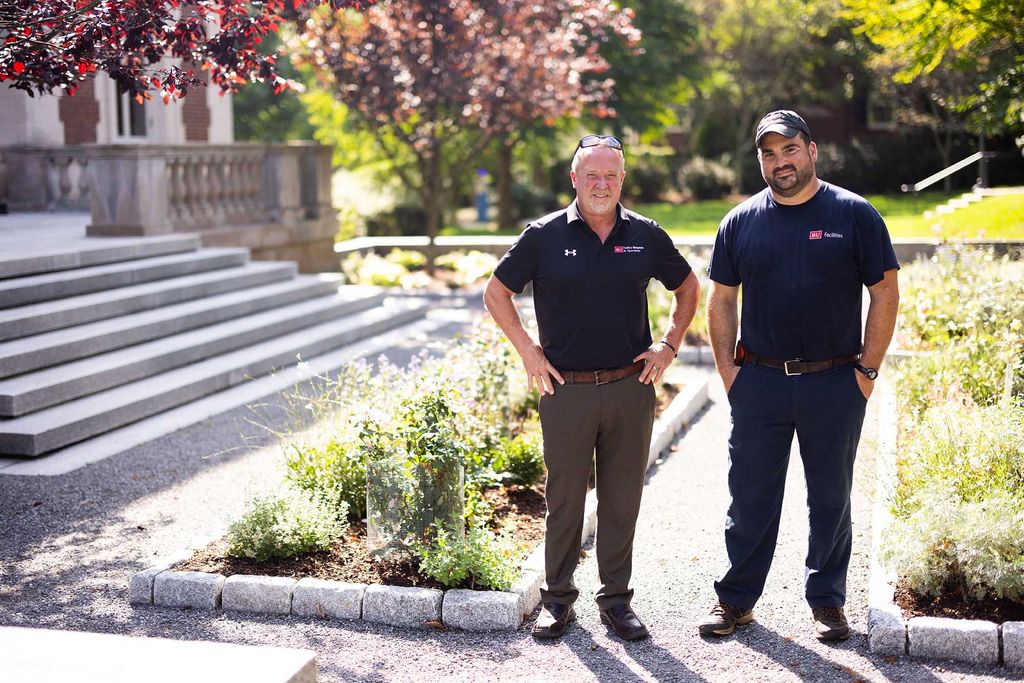 While many people's idea of a beautiful garden is one overflowing with annuals like impatiens or perennials like day lilies, those plants don't actually produce a lot of nectar or pollen, so they often don't have that many insects visiting the flowers, according to Richard Primack, a College of Arts & Sciences professor of biology. But the plants selected for the Hawes Street garden were chosen carefully because they are especially attractive to bumblebees, butterflies, beetles, and other pollinating insects.
Why are these gardens so important? More than a third of the world's food crops come from insect-pollinated plants. But a recent survey by the University of Maryland and Auburn University reports that the country's honey bee hives had their second-highest death rate ever last year. Fortunately, the number of honeybee colonies in the United States remains relatively stable, thanks to commercial beekeepers who have "learned how to rebound from big losses," according to the Associated Press, because they restock their hives or buy new queens. Still, the news is troubling. Scientists don't yet understand what exactly is behind the decline, though they believe it is a mix of climate change, parasites, habitat loss, and pesticide use.
BU Grounds is making an effort to combat this loss on campus. The team plants over 150,000 plants, trees, and bushes every year, and to increase sustainability, they have introduced several eco-agricultural initiatives, such as using organic lawn treatments and reducing water use. Pollinator gardens are another action they are taking.
On a recent warm, sunny day, BU Today visited the Hawes Street pollinator garden adjacent to the 1902 Beaux-Arts mansion built by Wightman, a wealthy steel magnate. The building is now used for classroom space and for events and conferences.
The previous garden was terrible, says Greg Limerick, manager of trucking and grounds, standing in the shade of the building's towering porte-cochère. He calls up a photo on his phone showing bare rose plants surrounded by plastic edging. A few roses survive—it was originally a formal rose garden—and are now surrounded by cages.
"The rabbits got to the roses, hence why we now have cages up around those plants," Pereira says. As he was talking, several hopped by, almost seeming to taunt him. "A lot of the stuff I planted are things in the mint family, like catmint and hyssop, because the rabbits tend to stay away, but the bees seem to love it."
In mid-August, Pereira met with the University's wholesale producer, Cavicchio Greenhouses, and then Limerick worked alongside him to plant the perennials, which also include fall-blooming anemone and caryopteris.
Limerick says the benefit of planting perennials rather than annuals is that they come back each year. While the blooming will start to diminish soon because of cooler temps and shorter days, Pereira did put in some hearty chrysanthemums, which he says should bloom until November. 
"We're trying to be more sustainable about the plantings we choose, and it's less expensive in the long run," Limerick says. "Instead of putting so many annuals in, now you have a lasting garden, and one that helps the bees."
Want to know the best types of pollinating plants to use in your home garden? Visit this planting guide from Tufts University's Tufts Pollinator Initiative.