Boston University Names 11th President: Melissa L. Gilliam, Physician, Educator, Scholar
Ohio State University provost, physician, and scholar brings to BU her passion for the arts and humanities along with two decades of higher education leadership
University News
Boston University Names Melissa L. Gilliam 11th President
Ohio State University provost, physician, and scholar brings to BU her passion for the arts and humanities along with two decades of higher education leadership. "I lead by listening, collaborating, and empowering," she says.
Melissa L. Gilliam, the executive vice president and provost of The Ohio State University and a distinguished educator, scholar, research scientist, and physician, will be Boston University's 11th president, the University trustees announced on Wednesday. She will assume the post on July 1, 2024.
A national leader in faculty recruitment and student success and a champion of diversity and inclusion, Gilliam is also a professor of obstetrics and gynecology and of pediatrics whose scholarship focuses on developing interventions to promote adolescent health and well-being. Beyond her background in science and medicine, Gilliam, who studied English literature at Yale and got her Master of Arts in philosophy and politics from University of Oxford, says she was raised to embrace the societal importance of arts and culture. Her late father was a pioneering abstract painter who was known for a career of continuous experimentation and innovation. And her mother was a trailblazing journalist and the first Black female reporter hired by the Washington Post. Her parents instilled in her an intellectual curiosity and a firm belief in the importance of civic engagement and public service.
Gilliam will come to Boston from Ohio State, a sprawling midwestern university and one of the largest public institutions in the country, with 15 colleges, more than 7,500 faculty members, and over 60,000 students across 6 campuses. Ohio State is committed to service, and Gilliam says she's enjoyed meeting and learning from people across the state of Ohio. "I'm really excited about how engaged Boston University is in the city and how engagement has been a hallmark of BU," Gilliam tells BU Today. "I'm looking forward to hearing from people, learning and listening. I lead by listening, collaborating, and empowering other people. That is the best way to run big organizations, to get everyone excited and engaged, and doing more than they think they're capable of doing. This philosophy is core to shared governance, an essential component of a thriving university."
Boston, and Boston University, will be familiar territory for Gilliam. She graduated from Harvard Medical School, and for one of her summer projects there, she collaborated with BU School of Public Health researchers, joining them in Ecuador on a project aimed at understanding the health of elderly people.
"From the very beginning, I was able to form that connection to Boston University," says Gilliam, who also earned a Master of Public Health from University of Illinois Chicago. "And I always knew it as a place that was going places that other institutions weren't."
Now, more than two decades later, Gilliam, who is 58, returns. She succeeds Robert A. Brown, who served as BU's 10th president from 2005 until stepping down over the summer. His 18-year tenure saw BU quadruple its endowment, open its doors to a more diverse student body, and establish itself as a leading private urban research institution and a global leader in fighting infectious diseases. Kenneth Freeman, BU president ad interim since Brown's departure, will remain in the post until Gilliam begins in July and will help her transition into the role during the spring.
Her appointment caps a search that lasted more than a year and yielded close to 400 potential candidates from around the world. Hundreds of students, faculty, staff, and alumni participated in the process by sharing the characteristics and qualifications they hoped to see in their next president, input that helped shape a presidential profile and guided the work of the 16-person Presidential Search Committee.
"It is a testament to Boston University's accomplishments and momentum that we were able to attract candidates who were so highly qualified and with such enormous capability," says Ahmass Fakahany (Questrom'79), chair of the BU Board of Trustees. "We are at an incredible juncture, and we've earned the right to dream big and to fulfill the potential of this University. Hiring Dr. Melissa Gilliam is a tremendous step in that direction."
Trustee Antoinette "Tonie" Leatherberry (ENG'85), who chaired the search committee, says that because BU enjoyed the stability of one strong leader for almost two decades, a rarity in higher education, the trustees recognized how important it was to get this right.
"We took this task with the utmost seriousness and with an eye toward the future of Boston University," Leatherberry says. "We're proud of the standard of excellence that we've established here, but we're never satisfied. We have to continue to grow as a research institution and serve our students, faculty, and staff with distinction, while continuing to advance BU's mission as a leader in higher education."
---

We are at an incredible juncture, and we've earned the right to dream big and to fulfill the potential of this University. Hiring Dr. Melissa Gilliam is a tremendous step in that direction.

---
Two passions, one career
Gilliam's interest in melding her passions for both medicine and societal challenges started young, when even as an adolescent growing up in Washington, D.C., in the 1970s she worried about issues like war and incarceration levels. She remembers her father telling her once, "You know, Melissa, you need to have a little perspective on these things. These are not all your problems—you can't take everything to heart."
She was in her early 20s when she found herself at a crossroads—majoring in English at Yale, while finishing her premedical course obligations. After graduate studies in philosophy and politics, she chose to attend medical school. "The tug of war was always there for me," she says.
With guidance from her parents, she realized she didn't have to abandon one path to choose another. Following a degree in public health, she chose to pursue an academic medical career focused on healing not just people—but society at large. As a resident in obstetrics and gynecology at Northwestern Memorial Hospital in Chicago, she began to look at why so many teenagers became pregnant again within just one year of delivery.
"There's a lot of shame and blame in the way that people talk about teen pregnancy, which in so many ways is unwarranted. We have to open the aperture and think about larger societal challenges associated with teen pregnancy," she says. "I think a lot of it was growing up in the 1970s and '80s—the issue of teen pregnancy was a very big one. A young person without necessarily any type of medical or medical challenge suddenly has an incredibly difficult life challenge."
She led a number of biomedical studies, driven by a desire to gain a firmer grasp on the systems that lead to initial and then repeat adolescent pregnancy. Gilliam's work helped elevate her to chief of family planning and contraceptive research at the University of Chicago, while also leading the Program in Gynecology for Children, Adolescents, and Young Adults.
Yet, Gilliam continued to seek greater impact. "We weren't understanding the lives of young people," she says. "We were writing prescriptions, we were not listening, we were not walking in their shoes." In 2012, she founded the Center for Interdisciplinary Inquiry and Innovation in Sexual and Reproductive Health (Ci3) at the University of Chicago. Ci3 is an interdisciplinary research center using games, narrative, and design to promote the health and well-being of young people. Through Ci3, young people are codesigners and partners in the research.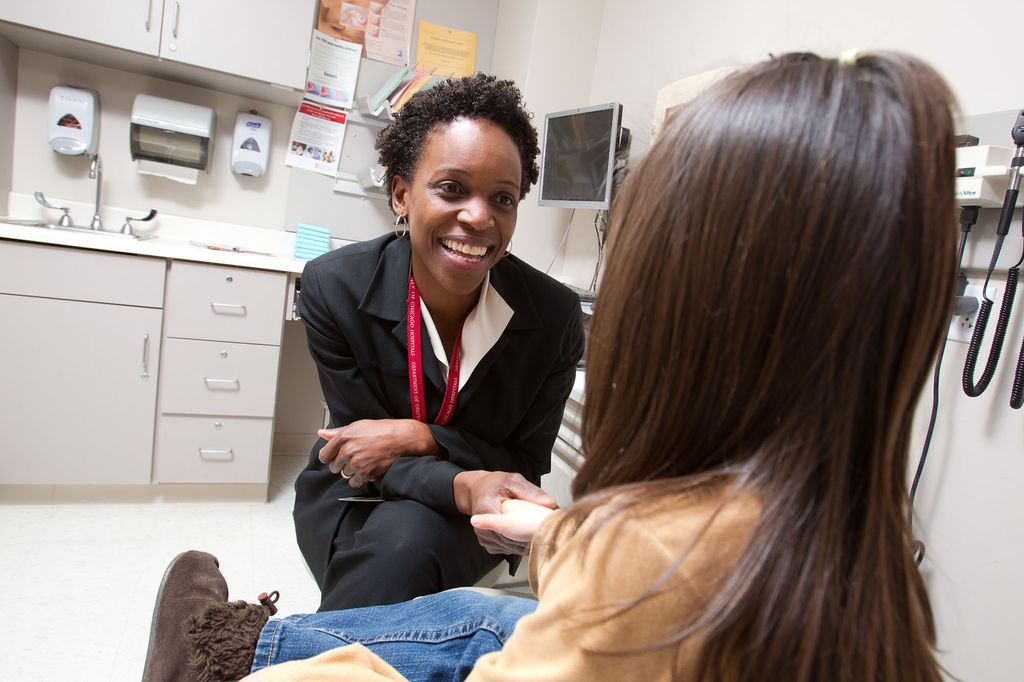 As a researcher and a physician, Gilliam has led clinical trials, authored or coauthored more than 100 peer-reviewed publications, conducted both US and international research, and created a start-up to scale the technologies she and her colleagues created. Her research work and leadership roles have also provided her with a broad understanding of how the national research landscape operates. She serves on the board of Argonne National Laboratories, a leading lab supported by the Department of Energy. And she's held advisory appointments with the National Institute of Child Health and Human Development and the US Food and Drug Administration.
"The Medical Campus looks forward to working with Dr. Gilliam as she begins her BU presidency," says Karen Antman, dean of the BU Chobanian & Avedisian School of Medicine and provost of the Medical Campus. "She brings a broad perspective, with her substantial experience as an educator, investigator, scholar, physician, and academic administrator. We welcome her leadership and commitment to inclusive excellence."
Fakahany says one of the key strengths in Gilliam's background that resonated with the search committee is her deep experience in a private university, with over 16 years at the University of Chicago, and also her time in a public university setting the size of OSU, and how she applied her natural leadership and interdisciplinary skills in both settings. Like BU, her two prior institutions are members of the Association of American Universities (AAU). The AAU is a consortium of 71 leading public and private universities that perform more than half of the nation's federally funded basic research and award nearly half of the research doctoral degrees in the country. Ohio State is the 12th largest research university in the country (BU ranks 43rd), with nearly $1.4 billion in research expenditures, approximately double BU's amount.
"Dr. Gilliam is an accomplished scholar, a member of the National Academy of Medicine, and a physician by training, with roots in the humanities and with research conducted at the intersection of medicine and the social sciences," says BU search committee member Kimberly Howard, chair of the BU Faculty Council and an associate professor of counseling psychology and applied human development at BU Wheelock College of Education & Human Development. "Her approach to leadership is that of a consensus builder. She is highly collaborative and also able to take the hard stand when it is needed."
---

Her approach to leadership is that of a consensus builder. She is highly collaborative and also able to take the hard stand when it is needed.

---
Learning to lead
In the search process, the committee focused on five qualities it considered essential in identifying BU's next president: leadership in being able to command a complex institution; a deep understanding of the importance of research; a proven record of successful fundraising; global development and management capabilities; and an emphasis on diversity, equity, and inclusion.
Although she has never led an institution as its president, Gilliam says that at every stop throughout her career, she always had one eye on the rung just above hers, learning from her leaders. She credits Robert Zimmer, the president of the University of Chicago from 2006 to 2021, for being the mentor who suggested she consider pivoting from research and medicine into higher education leadership. Zimmer, who died in May, built a tight circle of future higher ed leaders, mentoring, promoting, and helping to launch the careers of the current presidents of Dartmouth, Caltech, Vanderbilt, Clark, and Colby College. And now Boston University.
"He said, 'You should pursue higher ed leadership," Gilliam says. "He was the one who gave me a sense of what these jobs are about, and why I should do it. Why I, in particular, should choose this path, among the many things that I had on my plate."
Daniel Diermeier, the chancellor of Vanderbilt University, another of those who rose up in Zimmer's circle, calls Gilliam "an accomplished and ambitious leader, with a deep commitment to collaboration and cross-disciplinarity," who "combines personal warmth and empathy with an ability to achieve even challenging goals."
Gilliam, who was the Ellen H. Block Distinguished Service Professor of Health Justice at the University of Chicago, spent the majority of her career there. As vice provost, she developed and led the university's faculty development and hiring programs, while creating new diversity and inclusion efforts, fellowship programs, toolkits, and workshops. She left the University of Chicago in 2021 after five years as vice provost.
---

He was the first person who just said, 'You should do higher ed leadership. He was the one who gave me a sense of what these jobs are about, and why I should do it.

---
At both the University of Chicago and Ohio State, Gilliam worked closely with their development teams on major fundraising campaigns, traveling both in the United States and internationally. At OSU, with 600,000 living alumni, she participated in a $4.5 billion campaign and helped shepherd a $110 million gift, the largest in the school's history, to create a center for software innovation.
In her role at Ohio State, she has served as the chief academic officer and chief operating officer. She oversees the Office of Academic Affairs, including undergraduate education, graduate education, international affairs, diversity and inclusion, external engagement, online learning, and information technology. She developed the Academic Plan, providing an overarching strategy for academic excellence.
In another example of her work at Ohio State aligning with BU's vision and strategy to become more accessible to more students, Gilliam has placed a keen focus on issues of access, affordability, and reducing debt at graduation.
"Boston University is on an excellent trajectory, with exceptional faculty, staff, and students," Freeman, BU interim president, says. "That is certain to continue under Dr. Gilliam's leadership."
A life filled with culture
Growing up in the nation's capital provided Gilliam, who has two sisters, with a particular view of the world. She was raised in Mt. Pleasant, a neighborhood known for its cultural and economic diversity. She also grew up among artists, writers, and politicians. One of her seventh-grade classmates was a boy named James Ginsburg, who happened to be the son of a fast-rising lawyer and outspoken women's rights activist named Ruth Bader Ginsburg.
"I remember getting dropped off at their apartment, and then we sat on the couch, and mom said goodbye, and we walked across to a concert at the Kennedy Center," Gilliam says. "It is not until you get older that you realize these experiences are distinct and formative."
But that kind of experience—being surrounded by powerful women in a diverse city like Washington—helped her appreciate later in life that she could be anything she wanted to be, just like the mom of her classmate, who went on to become the second woman US Supreme Court justice. "You just had to decide what it is you wanted to do," Gilliam says.
Her parents were both role models as she blazed her own trails. In 1961, her mother, Dorothy Gilliam, broke ground when she was hired by the Washington Post. As the Post wrote in a 2019 profile of her, "Whether she was reporting on integration of the University of Mississippi in 1962 or pushing newsroom managers to hire more women and minorities, Gilliam committed her career to sharing a broader view of American life."
The lessons her father Sam Gilliam, who died in 2022, imparted to her were different. Sam Gilliam came of age in a period of great experimentation for abstract painting and in a time of political and social turmoil. As the New York Times wrote, "but even in this context he was especially daring."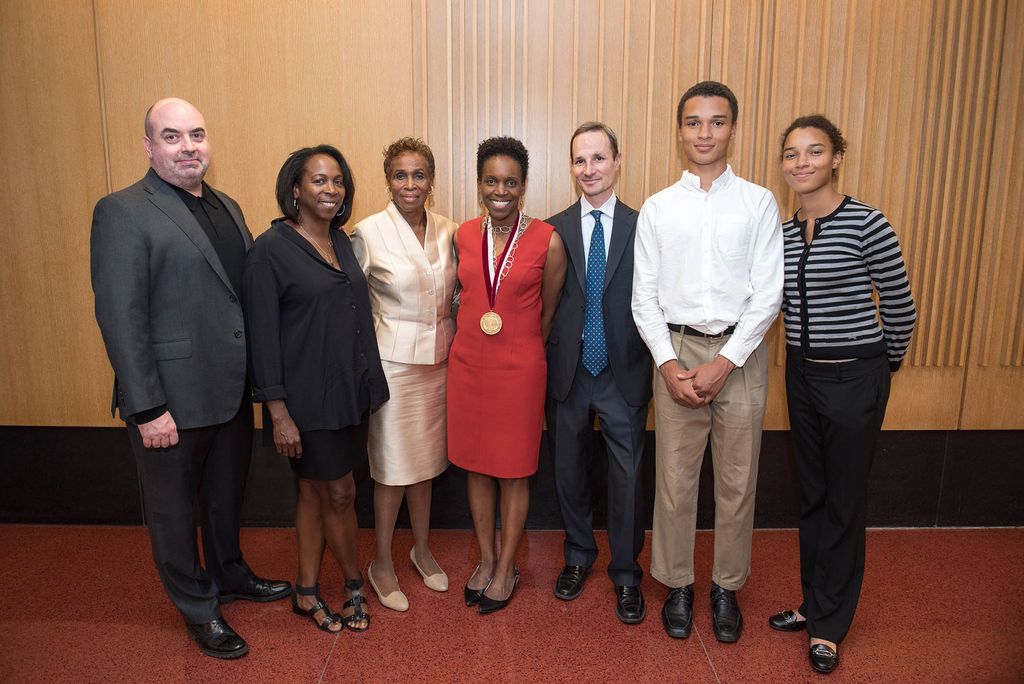 Throughout her career, family has been front and center for Gilliam. In left photo, Gilliam (center) with (from left) her sister's husband, Tom Hanley, her sister, Stephanie Gilliam, her mother, Dorothy Gilliam, her husband, William Grobman, and their son, Ben Grobman, and daughter, Eve Grobman. In right photo, Gilliam (far right) with her sisters, Stephanie (left) and Leah, and their father, Sam Gilliam, who died in 2022. Photos courtesy of Gilliam
"We grew up with a very strong humanitarian focus," Gilliam says. "And a huge focus on the impact that one could have in the world."
The lessons her parents taught her and her sisters have stuck with her. She's aware of her own history-making journey—the first Black provost at Ohio State and soon to be the first Black and first female president at BU—but she's more mindful about why there are still glass ceilings to smash today.
"What is more frustrating to me is that in this day and age, I am still doing things that are first," she says. "That's a bigger concern, that there's any trailblazing aspect to what I do. There is so much talent and human potential, I figure in 2023 it should be commonplace. And it just isn't."
She says that after spending time on the East Coast and in the Midwest, she's come to appreciate what she misses about the New England area. When she's indoors, she loves doing ceramics and reading. But she's happiest outdoors, and enjoys skiing, hiking, and walking. And she says her husband, William Grobman, a physician-researcher specializing in high-risk pregnancy, attended Amherst College, and cannot wait to spend time in the Berkshires again.
There is one other reason the East Coast is exciting for them. Their son is at Harvard Medical School and their daughter a few hours south at Yale, studying economics and math, while also learning Japanese, varied pursuits, like her mother's educational roots.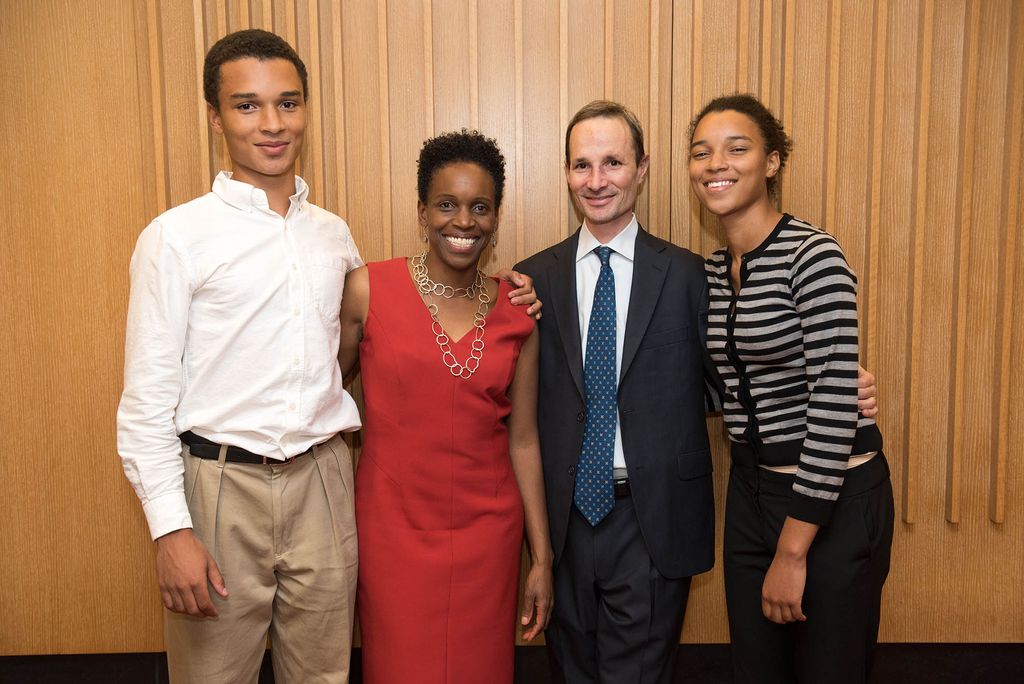 "Dr. Gilliam is a testament to the exceptional value of studying the liberal arts," says search committee member Stan Sclaroff, dean of Arts & Sciences at BU. "Her passionate pursuit of humanities and social sciences—in English literature, philosophy, and politics—combined with her background in medicine and public health, bring a critically needed combination of knowledge and appreciation for considering the human dimension in tackling important questions."
He says the multidisciplinary path she has pursued is one followed by many BU students. "They will surely see themselves in Dr. Gilliam," Sclaroff says, "and be inspired by how this nimble, multidisciplinary mindset informs her leadership as we work together in taking BU to the next level, as a leading global institution."
In a world that needs more collaboration, more partnerships, more connectivity, Fakahany says, he was struck by Gilliam's natural ability to build bridges.
"I've learned as chair that when you have 17 colleges, they all need to feel that they are part of the vision and feel the excitement about all the opportunities ahead," Fakahany says (the BU search committee was assisted in its work by Storbeck Search.) "BU has made important strides and recent commitments in life sciences and in computing and data sciences, with the faculty and the new Center for Computing & Data Sciences. We have been visible in that direction. But these important societal investments also play well into the humanities and bring untold interdisciplinary opportunities."
Fakahany says Gilliam's innate instinct toward collaborating shined through the more he got to know her. "Her listening ear is very genuine. She is sharp and decisive. But we live in a world where you can't figure it out all by yourself," he says. "It will be critical that we work in teams with an open mind, sharing ideas and nurturing talent, and Dr. Gilliam will be the driving force to bring everyone together to identify the opportunities that will propel BU forward."