Are You a Novid—Someone Who's Never Had COVID? Science Has Some Clues Why
BU expert says researchers are working to understand why some people have avoided the virus or showed no symptoms when infected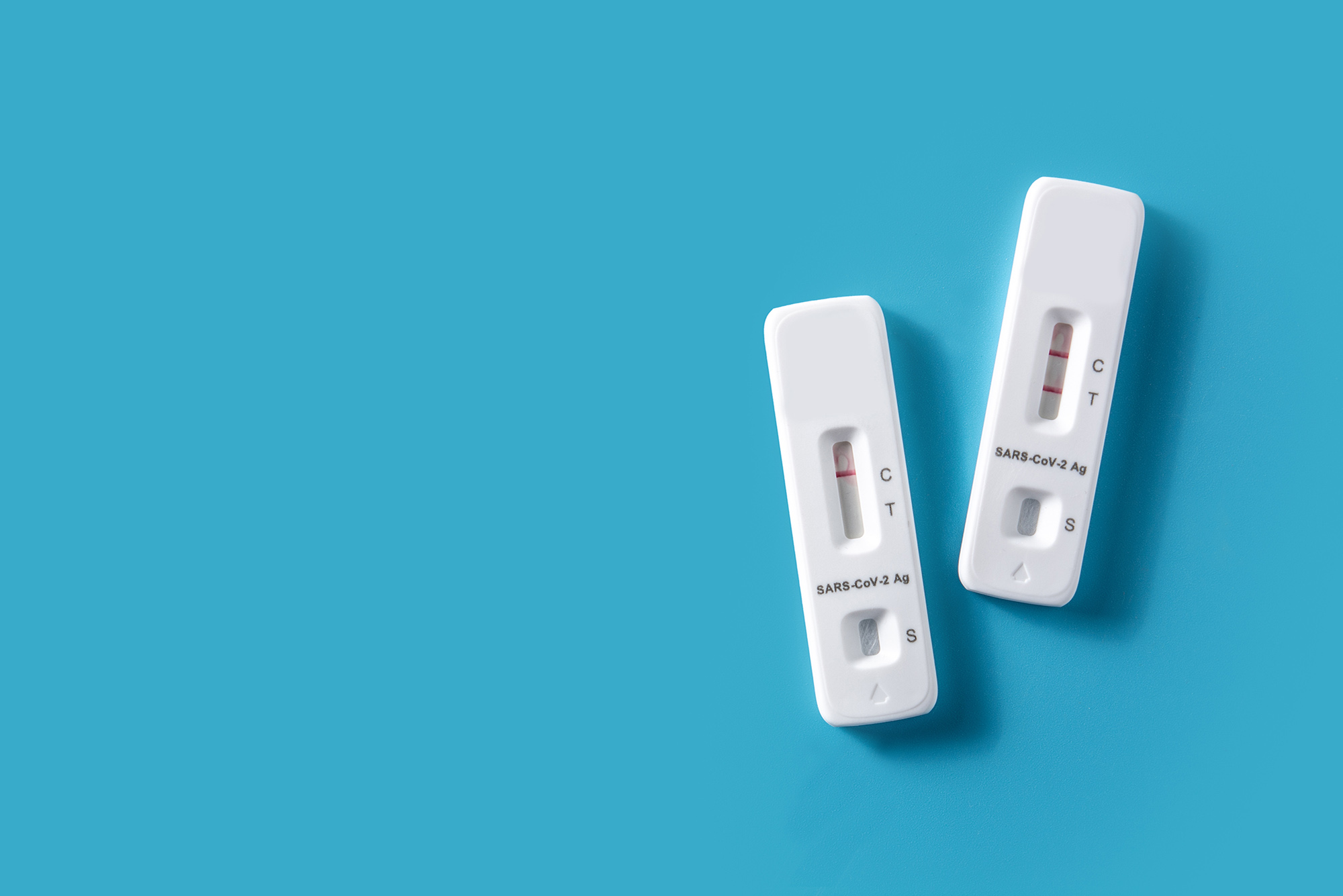 Public Health
Are You a Novid, or COVID Super-Dodger—Someone Who's Never Had COVID? Science Has Some Clues Why
BU infectious diseases expert Sabrina Assoumou says researchers are working to understand why some people have avoided the virus or showed no symptoms when infected
If you haven't had COVID-19 yet, explain yourself, please.
How is that possible? Globally, there have been more than 663 million cases of COVID since the virus first began circulating. Your family has probably had it. Your colleagues. Your neighbors. Your mailman, manicurist, and hair stylist. Your dog probably even had it. Stories of those who've somehow avoided the virus seem impossible to fathom now that three years have passed since it first started spreading around the world in early 2020.
But for scientists, these so-called "super-dodgers," or Novids, or COVID virgins, as some are calling them, are important research subjects. If scientists can determine whether they have some unknown antibody, or genetic code, or mysterious cell makeup that has helped them ward off COVID the way Superman deflects bullets, then perhaps that knowledge could be used to create better vaccines or treatments for everyone.
According to one recent study on this subject: "Despite some inconsistent reporting of symptoms, studies have demonstrated that at least 20 percent of individuals infected with severe acute respiratory syndrome coronavirus 2 (SARS-CoV-2) will remain asymptomatic." The study says that while most global research has focused on understanding why some people get severely ill, or die, from COVID, it's also vital to understand why a small population doesn't get it at all, or shows no symptoms when infected.
BU Today wanted to understand this better, so we turned to Sabrina Assoumou, a BU Chobanian & Avedisian School of Medicine assistant professor of medicine and the inaugural Louis W. Sullivan Professor of Medicine. She is also an attending physician in infectious diseases at Boston Medical Center, BU's teaching hospital, and has been studying SARS-CoV-2 since its earliest days.
This interview has been edited and condensed for clarity.
BU Today:
Let's start with this: why haven't some people gotten COVID? Luck? Genetics? Cautiousness? Or a combination of these?
Assoumou: It is likely a combination of many factors. Vaccination is the number-one reason I would say. That's the major factor. Cautious behavior is big. Wearing masks on public transportation and other crowded settings matters. We know that masks work and provide another layer of protection. But socioeconomic status is another factor. If you can work from home as opposed to working on the front line, that matters. Even if you're vaccinated and masked, but you're working in a crowded bar area, infection might be hard to avoid. And then there is luck. If you happen to be sitting for a prolonged period of time next to someone who is infected, it might be difficult to avoid infection.
BU Today:
Are scientists still interested in these people, even now, three years into the virus?
Assoumou: There definitely is a special interest. They can provide clues on how we can provide protection for people. How we can avoid it. Drug therapies. Vaccines.

I specialize in HIV. It's very interesting to see that there has been a similar interest in the field of HIV research to understand why certain individuals have been able to avoid infection. With HIV, there is a mutation in a gene coding for a protein that functions as a receptor molecule, called CCR-5. The HIV virus needs the receptor to get into the cell. For people who have a mutation in that protein, the HIV virus cannot get into the cell. That's why we have had functional cures of HIV. Scientists used information discovered by studying individuals with this mutation to achieve functional cures, where individuals no longer need HIV antiviral treatment to control the virus. These cases are very rare, but have provided very valuable information. These findings helped the science move forward. There is hope that with SARS-CoV-2, if we can find a similar gene, then we could have a similar impact. Maybe that could be our solution to vaccines and other approaches.
BU Today:
What are the challenges for scientists?
Assoumou: It's hard right now because many people have been infected. Omicron is very transmissible, so many people got infected. It therefore became harder to find people who haven't been infected, to find what genes could be impacted. It made the task a lot harder.

But earlier in the pandemic, there was a study that was done where they looked at something called HLA, which is the human leukocyte antigen, which signals the immune system. They found that some people who had a mutation in the genes coding for HLA seemed to be less likely to have symptomatic infection. [According to one scientist on the research, "Not even a sniffle, not a scratchy throat, entirely asymptomatic."] Patients seemed more likely to have asymptomatic infections.

We haven't yet identified something as clearly helpful as what we saw with HIV. For SARS-CoV-2, we have seen mutations that make you more likely to have less severe complications or be asymptomatic.
BU Today:
I've also read about how some people who have certain T-cell levels might be better protected against severe COVID than others. Can you talk about that?
Assoumou: In samples from people who have not yet been exposed to SARS-CoV-2, scientists found that individuals who had been exposed to other coronaviruses [but not SARS-CoV-2] seemed to have T cells that were also primed to target SARS-CoV-2 along with other coronaviruses. So when you are exposed, your immune system responds quickly because it is ready, and you're more likely to have milder disease.
BU Today:
Is it possible that those people who believe they've never had COVID actually did have it? But their symptoms were so minor they never bothered testing and therefore never realized they had it?
Assoumou: Yes, that is correct. There are studies that show that some individuals who didn't think that they had been infected were in fact found to have had COVID in the past when they were tested. We know this because there are tests that can identify people who have previously been exposed to the virus.
BU Today:
That would seem most likely with families or colleagues in close proximity at work. We hear these stories of entire families getting sick with COVID, but one family member not getting it. Has that been studied or explained?
Assoumou: The perception in public is that if you are exposed, you will get it. But if you go back and look at household studies, the infection rate within households is sometimes only like 30 percent or 40 percent. People think if you are exposed you will get it, but it's not 100 percent. I often use this reasoning to still recommend precautions. Have the infected person mask as much as possible, use ventilation. You really can protect yourself from getting it.

I have a friend of ours who said I could tell their story. Their child got COVID. Three out of the four family members eventually got it later. But while their child had it, they continued masking, my husband built them a Corsi box (for better air circulation), and they had it in the room where family members isolated. My friend was the only family member who did not get it. She kept masking while family members isolated, and the Corsi box improved ventilation in the house. She did not get COVID. It's not inevitable. It's worth it to try to take precautions.
BU Today:
As scientists learn more about this virus, where can they go next with their findings?
Assoumou: Right now, we know that available vaccines are good for fighting severe disease, avoiding hospitalization and death. The next frontier includes vaccines that are more effective at preventing all infections. Vaccines right now are targeting the spike protein. They are not great at preventing all infections. But the next frontier is to make vaccines better at preventing most infections. Scientists are working on intranasal vaccines that will actually prevent early infections in the upper respiratory tract. Mucosal vaccines are what they are called. We want vaccines that will have an impact early and be more effective at preventing even mild infections.
 
The other frontier is universal coronavirus vaccines. Scientists are trying to address the different permutations that this virus could have. Universal coronavirus vaccines would help address variants. [On January 23, it was reported that the FDA may switch to an annual shot that targets the COVID strain believed to pose the greatest threat for the next winter, similar to how the influenza vaccine is administered.]
BU Today:
But it sounds like there is still a lot to learn.
Assoumou: We are building the airplane as we fly it. For example, we started out thinking that reinfections might not be common. Now we are seeing more reinfections. If you have had it, that protection is often very temporary. We are learning.