50 Years After Roe v. Wade, What Do the Next 50 Years Look Like?
Scholars, lawyers, and public health officials from across the country gathered Thursday at BU to discuss what's coming next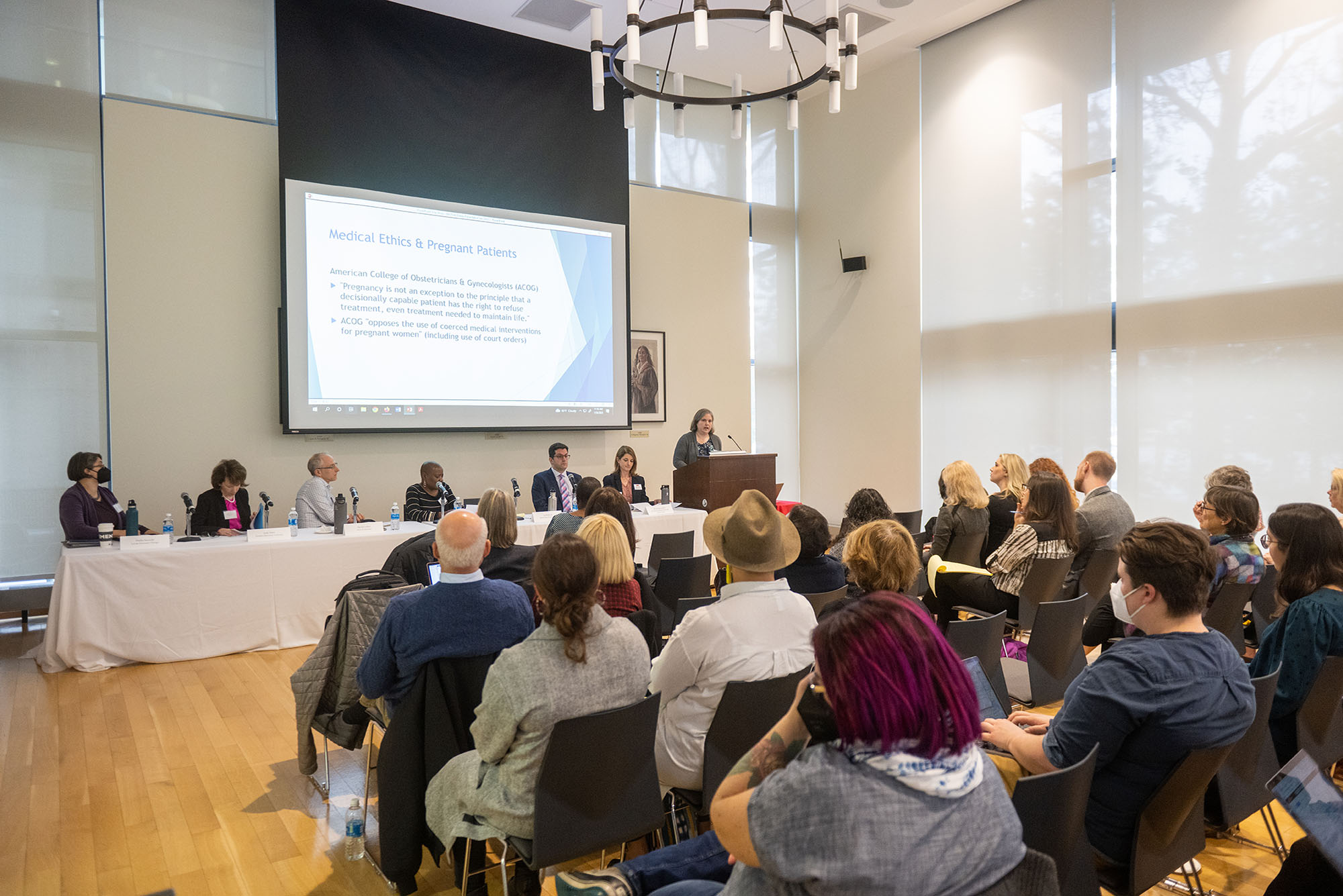 Health & Medicine
50 Years After Roe v. Wade, What Do the Next 50 Years Look Like?
Scholars, lawyers, and public health officials from across the country gathered at BU Thursday to discuss what's coming next
Since the US Supreme Court issued its watershed decision in Dobbs v. Jackson Women's Health Organization in June 2022, the outlook for people who can become pregnant has shifted dramatically. The court's decision, which stripped the constitutional right to abortion, will make medical reproductive risks more prevalent, obstetric training more difficult for medical students to acquire, sow chaos in the criminal and legal systems, and limit patient autonomy.
If that's not enough, it will also make abortions more difficult, if not impossible, to receive in many states.
In a year that would have marked the 50th anniversary of Roe v. Wade—the 1973 ruling overturned by Dobbs—scholars, lawyers, and public health officials from across the country gathered at Boston University's School of Law to discuss instead what the next 50 years might look like, with the landmark decision overturned.
More than 200 people joined Thursday's conference, titled After Roe and Dobbs: Seeking Reproductive Justice in the Next Fifty Years, in person, and online. Speakers throughout the daylong event explored various topics, including the impact of the Dobbs decision on reproductive healthcare, new challenges in maternal care, the regulation of pregnancy and reproduction, and possible futures for reproductive justice. 
"Since June 2022, when the Supreme Court decided to overturn 50 years of precedent, […] generations of people who grew up with a stronger sense of control over their bodies had to come to terms with some loss of that agency," said Angela Onwuachi-Willig, dean of the BU School of Law and Ryan Roth Gallo and Ernest J. Gallo Professor of Law.
The conference also kicked off a new multidisciplinary program at BU. The Reproductive Justice program—which will be housed within the School of Law, but pulls in scholarship from the School of Public Health, the College of Arts & Sciences, the Center for Antiracist Research, and other schools and colleges across BU—will launch officially this coming fall. Faculty including Linda McClain, Robert Kent Professor of Law, Nicole Huberfeld, Edward R. Utley Professor of Health Law, Ethics, & Human Rights, and Aziza Ahmed, a LAW professor of law, who organized Thursday's conference, will lead the Reproductive Justice program.
Early on, speakers at the event tackled the harm that the Dobbs decision may inflict upon pregnant people and their healthcare providers.
Liz Kukura, an assistant professor of law at Drexel University's Thomas R. Kline School of Law, and Nadia Sawicki, Georgia Reithal Professor of Law at Loyola University School of Law, posited that the decision could ultimately erode pregnant patients' autonomy.
"It's likely that some providers will believe that Dobbs provides greater justification for overriding a patient's refusal of treatment," Kukura said, such as in cases when a doctor recommends a cesarean section, but the patient might not want one. She also worried that "providers will rely on Dobbs to prevent patients from accessing care that would benefit their health, but could provide risk to the fetus."
And, as noted by Yvette Cozier (SPH'94,'04), associate dean for diversity, equity, inclusion, and justice and an associate professor of epidemiology at the BU School of Public Health, these health risks are even more acute for Black women. Cozier, an investigator on the Black Women's Health Study, highlighted the disparate treatment that Black women have historically experienced—and continue to experience—within the US healthcare system. Maternal mortality rates are more than twice as high for Black women than their white counterparts, she said.
"Black women have had a very complicated medical history around birthing; we've run the gamut from forced reproduction to forced sterilization" in the last 400 years, Cozier said.
Beyond these direct impacts on patients, the Dobbs decision may have an indirect impact in the healthcare landscape, as well, said Amirala Pasha, an assistant professor of medicine at the Mayo Clinic College of Medicine & Science.
Medical students, even those studying in states like Massachusetts that allow abortion, may have difficulty getting a full obstetric education, he said: "This is a national issue, and it will affect every state."
Students who are narrowing down the fields they'll eventually specialize in may also be discouraged from pursuing positions in reproductive health fields, Pasha said. "If your preferred field is banned in half the country, that might give you a second thought."
---

"If your preferred field is banned in half the country, that might give you a second thought."

---
Later, Renée Landers, a professor of law at Suffolk University, echoed Pasha's concerns.
"I'm thinking about the impact that restrictions on reproductive healthcare may have on the healthcare workforce: will they choose not to study or work in states that have restrictive abortion laws? This would have a deleterious impact on reproductive healthcare and all kinds of healthcare, more broadly," Landers said.
Still, there is reason for optimism, said Judy Norsigian, cofounder of the nonprofit organization Our Bodies Ourselves. The Dobbs decision has "galvanized groups of people who've been largely inactive in setting public policy or running for office," she said, adding that she's seen more interest in civic participation in the last several months than almost any other time during her decades of activism.
"This is something people care about, in some form or another," Norsigian said.