12 Books to Make Your Heart Beat Faster This Valentine's Day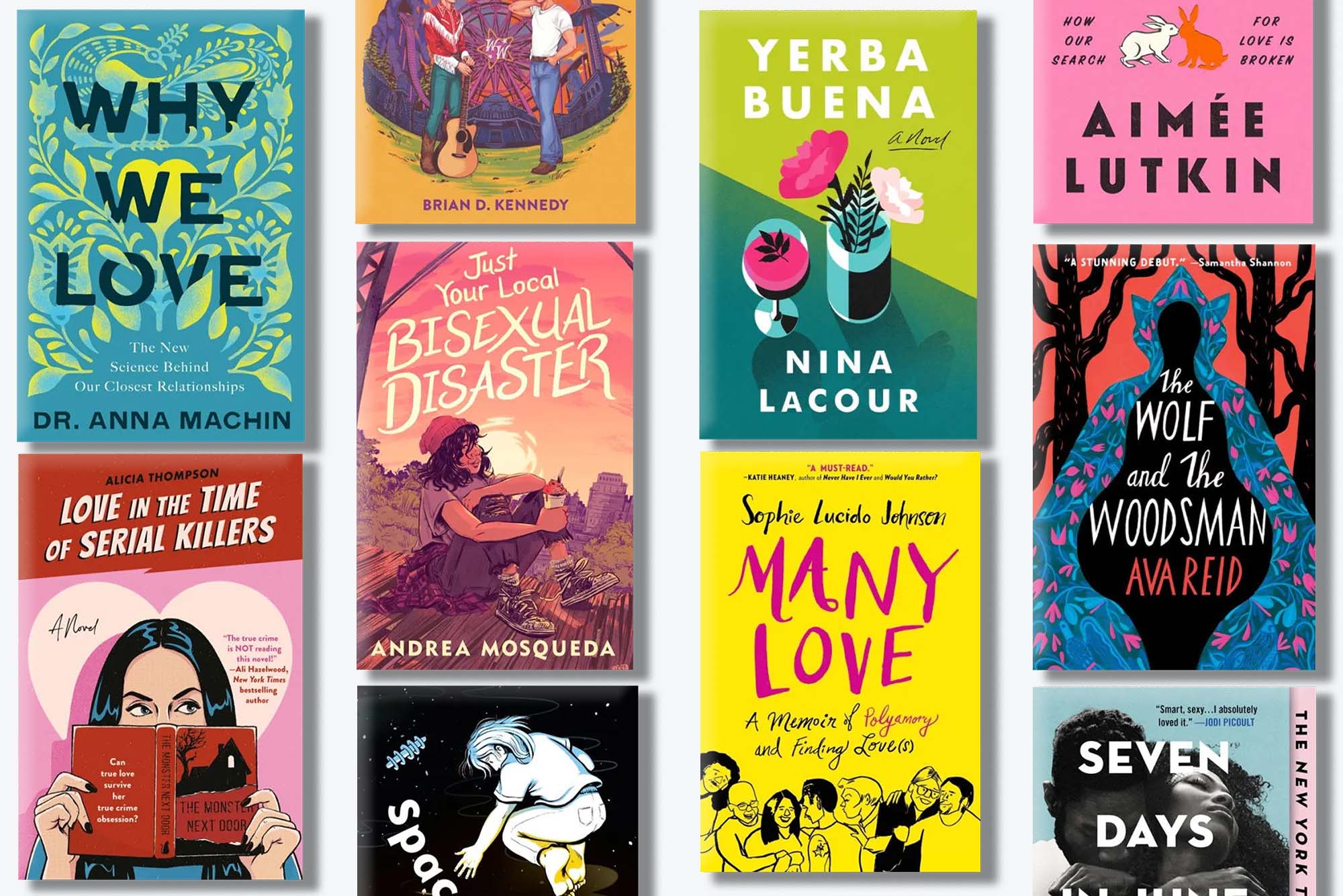 Holiday
12 Books to Make Your Heart Beat Faster This Valentine's Day
Roses are red, violets are blue, whether taken or single, this list is for you
Romance is in the air, Terriers, and whether Valentine's Day is your favorite, or least favorite, holiday, who doesn't enjoy reading about love and romance? We've put together an eclectic list that includes the book about serial killers that made it onto Cosmo's list of top romance novels of the year (!?), an anthology of essays about Black romantic love, a graphic novel featuring queer women in space, and for the cynics among us, a research-heavy memoir of one woman's quest to prove that some people are destined for lives of solitude—and that's okay.
Happy Valentine's Day from all of us at BU Today—we ♥️ you.
Lauded by Ebony magazine for "reviv[ing] the Black chick lit genre," New York Times best-selling novelist Tia Williams stays true to form with her most recent title, the scorching story of an erotica writer who reconnects with an old flame in Brooklyn. Eva Mercy and Shane Hall had a teenage love affair long before they encountered each other at a literary event, and Eva still harbors reservations about the man who once broke her heart. Before he exits her life (again), she wants some answers. Seven Days in June was named a "Best Book of the Year" by the New York Public Library, NPR, Marie Claire, and Kirkus Reviews.
In her debut graphic novel, Space Story, Fiona Ostby tells a story of lovers in a dangerous time. Leah and Hannah meet, fall in love, and start a family during the twilight of habitability on Earth. After the unthinkable happens, Hannah is able to escape to outer space, with Leah left behind. Separated by an interstellar divide, they must find a way to reunite and make it to safety. Space Story is a speculative fiction suffused with queer and nonbinary characters, where nothing is certain and everything is at stake.
Inspired in equal parts by Jewish folklore and Hungarian history, The Wolf and the Woodsman also manages a clever twist on classic fairy tales and high fantasy. In a forest kingdom of occult practitioners ruled by a corrupt king, only young Évike was born without magical powers. Cast out, she is forced to team up with another outcast—the disgraced prince Gáspár Bárány—in an effort to stop his bloodthirsty brother from staging a coup. Eventually the two come to terms for the sake of their mission, but could something be growing in their hardened hearts? You'll have to read it to find out.
Best-selling YA author Nina LaCour makes her first foray into adult fiction with Yerba Buena, an achingly pretty novel about Sarah, a craft bartender, and Emilie, a floral arranger, who meet by chance when both take jobs at a posh Los Angeles restaurant. Called "a Carol for our times" by Harper's Bazaar, Yerba Buena delights in lush details and tender heartache, reinventing Southern California melancholy for the modern queer woman.
Andrea Mosqueda's first novel is the coming-of-age story of high schooler Maggie Gonzalez, who might be a little messy, but she likes it that way. Or she did, until she was tasked with finding an escort for her younger sister's quinceñera. The search brings her face-to-face with latent romantic feelings for her friends, unwanted romantic advances from exes, and the realization that love is a messy, messy enterprise. As she watches her sister prepare for her rite of passage, can Maggie navigate each romantic pitfall as she gets ready for the next step in her own life?
True crime fans know that there's always a chilling new story to explore, whether it's a podcast, a TV show, a documentary, or a book. No one knows this better than Phoebe Walsh, the protagonist of Alicia Thompson's debut novel. Phoebe loves the genre so much she's decided to make it the subject of her dissertation. After heading to Florida to clean out her childhood home, she begins to suspect her next-door neighbor of being up to something. Does the fact that he makes her heart beat faster mean that sparks are flying…or could he be a serial killer? Love in the Time of Serial Killers was named one of Cosmopolitan's Best Romance Novels of 2022.
In this debut novel, set in a country music–themed amusement park called Wanda World, 17-year-old Emmett Maguire, a starry-eyed musician with aspirations of becoming country music's biggest gay headliner, performs daily at the park, owned by Wanda Jean Stubbs, a Dolly Parton stand-in. Meanwhile Luke Barnes, who loathes country music, is forced to take a job there to help pay his mom's mounting medical bills. As sparks between the two young men begin to fly, Luke tells Emmett about how Wanda Jean cut his grandmother, Verna Rose, out of the country music business. As the summer progresses, Emmett and Mark discover something about Wanda Jean and Verna that has them shaking in their cowboy boots. Can their budding relationship survive?
NONFICTION
Fueled by curiosity and a sense of righteous indignation, author Aimée Lutkin (who is also a performer and director) set out to see whether there's something fundamentally flawed about society's obsession with coupling up. After a year of reading about the sociology of singlehood, closely examining the wellness industrial complex, and doing tons of field research (read: going on lots of dates), her result is The Lonely Hunter: How Our Search for Love Is Broken—part memoir, part research tract, part manifesto. Oozing both confidence and vulnerability, this book is for all the singletons out there you won't see on Tinder any time soon.
9
edited by Jessica P. Pryde
Lamenting the lack of attention given to Black love and romance by the media, librarian and columnist for Book Riot Jessica P. Pryde decided to set the record straight. She recruited an assortment of Black writers—from romance novelists Jasmine Guillory and Kosoko Jackson to media critics Carole V. Bell and Julie Moody-Freeman—to look at Black love across the literary spectrum. Each essay in the anthology explores a different facet of Black romantic love, whether through memoir, historical analysis, or contemporary criticism.
It seems like every few years a new book comes along that promises to decode the mysteries of love. And while this book claims to do just that, its definitions of love are so expansive, and the research so all-encompassing, that it's clear this isn't your average piece of pop science. Machin, an evolutionary anthropologist, not only explores romantic love, but also the love of family and friends and even pets, celebrities, and God. She draws from biology and psychology and much in between to deconstruct one of life's greatest enigmas.
Sophie Lucido Johnson uses a relatively new medium to address an age-old dilemma in Many Love, her ambitious literary debut. The graphic-novel-cum-memoir looks back on her struggle with the idea of monogamy and her eventual embrace of polyamorous love. Readers follow the author from city to city, relationship to relationship, as she relives the highs and lows of a life filled with simultaneous multiple lovers. Informative, candid, and poignant, Many Love has received high marks from Library Journal, Kirkus Reviews, Bitch Media, and others, and made Lucido Johnson the latest member of the graphic memoir vanguard.
Refreshingly compassionate and matter-of-fact, this how-to book promises to help the modern man navigate the dating world without resorting to "creepy pick-up artist tricks." Lauded as a dating guide for the #MeToo era, this collection of tips and tricks for in-person and app-based dating urges its male readers to approach each interpersonal challenge by leading with a mindset that leans heavily on self-acceptance, confidence, and mutual respect. The author is a dating coach for The League and an advisor for AskMen and Elite Daily.