To Do Today: Cool Off at Walden Pond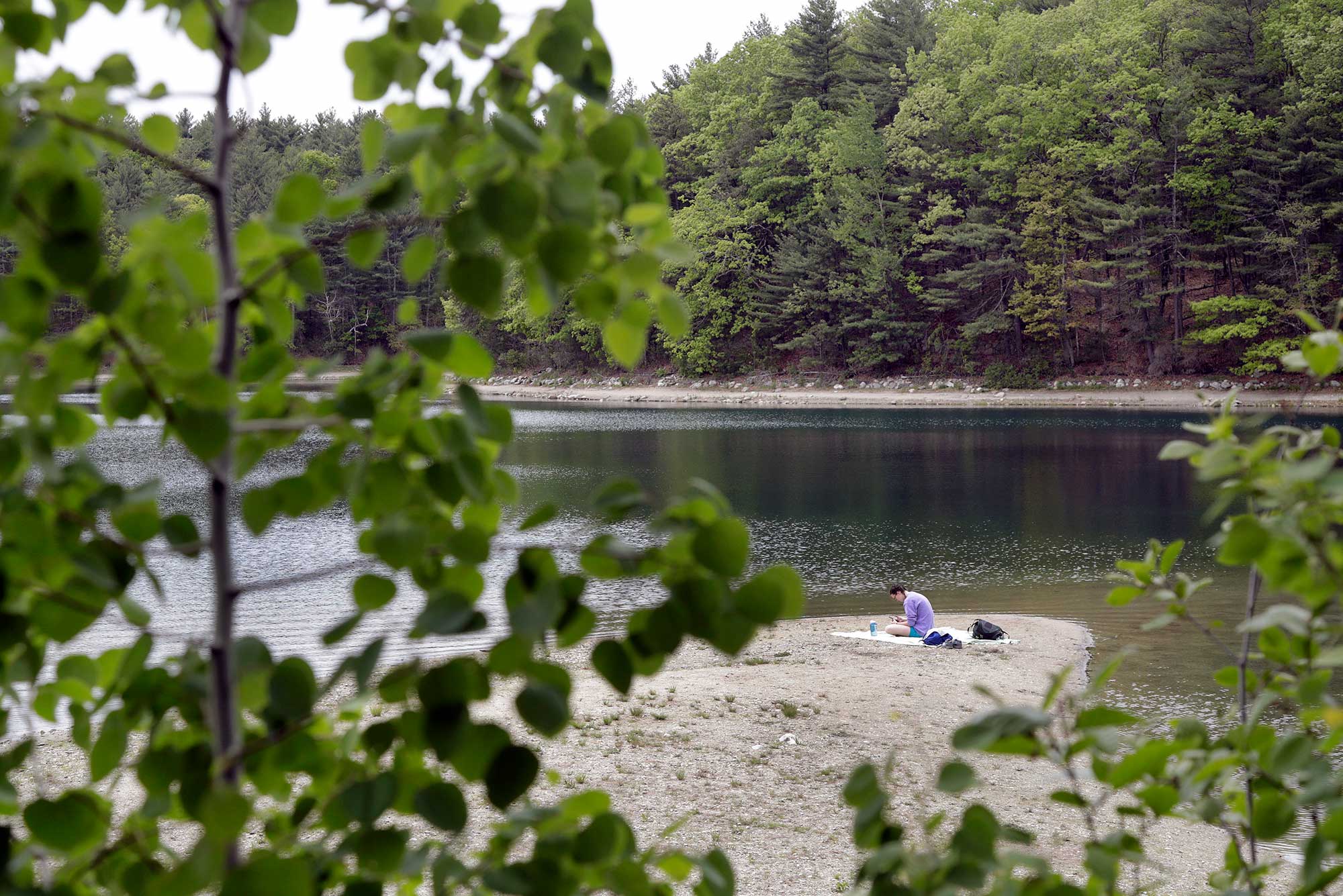 Travel
To Do Today: Cool Off at Walden Pond
Hike, swim, and boat at the site made famous by Henry David Thoreau
What?
Walden Pond State Reservation.
When?
Daily, 5 am to 7:30 pm. The park is closed to everyone, pedestrians included, when the parking lot is full. Visit DCR Park Alerts to find out if capacity has been reached.
Where?
915 Walden St., Concord, Mass.
How much?
Parking is $8 for Massachusetts vehicles, $30 for out-of-state residents. Massachusetts residents can buy a $60 season-long parking pass, good for all state parks, here.
Why should I go?
Walden Pond, known around the world as the place where Henry David Thoreau holed up to contemplate the magnificent spirituality of nature, is now a cool spot where Boston-area swimmers and nature-lovers can escape the summer heat.
At 103 feet deep, Walden Pond, officially known as Walden Pond State Reservation, is a glacial kettle-hole pond and the deepest natural body of fresh water in Massachusetts—consequently, the water stays (relatively) cool. The reservation is part of the Massachusetts State Parks system and is a designated National Historic Landmark.
In the vast recreational universe between contemplation and competition, there is much to do at Walden. Miles of hiking trails run through the reservation's 335 acres, and bird-watchers may glimpse kingfishers, blackbirds, chickadees, blue herons, and red-tailed hawks flying above the surrounding forest. Resources for self-guided tours are available here.
At the pond's northeast corner, visitors can view the site of Thoreau's cabin, where he lived from July 1845 to September 1847 (a replica of the cabin stands beside the parking lot). Thoreau wrote his first book, A Week on the Concord and Merrimack Rivers, during his stay at Walden Pond and that stay later inspired Walden.
Lifeguards are on duty at the beach from 10 am to 6 pm through Labor Day. On weekends and most evenings, kayaks and canoes glide across the water, often trailing fishing lines. The pond is stocked annually with trout, but licensed anglers can also hope to catch sunfish, perch, and smallmouth bass. It's important to note that dogs or other pets are not allowed in the park, nor are grills, camping, or alcoholic beverages. There are no trash cans on the beach, so guests must take their trash with them when they leave. It's all about relaxation and drinking in the pristine views during your well-deserved day there.
The state-of-the-art Walden Pond Visitor Center, open daily from 10 am to 4 pm, features information about the pond's history and geography. Walden-related merchandise is sold in the gift shop and public bathrooms are available. The net-zero energy building—meaning it upholds the highest standards of sustainability—is LEED Gold-certified, which would have made Thoreau proud.