The Weekender: September 8 to 11
Tapas eatery, local festivals, and Splash returns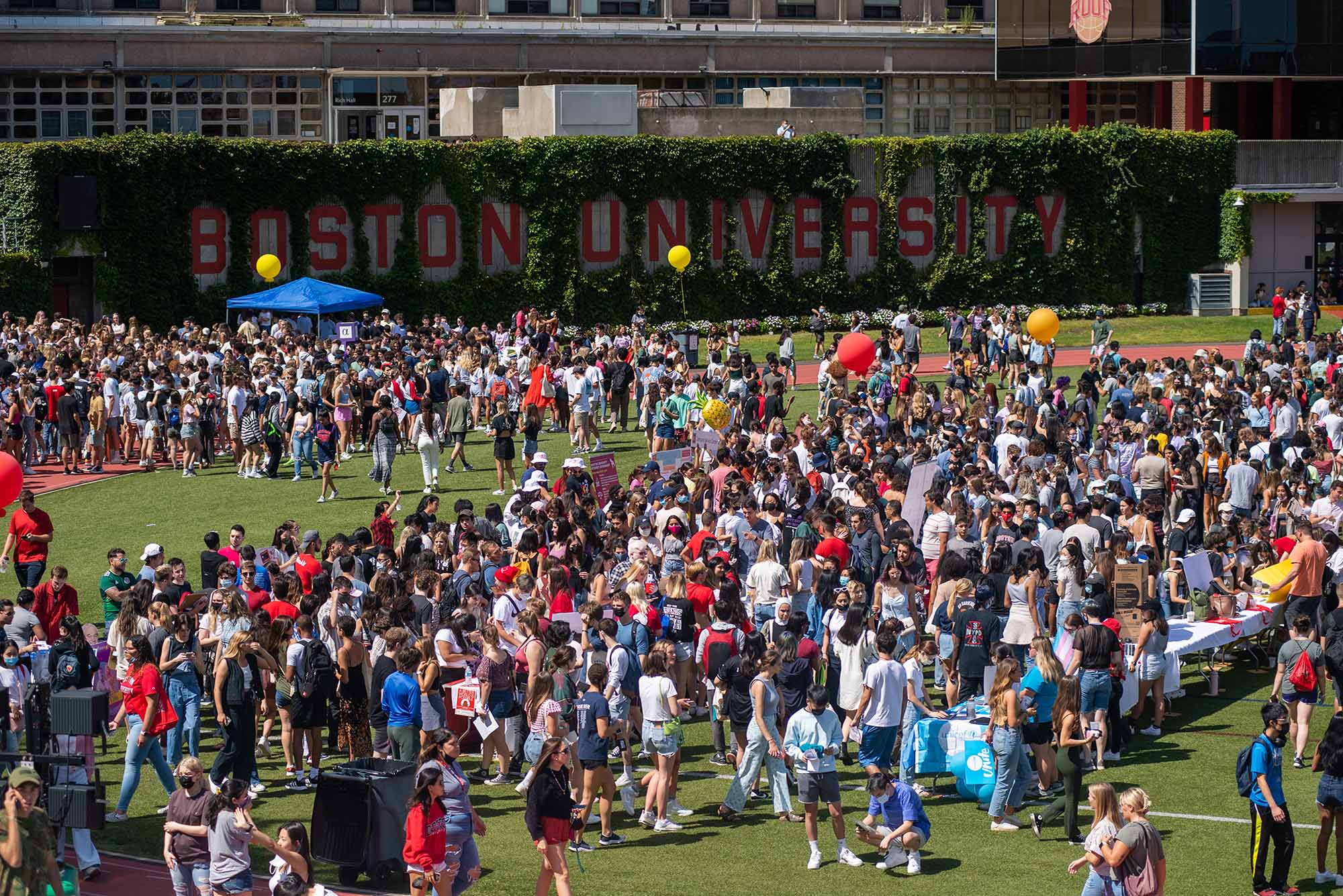 Welcome back to campus! As the first week of class ends, grab some friends and floormates and head out, because there's tons to do. Share traditional Spanish tapas at nearby Tasca, venture out of the BU bubble to two local festivals, and be sure make time for Splash, BU's annual student club fair, held right here on campus.
Tasca Restaurant
For a unique dining experience, bring some friends to Brighton's Tasca Restaurant and enjoy traditional Spanish tapas. Near the Washington Street T station on the Green Line B Branch, Tasca serves over 60 different tapas, including classic favorites like paella, tortilla española, and patatas bravas. Sample dishes like manchego and jamón ibérico, grilled octopus, or fried shishito peppers. End the night with churros con chocolate, traditional caramel flan, or crema catalana, a Spanish take on crème brûlée.
If you're still hungry, come back on Tuesday nights for select $5 tapas from 4 to 6 pm.
Tasca Restaurant, 1612 Commonwealth Ave., Brighton, is open from 4 to 9 pm Sunday through Wednesday, and 5 to 10:30 pm Thursday through Saturday.
Cardullo's Gourmet Shoppe
If you're a foodie, head to Cardullo's Gourmet Shoppe for unique products from New England and beyond. With locations in both Harvard Square and the Seaport, Cardullo's also has an in-store deli featuring wraps, salads, sandwiches, and breakfast items. Pick up local New England products like honey, maple syrup, and saltwater taffy, as well as international items like tea, jam, oil, shortbread, chocolate, and pasta. The store also carries general goods, including nuts, crackers, sauces, cookies, alcohol, and frozen items. Browse the aisles and treat yourself to a delicious specialty item manufactured close to home or abroad.
Visit Cardullo's Gourmet Shoppe at 6 Brattle St., Harvard Square, Cambridge, or 99 Seaport Blvd., Boston, in the Seaport. Hours vary by location.
BU Farmers' Market
For over a decade, BU Dining Services has hosted a weekly farmers market on campus. This semester's markets are on Thursdays, from 11 am to 3 pm, through October 27 at the George Sherman Union Plaza. Local vendors will offer dorm-friendly products that require little to no preparation and fresh seasonal produce. The market also strives to include women-owned and minority-owned businesses, so come support local vendors. 
The BU Farmers' Market is Thursday, September 8, from 11 am to 3 pm, at the George Sherman Union Plaza. It will be held each Thursday through October 27. 
Splash
Looking to make new friends? Want to get involved on campus? Check out Splash to learn about BU's more than 450 student organizations and meet their student leaders. Discover academic, social, political, religious, and cultural clubs from all over campus. A BU tradition, this yearly event draws thousands of students to Nickerson Field and kicks off the fall semester social life.
Splash is on Saturday, September 10, from noon to 3 pm, on Nickerson Field.
The Boston Arts Festival
Since 2003, the Boston Arts Festival has showcased visual and performing arts at Christopher Columbus Waterfront Park. The annual festival is this weekend on Saturday and Sunday, featuring more than 70 local visual artists, craftspeople, and musicians. Over 50,000 attendees stroll the area to take in the artists' photography, paintings, songs, ceramics, jewelry, and sculptures. A complete list of artists and musical performances is available on the festival website.
The Boston Arts Festival will be held on Saturday and Sunday, September 10 and 11, from 11 am to 6 pm, at Christopher Columbus Waterfront Park, North End, Boston. Admission is free and open to the public.
Cambridge Carnival Festival
The 28th annual Cambridge Carnival Festival celebrates the African diaspora with food, music, costumes, and more. Cambridge Carnival Festival is one of the largest outdoor multicultural festivals in New England and the largest festival in Cambridge. Fill up on grub from food trucks, local restaurants, and specialty food producers from across the Northeast, and then burn it off by moving along with the festival's parade, which includes floats, dancing, costumes, and steel drums. Come celebrate freedom, expression, and culture at this popular Greater Boston event.
Cambridge Carnival Festival will be held on Sunday, September 11, from 11 am to 5 pm at University Park, Kendall Square, Cambridge. The festival will travel to Central Square.
Marsh Chapel 9/11 Memorial Service
Every Sunday, Marsh Chapel hosts an interdenominational worship service influenced by the University's Methodist roots. This Sunday, Marsh Chapel will include a remembrance of the victims of 9/11, both in the service's opening prayers and in the sermon. The bulletin for the day will list the BU community members who died that day.
The service will be held on Sunday, September 11, at 11 am in Marsh Chapel. It will also be streamed on WBUR, 90.9 FM.