Film & TV
BUTV10 Wins Big—Again
Students take home prizes in newscasting, magazine programming, and sports
BUTV10, Boston University's student-run broadcast station, took home top honors in four categories at the National Academy of Television Arts & Sciences (NATAS) Boston/New England chapter student production awards.
Programs from BUTV10 were awarded the highest prizes for news, feature programming, and sports. The second installment of a two-night mayoral election special, Next Stop: City Hall, received the prize for best newscast. The station also won awards for magazine programming and live sports.
Chloe Liu (COM'22, CAS'22), who recently graduated with dual degrees, in journalism and anthropology, produced the election special and worked with a team of about 40 students on the show.
"It takes a village," says Liu, this season's news coordinator for the station.
Her first job in TV production was running the teleprompter for BUTV10, she says, and this year, she produced the award-winning episode, which included interviews with a campaign consultant for former Boston City Councilor Annissa Essaibi George (CAS'96) and Lisa Kashinsky, a Massachusetts politics reporter for Politico. The election special also won silver in the Telly Awards, another major industry award program.
"BUTV10 has, in my opinion, a history of producing great election coverage," Liu says. "So, it's almost kind of like tradition for us to do one every time there's an election cycle."
Jacob Cohen (COM'22), who graduated in January with a degree in film and television, was the director of the station's live sports coverage and the election special. He was able to welcome many new students to the crew who couldn't participate the year before because of more stringent coronavirus health precautions.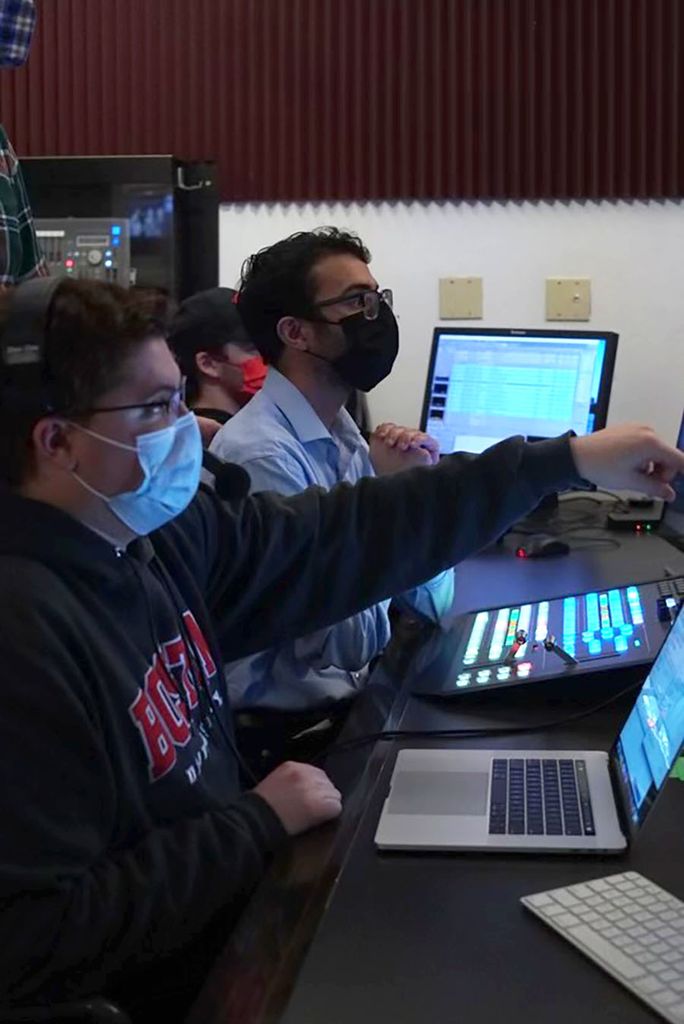 "But eventually you start getting into your groove and it sort of becomes very routine," Cohen says, adding that he got to "collaborate with so many people and turn these productions into well-oiled machines that have really earned those honors.
"It's a great place to learn technical skills and also collaborate with other people who are very passionate about the same topic," he adds. "It's never a one-man show."
Cohen says his time at BUTV10 gave him the experience to get internships and his two new jobs: working in TV production for the Worcester Red Sox and as part of the control room staff for the Boston Red Sox.
"I probably did a broadcast for every single BU sport we have," he says. "If I hadn't done that, I wouldn't have the jobs I have right now."
Amber, BUTV10's first and only bilingual show exploring international news and culture, won its first NATAS award this year. The award-winning episode was produced by Luwa Yin (COM'22, CAS'22) in her debut role as a BUTV10 producer. She graduated in January with dual degrees, in journalism and psychology.
"We really [dove] into issues that had something to do with international students," Yin says, "but also domestic students." The episodes discussed how travel restrictions affect the student body, the Marvel comic Shang-Chi, and how to develop healthy relationships.
Yin emphasizes the value of collaboration in putting each episode together.
"Journalism is a way for people to get a better understanding of the whole society," she says. "Just by being a part of the production, [students] really get the chance to understand the news."