POV: As Someone Who Identifies as Part of the LGBTQIA+ Community, Passage of the Respect for Marriage Act Feels Deeply Personal to Me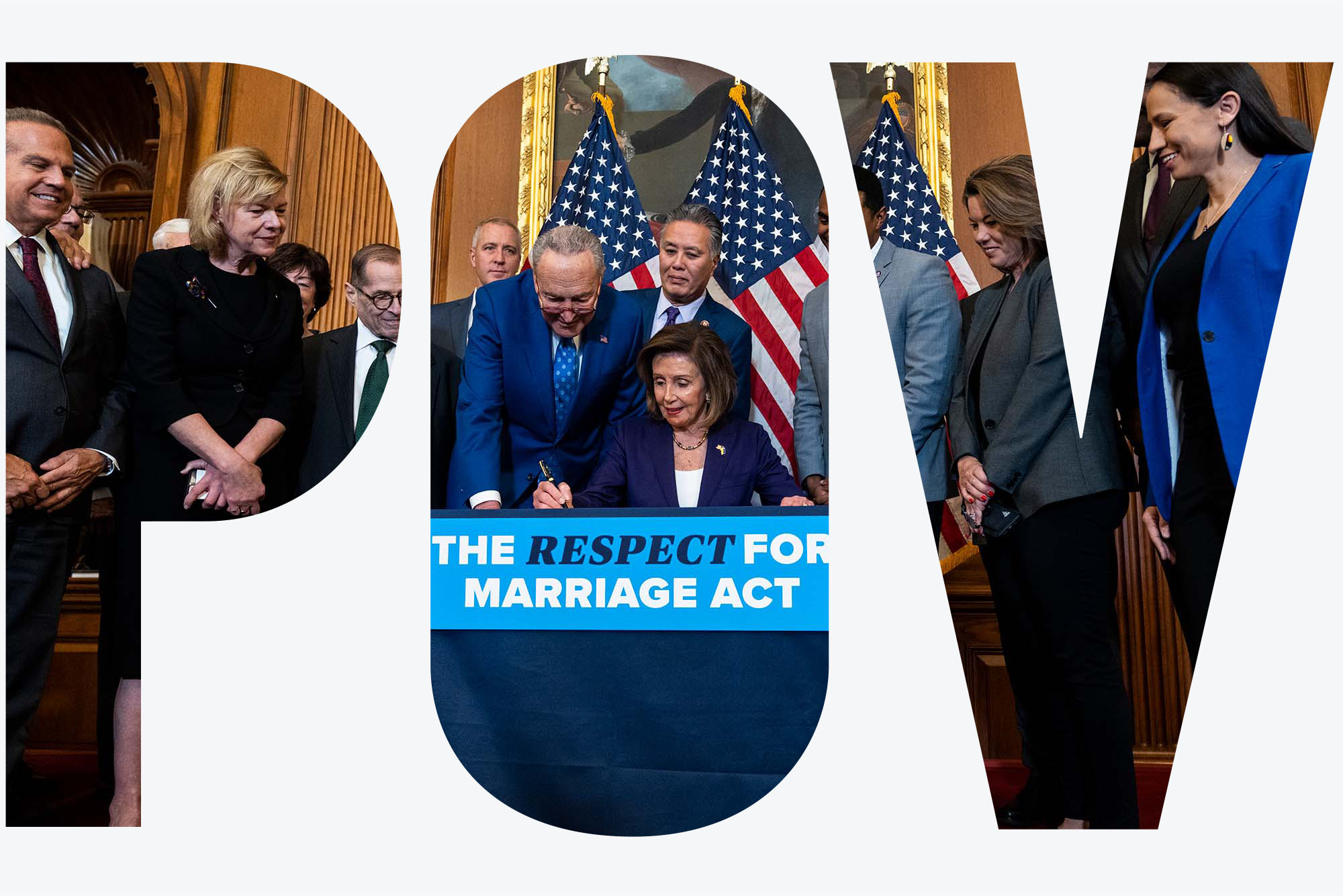 Voices & Opinion
POV: As Someone Who Identifies as Part of the LGBTQIA+ Community, Passage of the Respect for Marriage Act Is Deeply Personal to Me
It represents what I thought could never happen: bipartisan legislation providing marriage equality for all Americans
On a recent Saturday night, my husband, Michael, and I marveled as our grandson pulled himself up to standing and smiled brightly when he realized everyone was watching him. We were excited to spend some alone time with six-month-old Miles while his parents took the night off to have dinner and drinks. Babysitting your grandson with your spouse isn't particularly extraordinary, unless you are same-sex spouses. For gay men, being married is a very big deal…being grandfathers is a miracle!
Only a little more than five years ago, on a cold day in mid-November, we took the T to Boston City Hall to stand before the justice of the peace and say our vows to one another. I cried and asked the justice of the peace for a copy of the vows. We didn't consider inviting guests to our wedding. We had waited two years to be married, and we scheduled it on the first available appointment. We were not arranging it around other people's travel schedules. Now, five years on, we enjoy the experiences that many married couples share, watching our children and grandchildren grow, travel, dinner over work-related discussions, streaming our favorite television shows, paying taxes, home DIY projects, etc. Honestly, every little detail sometimes feels miraculous when only a few years ago being happily married seemed an impossibility. Oh yah, did I mention our grandson? *Smile* Despite our happiness, we knew there was a chance it could be taken away.
On December 13, President Biden signed the Respect for Marriage Act into law. This law, in brief, ensures protections for interracial and same sex marriages. It's important to note that these protections have already existed for interracial marriages for 55 years. And in the case of same-sex marriage, seven years. Despite these protections being settled law (see Loving v. Virginia, [1967] and Obergfell v. Hodges [2015]), after it reversed a more than 50-year-old decision that protected women's reproductive rights (see Dobbs), the US Supreme Court hinted that they may reconsider other protections. Like many Americans who identify as part of the LGBTQIA+ community, passage of the Respect for Marriage Act felt deeply personal to me and represented what I thought could never happen: namely, bipartisan legislation providing marriage equality for all Americans.
The significance of the passage of the legislation in today's deeply divided political and cultural climate seems monumental. In the wake of Dobbs, hard-fought protections for marginalized groups ensured by the Equal Protection and Due Process clauses of the 14th Amendment seemed imperiled. But members of both houses of Congress took action to ensure that partisanship, or culturally or religiously myopic activism, on the part of some members of the Supreme Court would not prevail. Rather than risk jeopardizing marriage equality to an activist court, Congress legislated civil rights as part of their representative duties. At a time when our democracy feels like it is on life support and in a rare display of bipartisan effort, a majority in both houses exercised their part in our system of checks and balances, just like we learned about in ninth grade civics class. And it was signed into law.
One might ask whether marriage deserves the respect that this law affords. Marriage as an institution was created as a bond between families to share and protect resources, not the romantic bond between two individuals we assign it today. Its religious and cultural significance that ensured the continued development of families, arguably the fabric of a conventional society, led to the narrowly defined union between a man and a woman in the Defense of Marriage Act (DOMA) in the 1990s. DOMA was explicitly tailored to prevent same sex marriages. For couples who felt marriage was the ultimate symbol of their commitment and love for one another, DOMA was a clear attempt to legislate who we could love. Challenges to DOMA in the courts were rejected because it was Congressional legislation representing the "will of the people." Some states moved to offer same-sex unions or partnerships, a nice gesture and a clear indication that our relationships were less than those of straight couples. Thankfully, however, the will of the people (measured by public opinion) began to change faster than Congress and some states, like Massachusetts in 2004, recognized same-sex marriages.
For Michael and me, the Respect for Marriage Act is of particular importance, as our marriage is both interracial and same-sex. Just lucky, I guess. We are incredibly grateful to the members of Congress who led the charge to respect all marriages rather than defend some, to legislate not who we can love, but rather that we can love. Being married can be complicated, imperfect, and hard work. Sometimes it doesn't even feel very loving. But marriage can also offer a bond of belonging, of shared purpose and memories, and of confirmation that someone wants to be with you in good and bad times. I feel very fortunate to be in a marriage with a person I love and that my country respects that.
David Chard is the dean of Boston University's Wheelock College of Education & Human Development. He can be reached at dchard@bu.edu.
"POV" is an opinion page that provides timely commentaries from students, faculty, and staff on a variety of issues: on-campus, local, state, national, or international. Anyone interested in submitting a piece, which should be about 700 words long, should contact John O'Rourke at orourkej@bu.edu. BU Today reserves the right to reject or edit submissions. The views expressed are solely those of the author and are not intended to represent the views of Boston University.