Newly Remodeled 808 Gallery Opens with Immersive Show Exploring Fantastical Worlds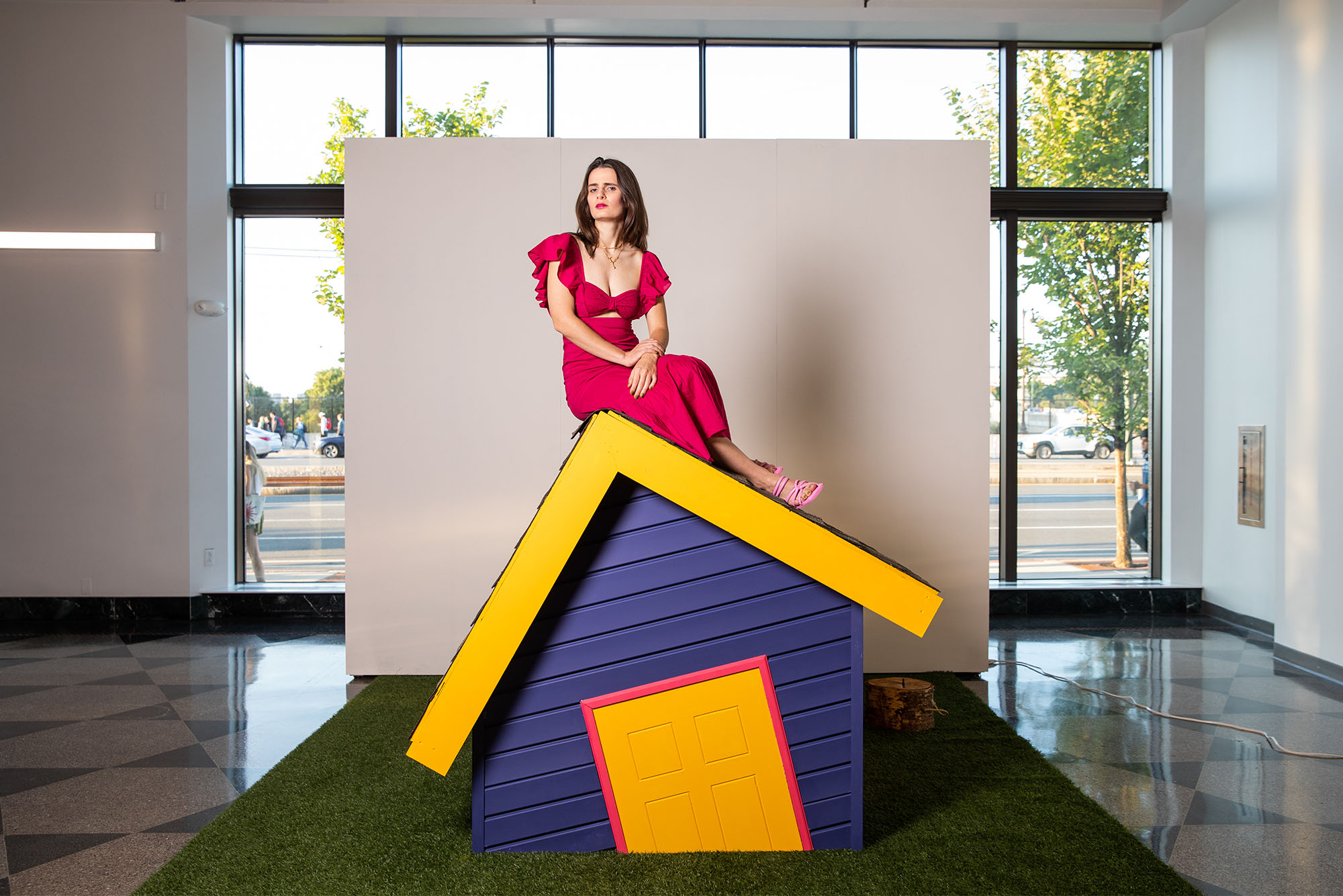 Arts & Culture
Newly Remodeled 808 Gallery Opens with Immersive Show Exploring Fantastical Worlds
Local artist Jaina Cipriano's photography and installations explore duality of light and dark
For local artist Jaina Cipriano, to stimulate the creative imagination you first need to create the right space.
"I always like to go into the space before I have any models in there, because I feel like there's something the space wants to tell me," the artist says of her homemade immersive sets. "I like to use that time to let everything else in my life fall away and see how it feels to exist in this space that I've made."
Given her focus on the importance of space, it's fitting that Cipriano was chosen as the first artist to exhibit work in the newly reopened 808 Gallery, which closed in 2018 when the Howard Thurman Center for Common Ground relocated from the George Sherman Union to 808 Comm Ave and took over half of the gallery's interior.
Dreamscapes: Finding the Light Through Immersive Design, a collection of Cipriano's photography and installation art, explores the duality of childhood nostalgia, its pains and its joys. In one corner sits a children's playhouse painted in primary colors. Gallery visitors are prompted to climb it and sit on the roof. Nearby, a wall of pink lights casts a rosy hue on viewers, and across the room sits a multicolored cave covered in blue acrylic fur. A sign nearby encourages folks to climb inside.
Lissa Cramer, BU Art Galleries managing director, says it's important that the first show in the reconfigured 808 space be both transportive and joyful. In its original incarnation, the massive gallery, a former Cadillac Oldsmobile dealership, could be intimidating to both curators and visitors. Then during the pandemic, the space was transformed into a COVID-19 testing center.
"The space, for many of our students, is not known as a place that you necessarily want to hang out," Cramer says. "It was vital, but it wasn't an art gallery. So I wanted an exhibition that was joyful, and Jaina fit that bill."
Even at half its original square footage, the new gallery is an impressive swath of exhibition space, complete with soaring tracery ceilings—big enough to easily accommodate three of Cipriano's installations, plus a four-walled display of her photographs in the center of the room.
"It's bigger than any space I've ever had access to," Cipriano acknowledges. "Each installation has enough space around it to be its own thing."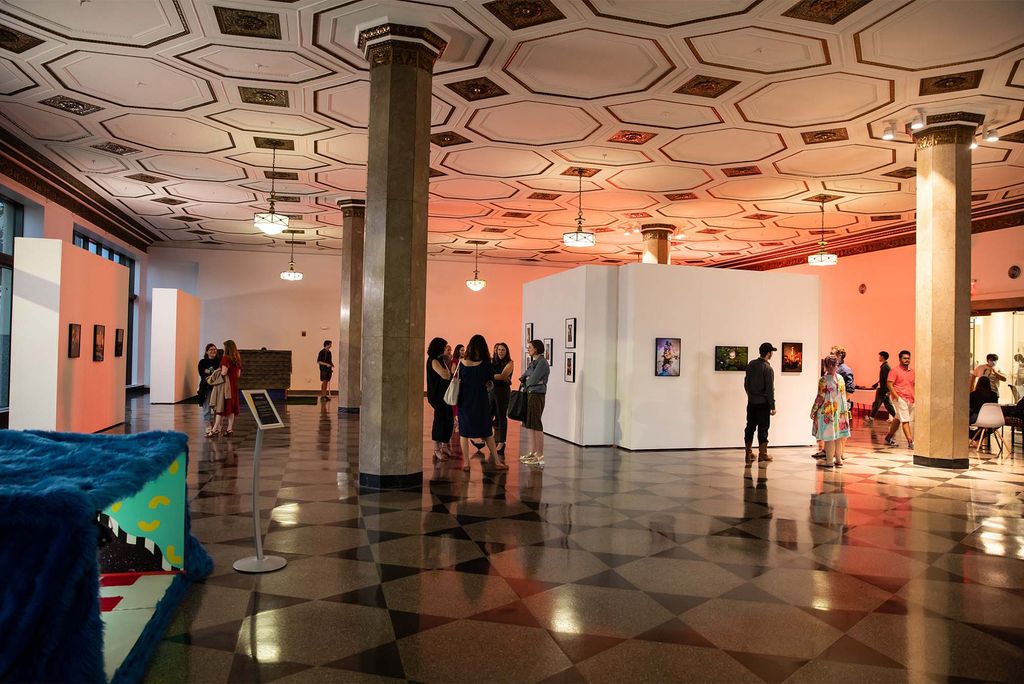 Despite the playfulness in much of her work, the artist has sought to create an environment that has the power to hurt and heal in equal measure.
The photographs on display in Dreamscapes pair vivid, nostalgic images—birthday candles, novelty glasses, dollhouses—with models who have forlorn, even tortured, expressions. Shadows play across the circus-colored landscapes. Installations like the miniature playhouse, Cipriano says, play on traditional symbols of childhood and domesticity. You can climb up to the roof of the house, but you cannot go inside.
"I think a lot of times these spaces that I build are a projection of some feeling or experience that I wasn't able to either describe or grab onto, and it just kind of nags at me," she says. "It's nice to go into those spaces myself and be like, what's going on in here?
"This work was really what pulled me out of a dark place," she adds. "I used the fuel of these horrible things that I had been trapped in for a long time to get to the other side. I followed the light through it."
Cipriano's interest in photography began when she was a child, borrowing her parents' Polaroid and taking stack upon stack of photos. She eventually enrolled in the now-shuttered New England School of Photography, where she studied photojournalism. She later discovered the surreal tableau photography of Gregory Crewdson, who photographed models inside sets he'd designed. At first, she was put off by his work, but later adopted a similar process.
"In my early 20s, I would build these spaces in my apartment for people to come into—themed nights," she says. "It was this low-pressure space for everyone to come in and model or take pictures. I was just like, oh, this is obviously what I love to do. This is so much more interesting than just taking photos. I really enjoy creating space."
Eventually, the Lowell-based artist abandoned her plans to pursue a career in photojournalism in favor of immersive, set-driven surrealism—the dreamscapes now on view at 808.
BUAG curatorial assistant Amy Delabruere (GRS'24), who curated the photographs in the show, says she was drawn to the ethereal quality of Cipriano's work and the pathos underneath the images.
"I found that the photographs that impacted me most were focused on this kind of quiet stillness in the face of chaos, this striving for freedom and escape and a balance of childhood innocence with growth toward adulthood," Delabruere explains. "That's the moment that I'm going through in my life, and I knew that those photos would be really hard-hitting for our audience, which is undergraduates and graduate students."
Authenticity, of feeling and of process, is paramount to Cipriano. The lighting is intimate and unretouched—she doesn't even use a flash. "I think that the reason that my [photographs] work is because I like to put emotion into my models; I think that if I was Photoshopping them into the spaces, the images would feel really different," she says.
The interactive show invites visitors to touch and inhabit the installations and to take selfies—in essence becoming one of Cipriano's models.
"The biggest goal of the art itself is for it to hit home for individual people and make them think about their own childhood and growth into adulthood—that evolutionary period," Delabruere says. "The best part about this exhibition is it's a brand-new space. It's our first exhibition here, and there are so many ways that people can connect with it."
Dreamscapes: Finding the Light Through Immersive Design is on view at the 808 Gallery, 808 Commonwealth Ave., through October 13; hours: Tuesday through Saturday, 11 am to 5 pm. Admission is free.