Following Nancy Pelosi's Visit to Taiwan, What Happens Next?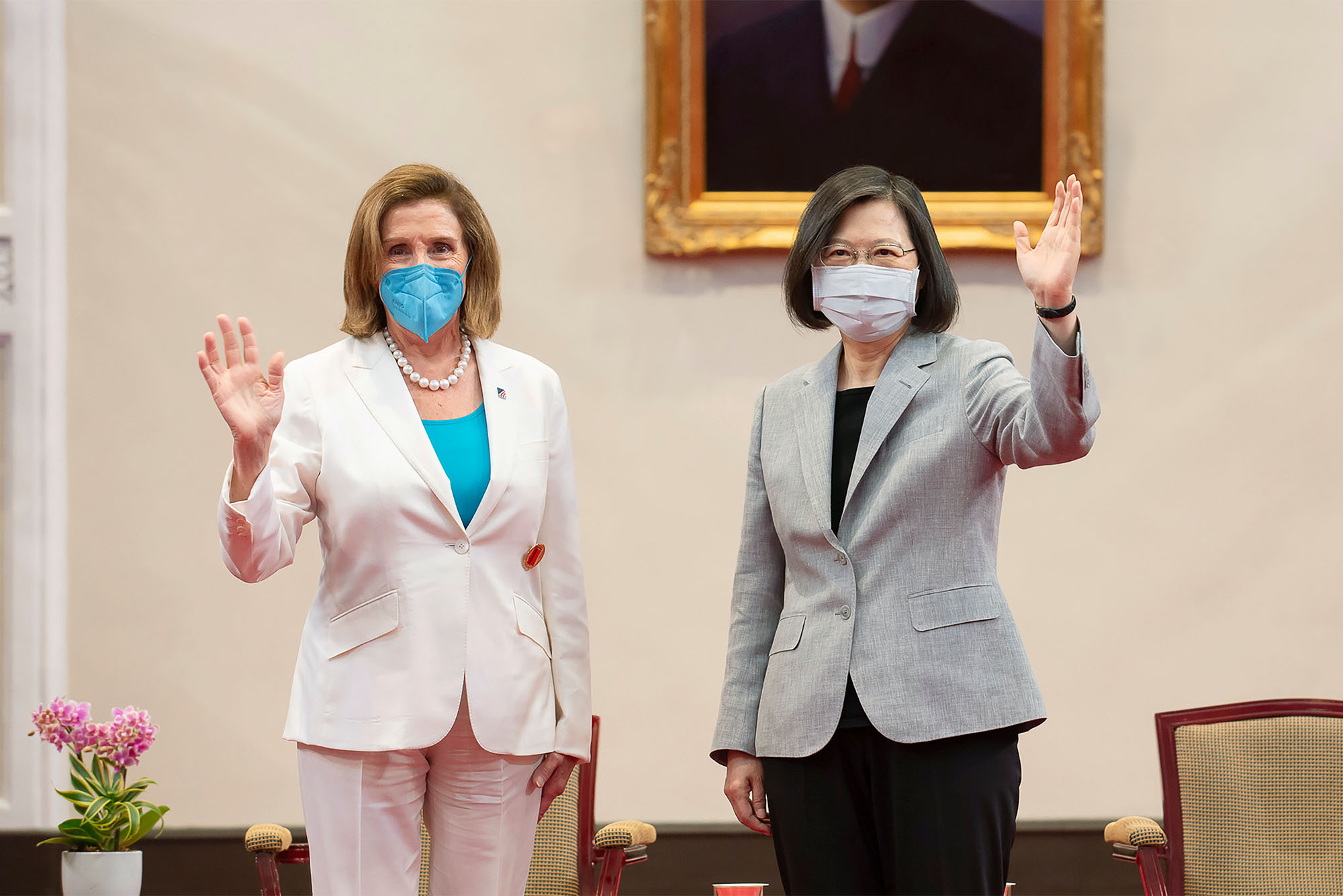 International Relations
Following Nancy Pelosi's Visit to Taiwan, What Happens Next?
BU experts assess House speaker's controversial visit to China-claimed island
One critic suggests Nancy Pelosi has a hell of a conversation stopper to the old question, what are you doing on your summer vacation: "might start World War III." New York Times columnist Thomas Friedman vented his fear as the House speaker defied Chinese protests—and the Biden administration—with her controversial stopover in Taiwan August 2 and 3 to reaffirm US commitments to the island.
Pelosi is the highest-ranking US official in 25 years to visit the self-ruled island of 23 million, which China claims as a breakaway province. Chinese President Xi Jinping warned President Biden before Pelosi's visit, "Those who play with fire will get burned."
The US policy of "strategic ambiguity" calls for peaceful resolution of Beijing's claim to Taiwan, while keeping unofficial relations with, and giving military aid to, the latter. China regards official visits such as Pelosi's as a violation of that policy. She denied that, saying her trip demonstrates "unequivocal" US support amid Chinese cyberattacks, military maneuvers, and economic pressure against Taiwan. The speaker is a longtime critic of China's human rights record. In response to her visit, China cyberattacked the Taiwanese president's website and announced that it would conduct live-fire military exercises in the vicinity beginning August 4. Beijing also announced economic retaliation, including the suspension of natural sand exports to Taiwan and the immediate suspension of some food imports from the island.
BU Today asked two Frederick S. Pardee School of Global Studies experts on China for their assessments of the potential fallout from Pelosi's visit: Min Ye, associate professor of international relations, and Joseph Fewsmith, professor of international relations and political science.
Q
&

A
With Min Ye and Joseph Fewsmith
BU Today:
Should Pelosi have visited Taiwan?
Ye: Speaker Pelosi's visit to Taiwan will set back US-China relations by decades, reversing an already fractured relationship to a conflictual one. In the late 1990s, China's PLA [People's Liberation Army] conducted missile tests in the Taiwan Strait, and the US sent two aircraft carriers to deter China's further actions. The military encounter intensified relationships, which resulted in a highly uncooperative China regarding NATO's war in Yugoslavia. Then, the US Air Force accidentally bombed the Chinese embassy there. It quickly set off nationwide anti-America protests within China, turning violent and blockading American embassies and consulates. Soon, the American reconnaissance fighter jet EP-3 had a collision with China's fighter jet force in the South China Sea and was forced to land in China.

While negotiation was successful, the two countries were on the brink of militarized conflict. The 9/11 attack saved the bilateral relationship, as America's global agenda turned to anti-terrorism, on which China could be a partner.

This history tells us that when the bilateral relationship is conflictual, many accidents—military and others—will erupt in the region and globally. And it requires a fundamental shift in foreign policy. This time, China is less likely to be deterred by the US show of force, and there won't be a significant shift in both countries' major policies. In short, the visit will cost all parties dearly. In the foreseeable future, anticipate more frictions and collisions between the two countries.

Fewsmith: In recent years, there have mounting tensions in the relationship between China and the US over many issues– economic, cyber (especially theft), spying, and security. In recent months, tensions have been focused primarily on Taiwan. China has made a number of bellicose statements and there have been a number of high-level US visitors to Taiwan. In Congress, there has been increased talk about moving from "strategic ambiguity" to "strategic clarity." The latter doctrine would affirm a commitment to come to Taiwan's aide in such a [military] crisis. Adopting a policy of strategic clarity would, at least implicitly, treat Taiwan as a sovereign nation and constitute a clear violation of the US's long-standing "one-China policy." The "one China policy" has been implemented inconsistently at best in recent years, and China accuses the US of "hollowing out" the one-China policy, and of saying one thing while doing another. Strategic clarity would be the deathknell.

With all these tensions, it was a particularly difficult time for Speaker Pelosi to undertake this visit. Speaker Pelosi has a longstanding opposition to China's human rights record. Many of her points are well taken, but she makes them in a way that tends to provoke China rather than ameliorate problems. With mid-term elections coming up in the fall, there were, no doubt, political considerations involved as well. There is no question that Pelosi's trip will heighten tensions between China and the US. Pelosi is a very high-profile leader, and her visit suggests US support for a change in our China policy.
BU Today:
The US and China have engaged in a war of words about potential consequences. How do you think China will ultimately respond to the visit?
Ye: China's short-term actions are likely the following: Toward Taiwan, military exercises, force deployment, and punishing Taiwanese seeking independence. Toward the US, the short-term reactions are likely rhetorical, symbolic, and uncooperative. The danger lies in the medium- to long-term actions. China will likely narrow its accommodation toward Taiwan and be less patient with peaceful unification. Thus far, the mainland's coercion toward Taiwan was more symbolic, which will be more substantive in the medium term. Toward the US, China will more cohesively view conflict with the US as inevitable. As a result, the Chinese state will be less active in managing frictions and seeking cooperation with the US government. And Chinese society is likely to be more anti-America.
Fewsmith: It seems likely that the people of Taiwan will pay the price. With the 20th Party Congress coming up this fall, Xi Jinping cannot afford to appear weak. China stated clearly that it would take a visit by Pelosi extremely seriously. Already, within 24 hours of Pelosi's visit, China announced some economic sanctions on Taiwan and a series of military maneuvers. These exercises will effectively close Taiwan's major harbors for a number of days. No doubt we will see other measures taken in the coming days, weeks, and perhaps months.  
BU Today:
China had been honoring the United States' request to withhold drones from Russia for its Ukraine invasion. Might Beijing rescind this cooperation after Pelosi's trip?
Ye: Such a specific action is hard to predict. But it is unlikely, as China's policy over the Ukraine war is very important and delicate. It is less likely to toy with that policy due to the visit. What can be expected is that China is less likely to cooperate with the US on Russia or other issues. It will make policies toward Russia and the war in Ukraine based on many actors and factors. The US is a significant factor, but not the only or most significant one.
I think China will continue to withhold drones and other military equipment from Russia, but [otherwise] China seems likely to stand even more firmly with Russia.
Fewsmith: I think China will continue to withhold drones and other military equipment from Russia. At this point, we can only guess what China's complete response will be, but it seems unlikely that it will extend to violating US sanctions on Russia. China wants to keep the focus on Taiwan, and it does not want a major confrontation with the US at this time. But clearly China-US relations have been further damaged, and there will be economic and political costs to this.
BU Today:
Is there anything the Biden administration can or should do to pacify China's government over the Pelosi visit?
Ye: Going back to the analogy in the late 1990s and early 2000s, it took a few years of clashes and crises for both sides to sit down. And the US shift toward the war on terror resulted in its accommodation with China, leading to improvement in US-China relations. This time, the strategic foreign policy shift is unlikely between the US and China. Thus, many more frictions are likely to happen, openly and behind the scenes. It will require a lot of work on both sides to manage clashes.
Fewsmith: No. It is too late.
BU Today:
China's economy is struggling, with high unemployment and a falloff in consumer spending due to stringent COVID lockdowns, and some suggest President Xi Jinping is focusing on Taiwan as a political diversion. Do you think the economic travails make the standoff over Taiwan worse, or might it help keep things calm, as China isn't in an economic position to take aggressive measures?
Ye: The domestic economy has a contradictory impact on foreign policy. Sometimes it makes a political leader more aggressive; other times, it makes the leader more accommodating. But one thing is for sure: the Taiwan issue is unlikely to be impacted by transitory economic performance. China's leadership and the ruling party have sufficient control over the matter, and the economy is unlikely to decide the timetable of unification. Instead, China's timetable for unification is determined by its assessment of whether the window of peaceful unification is closed. The current US policy, particularly the Pelosi visit, is likely to narrow China's assessment of this window and hasten China's timetable for unification.
Fewsmith: There is a long history of tension building up over the Taiwan issue, so it does not seem that China's current anger is a diversion. But that history of tension is likely to make China's reaction stronger.