Men's Lacrosse Wins First-Ever Patriot League Title
Terriers beat Army West Point 14-10 in championship on Sunday
BU Athletics
Men's Lacrosse Wins First-Ever Patriot League Title
Terriers beat Army West Point 14-10 in championship game Sunday
For the first time in program history, the Boston University men's lacrosse team has won the Patriot League.
The No. 16 Terriers took down No. 14 Army West Point 14-10 at Nickerson Field on Sunday, May 8, claiming their first trophy just one month shy of the 10-year anniversary of head coach Ryan Polley's 2012 appointment as the first leader of the upstart lacrosse team.
"It's been a long time coming," Polley said after Sunday's win. "A lot of people have put time and effort into getting us to this point, and it's just really nice to get over the hump and win this thing."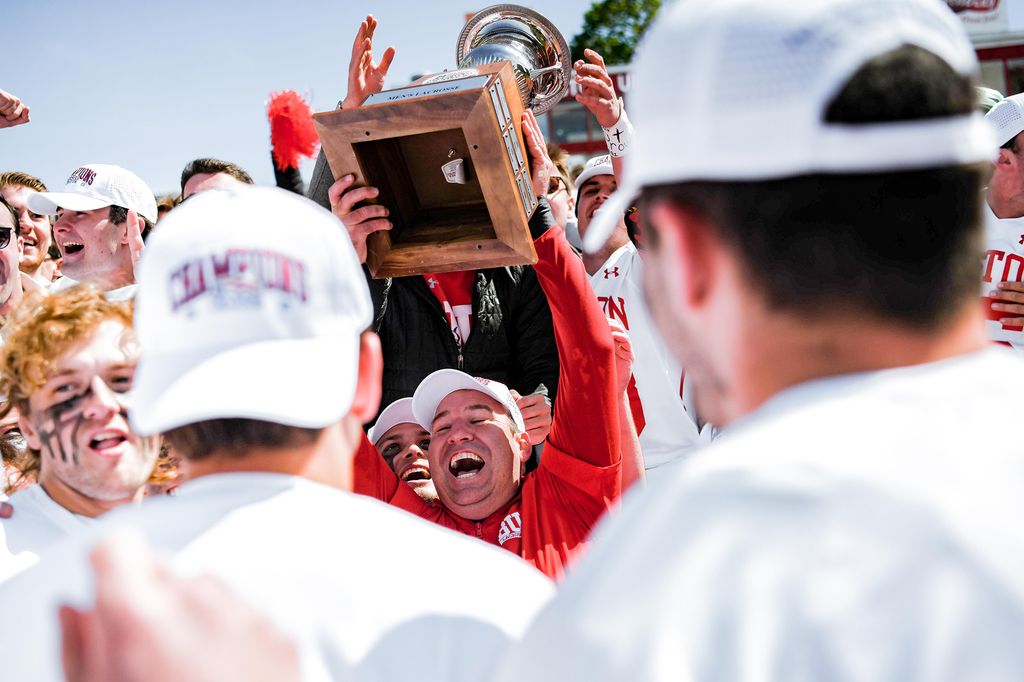 BU enjoyed home field advantage as winner of its first regular-season title in April, and when the final horn sounded on Sunday, the team celebrated together alongside Terrier Nation.
"They were awesome today," cocaptain Timmy Ley (COM'22), an All-Tournament Team selection, said of the fans. "They were so much louder than everyone else—it was a huge motivating factor."
Ley tallied a team-high five points on four goals and one assist, opening the scoring less than three minutes in with an assist from Louis Perfetto (Questrom'23), who went on to record four points himself en route to being named tournament Most Valuable Player. The Terriers never trailed in the game, even as the Black Knights kept pace and applied pressure through the first two quarters.
"I was really impressed with how efficient we were offensively," Polley says. "We didn't have a ton of possessions in that first half…but on the possessions that we had, I thought the offense did a great job, great game plan, and the guys really executed it."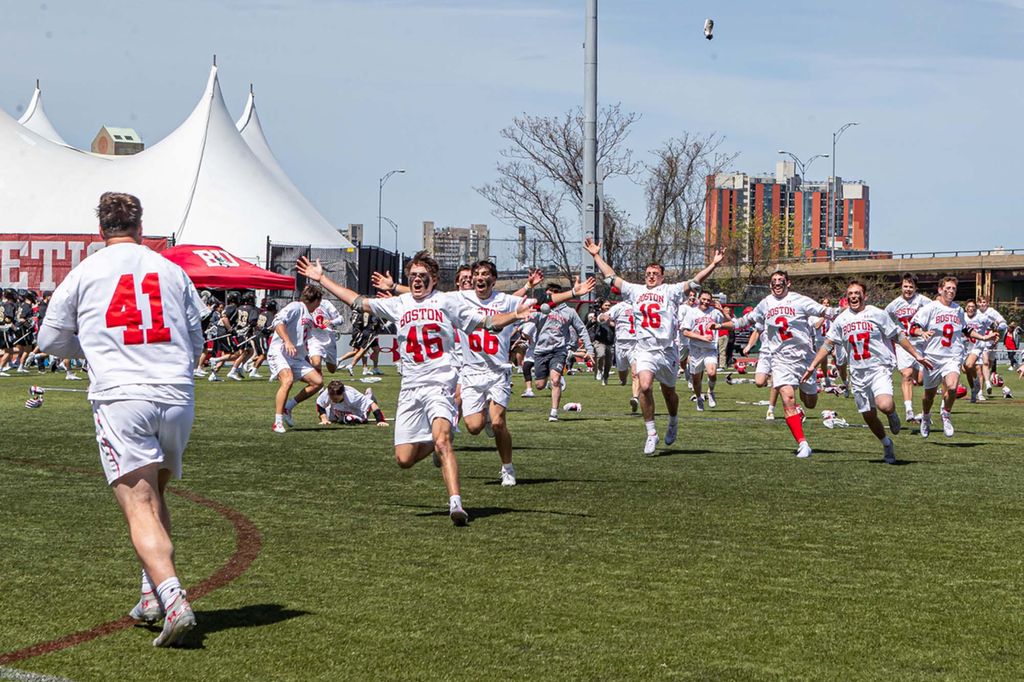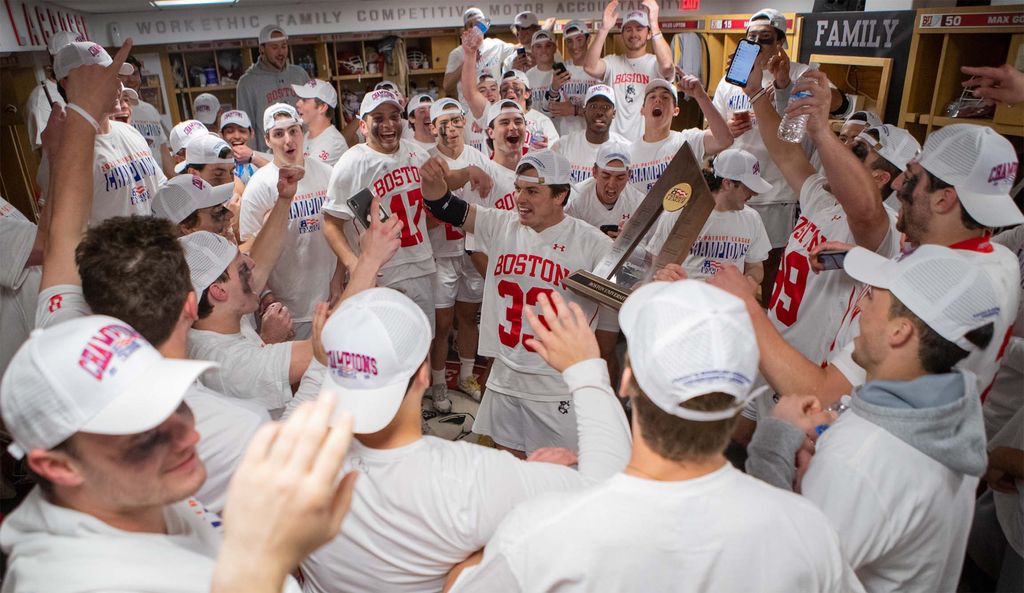 BU held a 7-5 lead at halftime and found another gear after the break, scoring four consecutive goals in the third quarter to stun the visitors and enter the final frame with a five-goal lead.
"It was huge to come out of halftime and score a couple goals," Polley said. "We didn't want to take our foot off the gas. After that run, we needed to continue to play and execute what we do."
The Terrier defense stood strong in the fourth quarter, holding the Black Knights to their fewest shot attempts in any quarter as All-Tournament Team member Matt Garber (Questrom'22) put the finishing touches on a 15-save effort in net.
"We rode really hard," Polley said of his team's defensive performance in transition. "That was really huge for us to seal the deal on the game when we turned them over a bunch on the ride."
Roy Meyer (Questrom'23) tied a program record with six caused turnovers and picked up a career-best seven ground balls, earning a spot on the All-Tournament Team. In total, 14 Terriers secured at least one ground ball, and 8 Terriers put their names on the scoresheet.
Polley said the championship win was an all-around team effort, just as the entire season has been.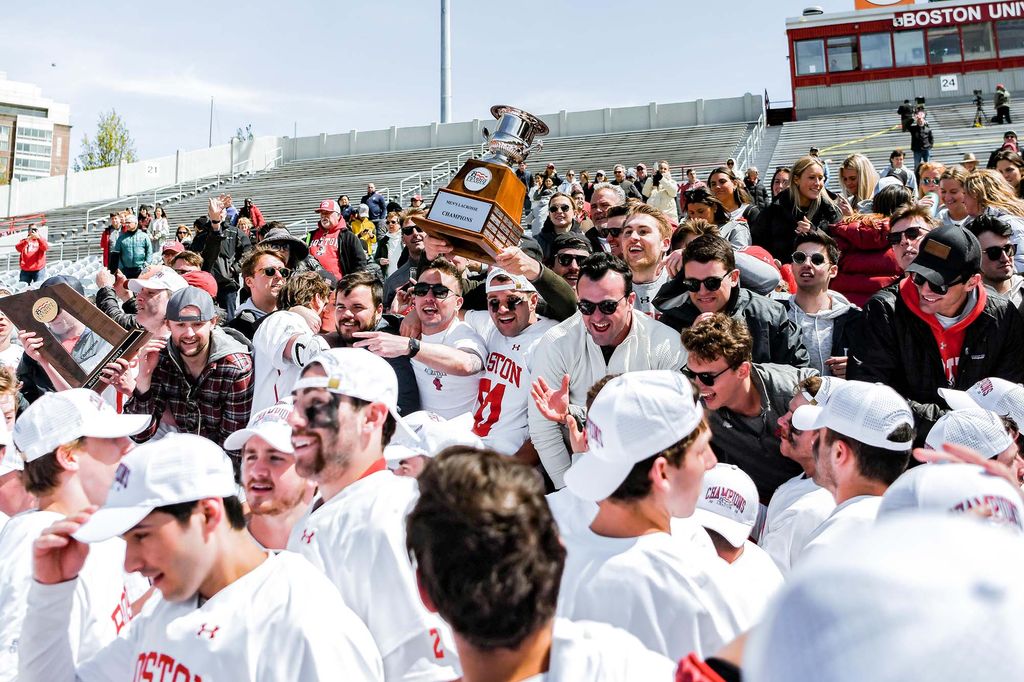 "Right from the preseason, this team just had a different feel about it," the coach said. "We quickly identified winning the Patriot League was our goal, and this team would not be denied."
Ley said part of BU's determination came from being picked fifth out of nine teams in the Patriot League preseason poll. In the end, BU's only blemish on a 9-1 conference record came at the hands of the Black Knights, 15-14, at Nickerson Field April 30. Eight days later, BU got its revenge.
"Being fifth in the poll just motivated us," Ley said. "Right away, we got to work. There was no complaining ever, just guys pumping iron, getting after it on the field, and competing.
We knew we had the roster to do it, and we were successful—it's amazing."
Sunday's win punctuated a run of five straight Patriot League tournament appearances for BU, including trips to the semifinals in 2017, 2018, and 2019. A slew of program grads were at Sunday's game, and Ley said the team happily shares its success with those predecessors.
"They were just as excited as us," he said. "We have such a great pipeline of alums, so it's as much their win as it is anyone else's."
Polley said the win was gratifying to everyone who helped build the team into a championship program in less than a decade: "So many people came back and had a part in us making history. That was our vision: 'Come here and be our history.'"
BU lacrosse will add another chapter to its history with its first-ever national tournament appearance, facing Princeton in New Jersey in the first round at noon on Saturday, May 14, televised on ESPNU. For more information, visit GoTerriers.com and follow the Terriers on Twitter at @TerrierMLAX.