A Summer Interning at a Two-Michelin-Star Restaurant in New York City
Food & Dining
A Summer Interning at a Two-Michelin-Star Restaurant in New York City
Jami Sachs (SHA'25) gained invaluable experience working at the Museum of Modern Art's famed eateries
Before this summer, Jami Sachs had never worked in a professional kitchen. But her current internship at celebrated restaurants inside the Museum of Modern Art (MoMA) found her creating gourmet grilled cheeses stuffed with mozzarella, fontina, and taleggio and arranging brightly colored salumi boards with prosciutto, crescenza-stracchino cheese, and salume toscano for patrons.
Sachs (SHA'25) has been working at two MoMA restaurants: the elegant two-Michelin-star The Modern, which can cost upwards of $250 for a prix-fixe dinner, and the Cafés at MoMA, its uber-hip companion serving pastas, salads, and Greek food, as part of an internship through the Union Square Hospitality Group (USHG) in New York City. The New York native has spent the past two months working in the city she calls home.
During the 10-week full-time internship, Sachs spent five weeks at The Modern working front-of-house roles like hosting, food running, and shadowing servers before transitioning to the Cafés at MoMA, where she's learning back-of-house roles like manning a grilled cheese station and working in the prep kitchen, among many other tasks.
For Sachs, working at the Cafés at MoMA after The Modern was a big change. There was less emphasis on precision and nuance, she says, since guests spend much less time eating there.
"At the MoMA Cafés, it's definitely more fast-paced. Service has to be quick," Sachs says. "It's a completely different world. At The Modern, it was more refined, it was a little bit slower and more personalized."
One of Sachs' duties at The Modern was to set up the dining room every morning, arranging napkins, glasses, and plates valued at over $200 each. The process became somewhat of a ritual, lasting about an hour and a half.
Sachs worked alongside Jenna Lee Rios, a captain (head server) at The Modern. "It's not just bringing out plates," says Rios, who emphasizes the delicate quality of the plateware. She missed Sachs once the five weeks at The Modern were over, she says, but she still sees her at the "family meals" held each morning for the Cafés and The Modern teams.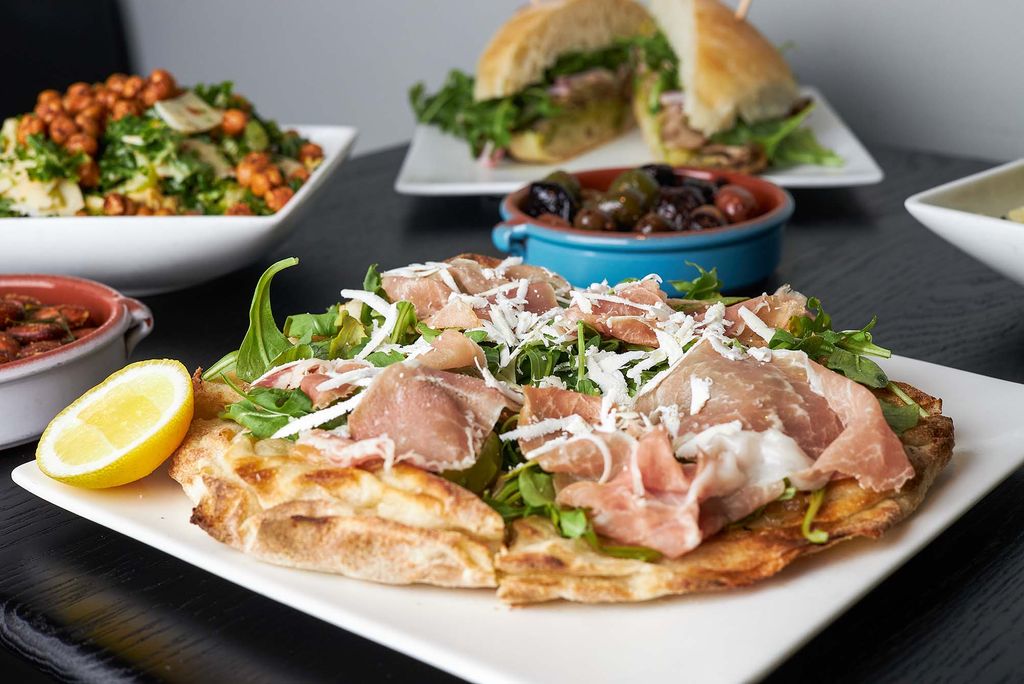 "Working with Jami has been such a delight," Rios says. "She is probably the most mature, refined 19-year-old I've ever met. One of our managers said, 'She'll be running the place some day.'"
Sachs says that after going to USHG restaurants, she'd become interested in working at one of its spots. So when reps came to the University for a student information session, she spoke with one of the heads of the internship program and then applied. She describes the four-step hiring process as rigorous, with required letters of recommendation and several rounds of interviews.
As a rising sophomore, Sachs has taken only a few School of Hospitality Administration classes. She did take the school's Principles of Food Production Management in spring 2022, however, and credits it with teaching her to cook quickly under pressure. The MoMA internship also counts towards SHA's two 400-hour internship requirements.
Shivon Shah, a service manager at The Modern and the Cafés at MoMA, met Sachs on the first day of her internship and worked closely with her during her five weeks at The Modern. "Jami is a driven, warm, and thoughtful person," says Shah. "She has spent time in just about every role on this team and has excelled. It is important to understand the daily workings of each role, from support to sommelier."
Sachs agrees on the importance of understanding every position in the service industry and says her biggest accomplishment was learning quickly and adapting to every situation, like moving between the different food stations, for instance. She also learned to apply feedback from coworkers who were often older than her and did not speak English. "I had a bit of experience in the restaurant industry, but not too much, and I was a little bit hesitant," she says, when she started the job.
When Sachs is not at work, she likes scrolling through the New York Times food section and trying to cook her own elaborate meals a few times a week. Some of her recent dishes include chicken and zucchini potstickers, shrimp scampi, and pasta alla norma. In her free time, she also enjoys being with friends and reading.
The internship taught Sachs a few lessons, among them that she prefers front-of-house positions and the fine dining aspect of hospitality. In the future, she says, she would love to open her own restaurant or help other people open a restaurant. She's also interested in becoming a sommelier, since it combines food science, history, and geography. She ponders whether her next internship might be in a vineyard.
"She's got a great head on her shoulders," Rios says. "Once you have an internship at The Modern on your résumé at 19, it's only up from there. I'm really excited to see what she does."
Sachs feels confident in her operational abilities and says that the internship proved to her that she could successfully work in the industry. She says she felt most inspired being around people who share her passion for cooking and that everyone at The Modern and Cafés at MoMA has been kind and welcoming.
"This experience has been incredible," she says. "I've gotten such a different perspective on the restaurant industry. Whenever I go into a restaurant now, it will never be the same."