Textbooks 101: How to Get the Best Deals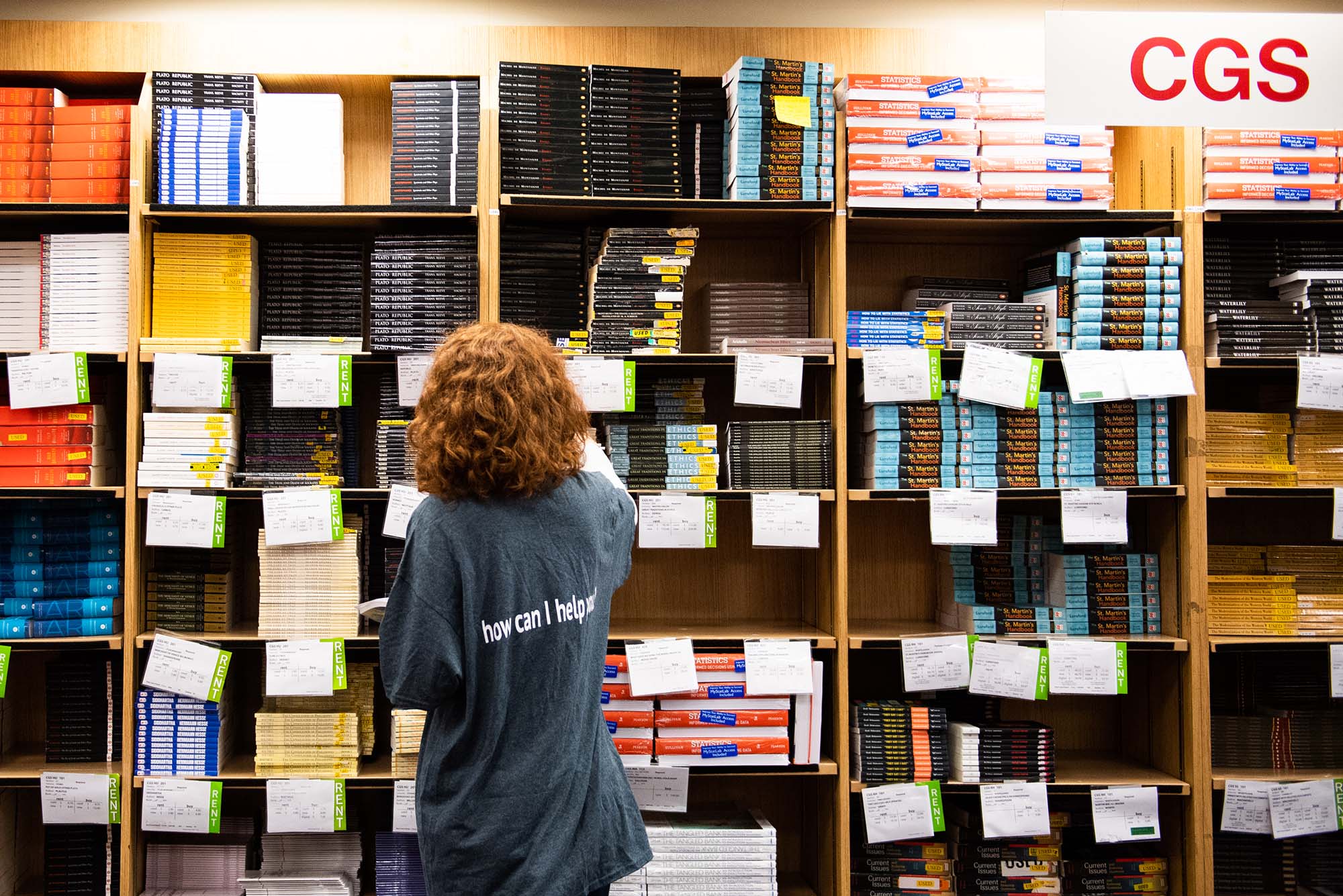 Student Life
Textbooks 101: How to Get the Best Deals
These tips will help you save money this fall
The school year is starting up again, which means that the rush to buy school supplies and textbooks has begun. And as any upperclassmen can tell you, it can be an expensive proposition. According to EducationData.org, the average price of a college textbook is $105.37. But if you take the time to do your homework, you can save big at the cash register.
For starters, consider whether you should buy or rent and whether a physical textbook or a digital one makes more sense (more about that later in this story). At Barnes & Noble @ BU, students have the option of buying or renting both new and used textbooks and buying or renting digital copies. Although not all options are available for every textbook, store manager Kurt Mahnke (CAS'04) says Barnes & Noble staff begin working with faculty in March each year in order to offer students as many options as possible come fall. This year, 75 percent of the bookstore's textbooks are rentable and 40 percent can be ordered as e-books.
Barnes & Noble also offers a price-match program for all physical books. If the same edition is listed at Amazon.com or BN.com for a lower price, the bookstore will match that price. The store's app also allows students to look up textbooks by ISBN or title to compare editions and prices.
"It's hard to give an average price difference across the board, but I will say that our used books are 25 percent less than our new books. And on average our used rentals are about 60 percent less than buying a new book," Mahnke says, adding that students are definitely gravitating to the more affordable options (rentals or digital textbooks).
"That number is just going to continue to increase, and more and more students are taking advantage of the affordability options that we can offer," he says
Students ordering through the BU bookstore can choose one of several options for receiving their order. Deliveries can be shipped directly to their address or can be preordered and picked up at the West Campus store. In addition, students can order their textbooks directly through the BU Student Link. Just head to the "Current Schedule" page and click "Buy Books." The website will automatically create a cart with your required books for the semester.
Melena Rodriguez (COM'23) says she usually gets her textbooks from the BU Barnes & Noble, in part because of the customer service a brick and mortar store offers. "The people that work there want to help you and they'll let you know if there are better options or what the best option is for whatever books you need," she says.
In addition to Barnes & Noble @ BU, there are numerous online vendors and retailers students can buy from. It's best to compare prices to find the best buy, particularly for digital options. E-books have become increasingly popular, especially since the COVID-19 pandemic, which has increased demand for digital textbooks. These options allow students to access their books through laptops, tablets, and other devices while being able to make digital notes and bookmarks.
Some subscription services allow students to pay a monthly fee to access a catalog of textbooks, without ever having to purchase any books—an option that is cheaper and more convenient for many. Some options include Perlego, which charges $14 a month for access to over 900,000 books, and Scribd, which charges $12 a month for access to over a million books.
Textbook publishers have also put a greater focus on their online platforms in recent years, allowing students to subscribe and gain direct access to their textbooks without having to go through a retailer. Not only do these platforms provide access to e-books, they also include activities, practice questions, and even assignments that professors can use to integrate the platform into the class. Of course, using these features is dependent on the class and professor, but it is another way that access to textbooks is expanding.
Cengage Unlimited is one such option: a four-month subscription, which costs $69.99, provides free hard copy rentals (excluding shipping). A premium option for $124.99 offers access to online learning platforms, including practice questions, assignments, and more. Pearson's MyLab offers similar features, but pricing and availability is dependent on the course, with an access code required for the class.
When it comes to physical books, there are plenty of tools that can help you save. One popular app, BookScouter, compares new and used textbook prices across over 20 vendors. Ziffit, an online marketplace where users can buy and sell their used textbooks, is another great option. Its prices are often far less than you'll find elsewhere.
If you're looking to purchase a used textbook, Facebook Marketplace is a popular resource, allowing individuals to post their used textbooks and coordinate delivery. Traditional online marketplaces like Craigslist, eBay, and Amazon are other places to go for used textbooks.
Increasingly, students are turning to social media to connect with others looking to sell or buy books. The official BU Class Facebook pages are good places to start. The official BU subreddit is another site where students can find course materials and textbooks for sale.
Rodriguez recommends reaching out to friends and classmates for advice on where to go for the best buys. "Ask a friend or someone that you're just sitting next to if they know where you can get the book cheap or if they have the book already so that you can share," she says.
Regardless of where you buy your books, there are a few things to keep in mind.
When choosing between physical or digital, think about what works best for you. Are you someone who values convenience and using a device for all your classes? If so, digital options are probably better for you. If you like to do a lot of highlighting and note-taking in a book, then purchasing a physical book may be the better choice. Ask yourself whether the textbook you need is one you'll want to refer to after the class ends. If not, renting, rather than buying may be a less expensive route to go. If you do decide to rent, be aware that the book needs to be returned in its original condition unless you want to pay a buyout fee, and those can be significant. Many companies will allow minimal or no highlighting, so it's critical you read the small print before ordering. If you're purchasing digital books, an important consideration is compatibility. If you intend to use your iPad for classes, you may be out of luck if you purchase a laptop-compatible e-book, and vice versa. Always double-check before buying to be sure.
And read the small print about what happens in the event you end up dropping a class. Many retailers won't accept returns after a certain time period, and those deadlines can often arrive before you drop the class. Barnes & Noble @ BU's return policy extends up to the drop-deadline for the fall semester, which is October 11 this year.
Last, whether renting or buying, make sure you're purchasing the correct edition of the textbook specified by your professor.