Head of the Charles Regatta: BU Men's, Women's Teams Will Compete This Weekend
World's largest three-day rowing competition includes more than 70 competitive events
Varsity Sports
Head of the Charles Regatta: BU Men's, Women's Teams Will Compete This Weekend
World's largest three-day rowing competition includes more than 70 competitive events
Hundreds of thousands of visitors from across New England and around the globe will be lining the banks of the Charles River this weekend for the annual Head of the Charles Regatta, the world's largest three-day regatta. It's a head race, meaning teams race on the same course at different starting times and the team with the best time wins.
This year's event will include more than 70 races and feature hundreds of rowers from around the world. In keeping with tradition, BU's DeWolfe Boathouse will serve as the starting point for the three-mile course.
Boston University will launch 11 boats, representing all three Division I crew programs, men's and women's openweight and women's lightweight. Each BU squad draws special significance from racing on their home water, their coaches say.
"We put a lot of emphasis on it because it's a home race for us, we basically host the regatta because it starts at our boathouse," men's head coach Tom Bohrer says. "We know this river, how to steer, and its quirky turns. So hopefully that kind of gives us a little swagger—we are familiar with it and hopefully that can be used as an advantage."
"It's really early in the year for us as our championship season is in the spring," says Malcom Doldron, women's lightweight coach. "So while we want to perform at a high level, we do not take too much away from our performance at the Head of the Charles. This is about us coming together as a team to compete, showing what early season skills we've been able to put together."
For women's openweight head coach Madeline Davis-Tully, the Head of the Charles offers her rowers "an uncommon opportunity" to gain experience competing against top-notch athletes.
"It's fun because you don't often get to go line up against Olympians and national team athletes," Davis-Tully says. "Our spring season doesn't afford us that opportunity because we're racing other colleges. So it's just fun to toe the start line with athletes that were in Tokyo two summers ago and are aiming for Paris."
The women's openweight squad, which won the Patriot League in May 2022, raced four boats at last year's Head of the Charles—all finished in the top 11, with the Champion Four boat coming in 4th. The women will race four crews this weekend, the Club Eights and Fours and the Championship Eights and Fours. Competing in the regatta, the women say, is a chance for them to start honing their skills in advance of their spring season.
"Our goals are set on defending our Patriot League title," Davis-Tully says. "So this is a good chance for us to get competitive in the fall, in what is technically our off-season. We have the chance to see crews from across the country and the world, and to test ourselves before really getting deep into the winter training and the spring preparation."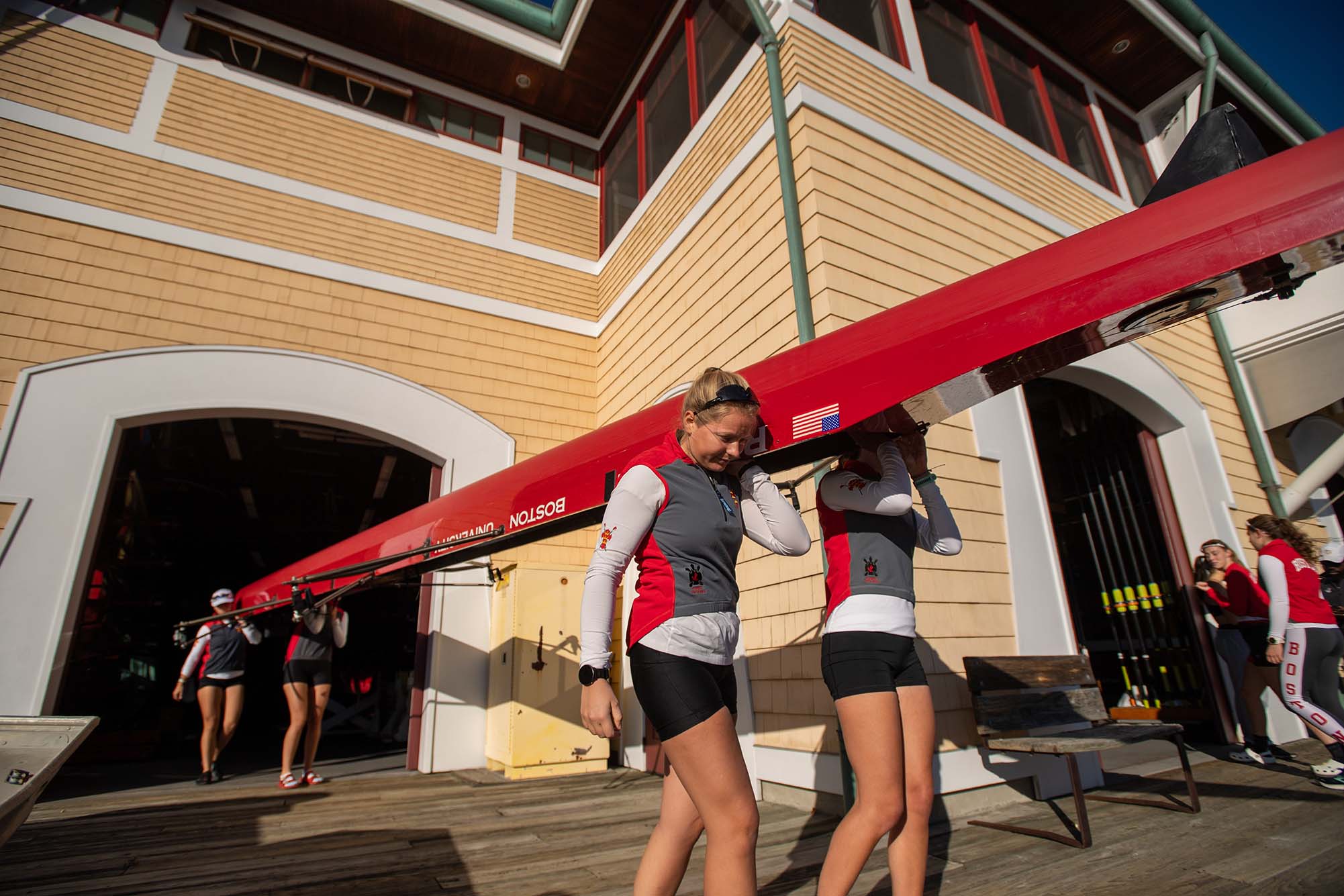 The men's openweight team is looking to rebound after finishing 10th at the Intercollegiate Rowing Association (IRA) Championship Regatta in June.
"We consider ourselves to be a top-six team in the league, and I think this year is about reconfirming that we are going to get back to that level," says Bohrer, a two-time Olympic medalist. "Having a good result at the Charles and just feeling we've made progress from last year can lead to bigger things for the team. The weekend organizes all those thoughts for us."
The men will race in two Club Eights, a Championship Eight, and a Championship Four. Last year, with the same slate, both Club Eights finished in the top 11.
This fall the women's lightweight crew team had the unique opportunity of competing in advance of the regatta—they raced two boats, one to a 10th- and one to an 18th-place finish at the Head of the Housatonic on October 8.
"The Housatonic allowed us to see some patterns," Doldron says. "We recognized who came back in shape from the summer months, who's moving the boat well initially, and what kinds of combinations we want to look at long-term. For the Head of the Charles, we want to perform at a high level under pressure, and we want to have each crew row their absolute best race."
The team did just that at last year's regatta: all three women's lightweight crews finished inside the top four, with the Championship Four taking second place.
Four BU alumni boats will compete in the 2022 Regatta, the women's Alumnae Eight and Four, the men's Alumni Eight, and the women's Senior Masters Eight, which will reunite the 1991 and 1992 women's Eastern Sprint champion Terriers.
And this year, three BU coaches will be competing in the regatta. Bohrer and boatman Russ Cone will row in the Men's Grand Master Singles on Friday, and on Saturday Emily Regan, men's assistant coach, will take the water in the Women's Master Singles.
"There's just this energy around the regatta that's palpable," Doldron says. "It's exciting, it brings rowing to the forefront of sport in this city, which is already a huge sports town. It's just a great event for our student-athletes, for Boston, and for the greater rowing community."
Terriers Head of the Charles Schedule:
Friday, October 21
8:32 am: Men's Grand Master/Veteran Singles: Tom Bohrer, Russ Cone
Saturday, October 22
8:24 am: Women's Master/Senior Master Singles: Emily Regan
9:07 am: Men's Senior Master Eight
9:31 am: Women's Senior Master Eight (1991, 1992 alumnae)
10:47 am: Men's Alumni Eights
11:05 am: Women's Alumnae Eights
11:49 am: Women's Alumnae Fours
12:43 pm: Women's Club Fours
1:09 pm: Men's Club Eights
1:24 pm: Women's Club Eights
Sunday, October 23
1:07 pm: Men's Championship Fours
1:20 pm: Women's Championship Fours
1:20 pm: Women's Lightweight Fours
1:38 pm: Men's Championship Eights
2:11 pm: Women's Championship Eights
2:11 pm: Women's Lightweight Eights
3:38 pm: Directors' Challenge Mixed Eight
The Head of the Charles Regatta is Friday, October 21, through Sunday, October 23. Admission is free. Fans can watch live coverage of the Head of the Charles Regatta on YouTube and on the Head of the Charles Regatta website. You can follow BU's teams on Twitter @TerrierMROW, @TerrierWROW, @Terrier130Row, and @BUGameDay. Find the complete racing schedule here.