New Coffee Shop, Fuel America, Opens on West Campus
Next to T. Anthony's, it fills the Comm Ave void left by shuttered Dunkin' and Blue State Coffee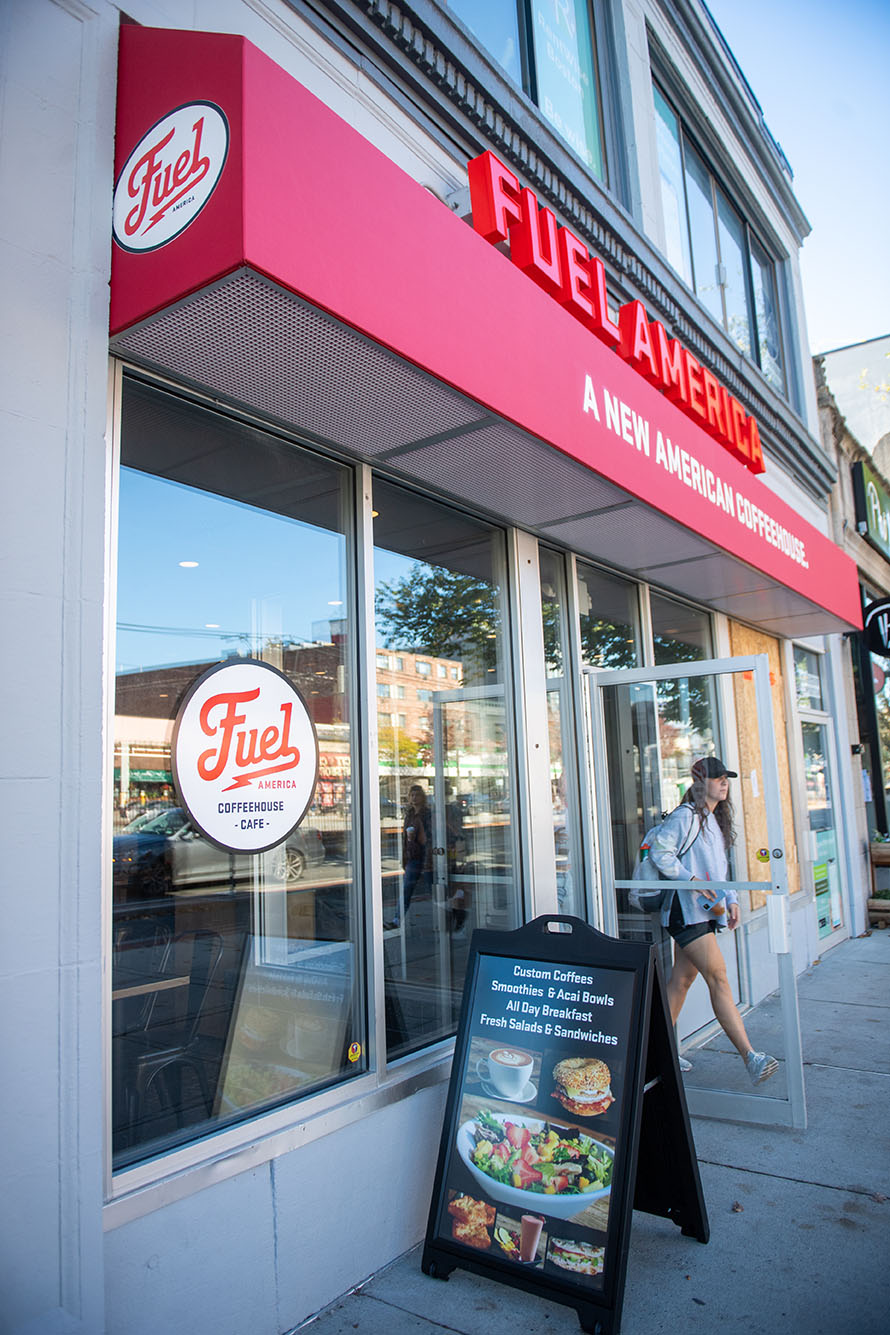 Food & Dining
New Coffee Shop, Fuel America, Opens on West Campus
Next to T. Anthony's, it fills the Comm Ave void left by shuttered Dunkin' and Blue State Coffee
For those of you still missing Blue State Coffee on West Campus, which closed in the early days of the pandemic, and looking for a new place to study while getting your caffeine fix, a new coffee shop is here.
Fuel America coffee has opened its sixth location, this one at 1020 Commonwealth Ave., right next door to T. Anthony's. The site was previously occupied by Dunkin', which also closed during the pandemic.
Fuel serves drip coffee, espresso drinks, and teas, and has a large menu that includes smoothies, acai bowls, matcha bowls, pitaya bowls, coconut bowls, mac 'n' cheese, sandwiches, salads, all-day breakfast items, and baked goods.
Jeff Bonasia, a managing partner, describes Fuel America as an "unpretentious coffeehouse" that celebrates the diverse American melting pot and can-do spirit. These ideas are captured in the black, white, and red graphics displayed on the walls.
"I think the world needs brands that celebrate diversity and appreciate the uniqueness of different folks and what they bring to our American fabric," says Bonasia, whose son, John Bonasia (CAS'13), graduated from BU with a degree in psychology.
Fuel America also has locations near Boston College and Harvard's Allston campus. According to Bonasia, colleges bring lots of foot traffic, an interest in coffeehouse culture, and student employees, who appreciate the flexibility and proximity to campus.
"Being in and around colleges makes a lot of sense for our brand. It's really appealing to college students. It's not home, it's not work. It's kind of a third place to go," he says.
Bonasia also says the company is different from competitors like Starbucks and Dunkin' because it combines great coffee with healthier, freshly made foods prepared on site. The large menu gives customers options, so they don't always have to stick with the same thing.
Over the past 10 years, Fuel America has spread throughout the Greater Boston region, opening its first cafe in Brighton in 2012. Since then, the coffeehouse has added three more stores, two franchise locations, and has plans to open additional cafes in Massachusetts and Connecticut. Fuel America also has a roastery in Worcester that produces coffee for sale in store, online, and at Market Basket and Stop & Shop.
"Coffee roasting is an art and a science," says Bonasia, explaining the complex roasting process. "We always roast our beans separately, then we will blend those beans later to create a taste profile that we want, whether it's a dark roast, medium roast, light roast."
Drip coffee is available in a variety of blends, including Fuel Regular, a medium roast with a sweet and well-balanced taste; Patriot's Blend, a low-acid dark roast that carries notes of dark chocolate; and Unleaded, a decaffeinated medium roast coffee.
Check out unique items like snapchilled coffee cans and coffee bags. Snapchilled coffee is the regular blend coffee brewed hot and chilled in seconds (and stored in shelf-stable cans). Coffee bags are designed to be submerged in hot water and steeped like a tea bag. They can also soak in room temperature water overnight for a homemade cold brew.
"It's a great pleasure to be working and offering what we do to college students," Bonasia says about the new location on campus. "We're really, really happy to be here."

Fuel America, 1020 Commonwealth Ave., Boston, is open 7 am to 7 pm Monday to Friday, and 8 am to 7 pm Saturday and Sunday. Check out the full menu here.