Free Gender-Affirming Products for Students Now Available from the Center for Gender, Sexuality & Activism
LGBTQIA+
Free Gender-Affirming Products for Students Now Available from the Center for Gender, Sexuality & Activism
Items include chest binders, sports bras, wigs, makeup, and more
For gender-nonconforming students, finding products that help them affirm their gender identity can be expensive and time-consuming, and in the worst case, dangerous.
That's why the Center for Gender, Sexuality, & Activism (CGSA) recently launched the Gender Affirming Room for Belonging (GARB), a room in the back of the center featuring free gender-affirming products for Boston University students.
Items include chest binders, sports bras, wigs, shaving supplies, gaffs for tucking, bra inserts, and stand-to-urinate devices. It also has jewelry items, nail polish and makeup, a clothing rack with a wide selection of clothing and sizes, and more. The room is open weekdays from roughly breakfast time to just after dinner (CGSA members are still ironing out the schedule, they say) and can be accessed by any BU student, no questions asked and no appointment needed. There's also no limit on the number of items a student can take; the club just asks that people be respectful of others who want to use GARB.
A space like this has been a long time in coming, says CGSA director Kaylan Comenole (CGS'21, CAS'23). They were first inspired to launch the project after a visit to Tufts University's LGBT Center, where students there talked about a similar gender-affirming closet they were trying to create. Translating the idea to BU was a no-brainer, Comenole says.
"I felt like we really needed to have a physical space for this. We needed a place for people to come and not just get these kinds of products, but actually be able to use them. Because even if you can get things, you might not have a safe place at home or in your dorm for you to use them and be out. GARB is a safe environment for you to be able to do that."
Before deciding what products to stock, the CGSA e-board did extensive research into what queer and transitioning individuals need to feel comfortable in their bodies. (Funding was provided by the Student Activities Office and private donations.) Also important: creating a fun, aesthetically pleasing vibe for the room (formerly a storage closet) that would make users feel comfortable there. To that end, the club installed a couch, a mirror, and a vanity station for trying out makeup and hair looks. CGSA also decorated GARB with positive affirmations and art from queer artists, purchased on Etsy.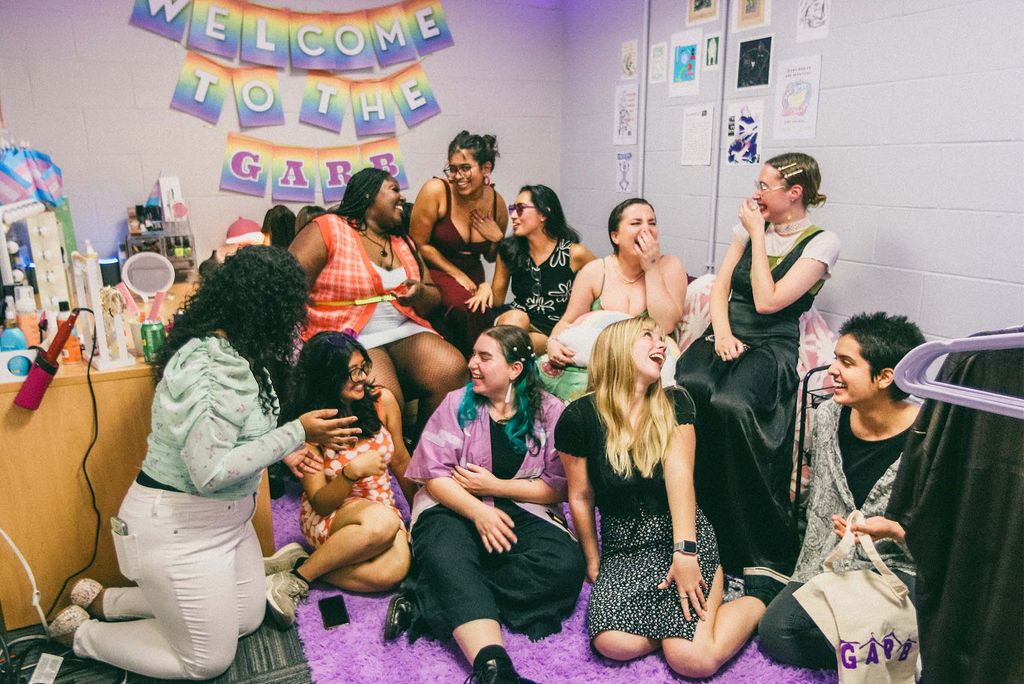 And of course: a spot for photo shoots. "We also have a backdrop for taking pictures. So not only can you try on these products and see yourself in the mirrors, but you can take pictures of yourself and be able to feel good about that even after leaving the room," Comenole says.
GARB officially launched in early November with a fashion show in BU Central. Volunteer models styled themselves in whatever made them feel the most like themselves before walking the runway. The show was accompanied by a ribbon-cutting and a reception at CGSA.
The attendees' smiles conveyed just how much a room like this means at this fraught moment in time. With anti-transgender legislation on the rise and violence against the queer community continually making headlines—including the recent shooting at an LGBTQ+ club in Colorado Springs where five people were murdered—safe, supportive spaces where folks can be themselves are critically important.
That's not lost on Comenole and the CGSA e-board. "There is just so much anti-queer stuff happening all over the country, which is horrible and disheartening for so many people," they say. "So many people are losing access to healthcare and the things that help them affirm their gender." Over their time being involved with the CGSA, "we've seen how important it is to have an actual, physical space where people can go anytime they need it."
That's why the club created GARB, Comenole says. "For trans students especially, it can be a very vulnerable thing to use these products. They might not have a safe place at home or a supportive roommate. With GARB, you can go off for an hour and try on binders or do your makeup and know you'll always be safe and affirmed in that environment.
And, you don't have to pay for it."