Huge Win for Equal Pay, as Soccer Federation Settles Discrimination Suit with US Players
Women's Sports
Huge Win for Equal Pay, as Soccer Federation Settles Discrimination Suit with US Players
Questrom's Patricia Cortes says deal "raises awareness, and awareness is important. That women should earn the same and fighting for it is worth it" 
The US women's national soccer team won the World Cup in 2015 and 2019, but the biggest victory for the players may have come Tuesday with the announcement of a settlement in their six-year battle for equal pay with the US Soccer Federation.
The settlement between the team and the sport's governing body includes $24 million in back pay, to be divided among several dozen current and former players, and perhaps most important, a pledge from US Soccer to equalize pay between the men's and women's teams going forward. (The deal is dependent on the conclusion of contract negotiations underway with the players' union.)
The dispute began in 2016, and the players filed a gender discrimination suit three years later. A judge dismissed their suit in 2020 and the players' appeal had been given little chance to succeed. However, the bitter public fight badly damaged US Soccer's public image and its relationship with corporate sponsors, not to mention key players like Megan Rapinoe, Alex Morgan, and Carli Lloyd, who have become role models to many young female athletes in the last decade as the team's success and marketability surged.
The nadir came when Carlos Cordeiro, then US Soccer Federation president, resigned in 2020 amid blowback, just days after the federation's lawyers asserted in a legal filing that science supposedly proved that the men had more skill on the field. Cordeiro's replacement, Cindy Parlow Cone, is the first woman to hold the job, and the settlement was negotiated under her aegis.
We asked Patricia Cortes, a Questrom School of Business associate professor of markets, public policy, and law, to tell us what the settlement means, not just for soccer, but for society. Cortes is also associate director of the Human Capital Initiative at BU's Global Development Policy Center. A native of Colombia, Cortes likes soccer—"futbol" outside the United States—but says she's not a super fan.
BU Today:
Does this settlement accomplish what the women have wanted all these years—is it a victory?
Patricia Cortes: I think it's absolutely a victory. They get $24 million in compensation, and the second part is a pledge to pay the same for men and women. I think the important part is when you think about the $24 million, it's paid retroactively for having paid them less in the past. It's an acknowledgement that there has been discrimination. And the second part is that there's not going to be discrimination in the future. So it's a win in both ways, acknowledging the past and looking into the future.
BU Today:
The players have been very vocal about the case.
Patricia Cortes: And they have been very successful, which helps them in their case. That is part of what makes it so compelling. By any measure, I think, the women's soccer players have been more successful than the men's players. They have won four or five World Cups, four or five Olympic gold medals, when the US men's team is not even close, and I don't think it will be close [for years] to winning a World Cup. So this was a good field to have this fight in, because they were so popular and so successful. It made for an easier sell and more support from the audience as a whole.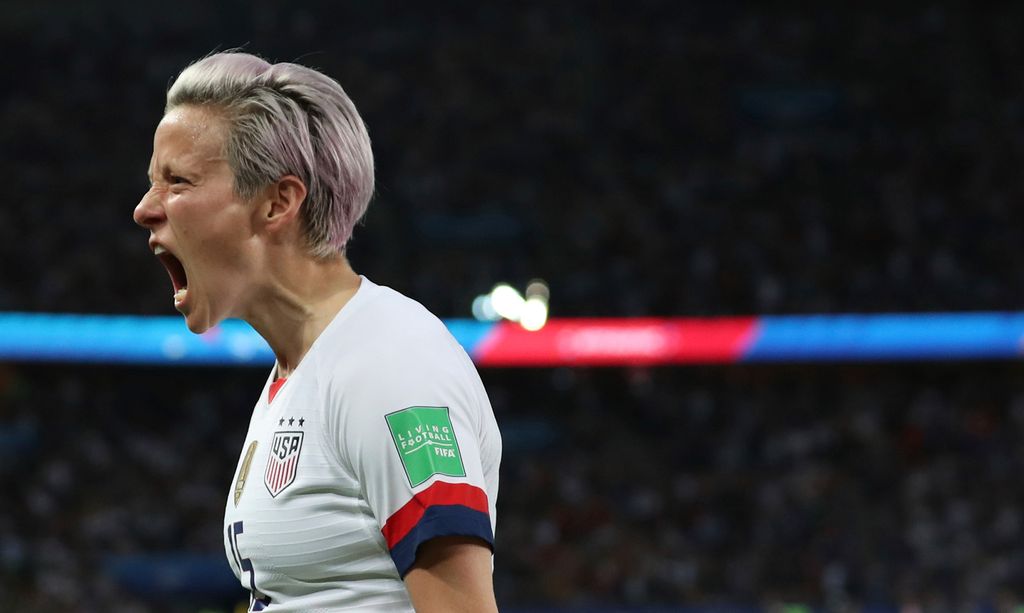 It was in the [Federation's] own benefit [to settle]. I think they would have come off very badly if they didn't. They have made some terrible comments in the past when they were in court, completely sexist comments, and I think this is good for them. They now are not fighting with their team, and their team is happy, and they're going to be even more popular. I think women's soccer has become more and more popular and is on an upward trend anyway, and it is good for the United States to have a strong team. It is a win-win for everybody.
BU Today:
Does this settlement have wider implications for women in other sports?
I think it does, both directly and indirectly. The women's ice hockey team—they are excellent, although they didn't win at the [2022] Olympics [the United States lost the gold medal game to Canada]. But they have gone and asked for advice from the [legal] team that was representing the soccer players. So there is direct learning, I think, about this process. I think more generally, the soccer players have got a lot of press. My guess is most of the public supports it. So it's like a game-changer in terms of what people believe is fair. It will have large implications.

In the time between when the United States [players] were pioneers and started asking for equal pay, and now, when they got it, people in other countries inspired by them have actually gotten equal pay, I think Norway, Netherlands, and Australia. So I think it does put it in the conversation and make it easier for other people, definitely.
BU Today:
Is this likely to reverberate in other fair-pay disputes for women outside of sports?
I think indirectly, probably. I don't think anybody is going to say, 'Hey, increase my wage, because look, soccer players are earning more!' I don't think that is going to happen. The field of sports is very different, so the particulars of the situation cannot be used. But at the same time, it raises awareness, and awareness is important. That women should earn the same and fighting for it is worth it. And maybe people will realize, after reading about this case and these kinds of inequalities, in terms of not only what they got from winning, but things like how much they were paid for per diem and travel, women might look around and start fighting for that. It does contribute to the awareness, and it is motivation and inspiration for women. I think it will help.
BU Today:
So the soccer players have really made a difference.
They're great. They're brave role models for women, for girls, and I think it will just make the sport more popular, actually. In Colombia, women's soccer is nothing compared to male soccer, so it's difficult to justify paying them the same. But at some point, you ask yourself, why are male sports so much more popular than female sports, and you have to really think about what's driving that. It's women not having the same rights for many years. It's kind of a vicious cycle. I think this [settlement] is good. It makes me happy.