Edward Avedisian, Clarinetist and Philanthropist Whose $100 Million Gift Renamed BU's School of Medicine, Dies at 85
He led a life of music, philanthropy, generosity to education, medical, and Armenian causes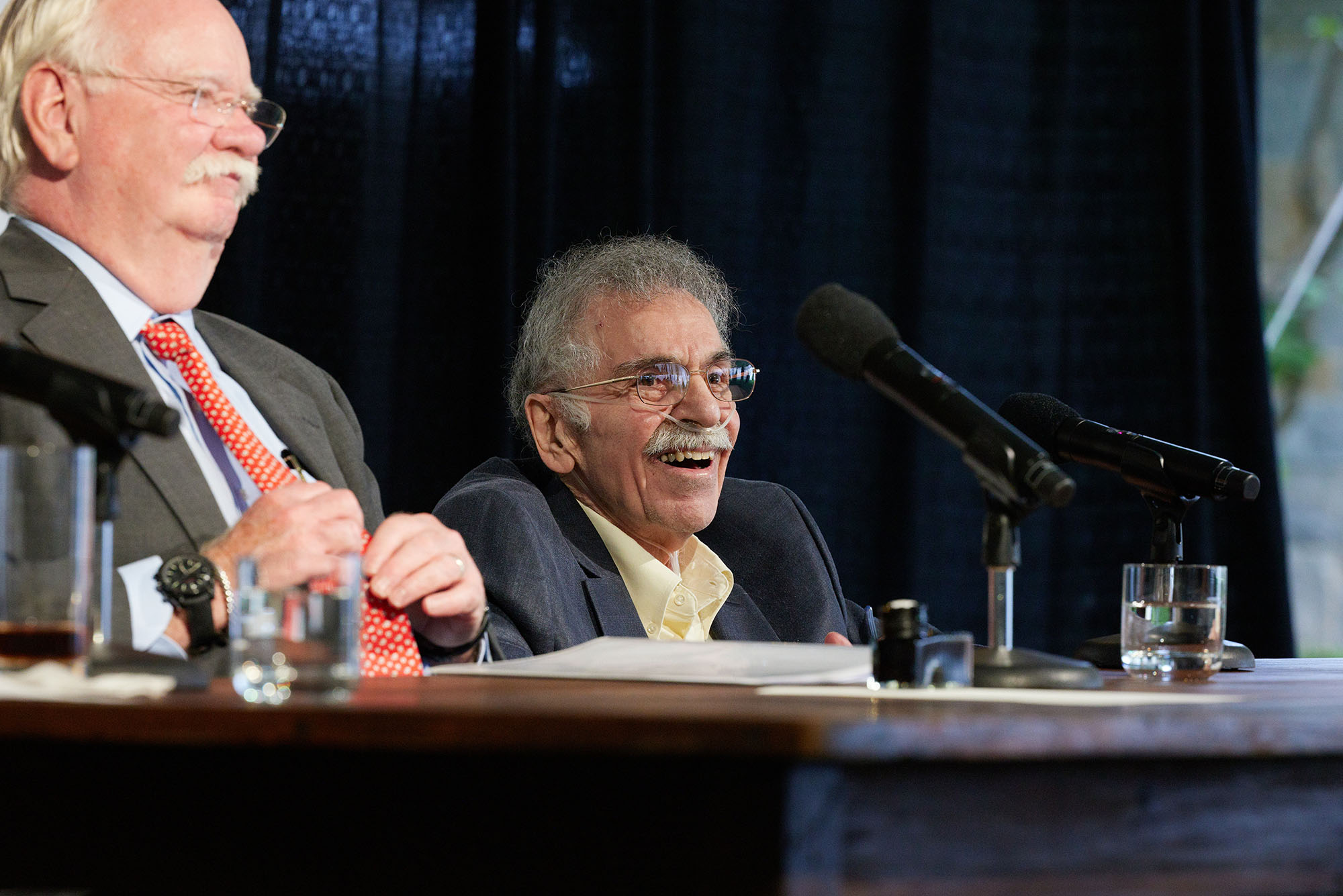 OBITUARY
Edward Avedisian, Clarinetist and Philanthropist Whose $100 Million Gift Renamed BU's School of Medicine, Dies at 85
Alum led a life of music, philanthropy, generosity to education, medical, and Armenian causes
Edward Avedisian, the Boston Pops career clarinetist who devoted his later life to astonishingly generous philanthropy to both American and Armenian causes and whose $100 million gift to Boston University this year renamed the BU School of Medicine in his honor, died last week. He was 85.
Avedisian (CFA'59,'61, Hon.'22) made his donation with the agreement that the medical school would be named after himself and his lifelong Armenian childhood friend from their days growing up in Pawtucket, R.I., Aram V. Chobanian (Hon.'06), BU's ninth president. The gift for the Boston University Aram V. Chobanian & Edward Avedisian School of Medicine will support scholarships and endowed faculty chairs, along with cutting-edge research and teaching.
"He was a great friend, from early life," Chobanian said, "which brings back memories of the distant past and family relationships." He said Avedisian, who struggled with pulmonary health issues late in his life, died with his wife, Pamela, and family by his side. Avedisian met Pamela Wood when he was directing a chorus at Endicott College and she asked if he needed a pianist; they started dating and married in 1994.
"Not only has he been a great friend," Chobanian added, "his death means to me that the world has lost a great humanitarian, who dedicated his life to helping those in need."
At a ceremony in late September under a tent on the Medical Campus, both Chobanian and Avedisian beamed while relishing a standing ovation, sharing a podium with BU President Robert A. Brown, Ahmass Fakahany (Questrom'79), BU Board of Trustees chair, and Karen Antman, dean of the medical school and provost of the Medical Campus. Brown described the moment as "a historic day for the medical school and for Boston University" at the ceremony.
"It is with great sadness that we report our friend, alumnus, and benefactor, Ed Avedisian, has passed away," Brown said December 8. "Ed Avedisian brightened our world with music and has improved the lives of countless individuals through his mindful philanthropy. At Boston University we are forever in his debt because of his and Pam's transformative gift to the School of Medicine. Those who have followed the story of the naming know that it was Ed's selfless wish to name the school for his great friend Aram Chobanian—as we have done. But at Aram's insistence, we added Ed's name. I am thankful for this because it is fitting that we should speak Ed's name in years to come, fondly remembering him and his marvelous gifts."
And from Antman: "We were sad to hear of Mr. Avedisian's death and extend our deepest sympathies to his family and friends. We are grateful that he could enjoy the celebration of his transformational gift to the school in September. His endowed scholarships will support generations of medical students, helping them achieve their aspirations, and his endowed professorships will allow us to recruit and support outstanding faculty. And, as you would expect, our community resonates with Mr. Avedisian's desire to honor his friend and our distinguished colleague, Aram Chobanian."
Avedisian's life story unfolded in two distinct chapters, one very public, the other more private.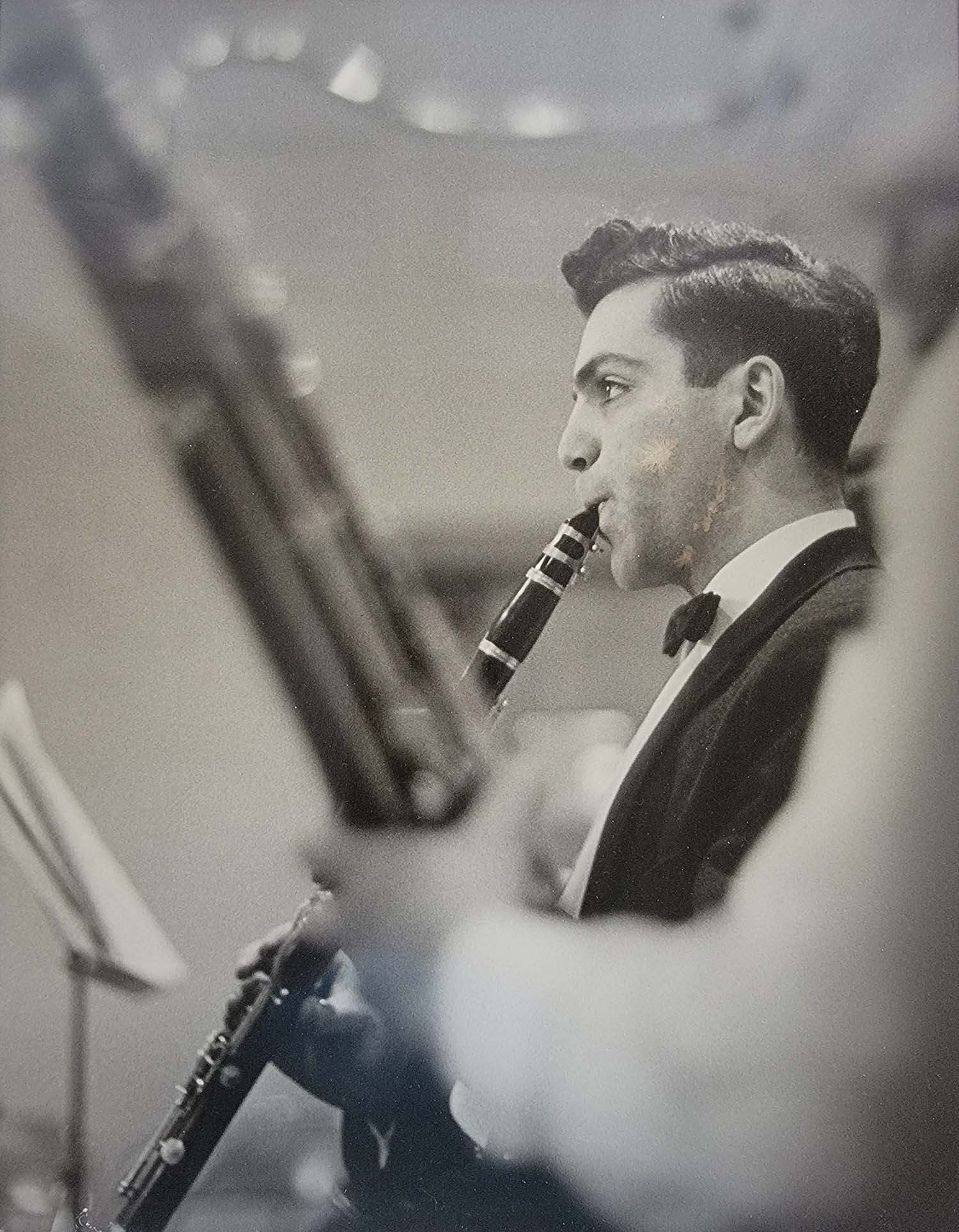 The first chapter saw him achieve professional success as a musician, playing the clarinet for nearly four decades in front of packed audiences for the renowned Boston Pops and the Boston Ballet Orchestra. He was twice appointed a Fromm Fellow for contemporary music performance at Tanglewood. That music career started at BU, where Avedisian earned both a bachelor's and a master's degree in music, with help from a $350 scholarship his first year. As his playing blossomed, he later taught clarinet at BU and appeared with many orchestras and symphonies and backed musical legends like Luciano Pavarotti and Leontyne Price, while also appearing with gifted musicians from other genres, including Aerosmith, Whitney Houston, Tony Bennett, and even Big Bird.
But unbeknownst to many, as his musical career played out, Avedisian found stunning success through his personal investments, turning the modest salary of a musician into a fortune. He was self-taught as an investor, he said, reading books and Investor's Business Daily, and regularly watching CNBC and Bloomberg for tips.
"Success is the intersection of opportunity and preparation," he said in a recent Boston Globe story about his financial successes.
Never forgetting the sacrifices his parents made for him, and their emphasis on the importance of education, he embarked on a second chapter, one of philanthropy, to both the United States and Armenia. His family, as did Chobanian's, suffered losses in the early 20th century Armenian genocide, which is estimated to have killed 1.5 million people. "I felt very fortunate, for BU and others that helped along the way," he told BU Today in an interview over the summer.
Throughout all the gifts he made, however, Avedisian, who was a recipient of the Ellis Island Medal of Honor and two honorary doctorates, from the University of Rhode Island and from Boston University, never sought to have his name in lights, on a sign, or on a building, preferring instead more humble acts of generosity.
But when he proposed that his donation to BU honor Chobanian, dean emeritus of the School of Medicine and provost of the Medical Campus as well as University president emeritus, the plan paused. Chobanian, as humble as his friend, refused to accept the honor, and it was only when Brown, recognizing the historic significance, stepped in as negotiator that an agreement was reached. His compromise suggestion—to rename the medical school after both men—was accepted as the solution.
"I didn't want anything named after me," Avedisian said at the time. "But he [Chobanian] said, 'I'll only do this if your name is attached.' So, we're attached."
Under the terms of Avedisian's gift, $50 million will go to support scholarships for medical students, $25 million will support endowed professorships, and $25 million will go toward the Avedisian Fund for Excellence, to keep the school on the cutting edge of teaching and research. The donation approximately doubles the amount of scholarship aid the medical school can offer.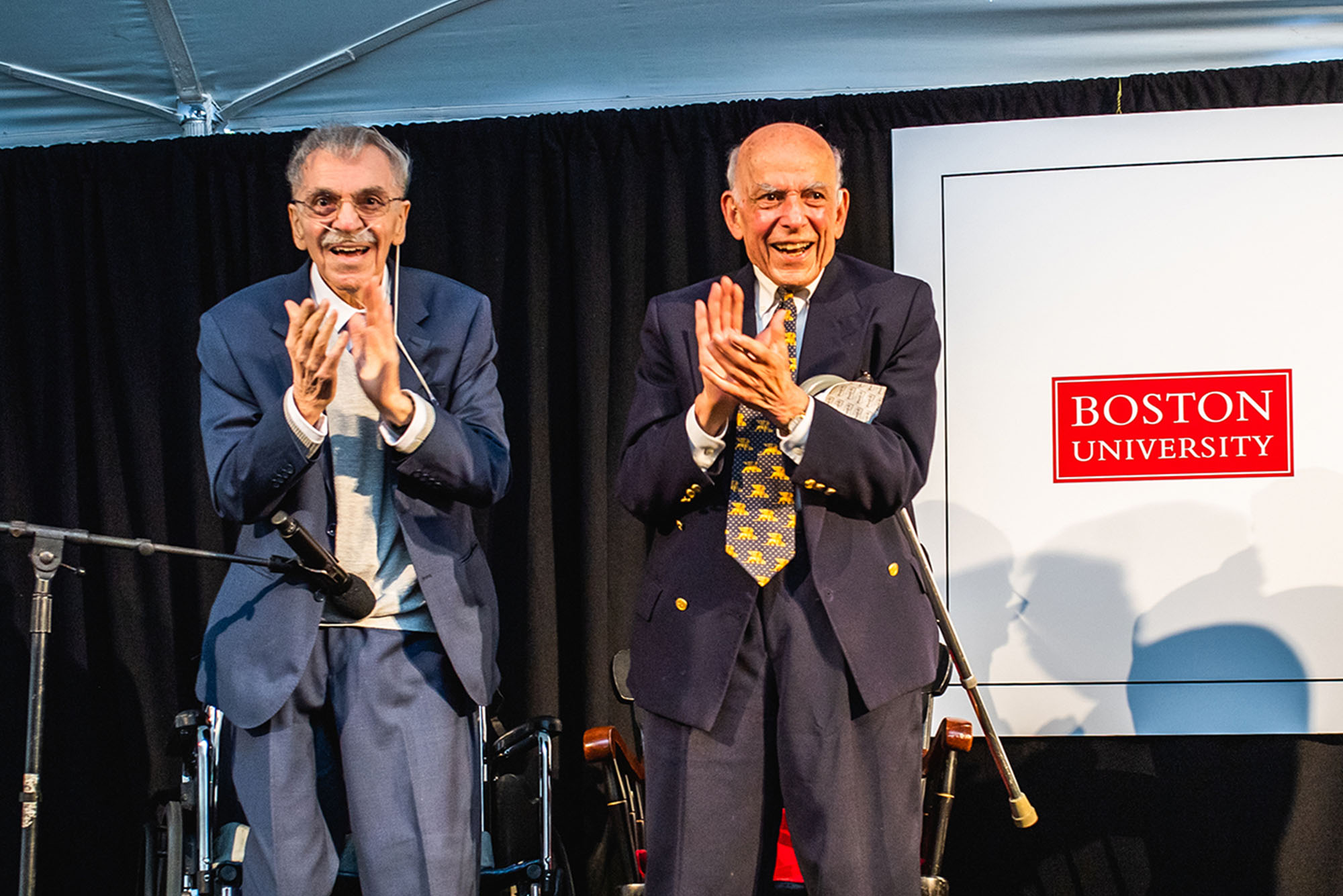 The gift for the medical school was not Avedisian's first or only gift to his alma mater. He had made previous donations, such as scholarship funds in Chobanian's name. The 2022 medical school gift also enabled the endowment of two scholarships at BU's College of Fine Arts, in honor of Avedisian's wife, Pamela Avedisian, and Chobanian's late wife, Jasmine Chobanian. Avedisian also had other BU connections, including his niece, Laurie, who worked in BU's development office, and his nephew, attorney Craig Avedisian (LAW'93). Among the many honors he received, American University of Armenia conferred on Avedisian its inaugural Presidential Commendation award and he received a Distinguished Alumni Award from BU's College of Fine Arts.
Brown also announced on December 8 a fitting gesture of appreciation for this generous and humble BU benefactor: "I am thankful that in Ed's final hours we were able to demonstrate our respect and gratitude by conferring upon him and his splendid partner in life and charity, Pamela, the honorary degree, Doctor of Humane Letters, honoris causa, as approved by our Board of Trustees.
"Our thoughts are with Pamela and the other members of the Avedisian family we have come to know in recent months."
According to his obituary on the Giragosian Funeral Home website, Avedisian, besides his wife, Pamela, is survived by his sister, Zvart Onanian, his brother, Paul (Esta) Avedisian, his mother-in-law, Phyllis Wood, his sisters-in-law Joyce Glenney and Janice Adkins, his brother-in law, Gordon Wood, three generations of beloved nieces and nephews, many cousins who were like siblings, and dear friends who were like family. He was predeceased by his brother Paramaz and sister-in-law Saranelle Avedisian, and his brother-in-law Edward Onanian.
A memorial service will be held for Edward Avedisian next spring. In lieu of flowers, contributions may be made to the Avedisian School Endowment Fund, in care of the Armenian Missionary Association of America, AMAA, 31 W. Century Road, Paramus, N.J. 07652, or online at amaa.org.