Cey Adams, Creator of Hip-Hop's Visual Language, Gets First-Ever Retrospective at Stone Gallery
Traces his 40-year career through more than 60 works, including graffiti, graphic design, and fine art
VISUAL ARTS
Cey Adams, Creator of Hip-Hop's Visual Language, Gets First-Ever Retrospective at Stone Gallery
Traces his 40-year career through more than 60 works, including graffiti, graphic design, and fine art
Have you ever wondered why hip-hop music is associated with graffiti letters? Look no further than Cey Adams.
It may seem like the genre's visual identity emerged organically, but it was Adams' work as the founding creative director of the legendary Def Jam Recordings that married the burgeoning music genre to a street art aesthetic.
Adams has lived numerous lives over the course of his four-decade career. He's been a subway car–tagging graffitist, a vanguard of the 1980s New York art scene, alongside contemporaries Keith Haring and Jean-Michel Basquiat, a visionary graphic designer, and most recently, a prolific collage artist and muralist. But never before has a retrospective shown his life's work in one place. Until now.
Through December 11, visitors to the Faye G., Jo, and James Stone Gallery can walk through the narrative of Adams' life, taking in photos of his early graffiti as they hang alongside a collection of the Def Jam album covers they influenced. The show, Cey Adams, Departure: 40 Years of Art and Design, shows how the artist's contemporary work blurs the lines of his twin passions of fine art and graphic design, and explores his signature visual style—the telltale boldness, colorful curves, shapes, and letterforms, attention to detail, and vibrancy.
"This collection tells a really extensive story," Adams says. "The story isn't about me, but about those I've worked with along the way: the recording artists, the subjects, and the brand partners that were kind enough to partner with me and give me the space to make work."
Lissa Cramer, BU Art Galleries managing director, says she's thrilled to bring Adams' work, which has become synonymous with his native New York City, to Boston.
"All artists bring a touch of who they are and where they've come from within their work," she says. "Cey is from New York and his early graffiti will show that, but his work also captures a moment in history. Modern and contemporary art history covers Keith Haring and Andy Warhol, but Cey was right there in the mix with those artists in that time period."
Starting at the end of the 1970s, Adams' graffiti tags on brick walls and subway trains began to draw the attention of New York's art world. His graffiti art was a foundational experience for him, but was short-lived in the grand scheme of his career, says show curator Liza Quiñonez, whose creative agency, Street Theory, coproduced the exhibition.
"Cey went from doing graffiti on the streets to showing his graffiti in high-end galleries within a very short span of time, around 1980 to 1984," Quiñonez says. "Around that time, he became the founding creative director of Def Jam Recordings. It was a time when all kinds of culture and music and art was being born in an urban setting, and Cey was very much at the forefront of all of that."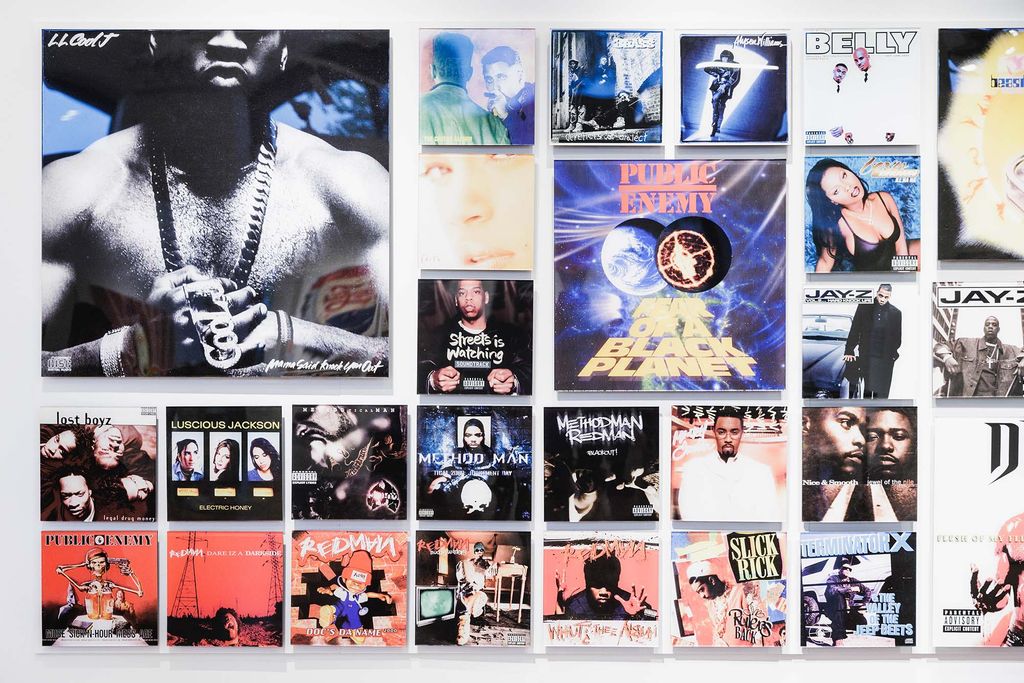 Adams, founding creative director of Def Jam Recordings, and partner Steve Carr established an in-house design studio, which was responsible for the label's most iconic album art (left), like Public Enemy's Fear of a Black Planet (center). The show's opening reception (right), with Adams' recent series Trusted Brands, a collection of collages that pays homage to the brand logos of the artist's youth, in the background.
Hip-hop's naissance was in the early 1980s, but by that point, Adams had already formed working relationships with the likes of the Beastie Boys (whose graffiti logo he created) and Run-DMC, later to become seminal Def Jam artists. As founding creative director, he was in charge of album art, merchandise, and promotional materials, and he immediately went to work applying his street art influence. Early Def Jam albums by Method Man, LL Cool J, Redman, and Slick Rick all feature a trademark, graffiti-like scrawl. Yet Adams was by no means a creative monolith: from an artistic perspective, he says, he much preferred to pick the brains of his clients and collaborators, crafting something that combined his genius with theirs.
"Chuck D [of Public Enemy] literally sketched the concept for Fear of a Black Planet on a napkin… this Black Planet eclipsing the earth," Adams recalls. "What I really wanted to do was just to make sure that the artists were the ones that got to shine; everything that I was doing was in support."
Later in the decade, Adams founded Def Jam's in-house creative department, The Drawing Board, with Steve Carr. Carr, who codeveloped the art for Fear of a Black Planet (Def Jam, 1990), would later go on to a career as a film and music video director in Hollywood. He and Adams continued collaborating for years afterward.
Adams left Def Jam in the early 2000s, as old school hip-hop turned the keys over to a new generation. Since then, he has had graphic-design collaborations with companies like Mattel, Levi's, and Comedy Central, as well as a host of other record labels. He also began to seek out new media, like collage and mural work.
"A lot of Cey's early artwork is actually quite different from the work that he creates now," Quiñonez says, "but it tells the story of somebody very young knowing that he was an artist from the very beginning, and knowing that that's all he ever wanted it to be."
She says the breadth of Adams' work—paintings, mixed media collage, typography, logo design, fashion apparel, large-scale murals, and more—made the task of curating his first retrospective (also his first solo show) "a bit daunting at first," but that certain elements in his work have prevailed throughout his career.
"I think that the through line of Cey's work would probably be his sense of precision, from early career through graphic design, and now to his fine art and mixed-media work," she says. "Looking at the album covers—the way things line up, the way text is laid out, the way imagery is placed next to each other to tell a story—-these are definitely things that he put into practice very early on. It ties in to understanding type and letter forms through graffiti."
Adams sees the common narrative of his work as one of constant collaboration. His most recent series, Trusted Brands, reimagines famous corporate logos, from KFC to Hot Wheels, in collage form. Brightly hued and exuberant, they serve as love letters to the brands that helped usher him into the American graphic-design pantheon.
"Hot Wheels [made by Mattel] is a brand that I loved when I was 8 years old—now I'm 60 years old, and to have a brand knock on your door and give you an opportunity to not only work with them, but to literally make your childhood dreams come true through making art, is wonderful," he says. "I wanted [Trusted Brands] to be an homage to a lot of these brands. It really is a celebration, and…in a lot of ways, it's also coming full circle."
Things have been coming full circle for Adams for a while now. More than 40 years ago, a young graffiti artist carved out a space for himself by illicitly tagging subway cars with his name. In 2018, he was asked by Levi's to create designs to be installed on the exterior of their flagship store in Times Square.
"When I think about my journey, starting out as a subway graffiti artist, and now having opportunities like that, I could not have jumped into a better storyline for my life," he says. "I can't say enough about how fortunate I've been over the last 40-odd years."
Cey Adams, Departure: 40 Years of Art and Design is on view at CFA's Faye G., Jo, and James Stone Gallery, 855 Commonwealth Ave., through December 11. The gallery is open from 11 am to 5 pm Tuesday through Saturday, closed Sunday and Monday. Admission is free.