Journalist and Author Bob Woodward (Hon.'22) Tells BU Grads: Mistakes Are Life's Best Guide
Commencement Recap
Journalist and Author Bob Woodward (Hon.'22) Tells BU Grads: Mistakes Are Life's Best Guide
Class of 2022 honored at 149th All-University Commencement May 22
From Richard Nixon's resignation after covering up the Watergate scandal to Donald Trump's machinations to overturn an election, Bob Woodward's half century of journalism has been right more often than not. But it was a mistake he made that offers the best life lesson to the Class of 2022, he told graduates at BU's 149th Commencement Sunday.
The legendary Washington Post muckraker, 79, said he was convinced in 1974 that President Gerald Ford's pardon of Nixon for Watergate had been a corrupt deal to deliver Ford the presidency. But 25 years later, after interviewing the 38th president extensively, he believed Ford's explanation that too many impending world crises required putting Nixon in the rearview mirror for the country's good.
"'I realized I had to get Nixon off the front pages and into the history books,'" Woodward quoted Ford as saying.
"Don't be in a hurry to do what may be the wrong thing in your life," Woodward told the graduates. He linked his mistake judging Ford with his near-miss error of pursuing a legal career (he was admitted to Harvard Law School, but decided not to go). He discovered his love of journalism, "the energy and sense of immediacy in the newsroom," which counterintuitively followed a disastrous two-week tryout at the Washington Post in 1970, when editors canned him after refusing to publish a single story he'd written.
Following a year on a Maryland weekly, he managed to get hired at the Post, he told the graduates. Nine months later, Watergate happened, and Woodward's future path began.
"You don't withdraw" from this world in turmoil, he exhorted the graduates: "Stay engaged.…Play a part, either small or large. Pitch in in some way."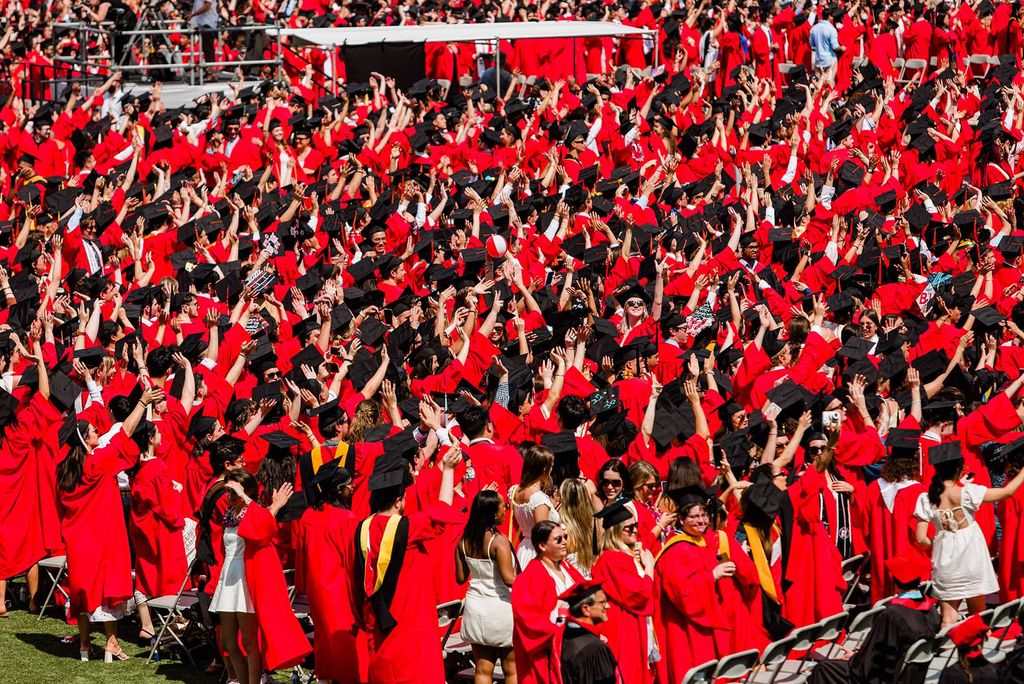 Graduation's intrinsic hopefulness—captured by scarlet-robed Terriers waving and mugging joyfully for the streaming cameras as they processed onto Nickerson Field—contrasted with ramped-up precautions against both COVID-19 and the record-tying heat in Boston (93 and oppressively humid). For the former, the University procured 80,000 medical-grade, KN95/FFP2 masks for the weekend's indoor gatherings and strongly urged their use by graduates and visitors.
To handle the sun's furnace, workers staffed two cooling centers adjacent to Nickerson Field for attendees with heat-related symptoms to shelter or seek aid. Yellow-shirted EMTs stood by on the field, getting a half dozen calls by the time the procession onto Nickerson ended, said Kelly Nee, chief of the BUPolice Department, none of them heat-related.
Water bottles, T-shirts, and open-collared shirts rivaled mortarboards as essential graduation paraphernalia for many graduates. "I am very sympathetic to all of you sitting in the sun, because we are not," Woodward said as he began his speech. He got appreciative laughter by noting that he'd deleted five pages from what he'd planned to say in a bow to the mercury.
He addressed BU the month before the 50th anniversary of "the most influential political event of the past half century," the Watergate scandal that made him famous. But while his hair is whiter and shorter than its 1970s shag—and Robert Redford's straw mop when he immortalized the reporter in the 1976 Oscar-winning film All the President's Men (based on the 1974 book by Woodward and Carl Bernstein)—Woodward in the 21st century remains on the front lines of monitoring government abuses.
Last fall, in Peril, cowritten with Robert Costa, Woodward revealed a Trump lawyer's memo on invalidating the 2020 election, a "roadmap for a constitutional coup d'état." Peril is the latest of 21 books Woodward has written or cowritten (15 of them reached number-one on best-seller lists).
His recent newsmaking includes a controversial decision: withholding for seven months a February 2020 interview he'd conducted with President Trump, where the latter admitted downplaying publicly what he knew to be the dangers of COVID-19. Some media critics excoriated Woodward for waiting to make that known until September of that year, when his book Rage was released. (Woodward said that the virus' deadliness became widely known shortly after he interviewed Trump.)
Awarding Woodward an honorary Doctor of Laws degree, President Robert A. Brown noted perhaps the greatest compliment a journalist could receive: a former defense secretary and director of the Central Intelligence Agency, Robert Gates, wished he'd hired Woodward as a spy. Brown quoted Gates as saying, "His ability to get people to talk about stuff they shouldn't be talking about is extraordinary and maybe unique."
Woodward has shared two Pulitzers (for his and Bernstein's Watergate reporting and for his lead in covering 9/11 for the Post). In addition, he has won the George Polk and Heywood Brown Awards.
Student speaker Amanda Berke (CAS'22, GRS'22) invoked the pandemic and other challenges her class has surmounted. Citing her experience as president of BU's Board Games Club—one of the University's "most intensive, cutthroat, hypercompetitive" student organizations—she exhorted her peers to persevere against future difficulties.
"Imagine you are standing on that windy peak," Berke advised. "See yourself turning 180 degrees and see the mountains spread out behind you—an unbroken chain of ridges you have already climbed.…You demanded the world wake up to racial injustice. You repudiated a culture of gendered violence. You stood firm against attacks on the rights of our trans and gender-nonconforming siblings, parents, and friends. And you took a global pandemic in stride.
"We know that whatever challenges await on our horizon," she concluded, "we will use our time at BU and the lessons we've learned here to drive us forward. We have already collectively overcome so much, and we will go so much further."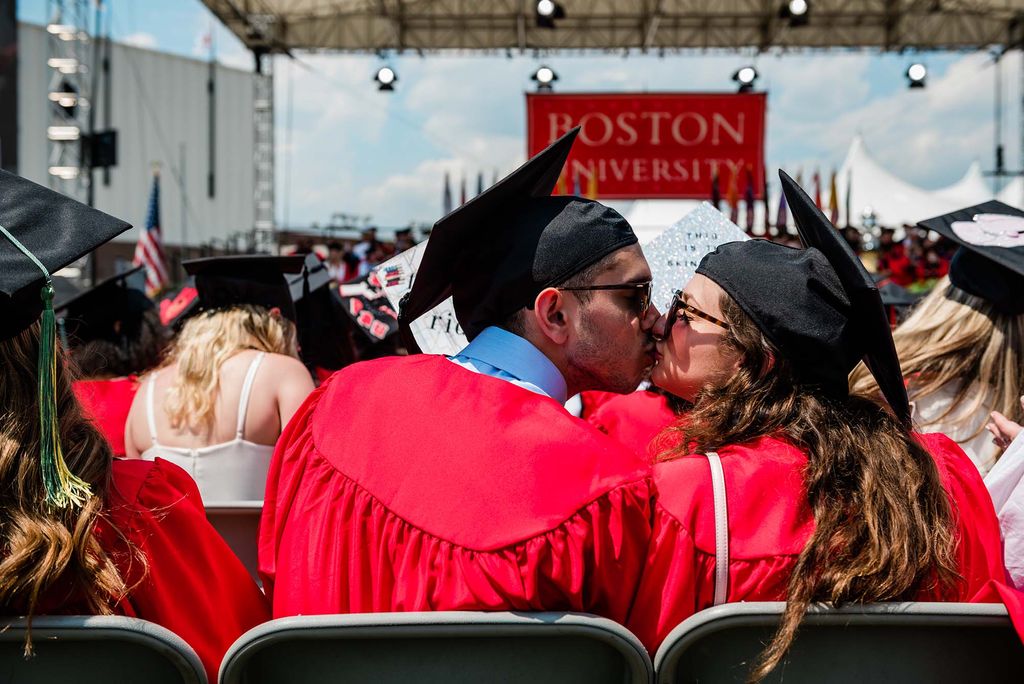 Brown also bestowed honorary degrees Sunday on Baccalaureate speaker and Massachusetts Secretary of Health and Human Services Marylou Sudders (CAS'76, SSW'78, Hon.'22), Doctor of Laws; BU trustee emeritus and philanthropist Richard Shipley (Questrom'68,'72, Hon.'22), Doctor of Humane Letters); and human rights lawyer Gay J. McDougall (Hon.'22), Doctor of Laws.
The president awarded the Metcalf Cup and Prize for Excellence in Teaching to Constance A. Brown, a School of Law clinical professor of law, and the Metcalf Award for Excellence in Teaching to Leslie Dietiker, a Wheelock College of Education & Human Development associate professor of mathematics education. The awards are the University's highest teaching honors.
As the ceremony drew to an end, Brown conferred undergraduate degrees on more than 3,600 students and advanced degrees on more than 4,100, followed by the singing of the BU anthem, "Clarissima," by Ryan Van Fleet (CFA'22), and the firing of confetti cannons.