BU Bands: Celebrating the "Heartbeat of the University"
Watch it again
BU Bands: Celebrating the "Heartbeat of the University"
Watch Now
BU Bands: Celebrating the "Heartbeat of the University"
Let's get this out of the way first: this weekend's BU Bands Centennial Celebration is the bands' 102nd anniversary, not their 100th. Blame COVID for the delay. But it ought to be a rip-roaring, drum-banging, trumpet-blowing, high-stepping celebration anyway, because the bands mean so much to BU.
"The band is the thumping heartbeat of the University," says Aaron Goldberg, BU director of Athletic Bands, Big Band conductor, and a College of Fine Arts senior lecturer in music. "It is audible school spirit and pride. Campus would be thriving, but a lot duller without the BU Bands."
The anniversary celebration, which begins Thursday, is timed to coincide with Family & Friends Weekend and includes concerts, a reception, and a dinner. (See sidebar for details.) There's also a men's hockey game, where the Pep Band will do its best, as usual, to whip the rabid Terrier fans of the Dog Pound into a rooting, screaming frenzy.
It all started back in 1920 with the BU ROTC Band, but the roster of BU Bands has grown and changed. Now the Pep Band is the largest and busiest of the BU ensembles, with 125 gigs a year and roughly the same number of members, Goldberg says. The lineup now encompasses the Marching Band, the Pep Band, the Winter Drumline, the Winter Guard, the Scarlet Band, the All-Campus Orchestra, the Concert Band, the BU Big Band, Jazz Workshop, multiple Jazz Ensembles, and the Symphonic Chorus.
In addition to games and concerts, they perform at events from fundraisers to Move-in, the Matriculation march to Commencement, and national exhibitions to high school showcases and an annual show for the tourists at Faneuil Hall.
"For generations of students, the BU Bands have provided a soundscape for everyday life at the University, accompanying them through their careers as Terriers," says Gregory Melchor-Barz, director of the School of Music and a CFA professor of music. "The core mission of the BU Bands program allows the CFA School of Music to extend its outreach beyond the concert halls and practice rooms to the entirety of the student experience at BU."
It happens under the banner Music for All, offering students in all majors the chance to keep on playing the instrument they learned before coming to the University. Many students play in more than one band, and about 80 percent of those involved are not music majors, says Goldberg, who plays trombone and euphonium in his spare time.
If you think carrying a heavy academic load and playing in the bands would be tough sledding, meet James Robson (ENG'20,'25), a longtime stalwart of the woodwind sections, who plays clarinet, flute, and saxophone. Currently he finds time for rehearsals and performances with the Concert Band and the Saxophone Ensemble, all while working towards a PhD in biomedical engineering.
"Music has always been a really big part of my life, and going into my undergrad at BU, I realized very quickly in my first semester that just doing engineering made me lose a really big part of who I am," Robson says. "So I continued that engagement in the BU Bands.
"Playing in these types of ensembles really allowed me to thrive, I think, academically and in my engineering courses, and I also have this group that I could look forward to every Monday and Wednesday to come in and play with. It's really relaxing playing my instruments, and for me it's an opportunity to, in a way, escape from all of the stresses that occur in a PhD program. I made time for it because it's really important to me, and I love the group of people."
Pep!
The Pep Band experience in particular exerts a strong hold on its members. Their special joy is whipping the crowd into an uproar.
"Conducting the BU Pep Band is like trying to conduct a rock band from the mosh pit," Goldberg says. "I stand where the band meets the student sections. It's nuts, but I love it. It's my favorite part of the week.
"I count the band off, 1-2-3-4, and as soon as the drums take over and the horns come in, I'm watching the crowd to see how they react, and they just love it. Everybody's dancing, and they hear a song they like and they're giving high-fives and taking selfies with the band in the background. I love what the band brings to student life, to campus life."
Currently averaging 120-odd players, down slightly from pre-pandemic numbers, the Pep Band splits in two each year to cover all the men's and women's hockey and basketball home games as well as a number of other contests. Abigail Roberts (CAS'23) and Trevor Powell (CAS'23, GRS'23) are the managers of the Red Band and the White Band, which come together for special events like this weekend's celebrations.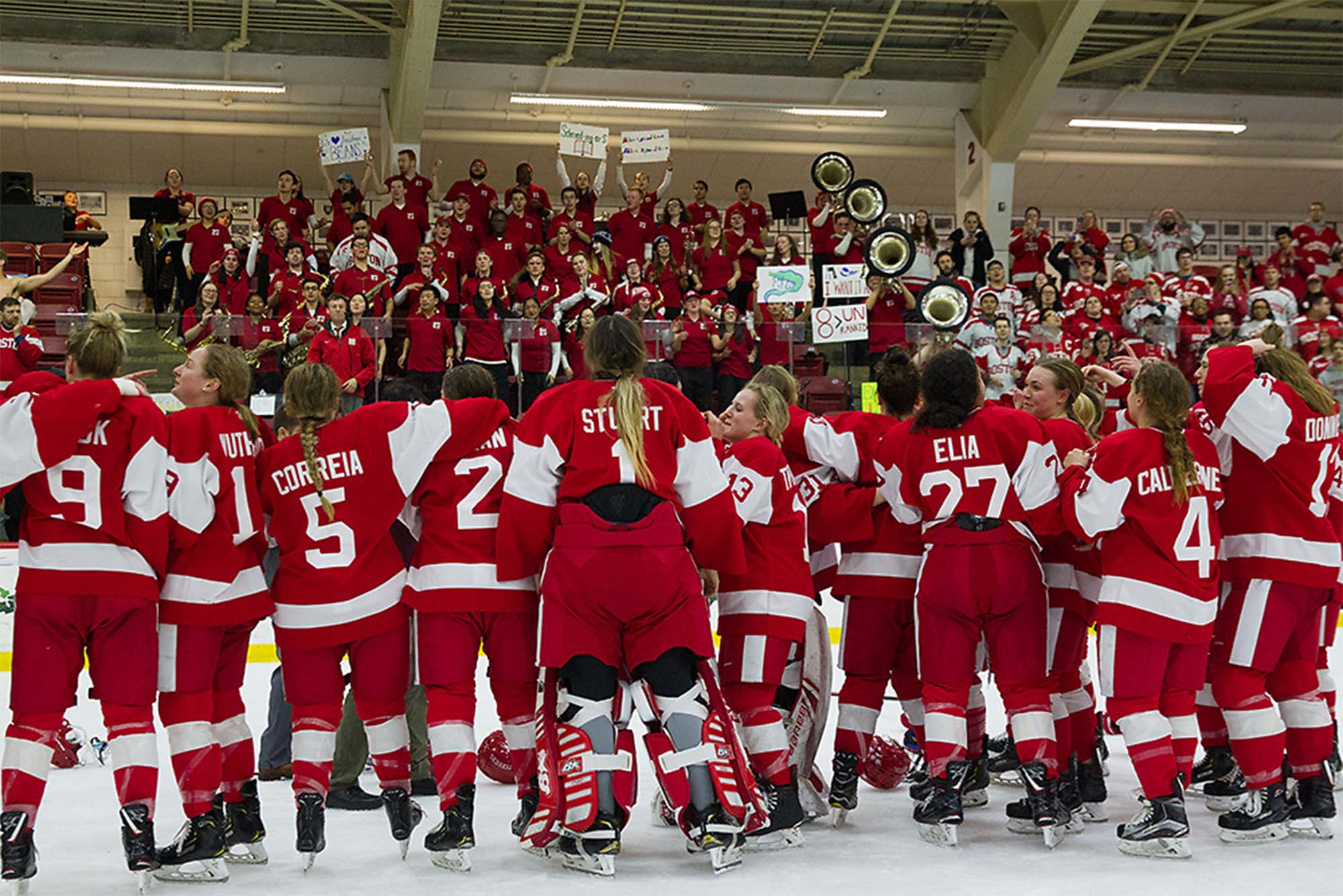 "Even when it's a weekend where we've got, like, three or four Pep Band things and we've also got rehearsal the night before and there's a drumline performance in the middle of that somewhere and it's all just crazy, it's still something I'm really passionate about," says Roberts, a linguistics major, who plays percussion and trombone. "It's still time to spend with my friends and do something I really enjoy."
"There are specific traditions, like specific cheers we do, and there are new traditions every year," says Powell, a dual bachelor's-master's student in energy and environment, who plays clarinet in Pep Band and bass drum in other ensembles. "And when you're at a game those all come out, and everyone becomes part of one thing. And then you have the Dog Pound, the student section, and we really do work hand in hand. It's really special to just build that energy. Everyone's working toward the common goal of going crazy and bringing the energy for our teams."
Both Powell and Roberts are involved in the band service organizations Kappa Kappa Psi and Tau Beta Sigma. "We are about as involved as you can be," Powell says.
Goldberg has the help of Sharif Mamoun, assistant director of athletic bands, and the many others who lead nonathletic bands. Each band is technically a course, with a course number and a faculty director. The administrator behind the Concert and Jazz Ensembles is Mike Barsano (MET'20), director of university-wide ensembles, "the man behind the curtain" when it comes to things from making sure students have the music they need to getting programs printed, organizing travel plans, and countless other duties to aid the students, who have brought their love of playing music from all over the country and the world.
"They kind of do it to find a place to call home," Barsano says. "Whether you're sitting down on the concert stage or you're jumping up and down in Pep Band at a men's ice hockey game, it's still that sense of belonging, of being part of something larger than yourself."
Bands history
Even much abridged, the history of the BU Bands has far more twists and turns than you might expect.
The ROTC Band, founded in 1920, was "very much based on military drilling, the drum beats, bugle calls, and marches," Goldberg says. Generally the ROTC Band had 50 to 60 members, and at some point, he says, participation was a requirement for music education majors. The band was a nationally known success, and stopped only briefly in the middle of World War II; women were admitted as band members beginning in 1946. The other bands and groups have been added in the decades since.
The true guiding spirit of the BU Bands, according to Goldberg, is the late Lee Chrisman, who arrived on campus in 1954 to join the music faculty at what was then the School of Fine Arts, after several years directing the Tournament of Roses Band. Chrisman led the program for roughly 40 years, through all the ups and downs, until his death in 1994. "I never met him," Goldberg says, "and I think about him every day."
The band was a fixture at football games and other events up until 1970, when Vietnam War protests chased ROTC, and thus the band, off campus. Goldberg smiles recounting how the students of Myles Standish Hall decided they were going to keep the marching band tradition alive: "It was a ragtag student organization called the Magnificent Myles Marching Band, and it was open to anybody—you didn't even have to be a musician."
Perhaps not surprisingly, that petered out by the end of the 1970s, but the Marching Band was brought back formally in 1981 by graduate student Doug Bish (CFA'88) under Chrisman's direction. "At first it was another ragtag group of students, mostly flutes. They were booed at football games and lampooned in a Free Press cartoon," Goldberg says. But within a year the band had perhaps 200 members and once again became the pride of BU Football…
…until the fall of 1997, when word got out that BU was dropping the sport. Joe Wright (CFA'95), then the band director, pulled the whole band together at the end of the season and asked if they wanted to hang it up or keep going. The vote was unanimous to keep going. "And they became the best NCAA soccer marching band in the country," Goldberg says. Currently the Marching Band has about 75 members.
"Here we are, 25 years later, and I still get questions from alums, colleagues, and prospective students: 'You don't have football, but you still have a marching band—why?' And the answer is, 'Because we do.' And there's such a strong infrastructure for it, it's not going anywhere, even though it only performs in the fall and mostly off campus. It's just such a sought-after group. We get calls all the time asking for it to be part of things, like 35 to 40 events a year. We have students who come to BU to be in the Marching Band."
More recently, the band program faced another near-death experience—the COVID pandemic, which ended all performances for more than a year. But the band persevered through skills training on Zoom and half-squad, socially distanced practices. As supporters will hear this weekend, they barely lost a step.
Alumni keep the beat
The band experience maintains a strong hold on many Terriers even after graduation.
Trumpeter Pam Rerko Dalton (CAS'12) and trumpeter, saxophonist, and percussionist James Kang (COM'14, Questom'20) founded the BU Band Alumni Network in 2015. 
"The band has given us amazing relationships and really been a community-builder," says Dalton. "When I speak to anyone who has been in band in the last 30 years, they all have created amazing networks from it."
Dalton and Kang have been friends since they were in the bands as undergrads. Both still live in the Boston area. Both are still deeply connected to the experience, even though they've graduated and have careers, Dalton in development in higher education and Kang in marketing for a major electronics company. Kang still sits in with the concert band. Dalton can go him one better.
"I say this in the most literal and the most figurative sense—the BU Bands gave me my family," she says. "I am literally married to a drummer from the band"—that would be Jesse Dalton (CAS'11, GRS'11)—"and we have a one-year-old.
"In the figurative sense of family, James and I and my husband were just at the wedding of two BU Bands members. And two weeks ago we were at a wedding of another BU Bands member. And between those, I have talked to probably 13 or 14 band members. If I wanna cry, that's who I call, and if I wanna laugh, that's who I call. They are truly my family members," Dalton says.
Wanting everyone to share the same sense of connection, they founded the network with help from BU's Alumni & Friends. COVID actually helped with that, as "virtual reunions" became commonplace.
"A lot of the things the band was doing with alumni were really kind of grassroots, and I think we wanted to formalize the communication a little bit," Kang says, "and also make sure that we were sort of not only reaching out to the alumni in the local area, the young alumni that we know just graduated, but that we were reaching out to everybody that was in the area across the decades, and then around the globe too."
Band alums who want to get in touch can email the two at alumband@bu.edu, check out their webpage, join their active Facebook Group, or "like" their Facebook page. Kang, Dalton, and other alums help the bands every year with Friends & Family Weekend, and generally improve communications, "so when the band plays at Faneuil Hall, the alumni know about it," Dalton says.

And they keep their own hands in the music. "There are usually hockey and basketball games over winter break where the students are home and enjoying their families, including one game marketed as 'All-Alumni Pep Band,' so the alumni step in to play, and we kind of make it a big special day where it's all alumni and we get to pull our instruments back out," Dalton says and smiles. "And you know, we sound just as good as the last time we played!"