Together Again—Boston Event Series Aims to Bring Back the Fun to Downtown
In the City
Together Again—Boston Event Series Aims to Bring Back the Fun to Downtown
From Copley Square to City Hall Plaza to the Boston Common, 12-week run of events starts Tuesday
Boston's come a long way, baby.
In March of 2020, when then–Mayor Marty Walsh's office ordered all nonessential businesses in the city to temporarily close amidst the surging coronavirus, there was no telling when people would be able to come together again in offices, especially in crowded downtown. Now, with a new mayoral administration in place, and some of the highest state vaccination rates in the country, the city wants to bring the people, and the energy, back to Boston.
Mayor Michelle Wu's office, in conjunction with strategic partners, is rolling out Boston Together Again, a 12-week event series, starting Tuesday, July 19, aimed at reviving a downtown area that has been slow to return to pre-pandemic business with so many people working fully remote or hybrid schedules.
"It's about, well, bringing people together again," says Andrew Grace, director of economic and strategic planning in the Mayor's Office of Economic Opportunity and Inclusion. "It's about giving people incentives to not just work from home, but [also] come back, explore, enjoy, and have fun in a safe way."
Grace explains that Boston Together Again's roster of events—including workout classes, cultural festivals, movie screenings, concerts, dance parties, and roller-skating—serves a greater purpose than simply showing the city a good time.
"We've targeted this towards employees who have been working remotely [since COVID] and perhaps haven't been as interested in coming downtown," he says. "Our conversations with employers have been like, 'Let's do something fun,' and trying to be a carrot and not a stick."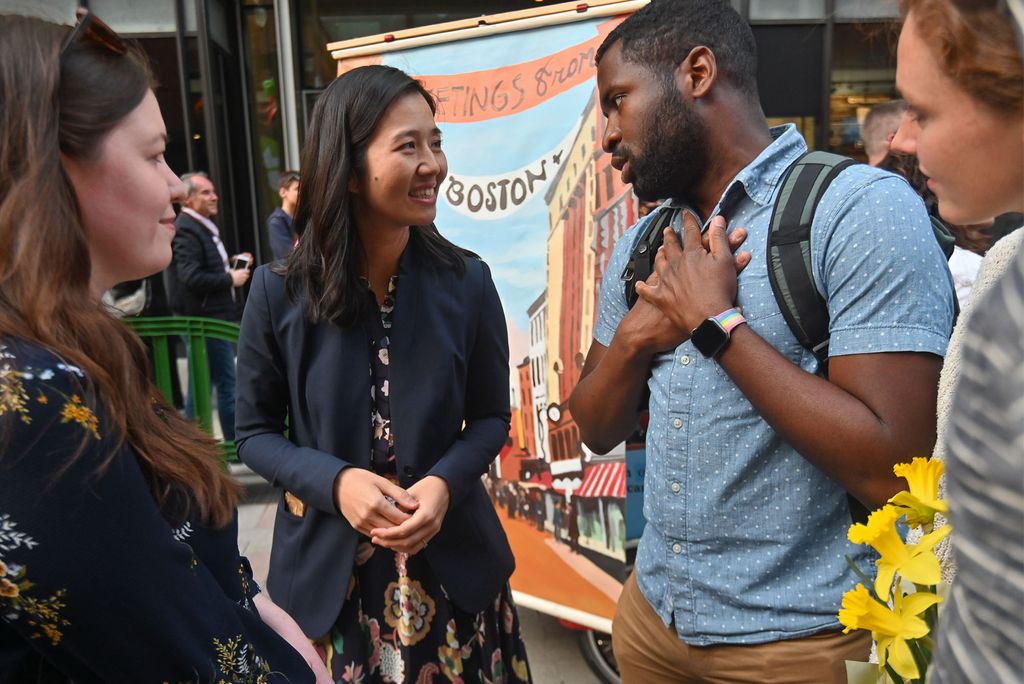 To attract the broadest swath of downtown foot traffic, the event series will be spread across different neighborhoods, with festivities in Copley Square, City Hall Plaza, the Boston Common, Dewey Square, and Post Office Square, on Tuesday, Wednesday, and Thursday afternoons and evenings. Designed to be recurring and accessible, these free events kick off July 19 and will run until October 15. However, Grace says, his office is already making moves to extend the series "into next year."
"There has been an appetite for this kind of programming, and a history," he says. After the Mayor's Office hosted a successful free block party–style event in April, called Boston Blooms, they found that the timing was right for a greater push toward large-scale public events.
"Many of these types of events have been run in one form or another in the past, but they ceased operating," Grace says. "So, we stepped up."
Boston Together Again will kick off Tuesday with a bachata class offered by the Utopia Dance Company at City Hall Plaza (4 to 6 pm) and a spin class courtesy of Jay Bee Fit (4:30 to 5 pm) in front of Trinity Church in Copley Square. On the docket for Wednesday is a kid- and pet-friendly meetup by the carousel in Boston Common, complete with a doggy obstacle course, lawn games, and face painting. Thursdays are movie nights in Copley Square Park; this week's pick is the 2017 horror film Get Out. Each of these events recur weekly, Grace says, and more will soon be added to Boston Together Again's website, Instagram, and Twitter.
The Mayor's Office is also using Boston Together Again as a way to uplift vendors and contractors who have not previously had access to city contracts. Through the Mayor's Office of Economic Opportunity and Inclusion's Sheltered Market Pilot Program, the event production contract for Boston Together Again was awarded to RoseMark, a Black- and woman-owned business helmed by Rose Staram—who also worked on President Joe Biden's inauguration.
"I want people to come back downtown," Staram told the Boston Globe in June. "To think I can play a small role in that is very fulfilling."
Collaborators on Boston Together Again have worked around the pandemic since the event's inception, and Grace says the Mayor's Office has been waiting patiently for the right time to bring safe gatherings back to the city.
"We all live with so much uncertainty now," he says. "But we've finally reached a point in the pandemic that people feel comfortable with this. We're going to continue to be safe and COVID-aware."
Find detailed information and updates about Boston Together Again's schedule of events at bostontogetheragain.com and on social media @boston_again.