Celebrate Pride at These Events around Boston
Boston Pride
Celebrate Pride at These Events around Boston
From block parties to networking events, there are plenty of ways to engage
Happy Pride, Terriers! The month of June, also known as Pride month, is dedicated to celebrating members of the LGBTQIA+ community. Originally inspired by the 1969 Stonewall Uprising, Pride month has evolved into a monthlong event intended to honor and recognize LGBTQIA+ individuals' impact on society. Of course, the city of Boston will be joining in on the fun with various festivities throughout the month of June. Here's your rundown.
---
Boston Pride Kick-Off: June 1
The first event for Pride month will be at Boston City Hall at 5 pm on June 1. Once Boston's mayor and LGBTQIA+ community members give brief remarks to start the event, there will be live performances from local LGBTQIA+ artists. Of course, a highlight of the event will be lighting up Boston City Hall in rainbow colors, which will continue to shine throughout most of the month.
We Outside! Pride Day Party: June 5
The first party of Pride month kicks off with a fun-filled day of music, dancing, and celebration. Starting at noon at Encore, the We Outside! Pride Day Party will feature a wide variety of musical performances. The 18+ event requires tickets to enter and concludes at 6 pm.
Photo courtesy of Men of Melanin Magic
Pride Month Soiree for BU Faculty & Staff: June 6
Celebrate Pride Month with the LGBTQIA+ Center for Faculty & Staff and LGBTQIA+ FSCN, from 5 to 7 pm at the GSU Terrace Lounge Patio (775 Commonwealth Ave.). There will be hors d'oeuvres, wine, and non-alcoholic beverages, as well as music and a prideful ambiance to celebrate the month in style.
BU Alumni LGBTQIA+ Speed Networking Online: Pride Edition, June 10
Connect with BU alumni and friends who identify as LGBTQIA+ for this one-hour-long digital speed-networking event via Zoom. Over the course of an hour, guests will have three opportunities to network in small groups via breakout rooms.
During each breakout session, participants will move square by square around the breakout room sharing three bits of information each: their name, what they studied at BU, and what they currently do or who they are hoping to connect with. Once everyone has been introduced, the remaining time will be used for conversation before reshuffling the groups for the next breakout round.
Boston Theater Company's LGBTQ+ Road of Rainbows: June 11
Join the Boston Theater Company for a 5k run through Boston Common on June 11 at 3 pm. According to the event's website, the race is "The 1st of its kind in Massachusetts where gender has no bounds. You be YOU and run for YOU, with love, support, and a team cheering you on!"
Photo courtesy of the Boston Theater Company
Annual Boston Pride Worship Service: June 12
The Old South Church, at the corner of Dartmouth and Boylston Streets, will hold a worship service in honor of Pride on June 12 from 11 am to noon for all who would like to attend.
Photo courtesy of the Old South Church
Boston Choral Ensemble Concert: June 12
The Boston Choral Ensemble will perform a concert titled "Sing We Our Tomorrow" on June 12 at the First Church Cambridge, in Harvard Square. The concert, which begins at 4 pm, will feature musical and spoken-word performances that explore the journey of the LGBTQIA+ community through time. The event requires proof of COVID-19 vaccinations and masks.
Photo courtesy of the Boston Choral Ensemble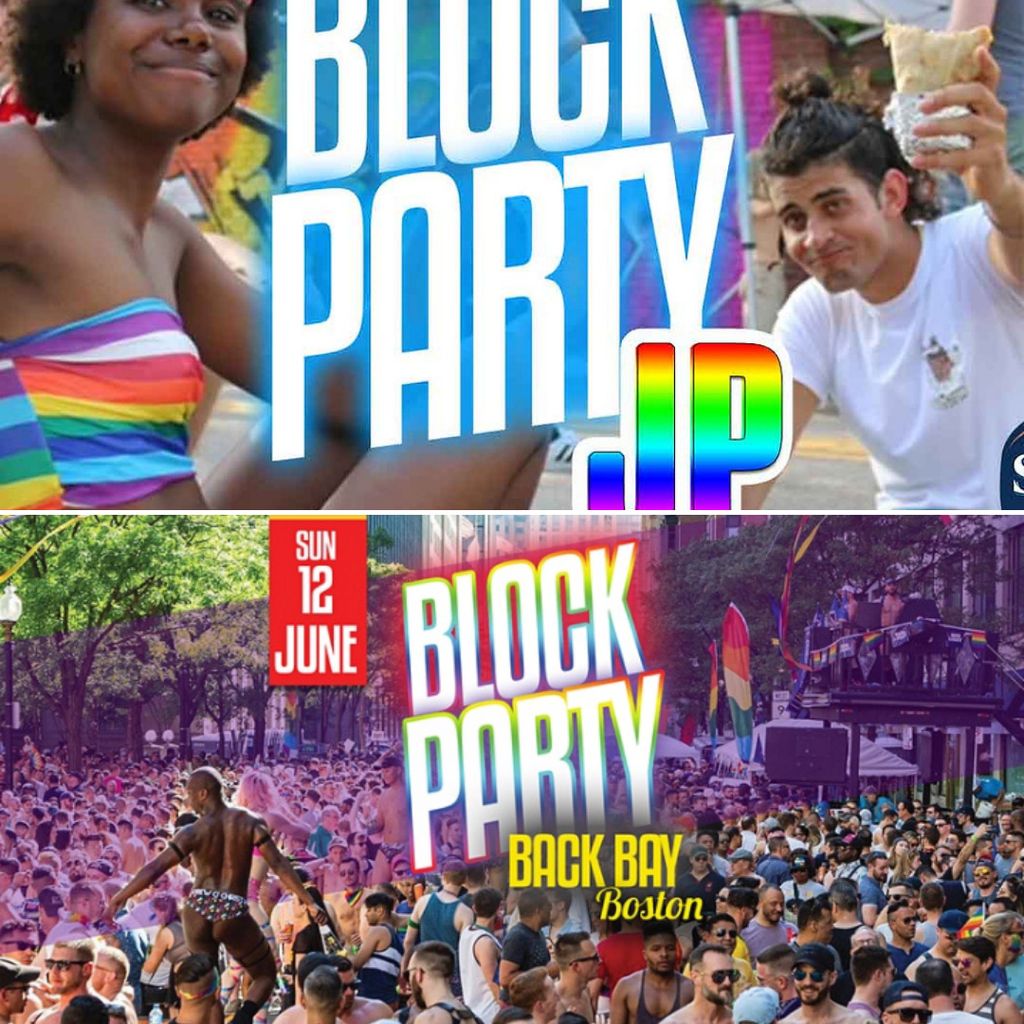 Boston Block Parties: June 12
On June 12, two fun and festive block parties will be held in Boston to celebrate Pride. The JP Block Party will take place between Center and Huntington Streets from noon to 8 pm. The second, the Back Bay Block Party, will be held across from St. James Street from 2 to 9 pm. Attendees can expect DJs, food vendors, live music, dancing, and more.
Photos courtesy of Lesbian Nightlife and GayNightly
Beyond Small Talk Pride Social: June 13
Want to connect with fellow LGBTQIA+ faculty, staff or students at BU in a low-pressure social environment that skips "how's the weather" in favor of a more profound connection? Join us for this event at Trident Booksellers & Cafe, 338 Newbury St., Boston, from 6:30 to 8 pm in celebration of BU Pride 2022. Spend some time getting to know your fellow BU community members and celebrating your shared identities within the LGBTQIA+ community. The event will have icebreakers, games, and questions that will really get you thinking. Drink tickets and appetizers will be provided.
Pride Marches: June 10 and June 25:
On June 10, the Boston Dyke March will begin at 6:30 pm near the Parkman Bandstand on Boston Common. According to the organization's website, "the March is a grassroots Pride event" accessible to all who would like to participate. Later in the month, on June 25, the Trans Resistance March and Festival will be held at 11:30 am, departing from Nubian Square in Roxbury. The March will end at Franklin Park Playstead and will be followed with musical performances.
Photos courtesy of Boston Dyke March and Trans Resistance MA
Boston Urban Pride Weekend: June 30 to July 3
Throughout the last weekend of June, Boston's Urban Pride will celebrate LGBTQIA+ communities of color within Boston. The weekend, which is filled with a total of eight events, includes a music and arts festival, the Mr. and Miss Gay Urban Pride Pageant, the Welcome to Boston mixer, and a handful of other unique and festive celebrations. Each event requires a ticket to enter, or guests can purchase a weekend-long pass that grants access to everything.
Photo courtesy of Boston Urban Pride
---
Find additional information about these Pride Month events here. Happy Pride, Terriers!