Boston 4th of July Events: How to Celebrate this Weekend
Things-to-do
Celebrate the Fourth of July Weekend in Boston
Parades, food festivals, reenactments—and, of course, fireworks
Happy 246th birthday, America! What better place to commemorate the occasion than in Boston, a city jam-packed with history, rebellion, and patriotism. Spend the weekend enjoying the various festivities around town, such as tours, parades, food festivals, musical performances, reenactments—and, of course, fireworks.
Kick off the weekend with Boston Harborfest, the annual series of events that culminates in the city of Boston's Independence Day celebration. Get a taste of spice and Caribbean flavors at the Boston JerkFest and Boston Hot Sauce Fest, and later witness the USS Constitution conduct a 21-gun salute. On the Fourth itself, head to Fenway Park to cheer on the Red Sox, and end the night on the Esplanade with a concert and pyrotechnics show at the Boston Pops Fireworks Spectacular.
Check out our guide of events happening over the holiday weekend. Happy Fourth of July.
Friday, July 1
Boston Harborfest returns for a weekend of patriotic activities celebrating Boston's maritime and revolutionary history. A summertime tradition, Harborfest kicks off on July 1 with an opening ceremony that features public officials, reenactors, and performances by the 215th Army Band. Come back on Saturday, July 2, for a classic car show and Harborfest fireworks in the evening. There will also be live entertainment by local performers and an arts and crafts market in Downtown Crossing through Saturday night. The festivities continue into Monday, July 4, with the city of Boston's Independence Day celebration, which includes a morning parade beginning at City Hall Plaza, a wreath-laying ceremony on the graves of patriots at the Granary Burying Ground, and a reading of the Declaration of Independence from the Old State House balcony.
The 40th annual Boston Harborfest runs through Monday, July 4. Check out the schedule here for a complete list of free and paid events.
Voted the best patriotic attraction by USA Today readers, the Boston Tea Party Ships & Museum brings the historic event to life through a multisensory experience that includes actors, interactive exhibitions, and a full-scale replica of 18th-century sailing vessels. Visitors can throw tea into the same body of water where the Boston Tea Party took place over 240 years ago and explore the Old South Meeting House, Tea Party ships, and Griffin's Wharf. Look out for Sam Adams, the Sons and Daughters of Liberty, and a Patriot and Loyalist along your travels. Visitors can also view the Robinson Tea Chest, which is the only known surviving tea chest from the original 1773 Boston Tea Party. Before leaving, catch an award-winning film at the Minuteman Theater, titled Let It Begin Here, which depicts the events of April 19, 1775. Beginning with Paul Revere's midnight ride, the documentary continues to Lexington Green, where the "shot heard 'round the world" was fired to begin the American Revolution. The panoramic movie screen allows viewers to see, hear, and feel the sensations of battle in the countryside. Before leaving, take a break at Abigail's Tea Room & Terrace (open to the general public without a museum ticket) to sample five teas thrown into the Boston Harbor on December 16, 1773.
The Boston Tea Party Ships & Museum is at 306 Congress St., Boston. Tickets are $31.95 and can be purchased online or at the museum. Tours run from 10 am to 5 pm, Thursday through Monday, but the gift shop and restaurant are open daily.
Saturday, July 2
Jerk is a spicy and slow-cooked style of cooking native to Jamaica. This year's ninth-annual Boston JerkFest will feature local Caribbean chefs, jerk cooking, specialty spicy foods, and homemade Caribbean drinks. Joining the festivities this year is the new Boston Hot Sauce Fest, featuring hot sauces, jams, jellies, and candy. Held at the Harvard Athletic Complex, the family-friendly event will have live bands playing reggae, soca, steel drums, and world music, kicked off by reggae legend and ambassador Freddie McGregor. Festival attendees will also be able to taste and judge a "seafood throwdown," a rum and beer tasting (for those 21-plus), and various other cook-off events.
The Boston JerkFest and Boston Hot Sauce Fest will be held at the Harvard Athletic Complex, 145 North Harvard St., Allston, from 11 am to 7 pm. General admission tickets are $22.50; VIP tickets are also available. Purchase tickets here.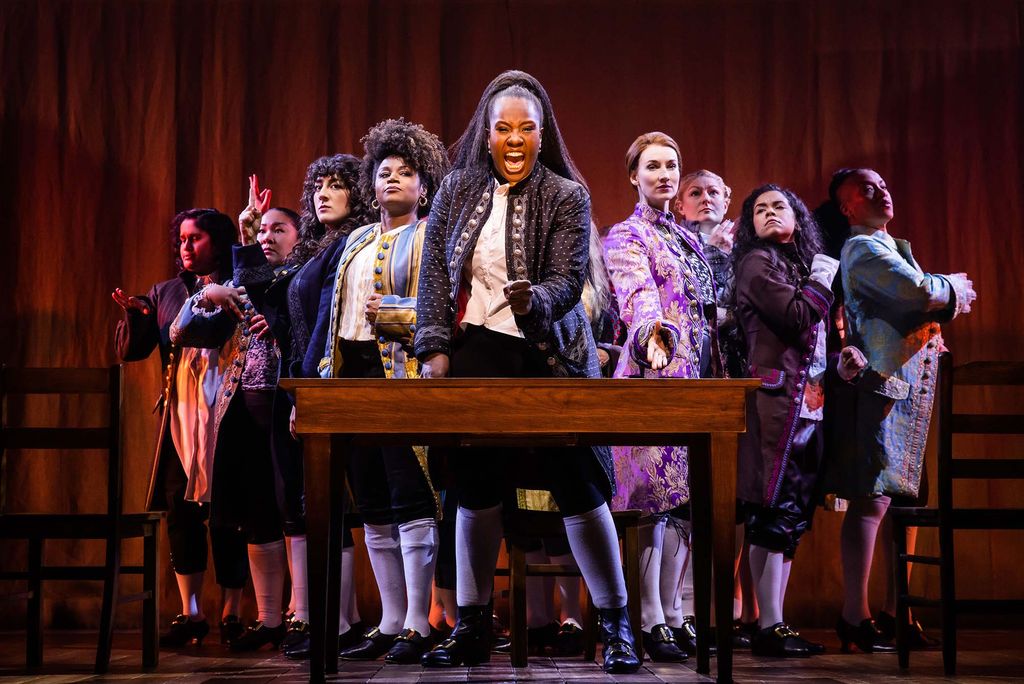 Catch a performance of the Tony Award–winning 1776 at the American Repertory Theater through July 24. The musical tells the story of John Adams and his attempts to convince the Continental Congress to vote in favor of American independence from the tyrannical British rule. Popular songs include "Sit Down, John," "Yours, Yours, Yours," and "He Plays the Violin." This reimagined production also features a cast of performers who represent multiple races, genders, and ethnicities. Following the show's current run at the American Repertory Theater, it will open in New York City this September and later embark on a 16-city national tour in February 2023.
1776 runs through July 24 at the Loeb Drama Center, 64 Brattle St., Cambridge. Tickets start at $25 and can be purchased here. Student and under 25 discount tickets are available upon request by contacting ticketservices@amrep.org or 617-547-8300 in advance.
Stop by the Paul Revere House in the North End to explore the famous midnight rider's home at 19 North Square. Built around 1680, the house has become a National Historic Landmark and is the oldest building in downtown Boston. The small wooden home was purchased by the Revere family in 1770 and still includes most of its original structure, doors, window frames, flooring, foundation, inner wall material, and raftering. Paul Revere set off on his midnight ride to Lexington from this house on the evening of April 18, 1775. Tours of the two-story Revere House are self-guided, accompanied by illustrated text panels and museum interpreters. On July 2, watch musicians Al Petty and Deirdre Sweeney perform popular 18th-century tunes, such as "Mr. Isaac's Maggot" and "Jack's Health," on the penny whistle, fife, flute, and other instruments. The performance runs from 1 to 3 pm and is free with admission.
The Paul Revere House is open daily from 10 am to 5:15 pm. Tickets are $6 for adults and $5.50 for college students and may be purchased using cash, credit card ($10 minimum), or PayPal.
Sunday, July 3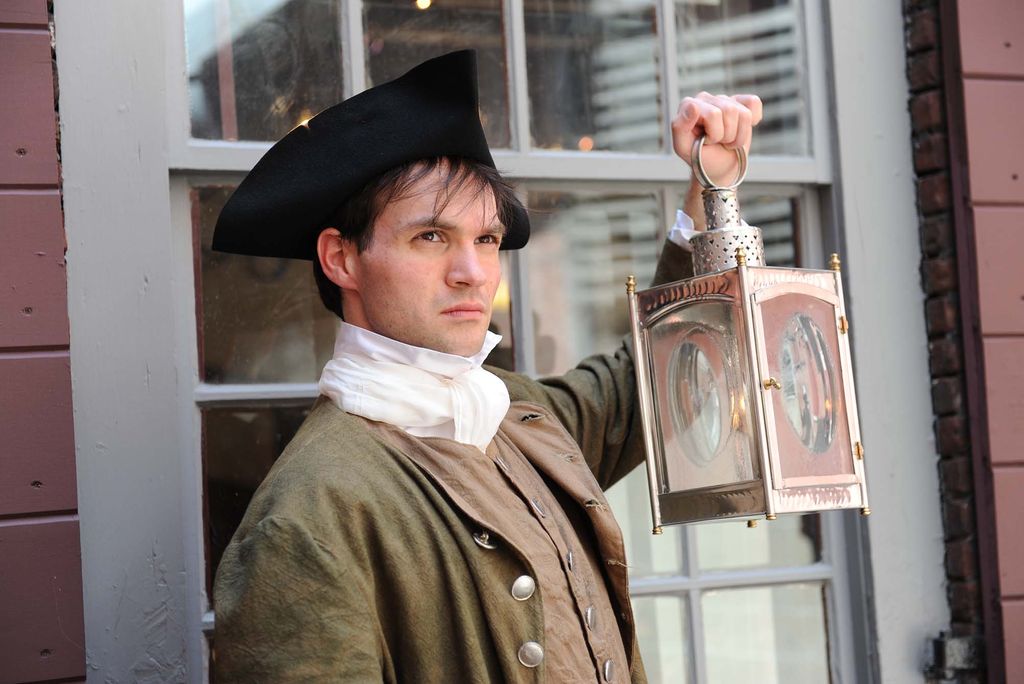 Experience more than 250 years of history on Boston's iconic Freedom Trail. The 2.5-mile red line connects 16 national historic sites that tell the story of the American Revolution, including museums, churches, burying grounds, meeting houses, parks, a ship, and historic markers. Select your tour and join your 18th-century costumed guide for a 60- to 90-minute walk around Boston. Tours vary in distance and meet at different times and days throughout the week, so be sure to check the schedule before purchasing tickets. "Walk into History" is the most popular introductory tour that passes 11 of the 16 official Freedom Trail historic sites, including the Boston Common, Granary Burying Ground, Old South Meeting House, the Boston Massacre site, and Faneuil Hall. Visitors can also skip the tour and walk the Freedom Trail on their own by using a map, brochure, or guidebook.
Guided Freedom Trail tours are led throughout the day and depart from either the Boston Common Visitor Information Center, 139 Tremont St., or Faneuil Hall, 4 S. Market St. Find directions to participate in the Freedom Trail tour here and purchase tickets here.
Monday, July 4
Head to Coolidge Corner Theatre to watch the 1996 film Independence Day starring Will Smith, Bill Pullman, and Jeff Goldblum. The box office hit begins on July 2, when alien spaceships first appear in cities around the world, striking fear and curiosity in humans across the globe. Soon these aliens attack, blasting destructive beams of fire that launch an all-out invasion. On July 4, a group of survivors launches an attack to save mankind. The Coolidge Corner Theatre is an independent cinema originally built as a church in 1906, then redesigned as an Art Deco movie theater in 1933.
The Coolidge Corner Theatre is at 290 Harvard St., Brookline. Independence Day starts at 7 pm and adult tickets can be purchased online for $15.50. Buy tickets early, before they sell out.
The USS Constitution (also known as "Old Ironsides") is the world's oldest commissioned warship afloat. Currently owned by the US Navy and residing in the Charlestown Navy Yard, the undefeated Constitution captured 33 vessels in her 57 years of active service. The museum operates independently from the ship, featuring interactive exhibitions, hands-on programs, and a vast collection of artifacts. Check out the "Today's Crew" exhibition highlighting several active duty crew members aboard the ship through video interviews and photographs. On July 4, the ship will conduct a 21-gun salute toward Castle Island's Fort Independence around 11:30 am (see it live on the ship's Facebook page). Once the ship returns to the Charlestown Navy Yard, visitors can come aboard from 3 to 6 pm to ask questions and speak with the active duty US Navy sailors who are stationed on the ship.
The USS Constitution Museum is in the Charlestown Navy Yard, Charlestown. Find information on admission, hours, and directions here.
The USS Constitution is inside Boston National Historical Park, next to the USS Constitution Museum. Find information on admission, hours, and directions here. Bring federal or state photo identification, as visitors must pass through a security inspection before boarding.
Cheer on the Red Sox as they face the Tampa Bay Rays at Fenway Park. Monday's game begins at 1:35 pm and includes a Fourth of July beach towel giveaway for the first 7,500 fans. July 4 will be the first home game since June 22, when the Red Sox played the Detroit Tigers. High school and college students can sign up for the Boston Red Sox's Student 9s program, which offers $9 tickets to select home games at Fenway Park. After registering, students will be alerted by phone or email when student tickets are available to purchase at the discounted rate.
The Boston Red Sox take on the Tampa Bay Rays Monday, July 4, at 1:35 pm at Fenway Park, 4 Jersey St., Boston. Tickets are available online. More transportation and parking details can be found here. Find more information about buying tickets to Red Sox games here.
The Boston Pops Fireworks Spectacular returns to the Hatch Memorial Shell on the Charles River Esplanade for the first time since 2019. Conducted by Keith Lockhart (Hon.'04), the annual concert features the Boston Pops Orchestra, the Tanglewood Festival Chorus, and the Middlesex County Volunteers Fifes & Drums. This year, Grammy winner Chaka Khan will join the Pops alongside Tony winner Heather Headley and Javier Colon, who won the first season of NBC's The Voice. There will also be a special moment in memory of philanthropist and businessman David Mugar, who died earlier this year and had supported the event for over 40 years. Those unable to attend the Boston Pops Fireworks Spectacular can watch live on WHDH-TV Channel 7 and Bloomberg Television and Radio. You won't want to miss this beloved tradition.
The Boston Pops Fireworks Spectacular concert begins at 8 pm, with fireworks at 10:30 pm, at the Hatch Memorial Shell, 47 David G. Mugar Way, and is free and open to the public. Viewing fireworks from both the Longfellow and Harvard Bridges is not allowed this year. Note: plan to arrive early. Gates open at noon and space is expected to fill quickly. Security will be tight; find a list of banned and allowable items and other security details here.