14 Live Holiday Performances That Will Keep You Feeling Merry and Bright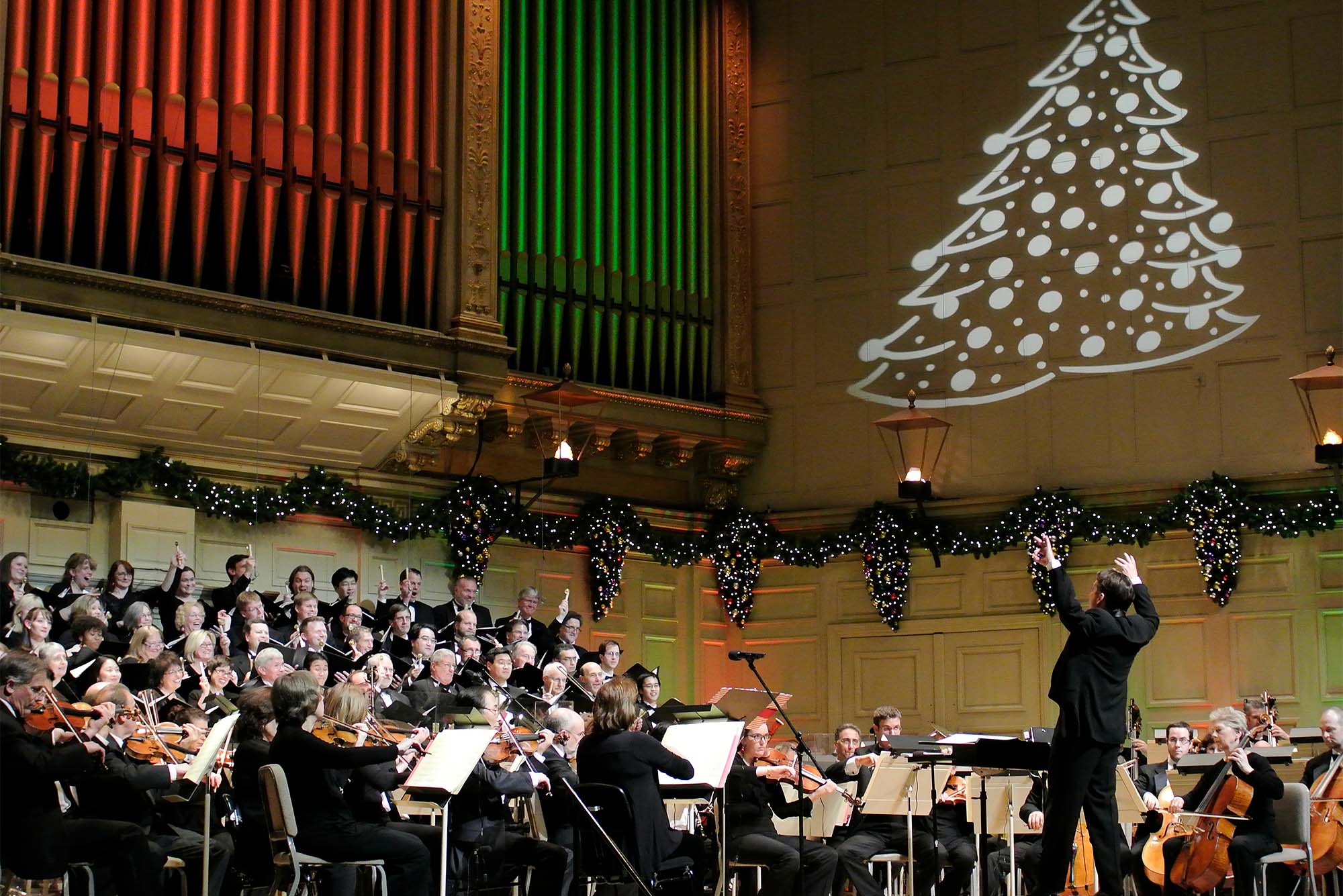 Things-to-do
14 Live Holiday Performances That Will Keep You Feeling Merry and Bright
Make the most of the season with these theater, dance, and concert picks
The holidays have officially arrived, and in keeping with tradition, many of the city's leading performing arts organizations are serving up an array of festive performances. We've put together a list of seasonal shows that offers something for everyone—from beloved favorites (Boston Ballet's The Nutcracker, the Boston Pops annual holiday show) to new offerings and so much in between. So, grab a friend or family member and treat yourself to a concert, ballet, or play.
Concerts
One of New England's best-loved traditions, the Boston Pops annual holiday show has been drawing crowds from all over the region for almost 50 years. Led by Boston Pops conductor Keith Lockhart (Hon.'04) and James Burton, Boston Symphony Orchestra choral director and a College of Fine Arts master lecturer, the concerts celebrate festive favorites from around the world and feature a sing-along performance of classic Christmas carols. Look for appearances by local celebrities, who perform readings of classics like Dr. Seuss' How the Grinch Stole Christmas.
Boston Pops Holiday Pops performances, including sensory-friendly shows and kids' matinees, run from December 1 to 24 at Symphony Hall, 301 Massachusetts Ave., Boston. Purchase tickets here.
---
Comedian and Emmy-winning actor Jane Lynch (Glee) returns to Boston to perform retro Christmas tunes from her holiday album, A Swingin' Little Christmas. Lynch recorded the album on her own KitschTone Records in 2017 and has been performing it ever since, alongside Kate Flannery (The Office), vocalist Tim Davis, and the Tony Guerrero Quintet. 
A Swingin' Little Christmas is Tuesday, December 6, and Wednesday, December 7, at City Winery Boston, 80 Beverly St. Both shows begin at 8 pm. Purchase tickets here. 
---
Founded in 2016, White Snake Projects bills itself as "an activist opera company." This holiday season, they want revelers to look beyond Christmas and explore other holiday traditions that are celebrated in the United States, but have their origin elsewhere. The four 20-minute operas examine the stories and traditions surrounding the Day of the Dead, Eid al-Adha, Havdalah, and the Spring Festival.
Let's Celebrate: Living Holiday Traditions in America is Saturday, December 10, at the Fraser Performance Studio, One Guest St., Boston. There will be a 3 pm matinee and a 7 pm evening performance. The event can also be livestreamed. Purchase tickets here.
---
Three Jewish a cappella groups from around Boston come together for their fifth annual Hanukkah concert. The all-ages program features performances by BerKalit from Berklee College of Music, Manginah from Brandeis, and Honorable Menschen, a Greater Boston postcollegiate a cappella group, as well as appearances by several local middle and high school groups. 
Community-Wide Hanukkah A Cappella Concert is Sunday, December 11, at the Vilna Shul, 18 Phillips St., Boston, from 3 to 4:30 pm. Purchase tickets here. 
---
Brookline's historic Temple Ohabei Shalom will host the Beacon Street Quartet as it performs a 60-minute program of works by Jewish composers. Surrounded by candlelight, this Hanukkah celebration features an eclectic roster, including works by Broadway composers George Gershwin and Richard Rodgers and symphonic works by Felix Mendelssohn and Aaron Copland.
Candlelight Hanukkah is Thursday, December 15, at Temple Ohabei Shalom, 1187 Beacon St., Brookline. Shows are at 6:30 and 9 pm. Purchase tickets here.
---
Dance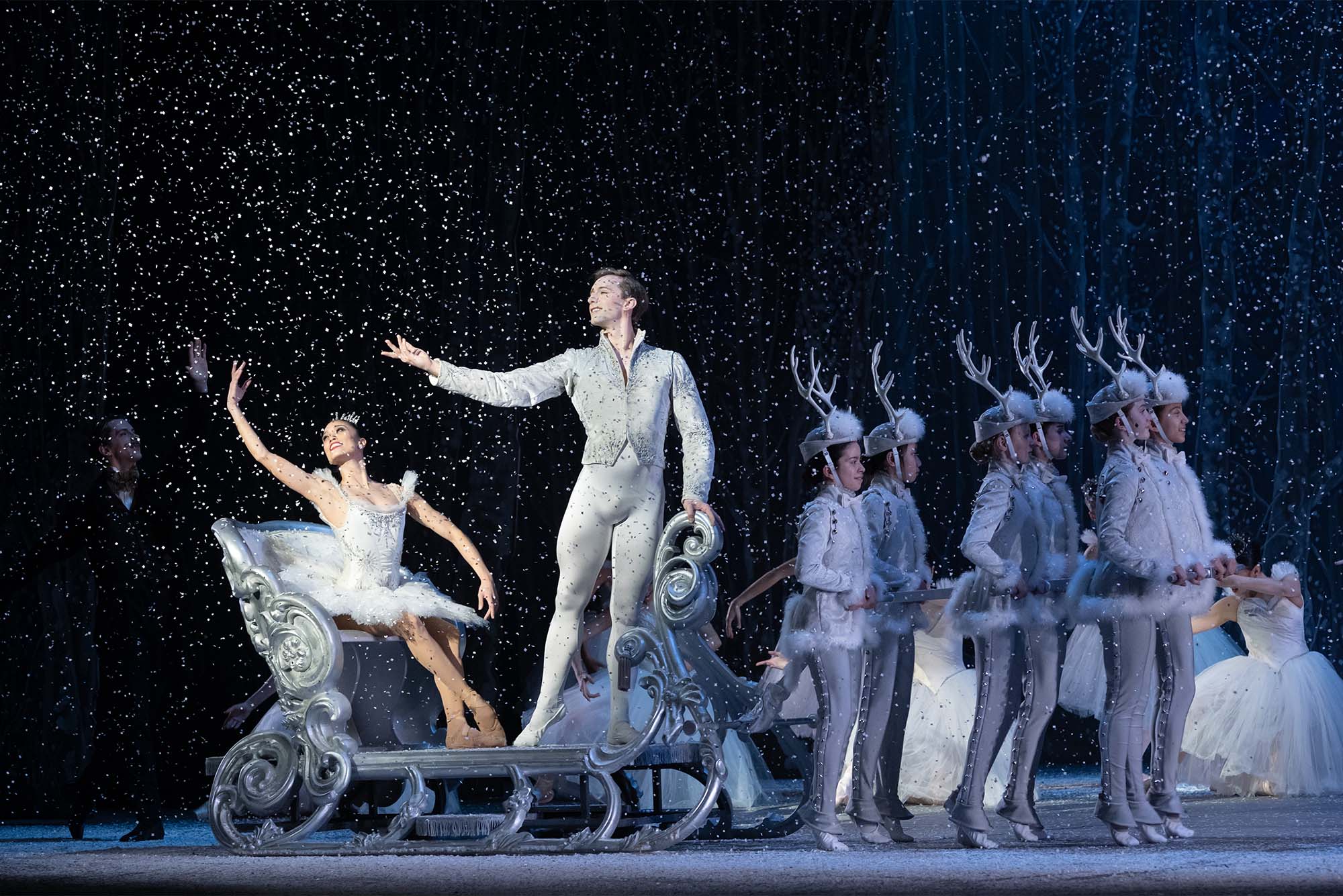 Boston Ballet's annual performance of The Nutcracker has attracted a steady stream of revelers since the company began performing it in 1958. The current production, choreographed by Boston Ballet artistic director Mikko Nissinen, features acrobatic feats, fantastical sets, and that unforgettable score by Pyotr Ilyich Tchaikovsky.
Boston Ballet's The Nutcracker runs from November 29 to December 31 at the Citizens Bank Opera House, 539 Washington St., Boston. There will be one sensory-friendly performance, on Thursday, December 29. Purchase tickets here.
A rowdy, bawdy take on The Nutcracker, this production, featuring a cast of local ballet dancers, belly dancers, hula hoopers, and more, promises a festive evening for those who like their ballet with a side of burlesque. The Slutcracker preserves the structure of the original ballet, but in this version, the characters are all grown up. Featuring dry-humping clowns and a cavalier played as the "Dildo Prince," this is a show for adults only. The production sells out every year, so buy your tickets early.
The Slutcracker runs from December 1 to 31 at the Somerville Theatre, 55 Davis Square, Somerville. All shows are 18-plus. Purchase tickets here.
---
Another contemporary take on The Nutcracker, this multigenre dance performance is a marriage of "ballet, urban tap, hip-hop, swing, flamenco, step and jazz," according to the show's site, and comes complete with a modern plot, setting, and score that leans heavily on Duke Ellington. Like The Slutcracker, The Urban Nutcracker has become an alternative holiday tradition. Unlike The Slutcracker, it's most certainly a family-friendly show. 
The Urban Nutcracker runs from December 17 to 23 at the Boch Center Shubert Theatre, 265 Tremont St., Boston. Purchase tickets here.
---
Loosely based on the children's poem "A Visit from St. Nicholas" by Clement Clark Moore, Cirque du Soleil's first-ever Christmas show tells the tale of Isabella, a young girl who's grown tired of the holiday hubbub, and how she regains her cheer through the help of some magical characters. Expect plenty of Cirque's trademark glittery costumes and aerial stunts.
Cirque du Soleil's 'Twas the Night Before… runs from November 25 to December 11 at the Boch Center Wang Theatre, 270 Tremont St., Boston. Purchase tickets here.
---
Theater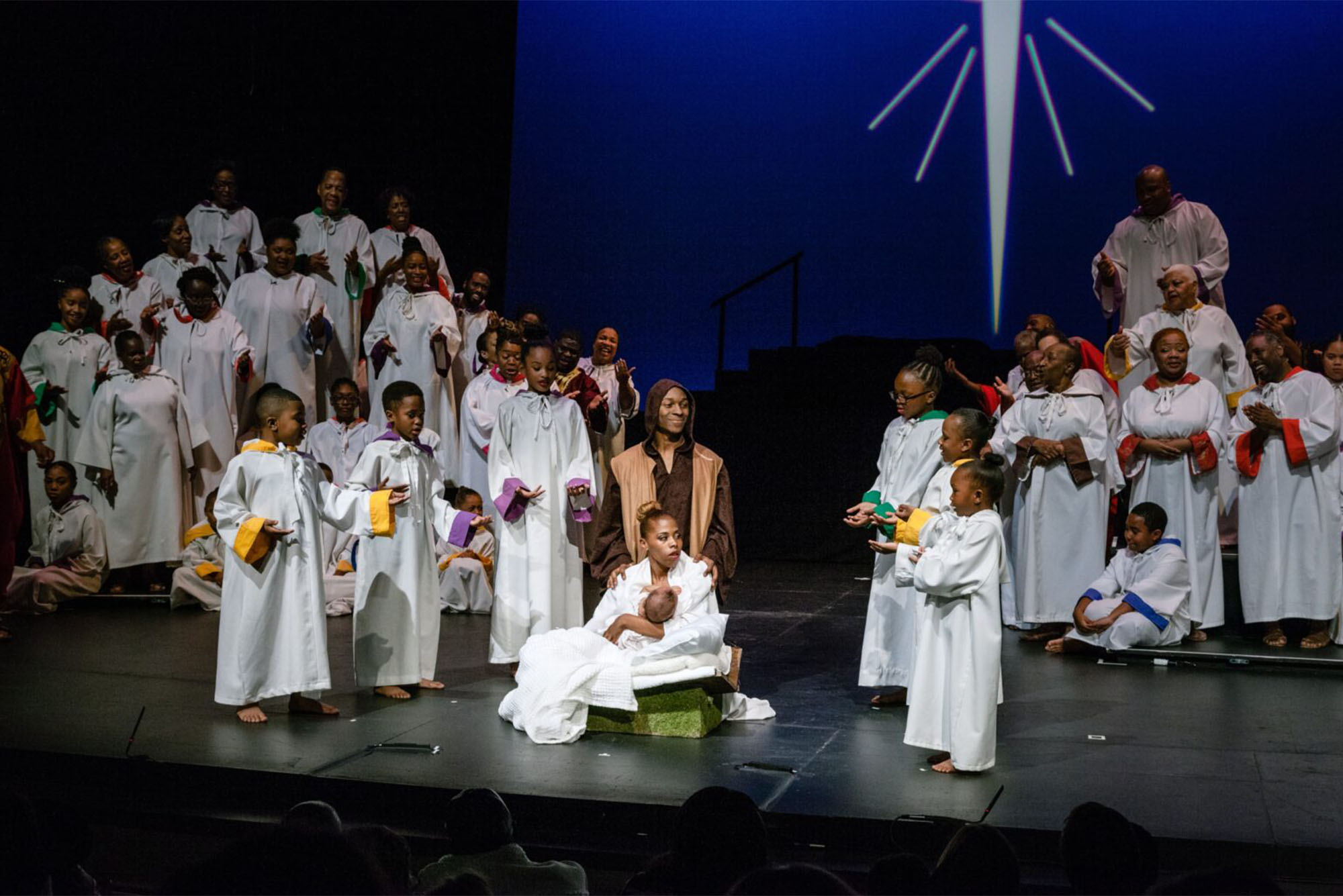 Now in its 52nd season, Black Nativity is an adaptation of acclaimed poet Langston Hughes' play of the same name. Presented by the National Center of Afro-American Artists, the show, which tells the story of Jesus' birth using Black vernacular speech, gospel music, dance, and poetry, has become a beloved holiday favorite among Boston theater-goers.
Black Nativity runs from December 2 to 18 at Emerson College's Paramount Theatre, 559 Washington St., Boston. Purchase tickets here.
---
The Gold Dust Orphans, Boston's favorite fringe theater troupe, never disappoints during the holidays. This year's production borrows from the cult classic 1982 musical Little Shop of Horrors—featuring a nervous Dollar Store Manager, Norbert Feinstein, and a blood-sucking plant—adding a holiday twist: the killer plant is a Christmas tree, of course. Join the Orphans for this delightful all-singing, all-dancing, musical mystery mash up extravaganza. The production is definitely not for children. 
Little Christmas Tree Shop of Horrors runs from December 1 to 23 at the Iron Wolf Theatre at the South Boston Lithuanian Hall, 368 West Broadway, third floor, South Boston. Purchase tickets here. 
---
Also entering its 52nd season is The Midwinter Revels, which blends musical theater and traditional folk songs and dance to explore the songs, dances, and stories of cultures from around the world. This year's show is set on a Christmas Eve at Ellis Island in the 1920s, where families from Ireland, Russia, and Germany find themselves waiting together for entry into America. While they wait, they regale each other with stories and songs from the lives they've left behind.
The Midwinter Revels runs December 16 to 28 at Harvard University's Sanders Theatre, 45 Quincy St., Cambridge. Purchase tickets here.
---
An original production staged by the OrigiNation Cultural Arts Center in Jamaica Plain, Tafuta! tells the story of a boy bullied by his classmates because his family celebrates Kwanzaa, but who comes to embrace his African American heritage and his family's traditions. Written by Shaumba-Yandje Dibinga, the play also features original musical numbers, dance, and poetry performed by elementary and middle schoolers from all over Boston.
Tafuta! is Saturday, December 17, at 3 pm at Roxbury Community College's Media Arts Center, 1234 Columbus Ave., Boston. Purchase tickets here.
---
While the title of this show might recall another fuzzy grouch set out to ruin a holiday, The Troll that Stole Hanukkah is an original tale written and directed by Chad Williams about an unlikely hero who helps a village get its menorah back from the clutches of a holiday-hating troll. Featuring puppets, the funny story—for children ages 3-plus—explores themes like making friends, empathy, and problem-solving.
The Troll that Stole Hanukkah runs Saturday, December 17, at 1 and 3 pm, and Sunday, December 18, at 10 am and 1 pm, at the Puppet Showplace Theater, 32 Station St., Brookline. Purchase tickets here.