Gobble, Gobble: Wild Turkeys Star on Student-Run Instagram Page
If it seems like they are everywhere these days, they really are—be wary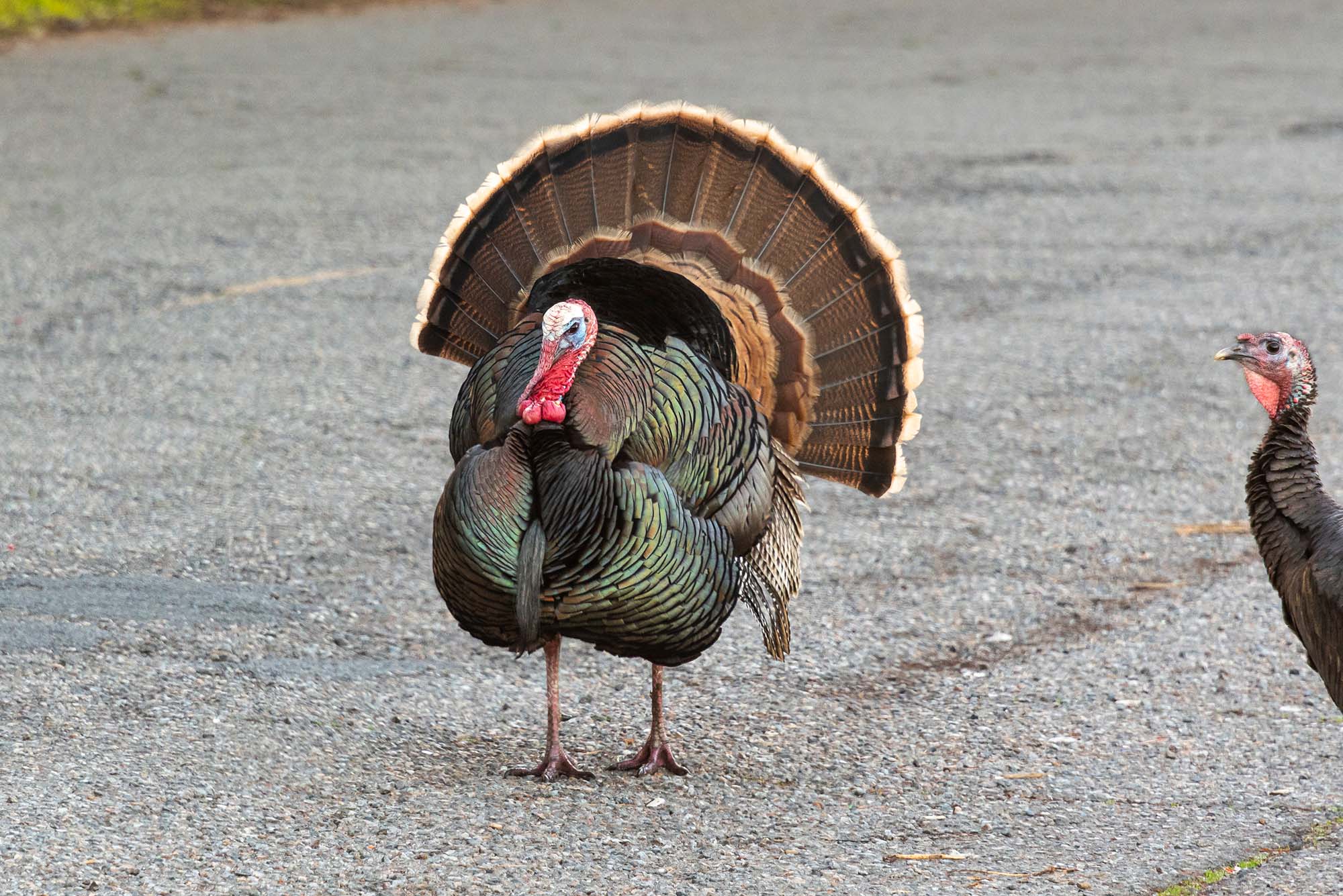 Student Life
Gobble, Gobble: Wild Turkeys Star on Student-Run Instagram Page
If it seems like they are everywhere these days, they really are—be wary
You've seen them. Watching, waiting, looming. They have zero regard for disrupting traffic and they aren't exactly friendly when approached.
We're talking about Boston University's resident wild turkeys. (It is nearly Thanksgiving, after all.) And thanks to a pair of BU students, they've gained a bit of internet stardom. Anika Brahmbhatt (COM'23, CAS'23) and Jenny Kornrich (COM'23) run the Instagram page @turkeyspotting, described as "Wild Vagrant Turkeys of BU." The account lives under the social media division of the Bunion (BU's satirical paper in the style of the Onion), and it features wild turkeys jaywalking on Beacon Street without a care in the world, pecking for insects in the courtyard at the George Sherman Union, and other sightings.
Wild turkeys in the state have seen a population resurgence over the last few years, thanks to more stringent rules about conservation and protection. Now, they can be found wandering in many urban settings, sometimes to the chagrin of commuters. They can fly for short distances up to 55 miles per hour, and also can be found roosting in trees at night, according to the Massachusetts Audubon Society.
The page was started in 2017 by alums Rachel Smith (COM'19) and Izzy Weinberg (COM'19), according to a HerCampus story. Brahmbhatt and Kornrich took over their freshmen year when a call was put out at a Bunion meeting looking for volunteers to run the page.
Brahmbhatt is from southern California and had never seen a wild turkey before coming to BU. Now she monitors the page and says they receive a few submissions a week.
"We get a lot of people submitting videos of the turkeys blocking traffic or wandering down Comm Ave," she says. "It's fun how excited people get. The page is cute and fun to do."
Richard Primack, a College of Arts & Sciences professor of biology who studies climate change's impact on birds, explains that wild turkeys used to be commonly found in Northeast forests. But since they are a big bird that is good to eat, they were prolifically hunted, and by the 1850s were completely eliminated from the area.
"They weren't here for 100 years, and biologists for the state felt there was something missing from the state," Primack says. "They first tried releasing domesticated turkeys, but that didn't work. But then, in the early 1970s, biologists caught wild turkeys in the Adirondacks and released them here. That proved to be successful and the birds adapted well to the Massachusetts landscape. Now we have tens of thousands of turkeys, much more successful than they'd imagined."
In fact, biologists thought turkeys would stay in the forests and avoid cities. But apparently they like the bustle of urban life. "The birds are smart and realize there are no predators in town," Primack says. "Turkeys can hold their own against coyotes and dogs, and they aren't afraid of people, so they come into the cities and are at much higher density than people are aware."
Their breeding season starts in the spring, according to Mass Audubon, and the birds—especially the males, toms, which have a reddish blue head and a "beard"—can be extremely aggressive during that time and even chase people.
"People are surprised by that—it's not funny, they are big animals," Primack says. "You don't want to turn your back because they will chase you. Make yourself as big as possible, yell, possibly throw something at them."
Or, if you're hungry . . .