This Presidential Inauguration Will Be Unlike Any Other, but It Isn't the Only Exceptional One
Politics
This Presidential Inauguration Will Be Unlike Any Other, but It Isn't the Only Exceptional One
Take, for example: 1829, 1861, 1877, 1913, 2001—all stood out for unusual, embarrassing, or other reasons
The inauguration of our 46th president promises to be exceptional in many ways. Joe Biden will be sworn in just two weeks after a pro-Trump mob ransacked the Capitol, leaving five dead, and intelligence agencies have seen plenty of evidence that many of the same crowd are planning to return on January 20. More than 20,000 National Guard troops are expected to be on hand to protect the president, the vice president, and the Capitol. US Customs and Border Protection is deploying aircraft over the city to conduct surveillance during the ceremony and many streets and train stations in downtown Washington have been shut down to traffic since Saturday in an effort to secure the city. But Biden has said that in keeping with tradition, he still plans to take the oath of office outdoors, on the west side of the US Capitol. 
Other changes will make this inauguration unlike others. In a break from tradition, the president-elect will not be accompanied to the Capitol by his predecessor. Donald Trump has said he will not attend the ceremony. He's not the first to say no (John Adams, John Quincy Adams, and Andrew Johnson also refused to attend the inaugurations of their successors). And in a nod both to the ongoing pandemic and to security concerns, far fewer people will be in attendance than at recent inaugurations. Only 200 people—socially distanced and wearing masks—will be allowed on the stage (all will have to have had negative COVID tests as well). Planners decided to limit tickets to the inauguration and to remove parade viewing stands near the White House. (American Airlines is even suspending alcoholic beverage service on incoming flights to Washington airports.) Gone is the usual Congressional luncheon that traditionally follows the swearing-in ceremony, ditto the traditional inaugural parade and the many inaugural balls. Instead, there will be a star-studded prime-time celebration featuring Tom Hanks, Jon Bon Jovi, Justin Timberlake, and Demi Lovato, to be carried by the major networks. The swearing-in ceremony itself will still have some star power: Lady Gaga will sing the national anthem and Jennier Lopez is also expected to perform.
While this year's event will be unlike any other, a look back at history shows that hiccups, glitches, threats, disturbances, and even protests are nothing new to presidential inaugurations. They started a long time ago, and will probably continue long into the future. Read 10 examples from the past we've culled for you.
In 1829, Andrew Jackson's inauguration attracted a large and spirited crowd, many of whom made their way—uninvited—into the traditional celebration at the White House. Inside, their spirits got the better of them. While the men became rowdy and the women feuded openly, Jackson quickly exited, through either a window or a side door. John Quincy Adams, who had lost his bid for reelection, did not attend the event.
In 1841, William Henry Harrison delivered a two-hour-long inaugural address (the longest to date) without wearing a coat or hat, and one month later became the first US president to die in office. At the time, his death was attributed to severe pneumonia, allegedly exacerbated by his failure to dress appropriately for his lengthy speech. Recent research considers Harrison's severe diarrhea, which had set in before his inauguration, and suggests that he was killed by bacteria, possibly caused by raw sewage that had leaked into the White House water system.
In 1857, many people who attended events surrounding the inauguration of James Buchanan came down with a mysterious illness that today looks a lot like Legionnaires disease. Buchanan himself got sick, twice, but survived; 36 people, including 3 congressmen, died.
In 1861, en route to his inauguration, Abraham Lincoln was aware of several death threats, including one threatening to kill him on his journey from Illinois. Lincoln declined an offer to carry a revolver and a Bowie knife, but he did alter his planned route to Washington and he did wear a disguise.
In 1865, at Lincoln's second inauguration, the incoming vice president, Andrew Johnson, decided that the best medicine for a cold was several shots of whiskey. He was wrong. Johnson's rambling, barely coherent inauguration speech was a major embarrassment for Lincoln.
In 1877, fearing disturbances by supporters of his Democratic opponent and amidst alleged death threats, Rutherford Hayes took the oath in a secret, private ceremony at the White House. He took the oath again in a public ceremony two days later.
In 1913, Woodrow Wilson's inauguration attracted Washington's first large-scale political protest. The day before Wilson took office, as many as 8,000 suffragists marched down Pennsylvania Avenue, heckled and jeered with every step. But seven years later, women gained the right to vote.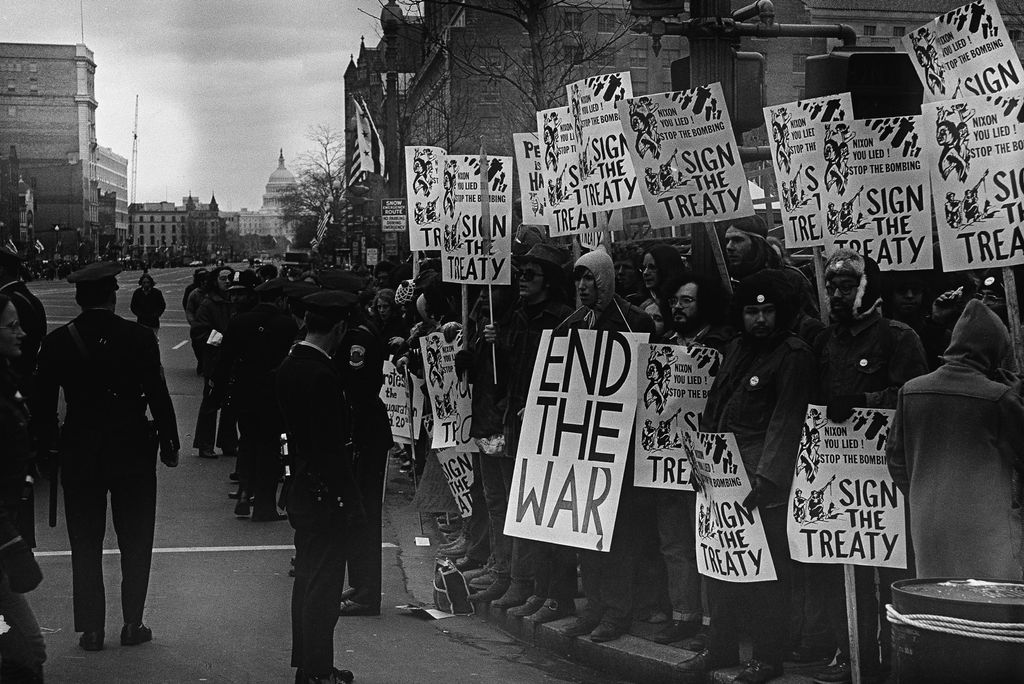 In 1973, at the second inauguration of Richard Nixon, more than 100,000 people, including 80 congressmen, took part in a March Against Death and for Peace in Vietnam at the Lincoln Memorial. The war continued for two more years.
In 2001, the inauguration of George W. Bush appeared to go off without a hitch, but behind the scenes the incoming president's staff had to deal with the unwelcoming shenanigans of the staff of the outgoing president, Bill Clinton. Clinton's crew had glued desk drawers shut, rerouted some telephone lines, and removed the Ws from computer keyboards.
In 2009, while swearing in Barack Obama, US Chief Justice John Roberts mistakenly flipped some words, saying, "I will execute the office of president to the United States faithfully," instead of, "I will faithfully execute the office of president of the United States." After the ceremony, Obama and Roberts joined reporters in the White House map room, where acting "out of an abundance of caution," the two recited the oath correctly.