Think Quarantine's Hard? Terrier Manuela Luque Did Three, Coping with Pajamas, Jane Austen, Tech, and a Forgiving Mindset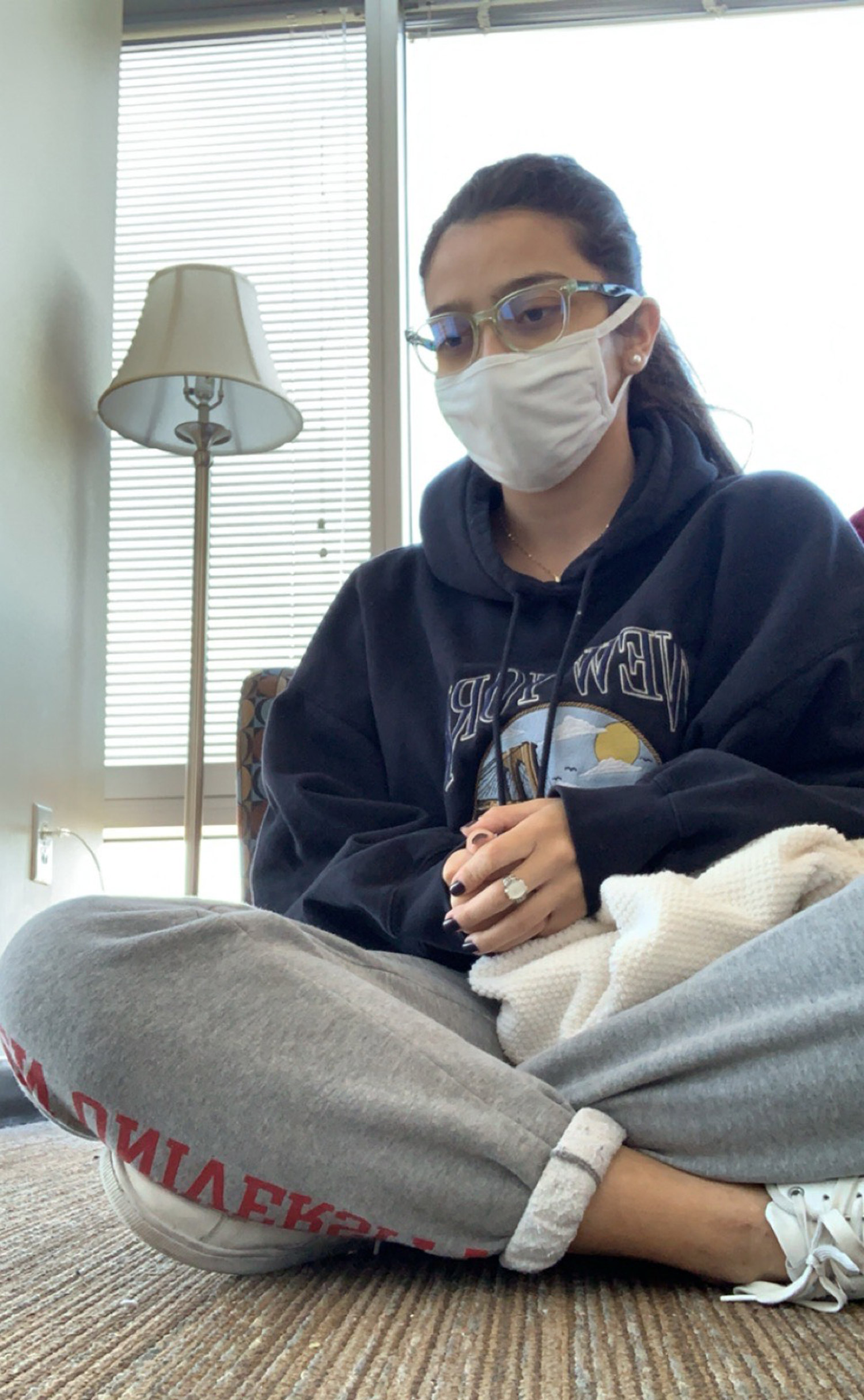 Student Life
Think Quarantine's Hard? Try Doing It Three Times
CAS student's coping mechanisms: PJs, Jane Austen, tech, and a forgiving mindset
Manuela Luque (CAS'22) has had to quarantine three times
One was for planned campus return, two followed close contacts
Coping strategies: pamper yourself and don't blame your close contact
If Guinness World Records tallied COVID-19 quarantines, Manuela Luque might claim local bragging rights. Even granting that she volunteered the first time, she was an unwilling draftee for the next two.
That's right—three two-week quarantines. A month and half overall by herself, starting last May, then again in November—mothballing her planned Friendsgiving on campus—and most recently in January.
"I've only met people who've had to quarantine two times," says Luque (CAS'22). (Says Judy Platt, director of Student Health Services and chair of BU's Medical Advisory Group: "I don't know if [three] is the record, but it's definitely possible to be placed into quarantine more than once, depending on close contact interactions.")
Luque's first segregation was at Kilachand Hall, required by the commonwealth of Massachusetts after returning from Florida to campus and a summer job last May. "I was really looking forward to a summer in Boston, so I talked it over with my parents, and they're like, 'If that's what you want and you want to go through it, OK.'" Her second one, the only one spent off campus (in an Airbnb), followed a close contact: a roommate tested positive for COVID.
And January's third quarantine at 1047 Commonwealth Ave? "If you're quoting me, just a 'close contact,'" she says demurely.
Herewith, Luque shares snapshots from a metaphorical quarantine diary.
Coping with solitude
Safety protocols permit students in quarantine to leave their rooms only for medical and other emergencies, like a fire. Unable even to stroll the hall for air and chat up fellow quarantiners, Luque was forced into unusual time-killing activities when not studying, from sleeping late to taking three or four showers a day. ("Not environmentally friendly," she admits, "but you're just trying to keep busy.") She brought along Pride and Prejudice on one quarantine, "because I'm a sucker for a good romance."
---

You're so close, yet so far away.

---
The unusual circumstances still involve some usual experiences familiar to every apartment- and dorm-dweller. "The Celtics played during my third one, and I could hear [my next-door neighbor] yelling, Yes! No!" Luque recalls, even if she couldn't go over either to watch along or to ask him to dial it down.
"You're so close," she says "yet so far away."
She improvised strategies against loneliness. Her Kilachand third-floor room faced the courtyard, and a close friend would come sit there for an hour whenever she could so they could catch up. In contrast, her third seclusion put her in a fifth-floor room on noisy Comm Ave, so she had to settle for waves at passing friends, while FaceTiming her close contact right before bed. They watched TV together to bond over their common isolation and traded daily updates on whether she was getting COVID symptoms.
And she called her parents every day. "I'm Hispanic; that's just how our culture works."
With quarantine, practice makes more bearable
Luque says her first and second quarantines were the hardest. ("The third one was a breeze," she says. "I just was so calm. I took this like: it is what it is." ) The first was the only one that really unnerved her, with the fear that she might get the virus herself. That initial quarantine had a test-drive nature to it, coming as it did so early in the pandemic. "We were the guinea pigs in May," she says. "The food quality, how often you got food…it was really so much better the second time I quarantined."
If the pandemic curbed Boston's usual summer revelry, Luque had even less to do during May's confinement. That took its toll after she was sprung. "I don't think I felt like myself in terms of energy and how I looked at the world until maybe like a month afterward," she says. "I went from a lot of stimulation from my family to no stimulation, to being completely alone, to going to work with a new group of people. It was just transition after transition after transition.
"I'm not a morning person at all.…I'll bite your head off if you look at me before 8 am." But on the first morning after quarantine, she woke at six, waited for Target to open, bought detergent, and came back to do her laundry.
The second, the Thanksgiving quarantine, cut her off from the University's expansive holiday-away-from-home fare. Instead, she ordered groceries, "watched Thanksgiving show episodes and ate what I could find that kind of resembled turkey…and went to bed early," she recalls.
"I just felt like I was missing out on so much.…It was one of those weekends where you've been looking forward to it for like a month or so, and I had made the decision to not go home in hopes of, obviously, not having to miss out on anything after Thanksgiving.…The world doesn't stop, and you open your Snapchat or your Instagram and everybody's out there getting turkey and dressing up. And you're wearing the same PJs you've worn the last three days."
Losing the holiday, she says, "made me appreciate my friendships a lot more and what I have at BU."
Otherwise, she knew what to take and not take into quarantine and how to pace herself. "When I got the food, I knew that I wanted to save the mac and cheese for when I wanted comfort food, versus just eating it right there and then."
Quarantine takes, don't takes
The University alerts quarantine-bound Terriers that it will feed them and asks their dietary restrictions, with a promise to restock them every two days. (It doesn't detail the menu, so "you kind of are going in blind," she says.) A string of emails gives lots of preparatory information about must-takes like prescriptions and tech for classes—laptop, iPad, charger.
"Do not waste space with books for class" is Luque's advice, since most faculty and friends are willing to provide chapters electronically and send photos of in-class exercises. "Books are so heavy. You really have to prioritize.
"I prioritized PJs, and I seriously recommend comfortable clothes, because that's what you're going to do. Like, if you're a working-out person, you're going to work out, and then you're going to watch Netflix or read a book. Jeans are just not really conducive to a lot of that stuff."
Dressy clothes, even business casual, aren't worth the lug, she says, adding that business- and class-related Zoom callers understand your dressing-down once you level with them that you're quarantining.
She also recommends bringing any comforting talisman of personal significance. "I took a photo of myself with some friends," she says. "It just means a lot. Everybody just looks so happy. It just brings a lot of happiness, and it's a constant in my room."
The right mindset is crucial: "You can't be mad at the person that put you into quarantine. Feel what you got to feel, because we're human and that's the reality of the situation, but it's not their fault, it's not your fault.…You can't change it, so why are you going to fight it? It seems like a lot, but take it day by day."
Luque thinks back on quarantine: "It sounds like a prison. Doesn't feel like a prison. But I definitely would not survive in prison. You have the light at the end of the tunnel, which a lot of people in prison don't."